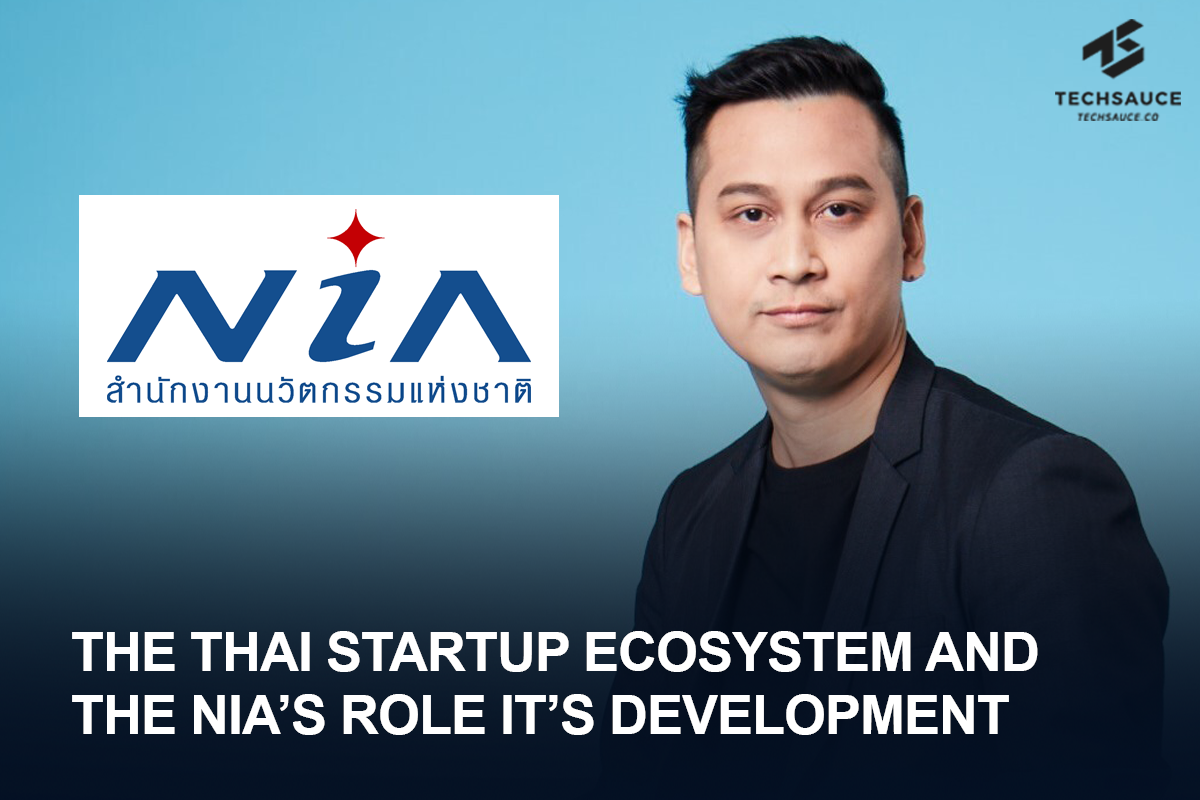 Mr.Pariwat Wongsamran is the Director of Entrepreneur and Enterprise and the Director of Startup Thailand at the National Innovation Agency (NIA), a public organization that aims to develop Thailand's innovation system. The NIA provides both financial and non-financial support to companies and organizations in both the private and public sectors. In terms of financial support, the NIA has a grants program in which it provides funds to startups and companies which they believe have potential to grow and will benefit hugely from the grant. As for non-financial help, the NIA provides startups with knowledge and support on topics such as incubator/accelerator programs and IPOs. Additionally, the NIA connects startups with potential investors such as: venture capitals, angel investors, or corporate VCs.
How do you think the Thai startup ecosystem is doing?
Mr. Pariwat describes a number of issues that startups in Thailand have experienced since the beginning of the Covid-19 crisis. The first example is relatively straightforward and clear, the lockdown and travel restrictions means that startups who rely on international customers and clients such as those in the tourism industry have struggled this year with many closing down. The second issue is that a lot of startups have had to delay expansion plans that they previously had, funds raised that were intended for growth have had to be diverted into keeping the company running and solving other issues and thus could not be used to expand the business. A number of startups have had to cut costs and lay off a number of employees in order to survive through the crisis as they have issues with cash flows, generating revenue, and because they are startups they would not have a large amount of cash reserves and therefore only have a little bit of time before they are out of cash.
Despite these issues, a number of startups have also thrived during these times of crisis. Startups which are in industries such as e-commerce, logistics, or online learning have seen massive growth in the demand for their services and products. As we all know, consumers have had to shift to online platforms to purchase both essentials and nonessentials meaning that platforms such as Lazada, Amazon, Shopee along with logistics companies that deliver these products have seen incredible growth rates. Mr.Pariwat states that the crisis has been an opportunity for some and a disaster for others, what he believes is important is that the company must be able to pivot itself in order to find new ways to survive the crisis using the resources it has.
Mr.Pariwat also mentions that when Thailand was in the early stages of the Covid-19 crisis, investors were not very active and much less inclined to invest as the uncertainty around all industries would mean that they would be taking on more risk than they are comfortable with. However, as it has been nearly a year into the crisis, companies and startups that have made it to this point have somewhat "passed a test" and are drawing investors and thus making them become more active again.
What role does the NIA have in helping startups during the Covid-19 period?
Mr.Pariwat breaks down the support that the NIA provides to startups into three categories: short-term, medium-term, and long-term. The aim of the short-term aid is to help startups to survive through the crisis as startups may be experiencing a number of issues that results in decreased or no revenue and may end up failing to be a going concern. The short-term that the NIA provides startups in this situation is they help to firstly find a new source of funds such as investors or grants to help extend the life of the companies. The NIA also helps to find a new group of customers for the startups through a 'marketplace' project which allows companies to promote themselves and their products/services to potential customers.
The medium-term support that the NIA provides to startups during this time is by offering grant money to certain companies so that they are able to pivot their business model, if needed, in order to generate new revenue streams with available resources and survive through the crisis. Furthermore, the NIA then supports the startups to develop a solution that revolves around the Covid-19 crisis and promotes collaboration between startups in order to create these solutions.
Finally, the long-term plans that the NIA has in order to help startups is by looking at what needs to be done in preparation for the post-covid era in order to support startups and create the best environment for them to grow and develop. The NIA has come together with a number of associations such as the Thai Fintech Association, Thai VC Association, Thai Programmers Association, and many others in order to brainstorm the possible solutions and protocols in order for startups to have sustainable and long-term growth and success.
Could you provide some details on the possibility of having matching funds in the startup ecosystem?
According to Mr.Pariwat, there have been discussions of matching funds for quite some time. However, matching funds have not yet become a reality in the Thai startup ecosystem as there are restrictions on how the state can provide funds to the private sector. The matching funds model has been seen in many scenarios such as: matching employee 401K payments or charitable donations. In Singapore certain funds have had matching agreements with the government at a various ratios (1:4, 1:7) when investing in startups.
The NIA are currently trying to find ways to work with the laws that restrict the possibility of having matching funds in Thailand. Mr.Pariwat believes that because there are not a large number of VCs in Thailand that focus on startups, having a matching fund program will increase the investment activity in the startup ecosystem and therefore will help to develop the ecosystem further.
In your opinion, which startup group or industry do you think needs the most support from the NIA?
The first industry that Mr.Pariwat mentions is one that is most clearly in need of help, the tourism industry. Supporting the tourism industry in Thailand right now is incredibly important not only because there are a number of startups in the industry but also because the Tourism industry is one of the major industries in Thailand. Mr.Pariwat does not believe that, in the next year or two, there will not be nearly as many tourists entering the country as there were prior to the pandemic. Mr.Pariwat states that the way that the tourism industry will truly recover is through stimulating the demand for domestic tourism, something that the government has attempted to do through projects like the 'Travel Together' stimulus package. Successfully increasing demand for domestic tourism will mean that tourism startups will not have to rely on international tourists but have a focus on domestic tourists instead. Additionally, Mr. Pariwat believes that the music and arts industry has also felt a massive impact from the crisis and that the increase in demand for domestic tourism will in turn increase the demand for arts and music events thus helping out the artists who have struggled during the crisis.
Another industry that Mr.Pariwat believes needs some support is surprisingly the food industry. The Covid-19 crisis and the lockdown has meant that services such as food delivery has boomed, with services such as Grab Food, Lineman, and FoodPanda growing and performing well. Mr.Pariwat believes that there is room for startups to enter this industry in areas such as plant-based food. For startups to enter this industry however, will require a tremendous amount of support as they will offer something that does not currently exist and compete against companies that are very established and have a large amount of resources.
What plans does the NIA have for the next few years?
Mr.Pariwat stated that the first thing that the NIA will be focusing on is deep tech for both financial and non-financial use. The NIA hopes to aid in the research and development of deep tech in areas ranging from finance to robotics, AI, BioTech and others. Mr.Pariwat believes that despite the costs of R&D for Deep Tech solutions, the end result, if successful, will mean these startups are able to gain market share and prosper within the industry. The second focus of the NIA is to develop and innovate in other areas in Thailand outside of Bangkok as these rural areas also have a lot of potential in areas such as agritech or logistics.