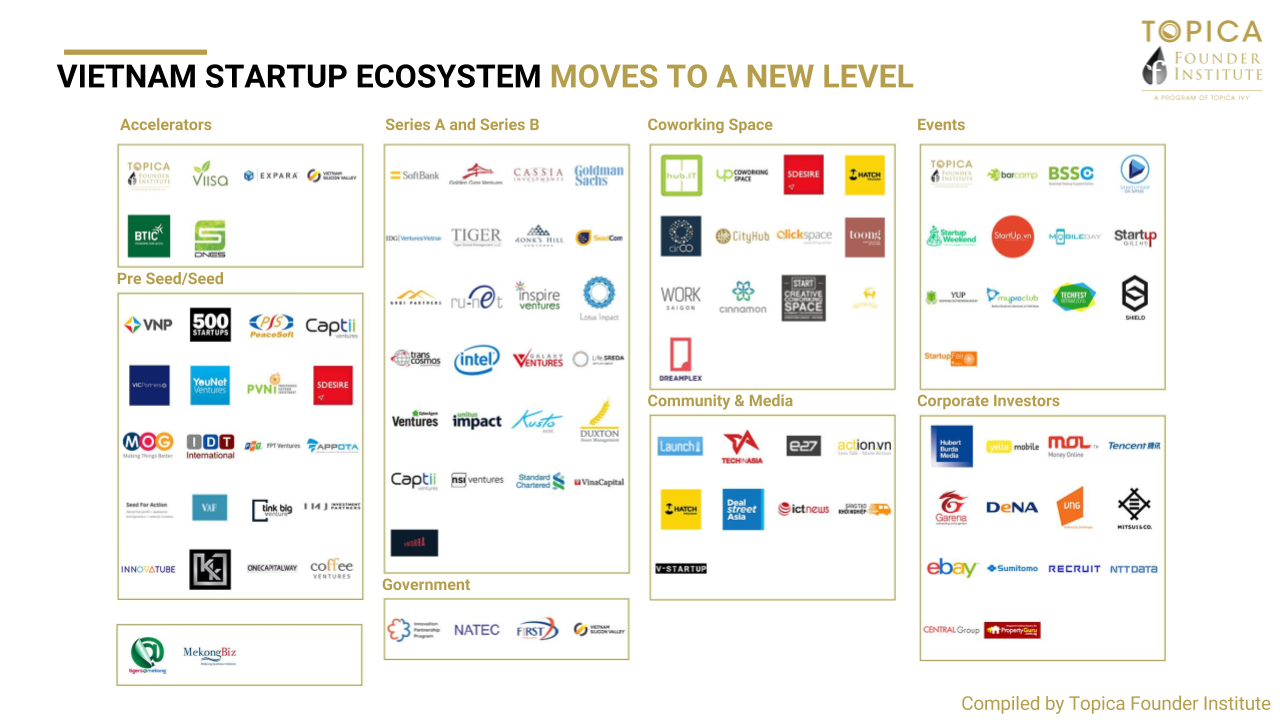 The Startup Deals Vietnam report, prepared annually by Topica Founder Institute (TFI), shows a very vibrant year for the country's startup investment landscape in 2016. While Vietnam experienced a drop in the total number of dealflow (50 deals were reported, down 25% y-o-y from 67 in 2015), it was not at all a disappointing year with three notable accomplishments for Vietnam's startups:
Larger and more concentrated deals led to a new record in startup deal value: $205M, up 46% Year-on-Year from $137M
The fintech sector outperformed itself and stole over half the total deal value at $129M
Acquisition deal value also peaked at $110 million
Investment trends for Vietnam in 2016:
While Seed and Series A remain dominant, comprising 70% of the deal count, Vietnam logged 7 deals in excess of $10M. Some notable big deals went to F88 (Mekong Capital - $10M), and GotIt (Capricorn - $9.1M). The sweet spot continued to be in the medium-sized investments (<$ 5M), unchanged since 2015.
Large deals (>$5 million) remained unchanged from 2015 in terms of count (11 vs.10) but grew 60% in terms of value ($63 million vs. $100 million).
The breakout sector, unsurprisingly, was Fintech with more than $129M poured in, greater than the combined value of all other sectors. This sector has continued its stellar performance at press time, late into Q1 of 2017. Notable deal values went to Payoo,VNPT E-pay, Momo, and F88.
Acquisition deal value peaked at $110M, representing over 50% of entire startup deal value. One of the most significant deals was NTT Data's acquisition of Payoo, a payment services portal (detailed deal size undisclosed) and E-pay's 62.5% stake acquisition by Korea-based UTC Investment for approx. $34M, according to certain sources.
Other notable sectors:
E-commerce was still the most active sector with 12 deals closed in 2016. However, the entire e-commerce deals' combined value was only $34.7M, or one fourth of Fintech.
Edtech witnessed strong growth in 2016, accounting for 6 deals and over $20M being invested, making it the second fastest-growing sector after Fintech.
Mediatech suffered a slowdown with only 4 deals and $4M in total, reduced significantly from 15 deals and $15M in 2015.
Most active investors and dealmakers:
Foreign investors outperformed local investors in deal value. UTC Investments, Stanchart PE, Goldman Sachs, and NTT Data, were most active in 2016. TFI notes that this trend opens up a promising horizon for megabucks outbound deals in 2017.
CyberAgent and Mekong Capital were the most active dealmakers in 2016 with 3 investments each. CyberAgent continued to strengthen its presence as leading early stage investor with 2 seed and 1 Series A investment in ViCare, Jupviec, and Kyna, respectively. Mekong Capital invested into 3 growth-stage companies, F88, Wrap & Roll, & ABA Cool-trans, with a combined investments of $21 million.
TFI observes that 2016 is the year that the Vietnam startup ecosystem has moved up to a new level, and that this bodes well for the scene - Vietnam's entire startup landscape can look forward to a very positive year in 2017.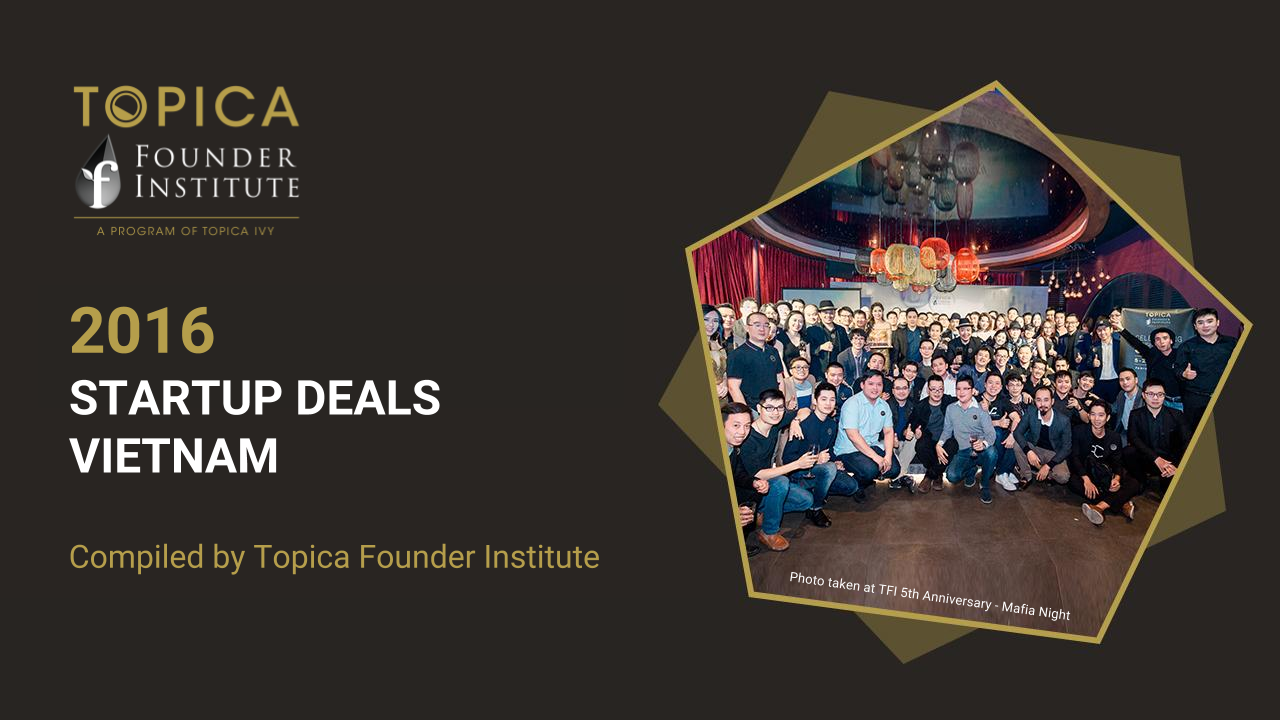 ---- The report is prepared annually by Topica Founder Institute (TFI), who has the mission of building real startups, with real products, real revenues, and real funding. Founded in 2011, TFI has successfully incubated 5 batches, with 60 companies having graduated, with a total of $20M funding, and all values at $100M combined. Some notable TFI alumni are 3S, Appota, Beeketing, Giaytot, Kyna, Monkey Junior, Meete, Hoayeuthuong, and Atadi.
Note from Topica Founder Institute: Data contains both disclosed and undisclosed (non-exhaustive) investment deals that took place in 2016. We do not guarantee accuracy of the information for undisclosed deals; please use the information with discretion. If you have any questions or requests pertaining to the list, please contact TFI at [email protected].
Batch 2017 opens in April. For details of 2016 Vietnam Startup Deals, visit ivy.topica.asia/tfi