As companies in the Asia Pacific excluding Japan (APEJ) region race to undergo digital transformation, cloud computing and platform virtualization company VMware says digital virtualization is the key to scaling out.
We are going through a digital revolution as Thailand and the rest of the world move to transform companies' digital mindsets to utilize technology to create efficiency and not fall behind disrupters in their industries.  98% of VMware's corporate customers are undergoing digital transformation at varying degrees from how they provide their services to how employees work. 
The way we work is changing.  It is no longer a 9 to 5  job for millennials who now prefer being free to work freely, whether it be in a coffee shop or a co-working space.  Virtualization is a must to get ahead of competitors.
VMware says by 2021 at least 60% of APEJ GDP will be digitalized, with growth in every industry driven by digitally enhanced offerings, operations, and relationships.
This is seen clearly with the banking sector where branches are being replaced by mobile banking.  Each industry is going though a change, but the maturity level varies.  Is it fast enough?
Digital Impasse in the APEJ region
IT, telecommunications and consumer technology market intelligence provider and advisor International Data Corporation (IDC) says the APEJ region has hit an digital impasse.  IDC's latest research, "IDC MaturityScape Benchmark: Digital Transformation in APEJ, 2018", revealed that while while organizations in Asia-Pacific excluding Japan are now open to digital transformation initiatives, only 1.2 percent meet the gold standard of being a "digital disruptor".  What does this mean?
According to IDC's Digital Transformation (DX) Benchmark there are 5 main stages of digital development.  86.5% of companies are stuck in the first three phases of maturity, Ad hoc, Opportunistic, and Repeatable where business-IT goals are aligned at the enterprise level to near-term strategy and include digital customer produce and experience initiatives, but are not yet focused on disruptive potential of digital initiatives.  Unable to move on to stages 4-5, Managed and Optimized, these companies are not yet able to their digital products and services across the business to provide a consistent experience for the user.
Thailand according to VMware Thailand Country Manager, Ekpawin Sukanan is at the stages 1-2 and is ranked 8 out of 11 in the IDC's digital transformation index because the country is not quite ready. 
In terms of the index of preparedness, the kingdom is ranked 9th in the Asia Pacific region.   Ekpawin says we are at the tipping point of being ready but not jumping yet.  He says startups need guidance from corporates and together they need the confidence to act.
It is not about scaling up, it is about scaling out.
Ekpawin says in order for companies or startups to move onto other ecosystems with by using hybrid clouding systems. 
Scaling out with hybrid clouds
From being the leader in avoiding private cloud services around the world, VMware is now playing the role as the enabler for companies to truly achieve digital virtualization through hybrid clouds, connecting the private cloud systems with public clouds through a secured and efficient way. 
Duncan Hewett, Senior Vice President and General Manager, Asia Pacific and Japan, VMware says
In order to enable digital transformation progress in the region, it is essential for organizations to integrate their existing products and services – without silos.
Hewett says companies will experience increased complexity and risk associated with diverse infrastructures, management tools, and processes.  VMware estimates that nearly two-thirds of the industry will utilize two or more cloud service providers in addition to their on-premises data centers
As a part of VMware's initiative to enable companies to digitalize the company has recently signed a Memorandum of Understanding (MOU) with Singaporean telecommunications company Singtel to create a Digital Transformation Foundry in Singapore with similar foundries planned for Australia and Hong Kong.  The "virtual sandbox" aims to engage mutual customers to enable them to experience and learn in a hybrid cloud environment to pave the way for cloud-enabled workplace and digital services to harness benefits of better cost and operational efficiencies and improved productivity. 
Safeguarding with Micro segmentation and App Defense
The main challenge for corporations is how to secure your system across all device types used by customers and employees.  Hewett says you can build mobile applications easily, but the challenge is securing the information wherever the application is being used.  Nowadays an employee can work with their own devices that can range from a laptop to smartphones.  The challenge lies in how to make sure proper access is given to those who are authorized.  VMware has had many cases of companies needing to do this for thousands of contractors boarding or off boarding their systems. 
When the WannaCry ransomware attack on May 2017 struck the world by targeting computers running the Microsoft Windows operating system by encrypting data and demanding ransom payments in the Bitcoin cryptocurrency, VMware increased the security level in their systems.
The company utilized Micro Segmentation and AppDefense.  Micro Segmentation involved not just creating a firewall around the system, but around every single device to ensure that should a virus enter an employee's device, it has a tougher time spreading to other devices in the system.  The second level of security is using AppDefense to keep a record of so-called "birth certificates" for each application to ensure the company notices any significant changes in the way it was created to run.  Should there be a difference in activity, the company would then know to quarantine the application. 
ML, AI, and Blockchain
The mentioned firewalls and application "birth certificates" make use of Machine Learning (ML) and Artificial Intelligence (AI) to gather information, analyze it, and learn how to apply needed changes across the platform.  VMware itself uses AI to better support their customers by realizing potential problems before they occur.
My idea is you never call me because I have already told that this problem is coming and if you make the following changes, you will avoid it, says Hewett.
As for blockchains technology, VMware is not out to make a cryptocurrency, but apply its research and development to find a way to benefit from the technology.  There is no tangible product yet because it will take some time to transform the technology that creates 7 transactions per second for bitcoin to 6,000 transactions per second. 
The war on talent
One obstacle that ever country is now facing is there is not enough talent.  While jobs may be lost from virtual digitalization, VMware says the operational roles will become strategic ones.  In order to succeed a company needs to get enough tech talent under its wings.  The problem is the demand for technology is there, but the talent to support that growth is scarce.  According to Hewett,
The number issue of our clients is talent and their lack of knowledge of how to modernize.  At current rate of clients in all sectors wanting to transform, there is not going to be enough talent in the next 10 years.
It seems as if industries at a transitional phase where certain jobs will lost and new jobs created. Hewitt says the solution lies in working with universities and exposing people to the new technology. 
So pretty much you could say there are plenty of jobs to go around in the market!
Want to know more?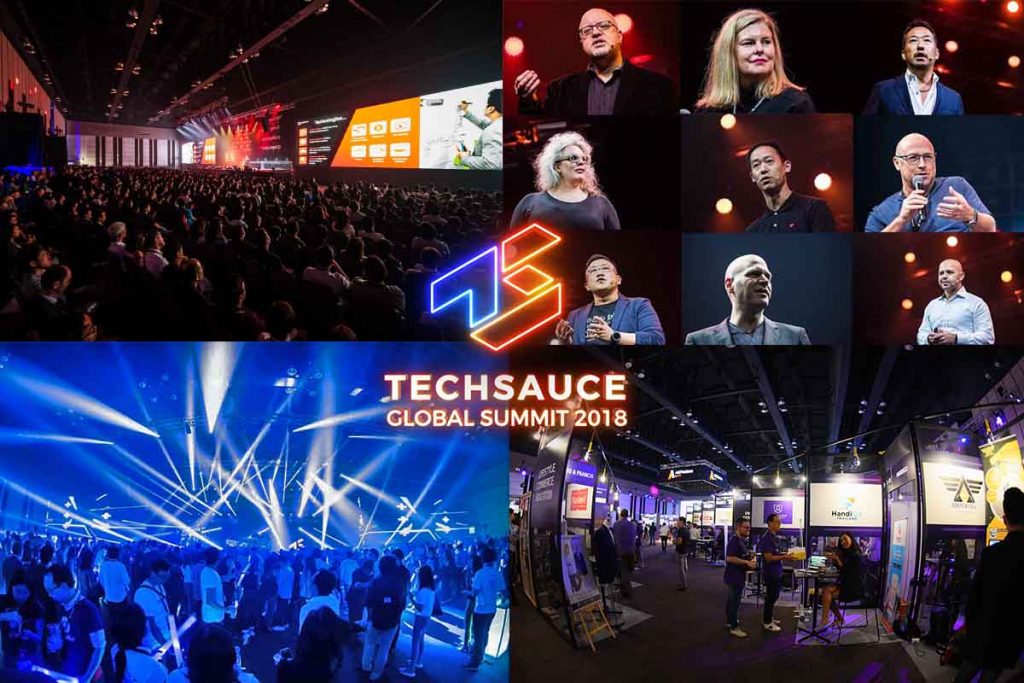 Join us at Techsauce Global Summit 2018 in Bangkok on June 22-23, 2018 where we will feature the latest trends such as ML, AI, and blockchain that is impacting the ecosystems in Southeast Asia and around the world.  With over 10,000 participants from 30 countries, this event is set to be the biggest tech event yet in the SEA region.  For more information go to: https://summit.techsauce.co/