Here's why you should pay attention: this year, hundreds of companies from a diverse range of industries will join Techsauce Global Summit 2017 - Thailand's largest international startup conference that has grown exponentially since its start. This year, passing the 6000 attendee mark also means 50x growth for Thailand's leading startup event - which started as a small gathering of just 120 people back in 2012.
Last year, Techsauce Summit 2016 proved that Thailand's enthusiasm for technology & innovation was not just limited to the startup sector, because it was well attended by SMEs and a variety of big enterprises all eager to get in on the latest trends in the tech industry.
This year, corporates are showing even more interest in Techsauce Global Summit with companies from new industries outside the financial & mobile sectors such as SCG (Construction), Ananda (UrbanTech/PropertyTech), PTT (EnergyTech), MuangThaiLife Insurance (InsurTech) and MitrPhol Sugar (BioTech) joining to sponsor and partner with the Summit - many of them having already set up their own CVCs and special programs to promote innovation. Even Yamaha Ventures (Automobile) is making an appearance. Tech is proving once again just how it permeates every industry, and how ultimately no industry can escape its impact.
Techsauce Global Summit will be organized on July 28-29, 2017 at Bangkok's Centara Grand Convention Centre. It will assemble thousands of attendees, many of them from leading corporates & enterprises in the same space for two days to experience the impact of tech & innovate together.
Extreme thirst for technology
A diverse range of industries
The companies registered to attend Techsauce Global Summit hail from a wide range of industries, from construction to chemistry, packaging, real estate, finance, telecommunications, energy, insurance or advertising.
These companies have a deep interest in technology and innovation, and many of them have also purchased tickets for their employees to join the two-day Summit and broaden their minds to the possibilities of tech. Here are some examples: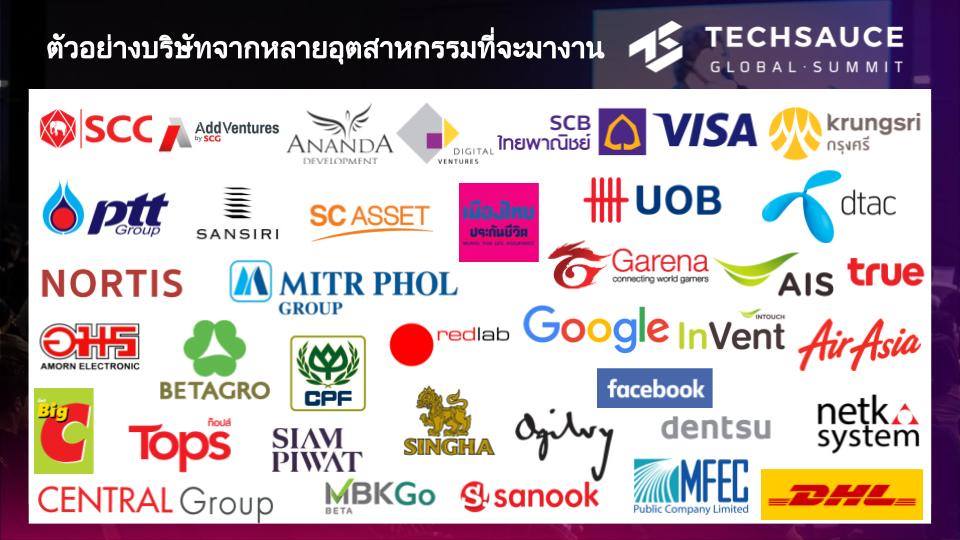 Examples of companies you will meet at Techsauce Global Summit 2017
Multiple organizations & institutions
Techsauce Global Summit is also a gathering of enthusiasts from organizations within the same industry, such as the financial or FinTech sector. Last year, led by title sponsor SCB (Siam Commercial Bank), Techsauce Summit 2016 became Thailand's first and largest ever FinTech convention. This year, led by SCG (Siam Cement Group) and Ananda Development, the conference turns its focus to UrbanTech and becomes Thailand's largest ever urbantech convention.
Here's a list of companies from specific industries which will be in attendance at Techsauce Global Summit in 2017.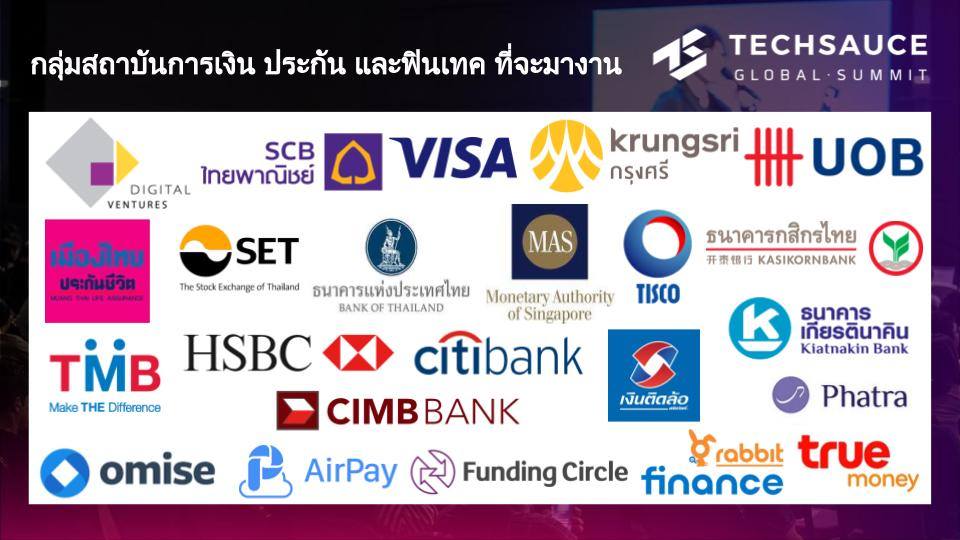 Fintech companies, insurance companies & financial institutions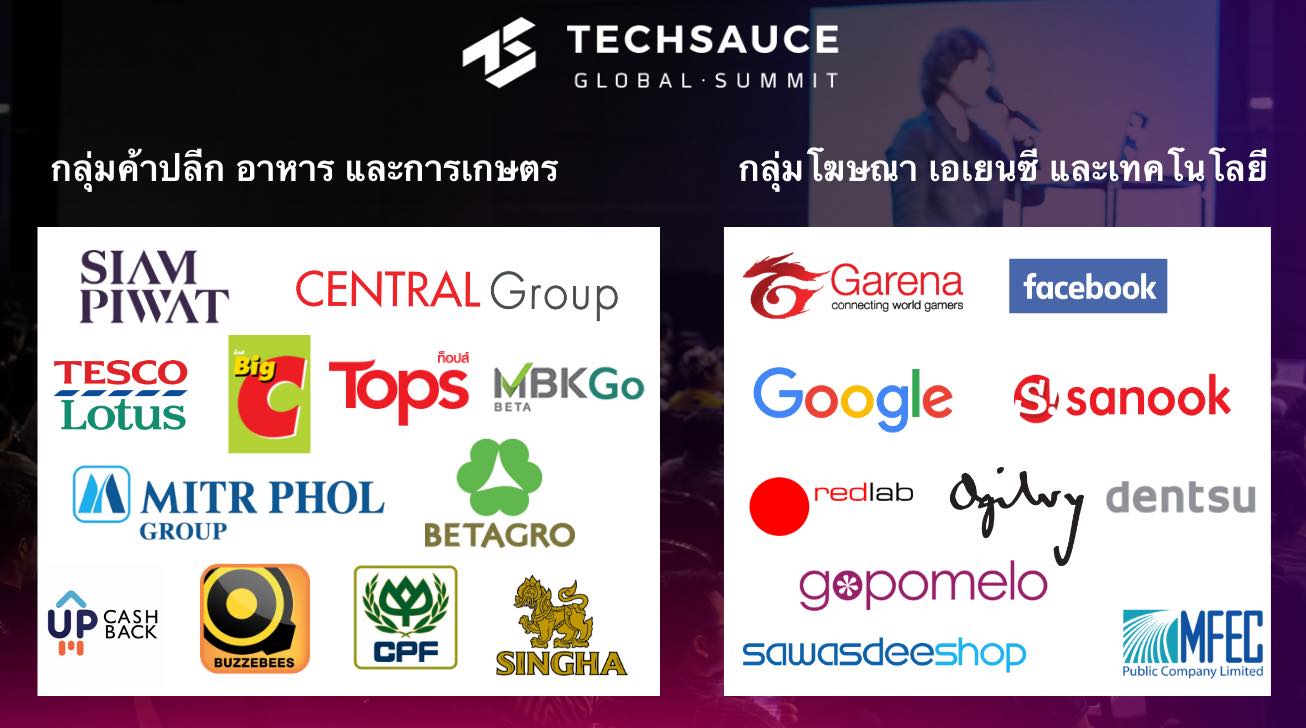 Companies from the food industry, retail industry & agricultural industry (pictured on the left) Companies from advertising agencies, digital advertising & tech companies (pictured on the right)
Why are all these companies joining Techsauce Global Summit?
To seek out opportunities for business partnership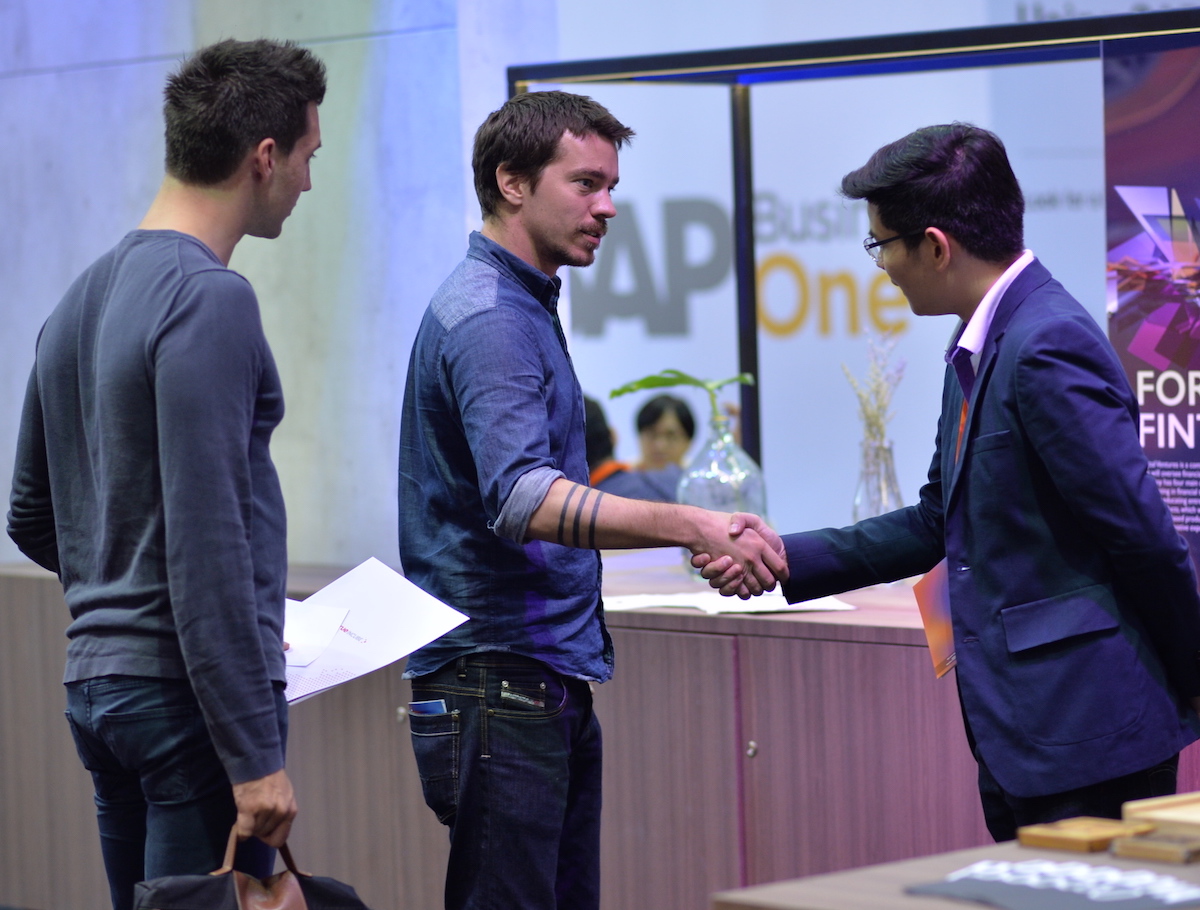 Many companies are looking forward to networking to find collaborative opportunities, and meet techies, entrepreneurs, startups and SMEs, as well as talented people from various organizations and investors.
There are exhibitors from various countries around the world who will join Techsauce Global Summit's exhibition zone, which is ideal for companies interested in expanding their business internationally.
Here's a list of the diverse nationalities of people who joined Techsauce last year, summarized in an infographic.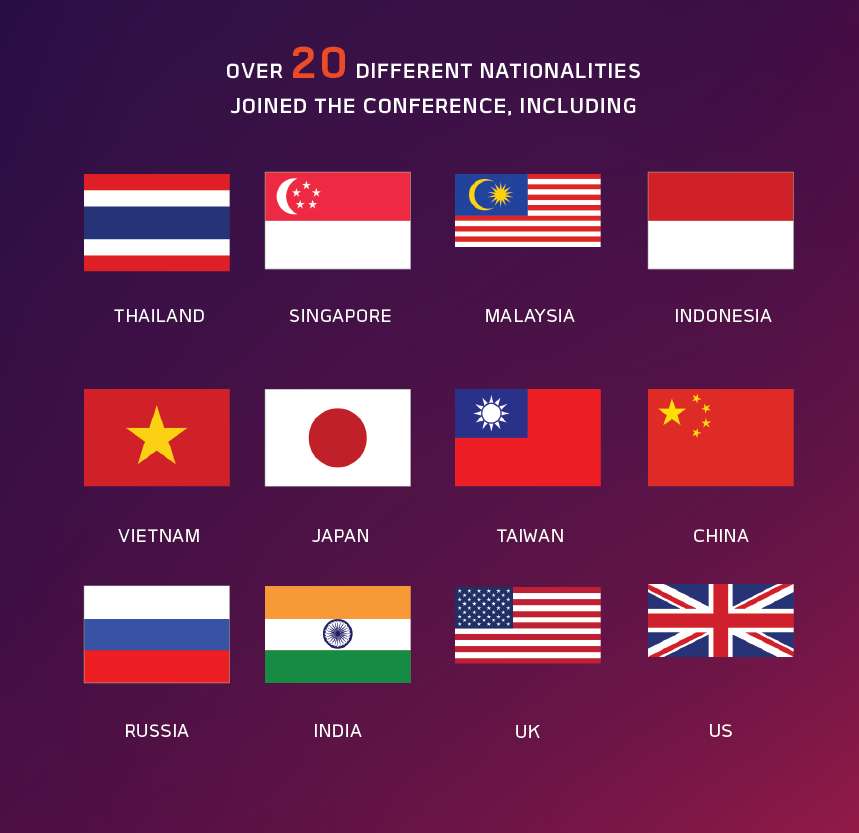 To gather deep new insights on trends and business models
Every year, Techsauce gathers all the hot topics facing the tech industry and corporates into one place. Everything companies want to know, whether has to do with seeking new business models through technological opportunities, digital transformation, corporate innovation or corporate venture capital.
Sample topics addressed by world-class speakers at Techsauce Summit 2016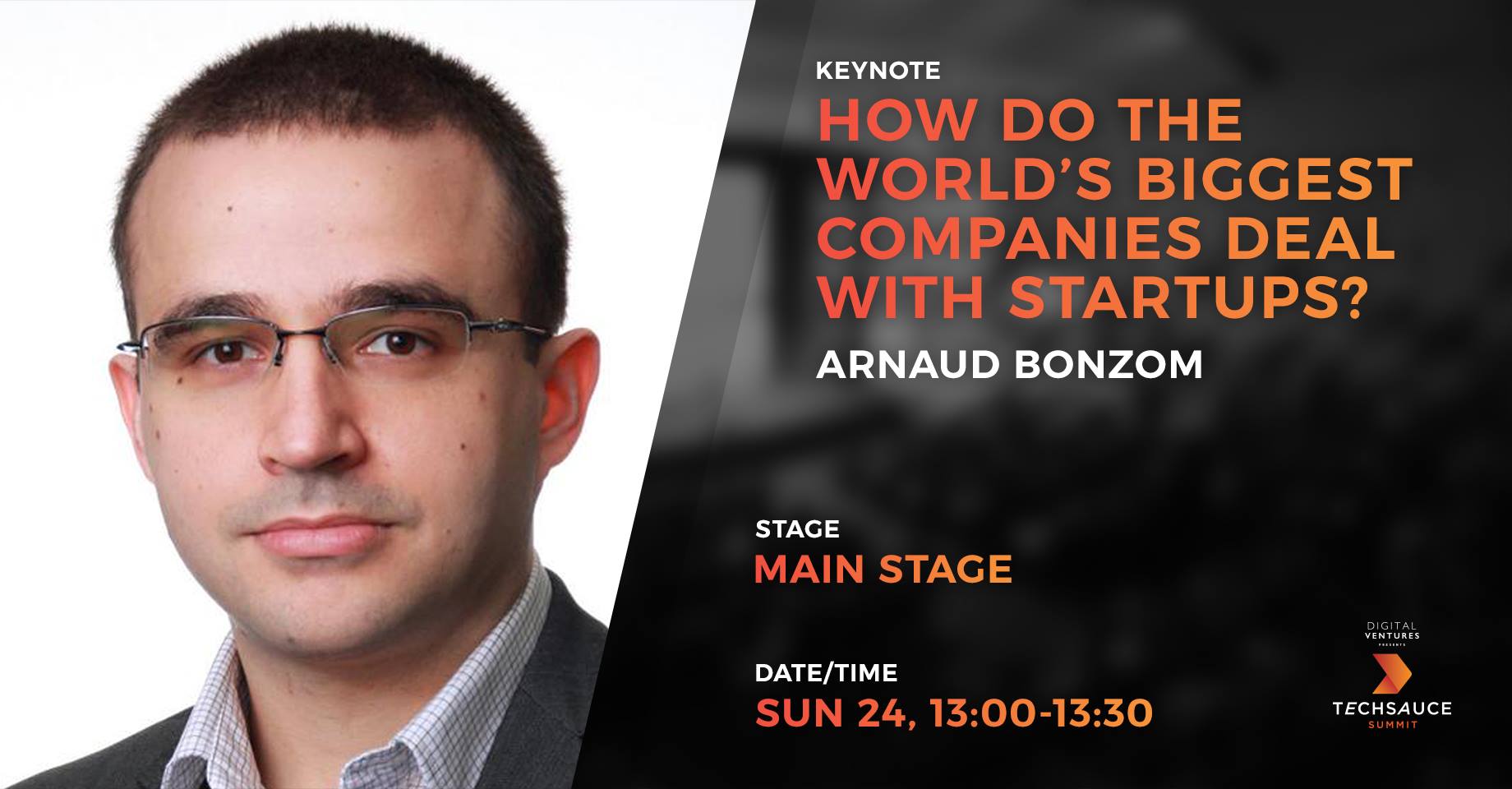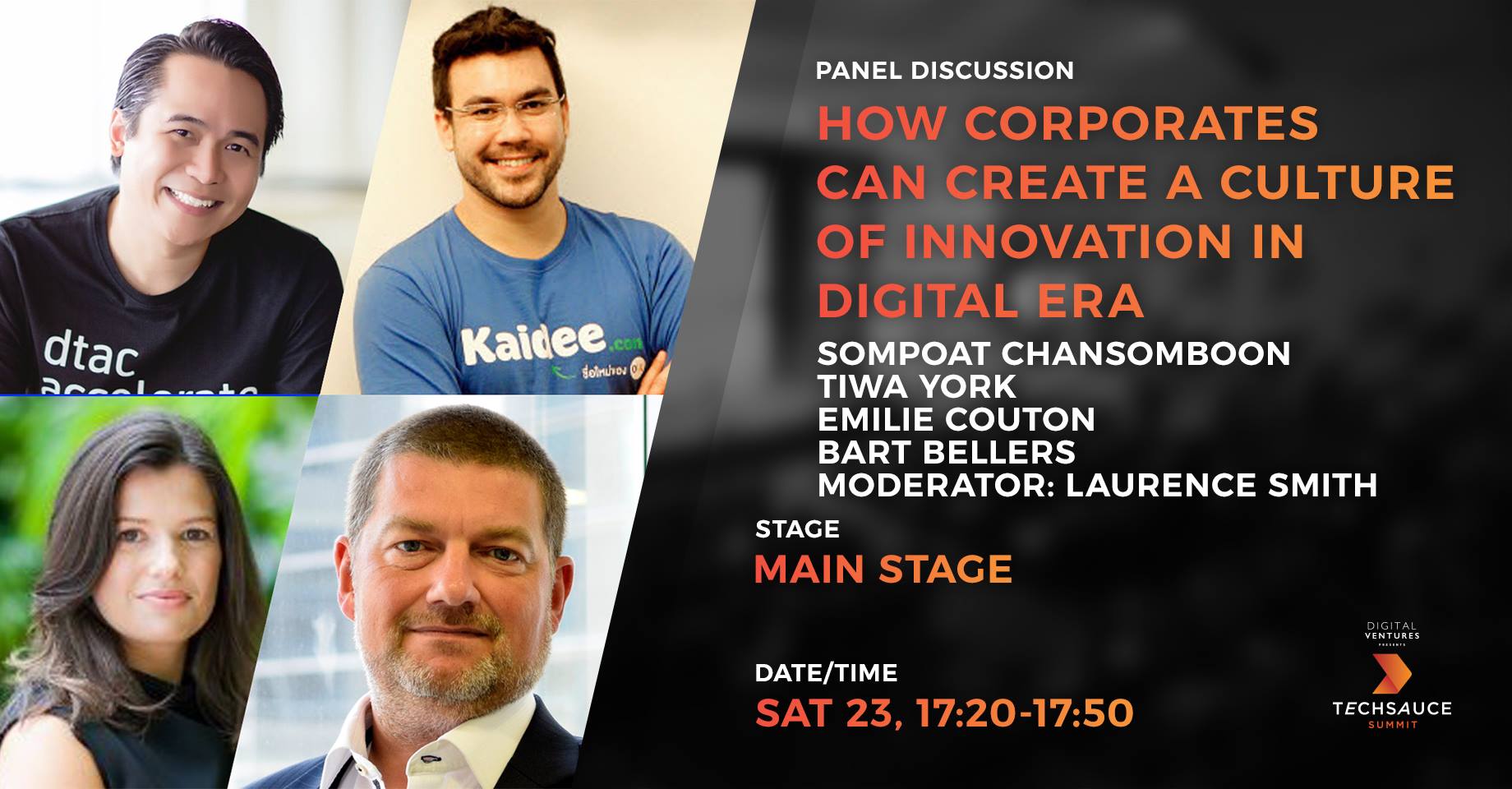 This year, Techsauce Global Summit will assemble an even largest list of experienced Speakers from the corporate field who are experts in corporate innovation.
Here's some of the corporate innovation speakers you will meet at Techsauce Global Summit 2017:
Kei Shimada: Global Director Of Innovation And Business Development at Dentsu
Hiroshi Saijou: CEO & Managing Director of Yamaha Motor Ventures & Laboratory
Vitaly M. Golomb: Investments And Partnerships at HP Tech Ventures
Philipp Kristian: Thought Leader in Digital Transformation
Ben Richardson: Group Product Manager of PwC
Simon Akeroyd: VP, Corporate Strategy & Business Development at Amadeus Asia
To discover and learn to apply advanced technologies
Blockchain, Artificial Intelligence, Biometrics and more - how can your business take advantage of these new technologies? Find out at the New Era Tech Showcase, this year's special stage featuring a series of new technology demonstrations and innovators who will share the latest in their fields, what they are doing to apply these technologies and how you can too.
Think like a startup!
At the event, there is a special room featuring an Accelerate stage that brings together all the leading minds in the startup industry to share how they are doing business to grow and 'leapfrog' with new knowledge. These will definitely be beneficial to your work, regardless of what industry you're in.
Build brand image, showcase your technology & seek out new talents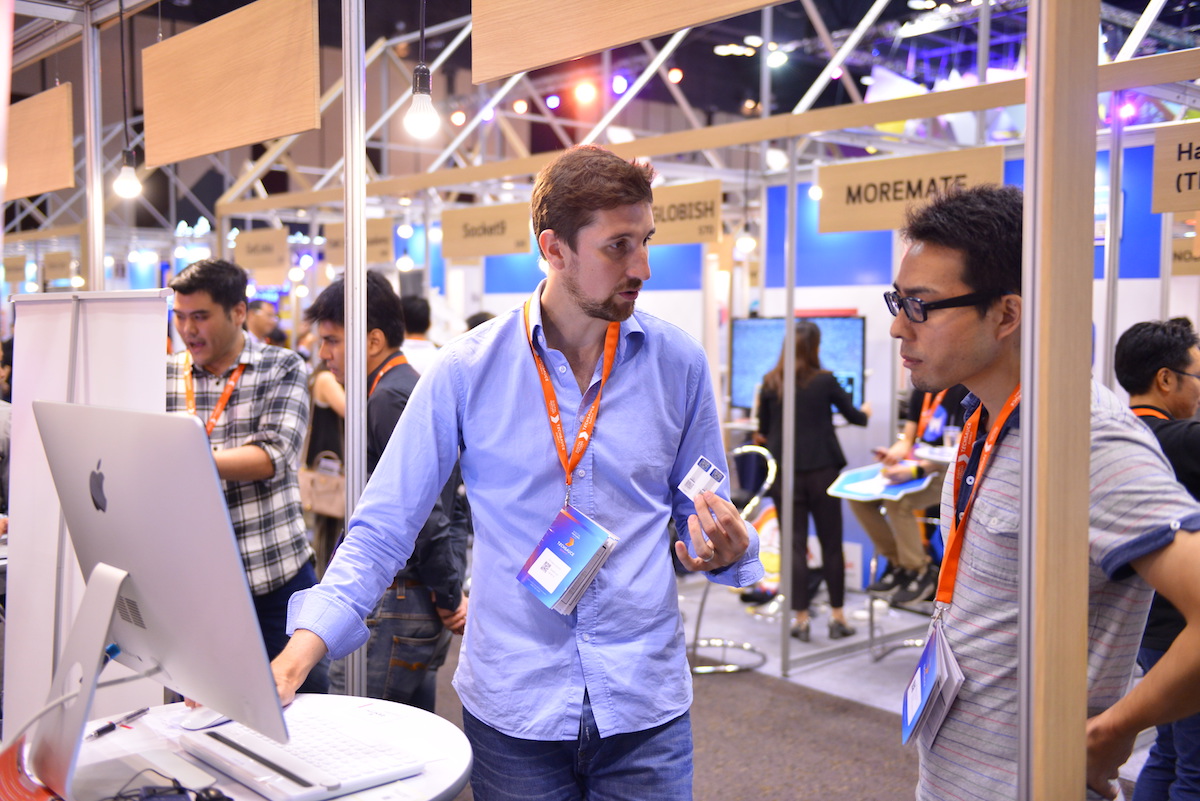 Many companies are interested in getting a booth, or in coming as a guest speaker to display their services and share their knowledge.
Additional info