LINE to use OMO, Fintech and AI to become 'ultimate life infrastructure' for Thai users
New consumer services announced for shopping, grocery delivery, ringtones and more
Innovative business solutions offer a large lineup of new products and services, including new partnerships and products for LINE Official Accounts
LINE Thailand Awards given to 26 top performers in range of categories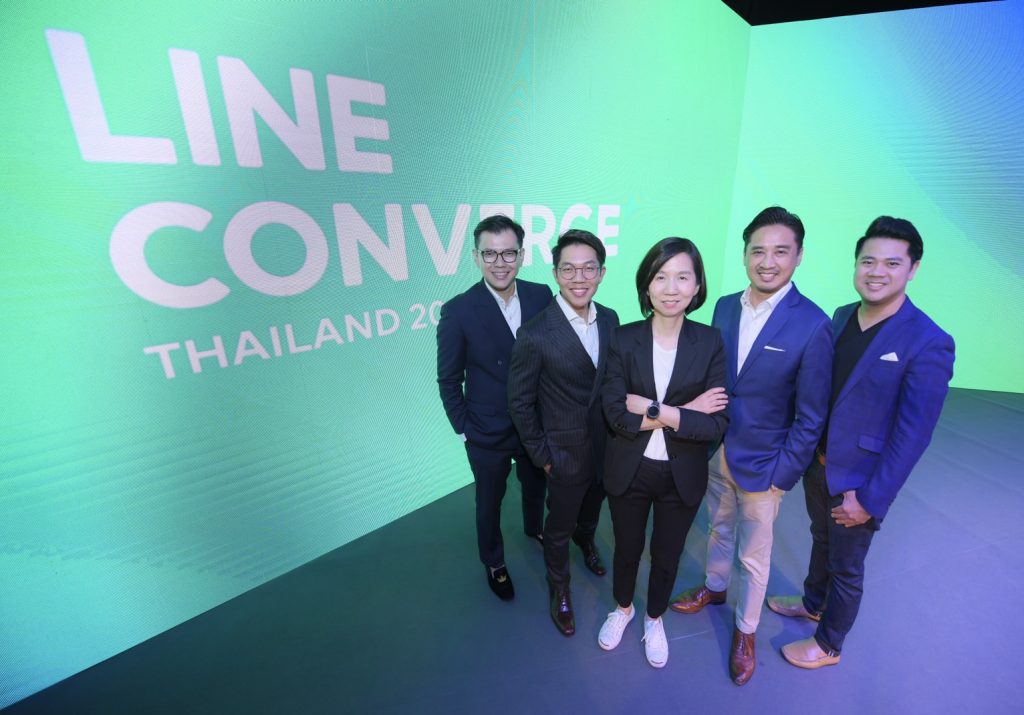 LINE Company (Thailand) is hosting LINE Converge Thailand 2019, the largest showcase of the year dedicated to Thailand's most popular digital platform, today and tomorrow in Bangkok. The two-day event brings together hundreds of guests, partners, small-and-medium businesses, and tech enthusiasts for in-depth sessions about the LINE platform.
Today's presentation kicked off with a showcase of LINE's new vision of "Life on LINE" for the Thai market, aiming to make LINE the "life infrastructure" for its users. In addition, LINE Thailand announced several significant new developments for the local market, including LINE Mini app, LINE Shopping, LINE MAN Grocery, LINE Melody and Smart Channel. Furthermore, the LINE Awards was held, presenting 26 prizes to LINE's leading partners in a range of categories.
"LINE is committed to bringing truly 'Wow' experiences to all its users," said Eunjung Lee, Senior Vice President of Global Business at LINE Corporation. "Under the theme of 'Life on LINE,' we believe our three key strategies can help fix people's common pain points and make daily life more fun and convenient for all our Thai users."
3 Key Strategies for 'Life on LINE'
The "Life on LINE" vision, as outlined by Lee, operates on three key strategies:
OMO (Online Merges with Offline) – Goes beyond simple online-offline linking and actually unites the digital and real world. By expanding the LINE app beyond the online realm and into the offline, and creating a hub for both, the company intends to make the lives of its users even more convenient and comfortable. To help Thai businesses with OMO, LINE is introducing the LINE Mini App, offering a convenient content management system (CMS) for companies to help them better engage with their customers.
Fintech – Seeks to move Thailand toward becoming a cashless society, as well as offer innovative banking services. LINE operates Rabbit LINE Pay, and is partnering with KBANK to revolutionize financial services.
AI – LINE will continue to develop with advanced, in-house AI technology, applying it to a wide range of services. For example, AI helps to personalize recommendation features for users as they navigate LINE TV, the sticker shop, ads, and more. In addition, the new LINE feature Smart Channel will utilize AI to bring sophisticated and personalized information to users, in a convenient box right at the top of their chat list.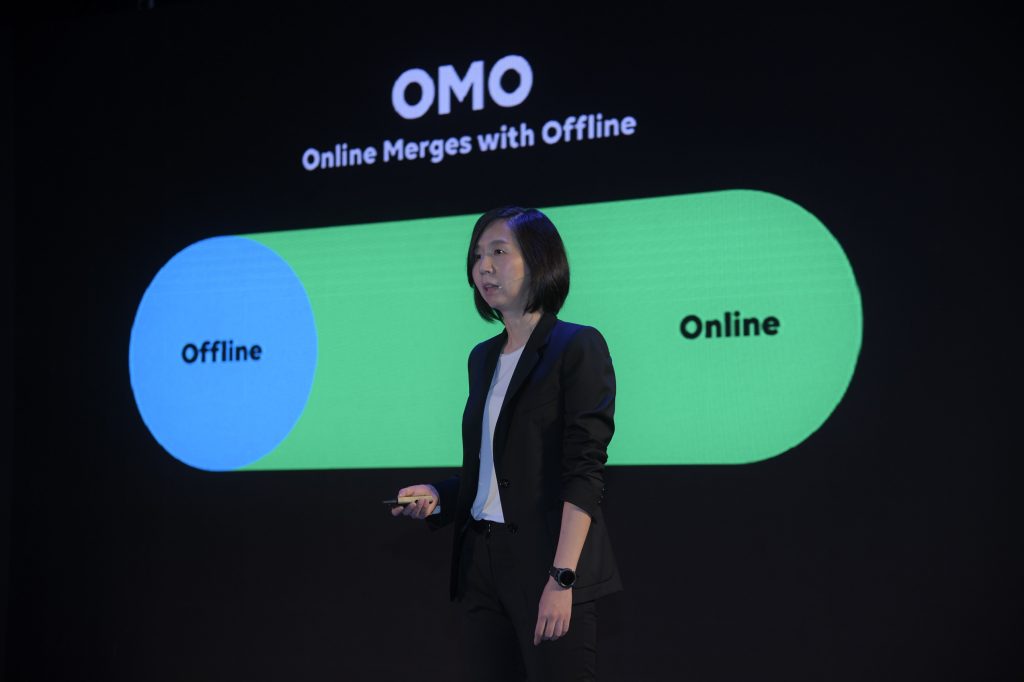 "It's about providing users with the services they need, when they need them – from when they wake up in the morning, all day long, until they go to bed at night," said Lee.
Innovations for the Thai Market
Dr. Phichet Ruekpreecha, the newly appointed CEO of LINE Thailand, then introduced a range of new services and innovations specifically for the local market.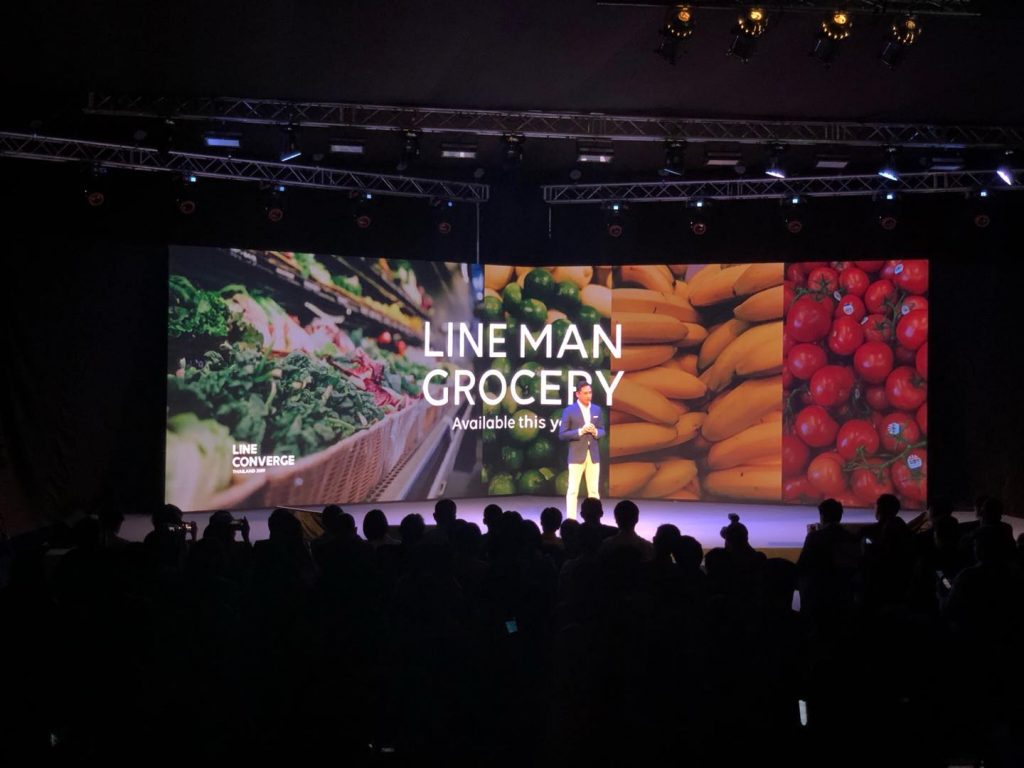 LINE Shopping – Bringing brands and consumers together in an online marketplace to fix customer's pain points and help both buyers and sellers. Features include promotions, points, a wish list, notification system, and more.
LINE MAN – Already the "No. 1 Daily Life Assistant" for users in Bangkok, LINE MAN plans to respond to surging user demand around Thailand and expand its operations to all major cities by 2020. LINE MAN is also partnering with giants like Wongnai and Lalamove to provide even better services. And the service is introducing a new eco-friendly initiative to reduce the use of plastic.
LINE MAN GROCERY – Shop for groceries using LINE MAN.
LINE MELODY – LINE Call will soon allow users to use hit songs for their melodies and ringtones, creating another important tool for self-expression, like stickers did for chatting.
"These are all innovations aimed squarely at improving the lives of the Thai people," said Dr. Phichet Ruekpreecha. "But our vision for 'Life on LINE' is also a responsibility we take very seriously, so it's always about putting our users first, and building a safe and secure platform that fulfills their needs."
New Solutions for Business
In addition to those announcements for general users, LINE Thailand also unveiled a range of professional solutions geared for businesses, as well as the HR and public sectors. With the rise of the "Industry 4.0" era, the LINE ecosystem is growing as an important and effective tool for business, connecting brands with their customers and improving efficiencies.
In Thailand today, there are 3 million LINE Official Accounts (OA), with 1.3 million OA for retail business and 180,000 OA in restaurants. That success has led to the development of LINE OA Plus and OA Plus E-Commerce. Those services will allow customers to purchase products directly through LINE Official Account, without having to switch to other applications. The same goes for OA x LINE MAN, where users can place food orders through Official Account. LINE also announced a partnership for LINE2SHOP, with MAC Cosmetics as its launch partner, and aCommerce and Akita as its commerce partner.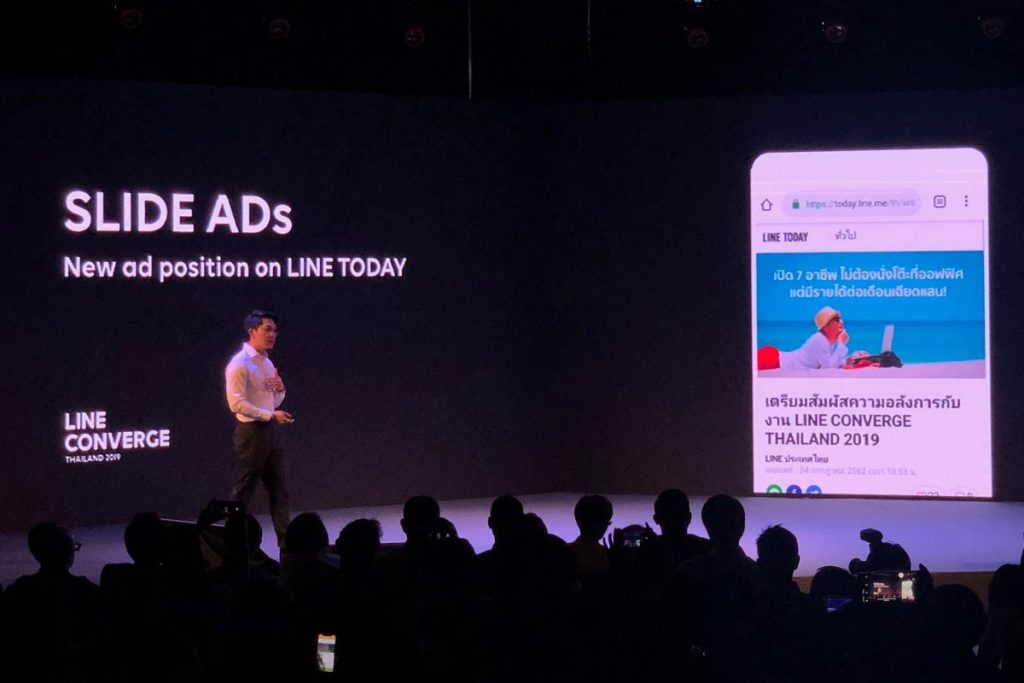 Other new services include:
1) Slide ad – a new type of ad for LINE TODAY that makes messages more attractive and engaging. Nowadays LINE TODAY is one of LINE's most popular services, reaching more than 50% of LINE users.
2) Smart Channel – offering a space for advertising on the top of the chat list, so marketers can send targeted messages to the right audience at the right time.
3) LINE IDOL – allowing pop stars to communicate and build relationships with their fan base more effectively. While LINE IDOL currently features specialized channels for celebrities and bloggers, at the event, LINE IDOL officially launched two additional categories: Business for business gurus and Sport for sports content.
Additionally, LINE's mobile payment platform continues to grow impressively. There are 6 million accounts, 4 million credit/debit cards and 5 million e-wallets registered with LINE, so Rabbit LINE Pay x LINE Points was unveiled to create convergence. This initiative will create "burn and earn" between LINE services, B2B product sales and Rabbit LINE Pay merchants, as users can exchange points with over 60,000 merchants.
As for LINE's Fintech business, operating under the management of KASIKORN LINE since launching in 2018, the company announced more products will be introduced in 2020. Users will be able to better understand their finances, access their credit information and invest safely in four areas: insights, borrowing, insurance, and investment.
LINE Converge also saw the LINE Thailand Awards taking place for the first time, recognizing the best performers on the LINE platform. Over 26 awards were given out in a wide range of categories, including tech, entertainment, automotive, retail, and the finance industry.