Siam Commercial Bank (SCB), Thailand's first indigenous and prestigious bank, will raise the country's wealth management business to a truly international level with its commitment to establish the first joint venture in Asia's private banking industry with Julius Baer, the leading global private banking group based in Switzerland. 
With the right partner in this joint venture, SCB will offer unique and best-in-class wealth management services to its high net worth individual (HNWIs) clients while being able to maintain Thai touch in its service.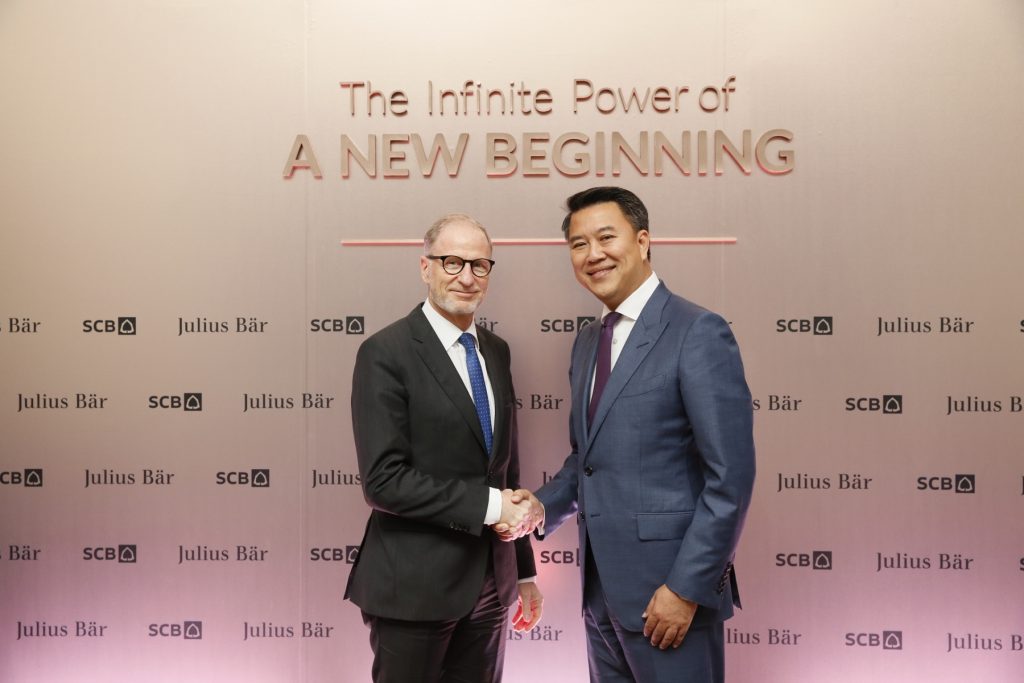 This new partnership platform is one of the key spin-offs of SCB's "Going Upside Down" strategy, building further on its strength in wealth management and a strong portfolio of HNWIs clients. When combined with Julius Baer's full suite of international wealth management capabilities and advisory services, this joint venture will enable SCB to completely transform the eco-system for Thailand's USD 300 billion wealth management market (based on the survey and estimation indicated in BCG Wealth Report 2017). At the same time, SCB can enhance its leadership in Thailand's private banking capabilities, increase its current and prospect client's confidence in its wealth management services and ability to assist them in optimizing-their onshore and offshore investment opportunities, a high potential yet untapped areas.
SCB's HNWIs clients, including foreign investors doing business in Thailand, can immediately start to optimize their wealth and have access to this uniquely integrated, holistic, global wealth management advisory offering tailored to their needs through this 1,800 million-baht (initial) joint venture right away by contacting SCB through their normal contact channel.
Mr. Arthid Nanthawithaya, President and Chief Executive Officer, Siam Commercial Bank, said, "This partnership is our first international move under the new "Going Upside Down" strategy where a new banking platform is developed and introduced. We have explored several partnership structures and finally found this joint venture with Julius Baer is the right answer. With a long-term strategic partnership structure with SCB, Julius Baer is committed to dedicating their resources to Thai clients, allowing us to deploy their full international private banking capabilities into Thai market like never before.
"As a result, our clients here will have full access to the global researches, investment product ideas and world-class investment platform as well as enjoy holistic and high-profile investment advice and wealth planning services provided by Julius Baer. With their wealth planning expertise, these international advisors will help SCB clients plan and manage their assets more effectively. Our clients can also make legal cross border investment through a wide product range. With all these benefits, we believe this joint venture will change the face of Thailand's wealth management market and create better value to our HNWIs clients," said Arthid.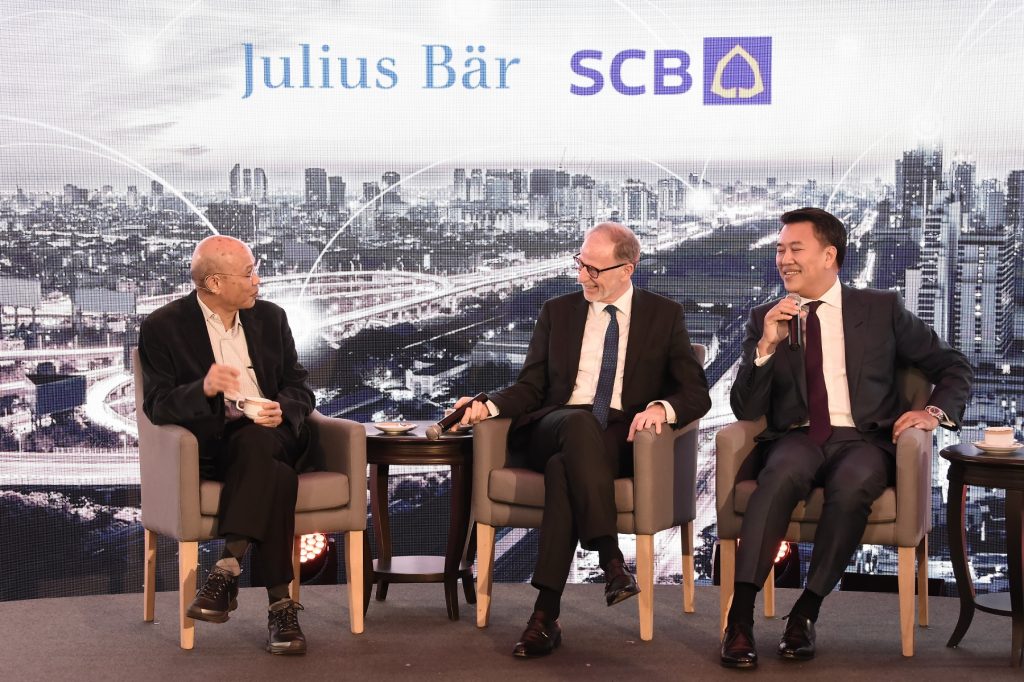 He added that the population of HNW individuals in Thailand is growing constantly at 12.7 percent in 2016 and 13.3 percent in 2017, providing the bank with strong confidence in the market potential (based on the survey and estimation indicated in Asia-Pacific Wealth Report 2017 by Capgemini's Financial Services).
Established in 1890, Julius Baer is the leading listed Swiss private banking group specialized in global wealth management consultancy operating in 25 countries. At the end of 2017, its assets under management amounted to CHF 388 billion. With its client-centric approach, the company provides advices to sophisticated wealth management clients based on its open product platform, which ensures unbiased services and advices.
Mr. Bernhard Hodler, Chief Executive Officer of Julius Baer Group Ltd. said "We are extremely pleased for the opportunity to partner a venerable institution such as SCB, Thailand's first indigenous and prestigious bank.  It validates our long-standing commitment to Asia, which we consider our second home."
"We recognize that the Thai high net worth community is increasingly sophisticated and seeking global solutions and diversification. We believe that the combination of legendary Thai financial expertise with leading Swiss wealth management heritage will offer a unique value proposition of global solutions with Thai relevance," said Jimmy Lee, Member of the Executive Board and Head Asia Pacific, Julius Baer.
Arthid concluded, "Our new joint venture is the "ONLY ONE" that will fully empower "THE ONE AND ONLY" clients to optimize their onshore and offshore investment opportunities. With our clients' success, SCB will also strengthen our leadership and brand credibility and move fast forward in the globalized business practice under our Going Upside Down strategy. We hope this new joint venture would ignite the new source of revenue for SCB and enable us to double the size of our current private banking's asset under management in the next 3 - 5 years as planned," said Arthid.