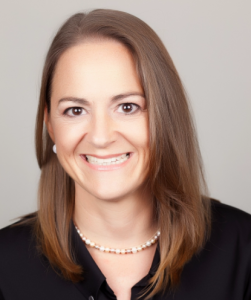 Fintech is booming in Thailand and financial education/research is one of another interesting Fintech area. Today we has special interview with Michelle co-founder and CEO of BankersLab. She has direct experience in banking industry more than a decade and we believe her insightful story will be beneficial for everyone who want to jump into Fintech industry.
Before starting BankersLab
Michelle: There is an interesting story behind what brought me to Thailand and led me to found BankersLab. I was considering leaving banking in 2007. The Global Financial Crisis was looming and as a risk manager I had given up on the banking industry and thought it was time to do something else. I decided to come to Thailand because I was considering a carrer related to public health. To gain experience, I volunteered for two years at Mae Tao Clinic in Mae Sot, Tak Province - a very famous Burmese refugee clinic on the border of Myanmar. The lady who founded the clinic, Dr. Cynthia Maung, has been nominated for a Nobel Prize for all the amazing work that she has accomplished. I was truly impressed by what Thailand has done to help the people from Burma. It was here that I first learned how to build a start up. The clinic had limited funds, so I had to teach myself everything about social network marketing, managing websites, marketing and PR. In parallel, in order to support myself I continued to freelance, facilitating trainings for banks – using a simple simulation. It was at this time I could see what a powerful learning tool the simulation was, and the first seed for BankersLab was sown.
Inspiration to build BankersLab
Michelle:  It's said that many great start ups began because somebody wanted to solve their own problem. The inspiration for BankersLab was just that; we are former banking executives who wanted to figure out how to improve how banks mange their portfolios.  It's a complex task - when I was at Standard Chartered Bank it was difficult to train people on how to make portfolio decisions: to forecast or to anticipate what could happen to portfolios depending on economic conditions or other factors. It's a very difficult skill set to learn, and even if you have a great education, it takes many years to understand the concepts and apply them in your work. We found that by using a simulation, people can practice making those decisions over and over again. It's the same idea as learning to fly an airplane - You can read a book on how to be a pilot and then step into a real airplane the first time you try to fly! What we've done is to have built a software service platform which creates virtual lending portfolios so that the bankers can practice managing them, without causing any damage to the real portfolio.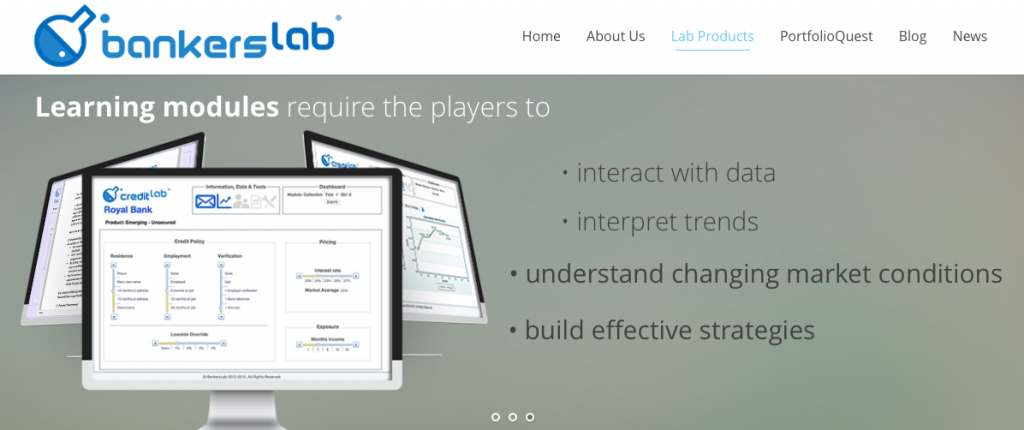 Monetization
Michelle: BankersLab provides B2B training products to banks. For each training course facilitated, we receive a license fee and a professional service fee. In Thailand we have been working with both local and international banks, but our client base is much broader – to date we have trained people from over 40 countries - so it's a very global operation.
In terms of building the company, we bootstrapped until November 2015, when we closed an angel round of investment from financial and tech executives from around the world.
What is the key difference between you and your competitors?
Michelle: Well, sadly at the moment our competitors are eLearning and PowerPoint training, which are pretty static methods of training and very different to what we've developed. If you were learning to be a pilot, and I gave you a lecture, or an eLearning book and told you to go fly the plane – you'd be in trouble! At BankersLab we are offering a flight simulator – where you can sit in the cockpit, practice, and develop critical skills, rather than just knowledge.
We've created a new product vertical for our industry - and that's been painful because the pricing isn't comparative to traditional training. We've had to educate the clients a lot, so the sales process is a little slower. Everybody always says, "Oh, that's so great! The greatest startups are the ones who create a new product base!" But, on the other hand, that's very painful because you don't have competitors to point to so that the client understands what you are selling.
The biggest challenge during running the business
Michelle: When we launched in 2012 there wasn't much of a startup ecosystem here in Thailand. So we had to do it by ourselves and learn through trial and error!  These days it would be a little bit easier because there's even an ecosystem in Chiang Mai – which is obviously doing very well thanks to Techsauce and Hubba that helped create it!  Looking back at our early days and how difficult it was, we now really appreciate the power of the ecosystem. It's something I can't stress enough to new startup founders. I know the ecosystem can be a distraction, because you have so much to do and need to sit and work really hard - but you have to balance that with just having the huge benefit of being able to ask questions to other people and tap into their knowledge. We are now definitely making the most of the support the ecosystems in Thailand, Singapore and Hong Kong have to offer us!
The next plan
Michelle: In February we launched our latest product called PortfolioQuest, at Finovate London.  Until now all of our training products were classroom based and required skilled trainers to coach the sessions - so we had some scaling issues. PortfolioQuest is completely digital - so anybody can learn how to manage portfolio if they spend enough time practicing in the simulation with the digital coach. Our new product will catapult us into the massive scaling stage.
Looking back, I think we followed the standard evolution of a startup: you begin by bootstrapping, build your product, and find your right market fit. We were initially able monetize the whole thing through B2B sales and bootstrapping. Now that we are ready for massive scaling, we have to enter into a standard investment cycle because we need to move fast if we aren't going to waste the head start our new product has given us.
FinTechs in Thailand have a lot of movement right now. So in your opinion and from your perspective, what is the main aspect that we should improve in terms of the regulatory and government side or rules to support startups?
Michelle: In Singapore, the regulators have already invested a lot of time exploring solutions like Blockchain and how to integrate KYC regulations into shared ledger or distributed ledger. As a result in Thailand, I don't think that the regulators need to "reinvent the wheel" - the wheel already exists. Thailand can use what others countries have already done to form a strong base. For example, good collaboration between Thai regulators and, for example, the Singaporean regulators would be very beneficial. There's no need for Thailand to do the work that Singapore has already done. By collaborating together they can move quickly. Added to this, with the creation of the ASEAN and all the integration that's taking place, the more regulators work together, the better. So I think the first step is to really encourage regulators to make sure they're collaborating effectively within ASEAN. That will help FinTech to not only grow quickly, but also safely.
And the FinTech startups in Thailand, most of them have a background related to the banking industry. It can be a barrier for new startups that want to be a FinTech startup. So in your opinion, do you think it is too hard for the new grad who want to jump into the FinTech startup area? What do they need to know before they jump into this area?
Michelle: I think it depends on the type of startup. The thing to remember is that many people in other countries with FinTech experience want to get into Thailand. So even if they don't have all the right skills they can get connected with the FinTech community or ecosystem in, for example, Hong Kong or Singapore – and find a cofounder, partner with another company or platform.
I think many of the new FinTechs we'll see in Thailand will be consumer lending, P2P lending, etc. In other countries, FinTechs like these already exist, so again there is no need to start from scratch – just find a cofounder from another country and start collaborating! Most people are happy to come to a new market and do something exciting. Overall, I expect the Thai ecosystem to move quicker than in other countries because they can collaborate with people from other markets and nearby ecosystems.
The advice for Thai Fintech Startup
Michelle: In terms of FinTech startups in Thailand, I think the first step is to make sure that you create the relationship with the banks and the regulators first. If you make a mistake about your business model – whether it be from a business perspective or from a regulator perspective – then you're finished. Making those relationships before you specify your business model is critical to success.  The second step would be to look at other markets to see if they have tried the same thing. You'll find that most of the FinTech startups in Thailand have been tried elsewhere – use this to your advantage by studying and learning from their successes and failures. My final piece of advice is one that is standard "Start up 101", and not Thailand specific - keep testing your right product/market fit until you have a perfect alignment!
======================================================================
Michelle will speak at Techsauce Summit 2016 on Fintech Stage. Let's join Asia's hottest tech conference in Thailand on July 23rd - 24th at Centara Grand! Apply Now!