Leading in all tech and business news in Thailand and Southeast Asia, Techsauce is home to unique insights, analysis and data on one of the most digital ecosystems in Southeast Asia. We believe that anyone with a passion to learn and share can drive a positive force for the ecosystem. Hence, the Tech Saucier of The Year 2018 is here to push this inclusive knowledge sharing opportunity.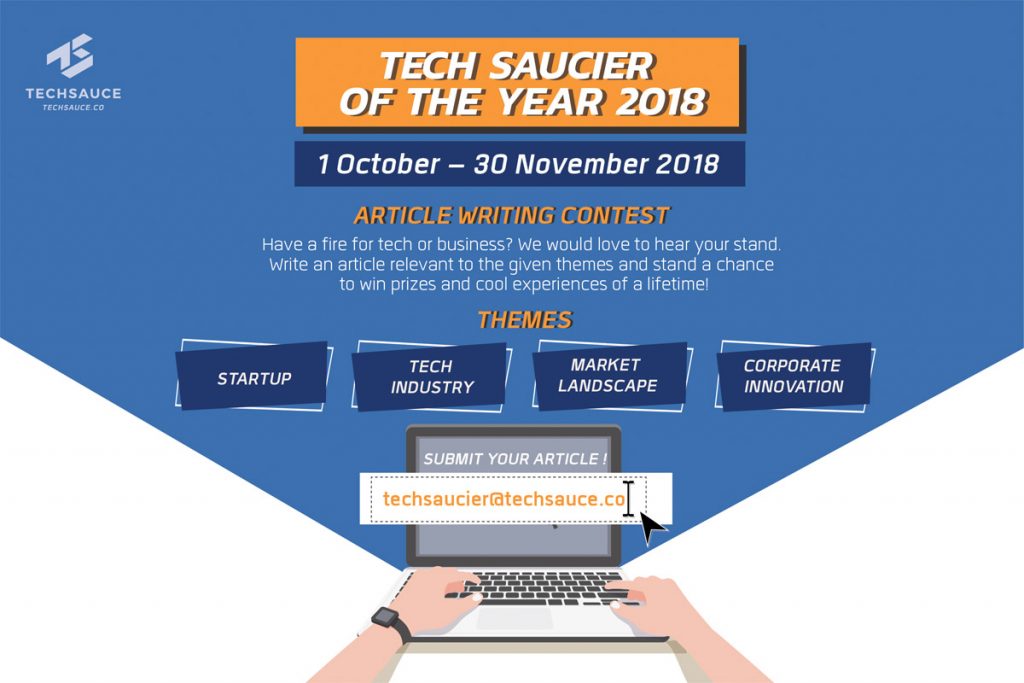 The Tech Saucier of the Year seeks to uncover a wider scope of perspectives from people from all walks of life, and allow them to share their thoughts on topics related to tech. Techsauce treasures these shared content and has prizes awarded to the top writers.
So what makes you a Tech Saucier?
The desire to jump on the bandwagon in building a stronger tech and business ecosystem. Be it the sharing of experiences, knowledge, and techniques, Tech Sauciers work to transform human resources, companies, and organisations in the digital era through writings and various forms of creative works. The key is to have an interest in technology and business to join us in sharing information to step up Thailand's ecosystem.
Why have we opened up a 
Techsauce Saucier 

platform?

"If you have knowledge, let others light their candles in it." – Margaret Fuller

Over the past 3 years Techsauce has been committed in presenting content that benefits and creates change in the tech circle in the world of business.  Time has proven the power of sharing information, knowledge, and various know-how has real influence on the ecosystem.  Techsauce is the first Thai media to host a tech conference that connects Asia and the rest of the world. Today content is everywhere.  Techsauce is sure startups, entrepreneurs, investors, companies, SMBs, organizations, developers, students, professors or those who genuinely seek knowledge and share with others can be a part of driving the ecosystem.  This move will bring about positive growth in the country's Tech & BIZ sector.
Who
All undergrads, high schoolers and working professionals are welcomed to join this competition.
Theme
Not sure where to start? The competition focuses on 4 themes:
Content on startups
Content on technology and new developments from areas the include AgTech BioTech, EdTech, EnergyTech, FinTech, FoodTech, HealthTech, PropTech, InsurTech
Content on market landscape
Content that is business related such as Digital Transformation, Corporate Innovation, SMEs, and family businesses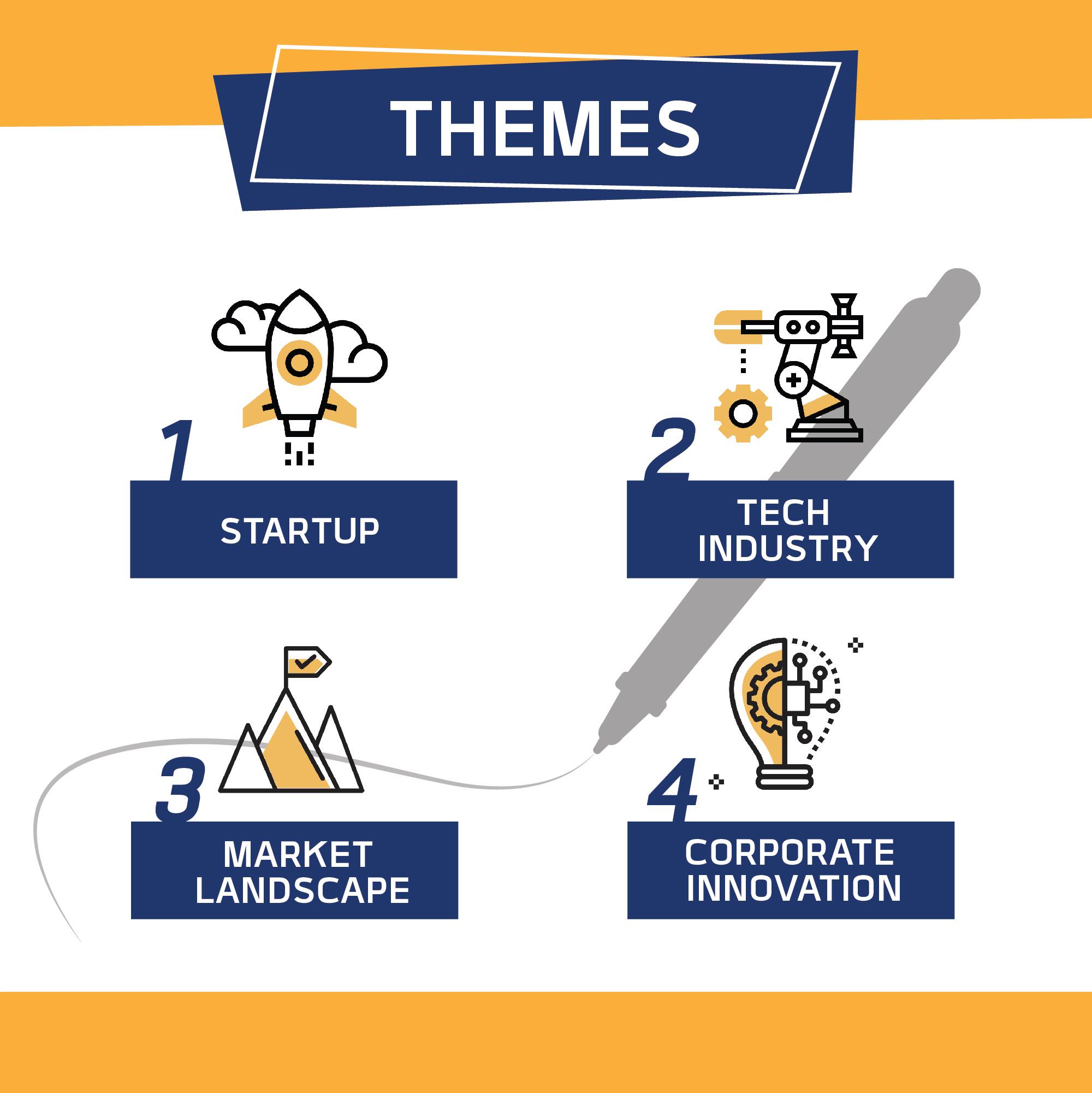 Timeline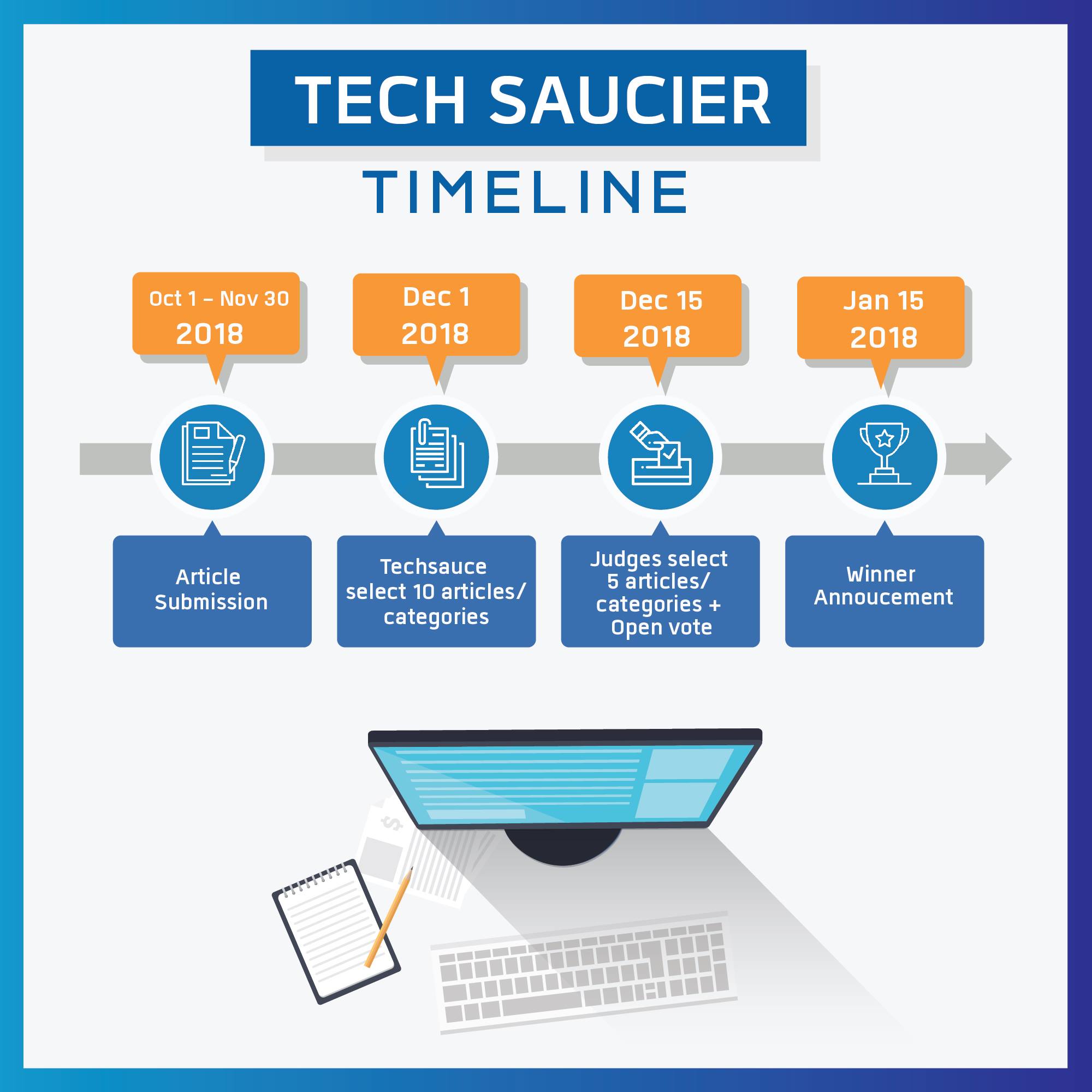 Judging Criteria
The top articles will be decided based on 60% from judges and 40% from popular votes. The judges include the Techsauce Team and people with diverse professions namely, Tech Ecosystem, Creative Writing, Entrepreneurship and Thinker Analysis.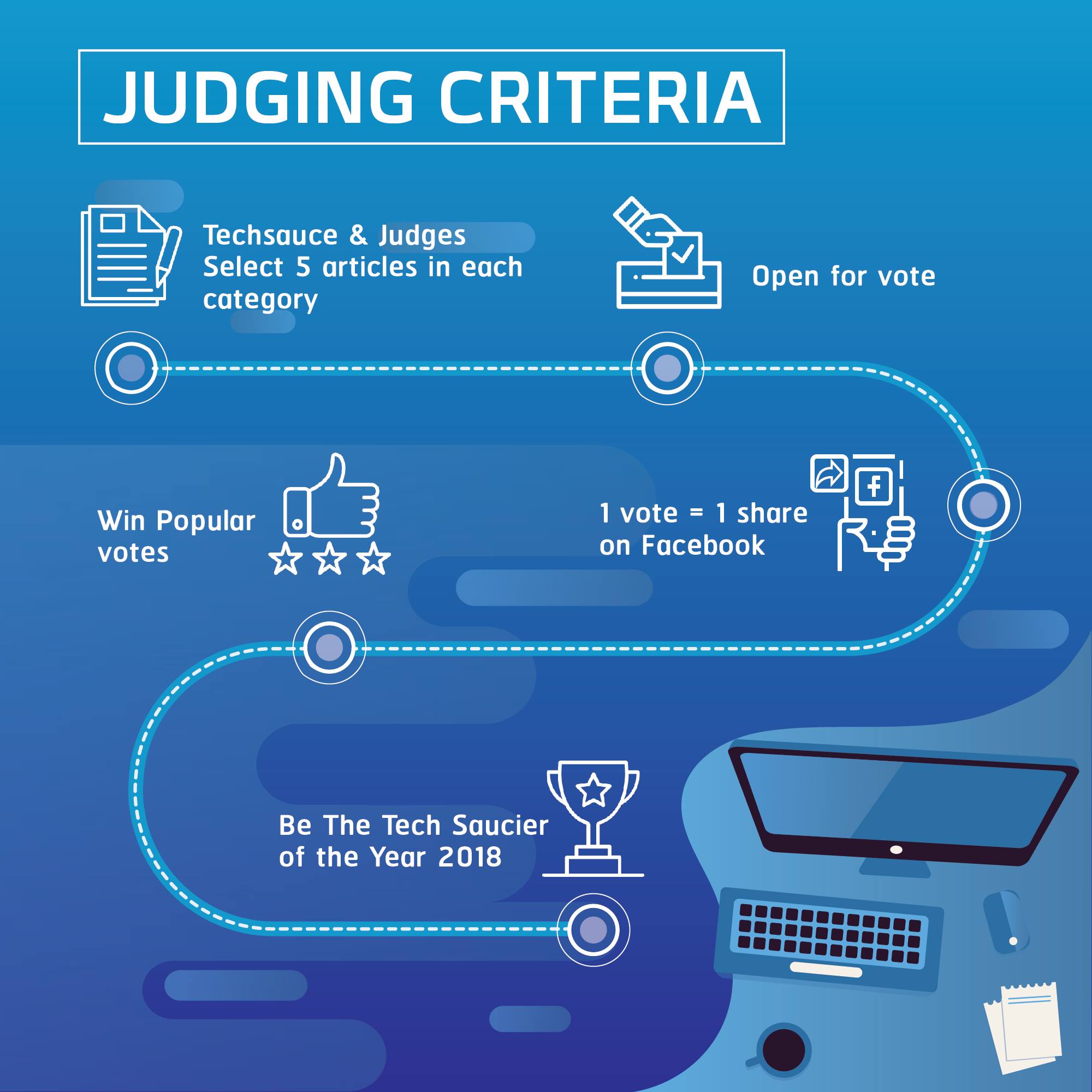 Prizes
In the English category, a creative in both the senior and junior category stand a chance to win:
Sponsored flight to Techsauce Global Summit 2019
Techsauce Global Summit tickets (x2)
Connect with Techsauce friends (exclusive events, PR services, etc.)
Free HUBBA Co-working space pass for 1 year (worth 30,000 baht)
Trophy
Certificate
In the Thai Category, a creative in the senior and junior category stand a chance to win:
Techsauce Summit Global 2019 tickets (x2)
Connect with Techsauce friends (exclusive events, PR services, etc.)
Exclusive overseas trip with Techsauce (Asia)
Free HUBBA Co-working space pass for 1 year (worth 30,000 baht)
Trophy
Certificate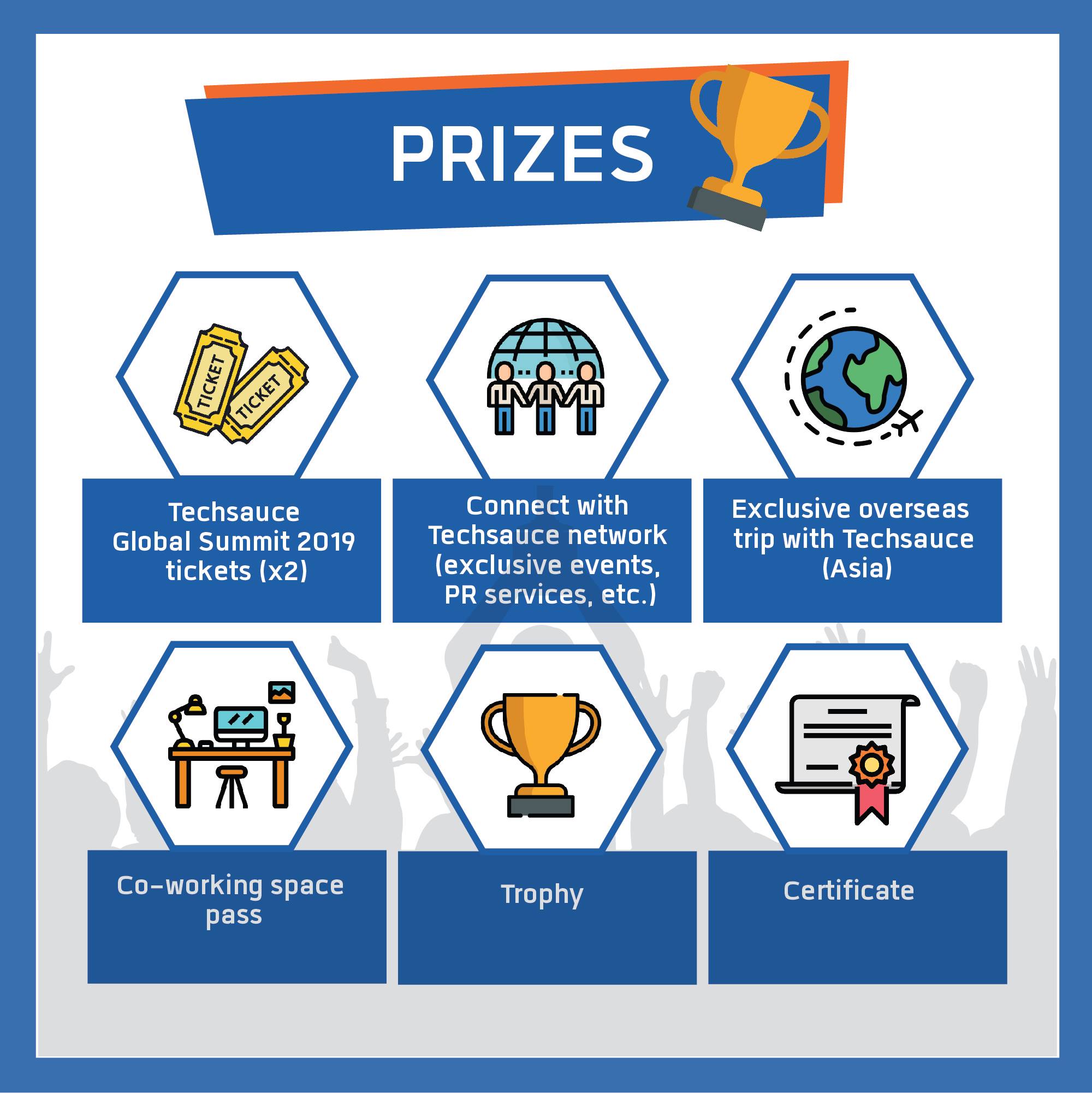 How to Apply?
Simply apply for this competition by submitting your masterpiece and a picture of your Student ID (only for Junior category applicants) to [email protected] by 30 November 2018.
For any inquiries, contact us at [email protected]
Terms & Conditions
By submitting work to Techsauce the writer is allowing Techsauce make appropriate editorial changes and use it as it sees fit.  (Should there be a need of significant changes, Techsauce will inform the writer before any action is taken.)
Writings cannot advertise any services or products or have any commercial content.
Writings cannot be used to make false accusations or defame individuals, products, and trademarks.
Writings cannot defame, insult or threaten the King, the Queen, the Heir-apparent or the Regent of the Kingdom of Thailand.
Language used must be appropriate for the public and not contain rude or disrespectful words.
Plagiarism is not tolerated.  The original source or material must be given.
All writings must be edited and approved by the Techsauce editorial team before its publication on the website.
Writings on the website will follow the Creative Commons Attribution 4.0 International Public License in distributing information on the Internet.
Disclaimer
All submitted opinions that are published are credited and independent to the owner of the content. Techsauce is not liable for the opinion of the original content.
Don't forget to have fun writing, we look forward to see your masterpieces!