Fintech? Check.
Young Thai co-founders? Check.
Cute pig mascot? Check.
Neversititup is the company behind financial management app Piggipo, which is available on iOS and Android. We met their co-founders Sirathorn Thamprateep, Supichaya Surapunthu and Pongchai Tangbowonweerakun for an interview to find out what they've learned in the 2.5 years of their startup journey so far.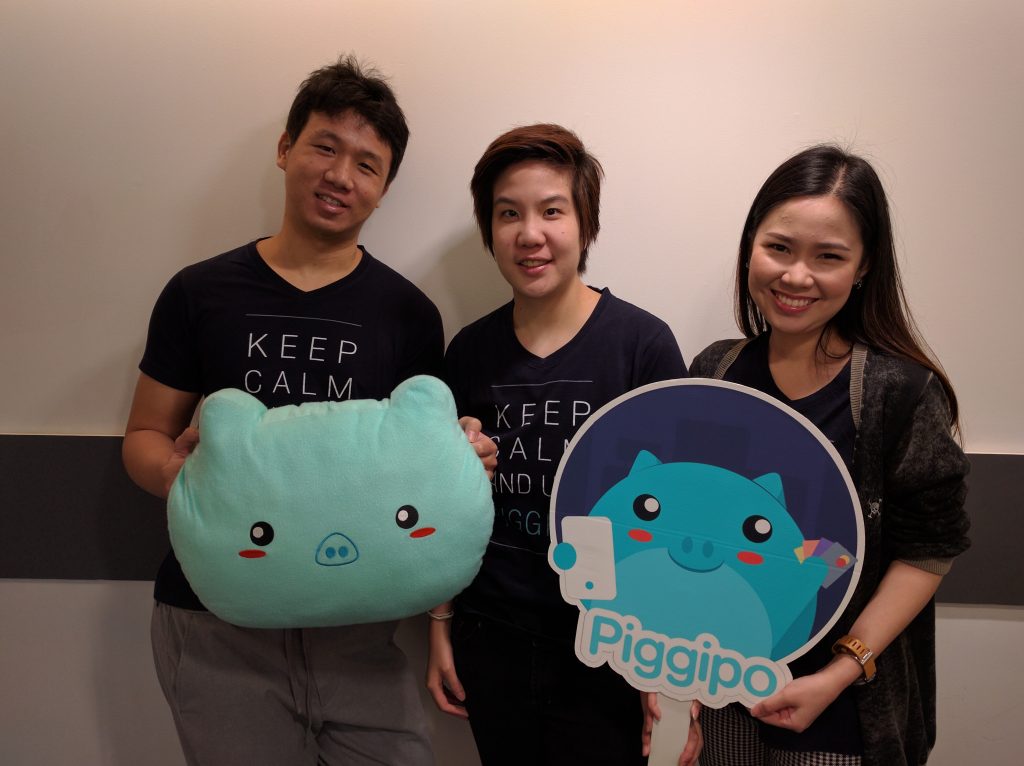 What was the main idea you were trying to solve when you started the company?
The idea came from ourselves, Supichaya and Sirathorn, we used a lot of credit cards and we found that we were in credit card debt because we had too many credit cards! When we used credit card, it felt like future money, so we didn't know how much we were spending. We enjoyed spending because the cash was still in our pocket: we felt like "we can use this, we can buy new iPhones, we can use the 0% promotion", and when the credit card bill arrives, just hope I haven't spent too much. Sometimes I'd be spending the salary I just got to pay the credit card bill from last month.
It's a downwards spiral. So we broke down the problem and we came together and brainstormed - how can we help ourselves to get out of this situation? And our solution was to create an app that allows me to see how much I'm spending for all the credit cards I have, and see my future spending.
Is it very common in Thailand for people to have multiple credit cards?
Yes, normally Thai people have at least three credit cards! Firstly because banks have a lot of promotions but another problem is ourselves, Thai people, we have low financial literacy. Financial literacy is not taught in school or in university. If we understood this better, we wouldn't get into so much debt!
So you decided to use an app to try to solve this. The app is read only. You input your credit card information, but it doesn't actually do transactions. Was that deliberate?
Yes, because the concept was really new in Thailand. When we first launched the app we didn't have auto-sync to import your transactions. People had to input transactions by themselves, and even then some people were still worried about securities!
Does the information live on your device or on a server?
It's both. It's a hybrid system. If people don't have the Internet, it still works. When the people switch cellphones, or go to Android, or iPad, it will sync the data together.
One of the challenges in Thailand is that banks don't really have APIs and don't make it easy to integrate with.
Correct. Honestly when we started, three years ago, fintech was not a trend yet, banks were not interested in a small company like us. When we talked with some banks, they said: "we're not interested, why would I need to open the API for you?" What we needed to do was prove that this idea is necessary for credit card users. That is has a benefit for users. We proved this by growing our user base so we had a lot of users already using the app, and then we went back to negotiate with the banks. Now we had much more negotiating power!
Also, we got better at explaining the benefits that banks would get if they work with us. For example, they can reduce their SMS costs if they connect an API to us. They don't have to push the SMS to the users such as "you have spent 500 baht this month." We can send notifications for them.
Many Thai financial apps, especially apps from banks are quite ugly and old-fashioned. Why do you think that is, and how did you make your app more fun, and more modern?
The attitudes of the banks and all the people in the financial field seems to be that the application should be really plain or should be an old design, to make it seem official or "safe".
But when we decided to make Piggipo, we were coming from a consumer background. When normal people talk about finance, they will say "oh, it's something dreadful, something I don't want to think about." We need to make finance more fun. So we decided to do something that disrupted the old style.
Thai people use LINE, they use stickers, they like cute design, so we decided to use a pig as the logo. And for example, if you set up your budget, you will see the pig animates and changes its emotions. It makes money look like more fun.
What have been the biggest challenges over the last few years?
The biggest technical challenge was auto-sync, connecting the transactions from your bank to your Piggipo account. Before we settled on this solution, we tried out many things like OCR. We tested it for 2-3 months and we found that it is not accurate enough. People's cameras are often not high quality, some people would take pictures at night! It's hard to control.
So we analyzed what other countries do, for example, mint.com in the US. What do they do? How do they negotiate with the banks? Can we implement their methods? Now the fintech trend is growing, banks are more willing to let us directly connect to their systems. If the bank doesn't agree, we still need a solution. So we use third-party technology to connect with the banks that haven't opened an API.
Was it difficult to find people who wanted to work for a startup? How do you hire?
We have 8 people working full time, 11 in total. We have developers, designers, sales and marketing. About half of our team are developers.
When hiring, the first thing we ask is: what kind of company would you like to work with? Is it a startup or is it a corporate? Because they have very different cultures. The second thing is their attitude, are they are a positive person?
We have two rounds of interviews. First we test their skills, for example, if you want to be an iOS programmer, we give you an iOS test for one hour. If they pass that, we'll bring 5 or 6 people in our team to talk to them directly to see if they are a good fit.
What are your future plans for the product?
First, we want to allow people to use Piggipo to pay their credit card bill.
We also want to extend Piggipo beyond credit cards, because credit card debt is just one of the kind of debts that people have. They also have car loans, mortgages, personal loans. We aim to be the number one personal financial app in South East Asia.
We already launched in Malaysia, we launched partnering with MayBank's fintech program. We were one of 20 teams they selected to bring to Malaysia. We were the only Thai team to sign a contract with them.
What are the challenges with going to new countries?
At first, it's very hard, because we don't know the culture. We need to fly every month to Malaysia. We even found that to launch in Malaysia, we needed to change the logo and change the name, because in Muslim countries, people don't like pigs! So our Malaysian mascot is now a cat. And the way people use credit cards is different in different countries.
Who are your investors? Do you feel pressure from investors to grow too fast?
We've received investment from DTAC Accelerate and Oogbee for the pre-seed round in 2014. In February this year had a seed round by 500 TukTuks, Golden Gate Ventures and SeedersClub.
It's important to think about the investor you want to "marry with". I always ask prospective investors: what's your plan, what's your timeframe? We prefer to choose investors who are not too hurried. We've been lucky so far with our investors that they trust our vision.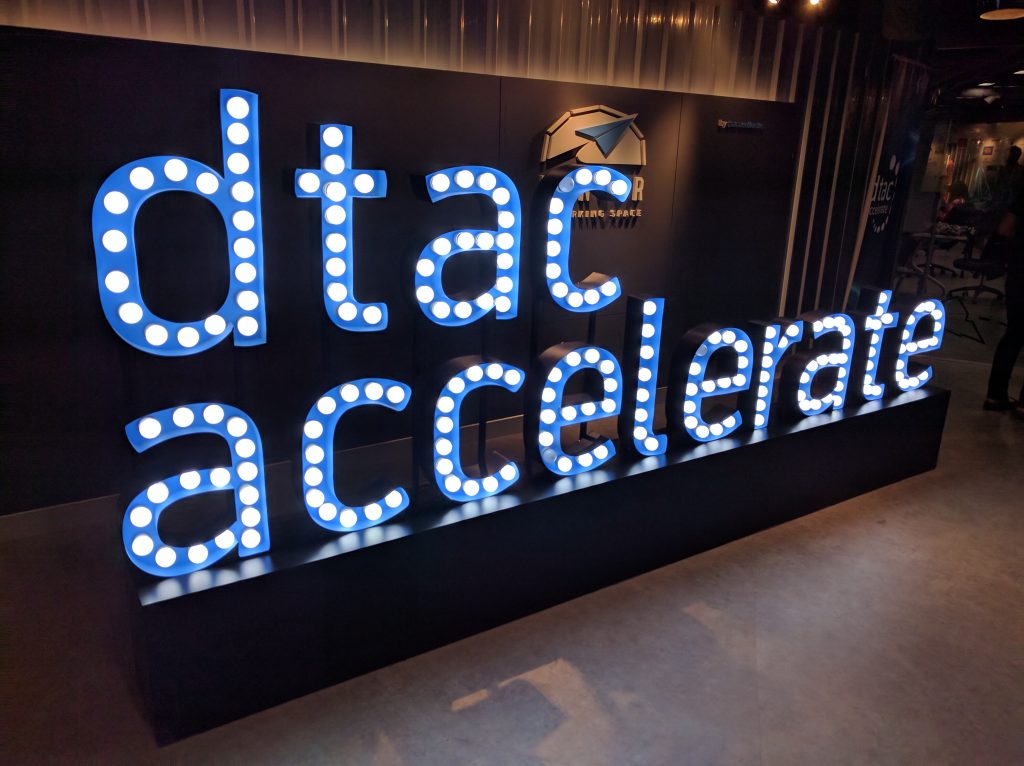 You also have a new app launching soon?
Yes, Planpo is our new app, it's a personal financial management app. You will input your income and expenditure, and it will help you create a personal financial plan. We decided to make a separate app, rather than combine it with Piggipo, to make sure the Piggipo app stays simple for people who just use credit cards. The target audience is different for Planpo. We can also iterate more quickly and use new technologies like Swift in the new app. We still use a shared login system between both Piggipo and Planpo. Planpo is expected to launch around December.
Thank you!
Watch the video below for more information on Piggipo!
https://www.youtube.com/watch?v=s3EGcnesRkc