Here are 5 things to help you catch up with China's rapid innovation. 
Shanghai, a metropolis of China, is not only the center of business and finance, but if anyone has the chance of seeing how it has grown in the past 2-3 years, you would be surprised at how it has changed.  You would be surprised at how various technologies have been integrated into people's lives and changed them.  Techsauce would like to thank Siam Commercial Bank for the opportunity to visit Shanghai and its new branch there.  From the trip Techsauce discovered 5 things you should know about the Chinese market before 2025.

1. Cashless Society: From data to consumer insight
We often talk about data and Artificial Intelligence (AI) in Thailand, but there is a small handful of people who can actually make use of it.  In China, all data gathered from every touch point for the consumer is fully utilized.  Thailand is just starting to become familiar with Alipay WeChat Pay in retail stores where Chinese tourists frequent.  In China everyone knows China has leaped in transforming itself into a cashless society.  There is a network effect from services that are based on lifestyles that is hard for competitors to penetrate.  Examples are WeChat Pay, which originated from the WeChat app and Alipay from Alibaba e-commerce, which has a large user base.  The user bases are so large that regular merchants have no other choice but to integrate the payment systems into their businesses.
The thing about everything going digital is that information is all stored and can be assessed.  Everything is known from what, where, and when purchases are made.  Even a giant franchise such as Starbucks gave in to using Alipay in China last year.  Knowing consumer behavior is one thing, but this data is used with deeper insight by tech firms for loans and launching a full-range of financial products, including insurance.  The scary thing is that this understanding of consumer behavior is not only used in China, but it has already being used in Thailand without many of us realizing it…
How many players are there in China's FinTech compared to other countries?  Just have a look below and you will understand.
2. Online to Offline, the future of supermarkets, already a reality in China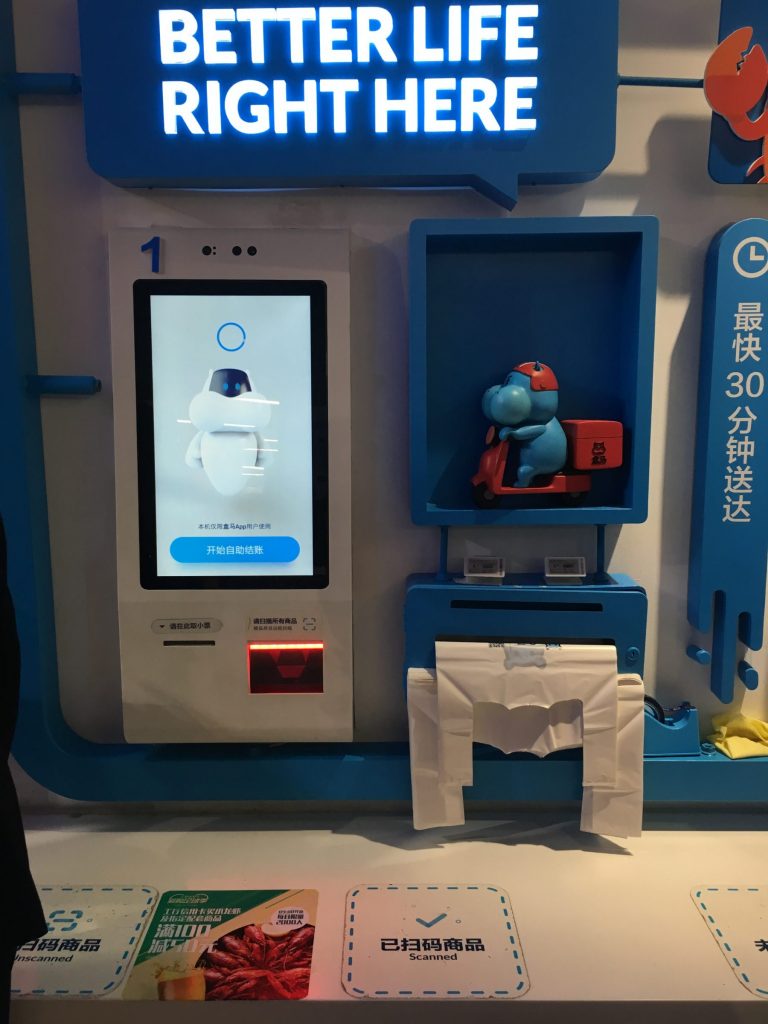 Cashier-less stores are nothing new in the west because Amazon Go has already launched these stores.  However big brother China has added more convenience.  You might have heard of a supermarket called Hema, which is a supermarket of the Alibaba network where everything is paid with Alipay.  Here is what makes it unique:
Customers can order products via an app and a Hema employee will proceed to pick up the products at the supermarket.  The products will then be delivered within 30 minutes.
If you want to eat freshly cooked food at the supermarket such as giant prawns, you can select which prawns you want and the chef will cook it for you.
Customers can check the origin of each product to find out who the producer is and what are its ingredients with a scan of a barcode like the one in the picture.  This is an example of what you would get with a scan of a durian from Thailand.  With each scan the store will also know what products you are interested in and will then recommend related products to you.
China gives great importance to the freshness of products.  Right now Alibaba is working to make deliveries and logistics more efficient.  Just think, how do you deliver durians from Thailand to China in time so that it tastes just as if you were to eat it in Thailand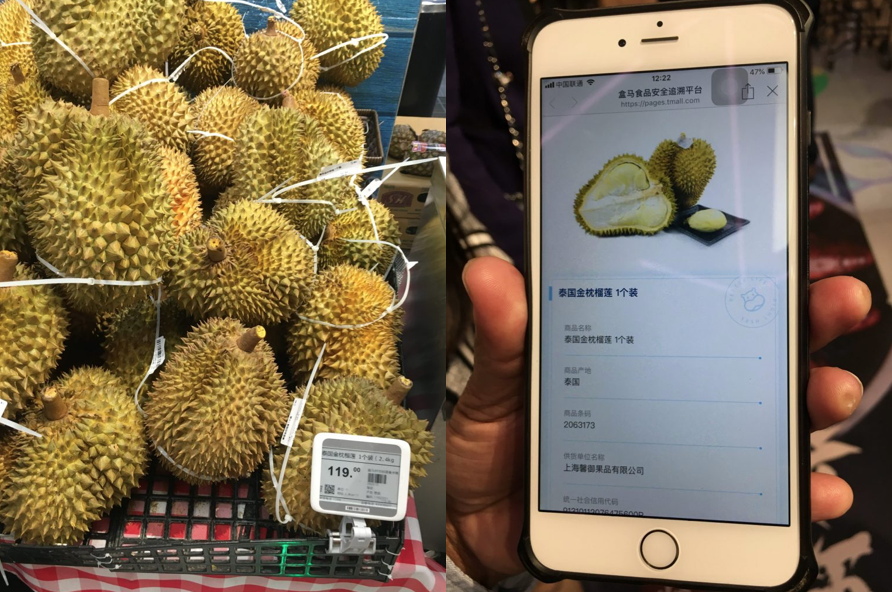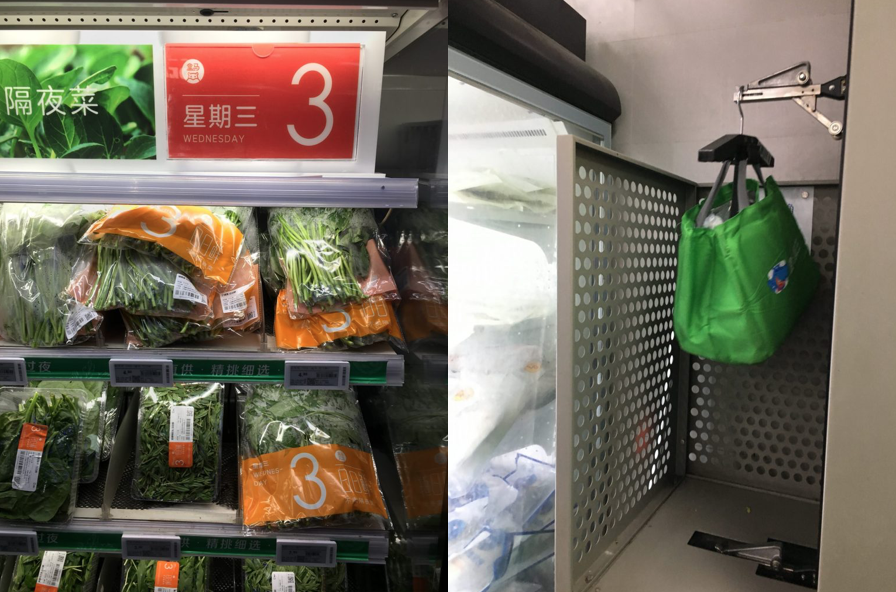 Alibaba uses face recognition for payment of products so that the customer does not need to take anything from their wallets.  With just a scan of the face, the amount spent will automatically be cut from the Alipay Account.  Although it brings ease in paying, this process means the company is collecting facial data to do face mapping with information of your behavior.  Soon this will become a norm.
3. The big Chinese wave heading to the SEA market 
We are not talking about the big wave that came already with pioneers Huawei, ZTE, and Haier, but rather the rapid entry of Chinese tech companies in the past 2-3 years that have used their own strategies to enter the Southeast Asian markets themselves with their own investments and joint ventures.
Alibaba came in and bought Lazada, invested in Tokopedia, and Alipay invested in Ascend Money.
Tencent invested in Gojek, Garena is the owner of Thailand's Sanook
JD made a JV with Thailand's Central Group and invested in Gojek also.
Even DiDi invested in Grab and used a similar strategy to oust Uber out of the Southeast Asian market.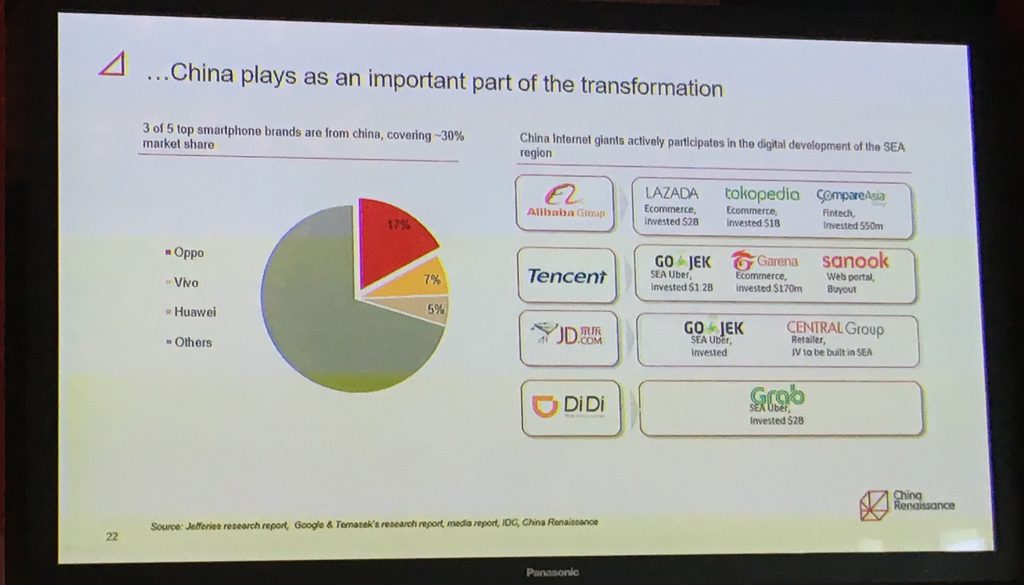 We have heard a lot about these stories recently.  The latest story is about a big player, the giant finance company Lufax, which is a part of Ping An Insurance Group.  The company is expanding from its peer to peer lending business, which is facing the challenge of fraud in China and has service of switching cost that is low.  It is likely that borrowers will switch platforms easily.  In China there is a large number of players in this field.
The latest news is Lufax changing itself to become a wealth management platform and moving into overseas markets, starting with Singapore.  This is to provide a channel for Chinese clients to invest overseas at the level of US$5-10 billion.
This is the first time that the Monetary Authority of Singapore or MAS has allowed a FinTech company from China to do this.  This is a very interesting point because opening such various accounts is pure E-KYC identification.  For documentation, optical character recognition (OCR) is used to gather information.  As for the verification of payment, factual recognition is used.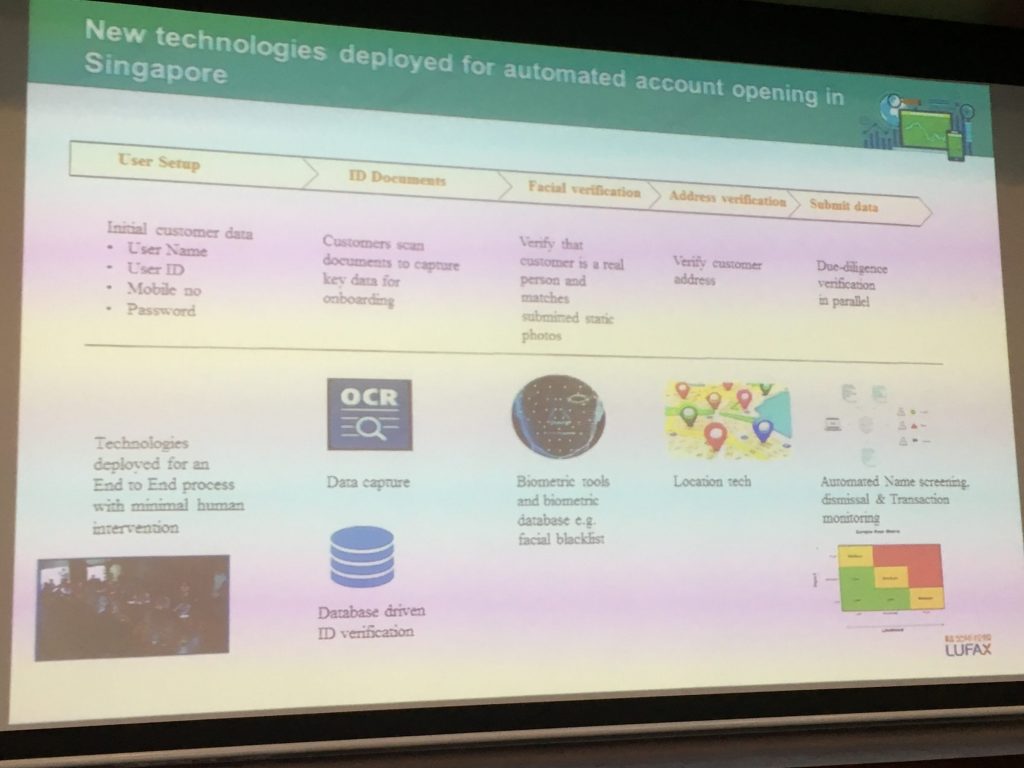 The MAS giving such as privilege has drawn up criticism.  On one side the move could support Singapore in becoming a global FinTech hub, but on the other side foreigners are getting this privilege quite easily.  At the end Singaporeans themselves and the country's FinTech may not benefit from it.  (This privilege has not been granted to Singaporeans yet.)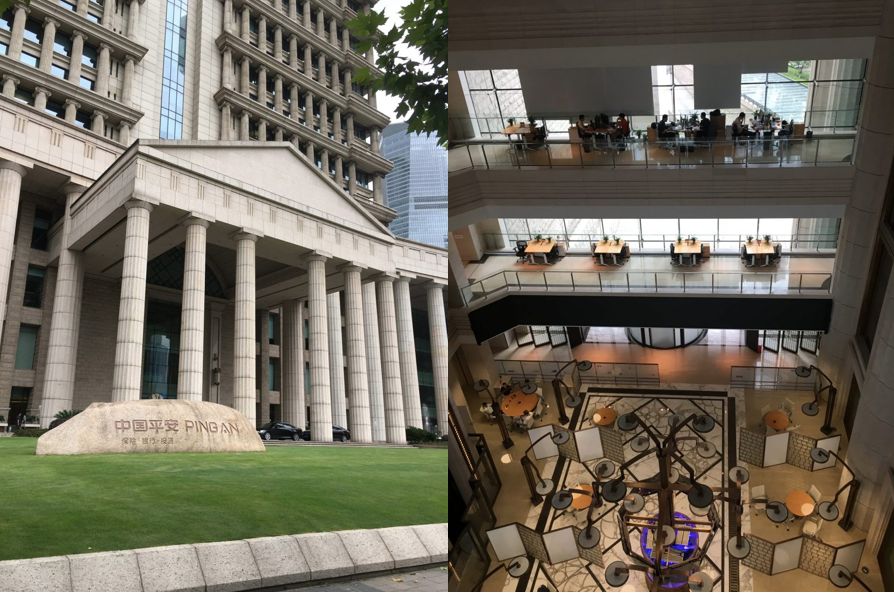 Lufax has a big office at the center of Shanghai.  In addition to the office, is a monitoring room to keep track of various financial transactions on its platform in real time.
Lufax is just one example of Chinese companies that are expanding overseas and have IPOs in Hong Kong.  Even though Lufax is still in the FinTech field and has not diversified that much when compared to others before them, Techsauce believes that there is an army of companies in China that plan to follow in their footsteps for sure.
4. EV developers and their drive to be China's Tesla 
Don't be surprised if while walking on the streets of Shanghai you may not hear a motorbike coming up from behind you and get hit by it because most motorbikes in the city are electric vehicles (EV).  Shanghai is one of the top cities in the world that has the highest usage of EVs.  This is a result from huge government support and from leading EV brands from the west choosing to base their businesses in China.  This includes Tesla, which has plans to open up a factory in Shanghai, the very first factory outside of the United States.  There is also giant Germany company Daimler joining up with Chinese giant BYD.
Right now there are many EV brands in the market.  There are many chic designs such as the city car E2 mini from Zhidou.  However the car that caught our eye on our visit this time around was not a big name brand, but NIO, a Chinese unicorn startup.  This startup was founded by William Li in 2014 and has raised funding from many big names such as Tencent, Temasek, Baidu, Sequoia, and Lenovo.
The first time Techsauce met the team was at Techcrunch Shanghai at the end of last year.    The interesting thing about this brand is its vision to be an international brand.  If you go into its website, you would not be able to tell that it is a Chinese brand.  The company focuses on the upper segment and makes clients feel that driving it's car is just as "cool" as if they were driving a Tesla.
NIO has offices beyond China, in the United States and Europe.  The company's showroom in central Shanghai is NIO's new concept showroom.  The showroom has a coffee shop, a working space, a lounge, and a place for clients to work at or hold events.  It transforming the traditional car showroom into a place that engages customers and  creates a good brand image.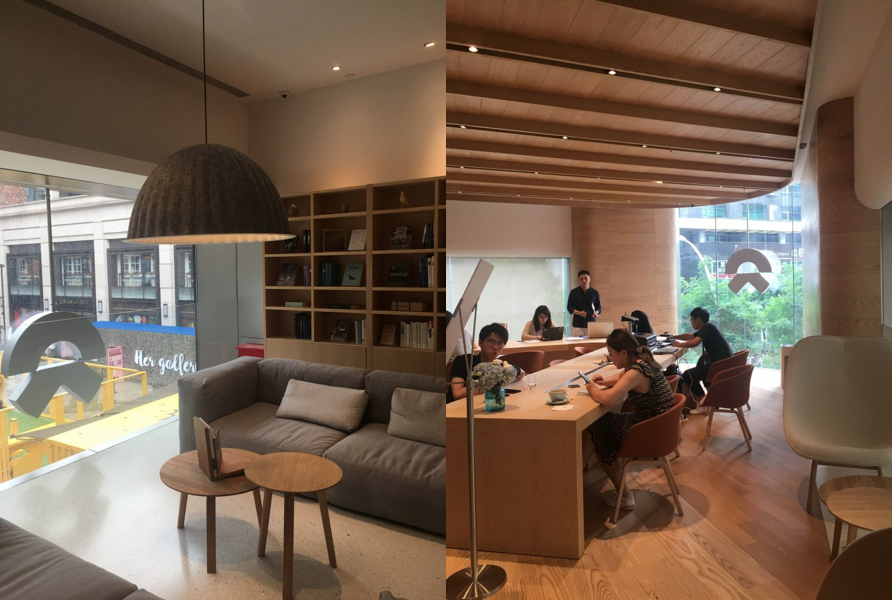 This whole concept goes with the future NIO EVE model, an autonomous car that utilizes AI and offers various personalized services for the driver.

5. Made in China 2025
Originally foreigners were interested in China because of its big market size (even Facebook tried to set up of an innovation hub in China in order to penetrate the market, but at the end was booted out.), but now it has become a country to be taken seriously not just for its bargaining power.  In the past 3-4 years Chinese companies have expanded all over the world.  This is proof of how innovative the country's technology is.  It is hard to resist this movement and so we must ask ourselves how are we going to move forward with it?
With the policy blueprint "Made in China 2025" there has been massive backing for 10 business sectors that is supported by technology such as robotics, semiconductors, aviation, and clean-energy cars.  This technology is driven by personnel that have high abilities, skills, and technology.  Although the western world has advanced quit far in technology, China with its plan has made great progress in the past 10 years.  China's progress is such a big wave that most companies need to adapt by partnering up with Chinese companies on investments and using the mainland's technology to grow their local businesses.
*This is just the first part of Techsauce's story on the Chinese market.  Part 2 is on its way.
*This has been a translation of https://techsauce.co/saucy-thought/5-things-you-should-know-about-china-market/