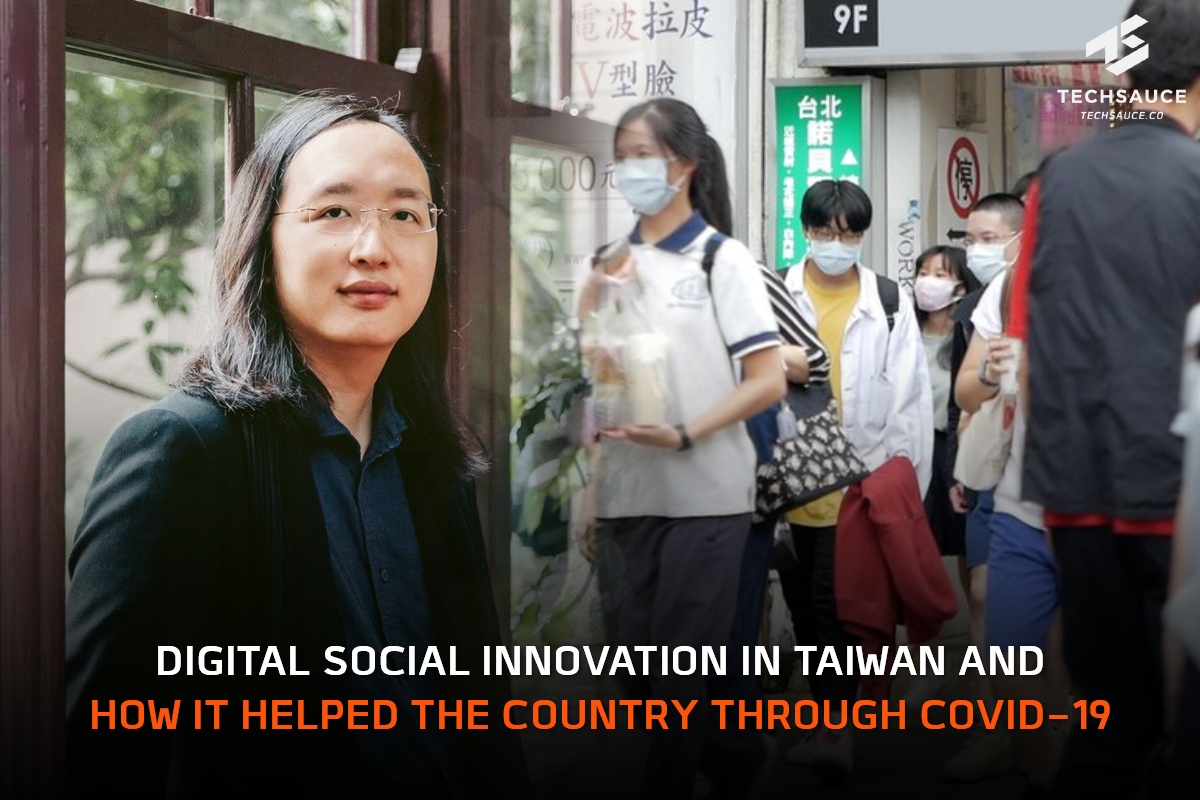 Introduction
This article summarizes a session at the Savvy UX Summit 2020, an online conference hosted by UXTesting Inc. In this discussion, Audrey Tang, Taiwan's Digital Minister in charge of youth engagement, open government, and social innovation, provides a description and overview of how digital social innovation works. Audrey's definition of social innovation is, " the idea that everybody's business with everybody's help" meaning that anyone in society can do something that they believe will benefit the entire society.
Taiwan's Approach to the Covid-19 Crisis
Taiwan has been very quick to recover from the Covid-19 pandemic, in Audrey's opinion, this rapid response to the crisis can be attributed to the 3 pillars of social innovation; fast, fair, and fun. The first pillar, fast, refers to collective intelligence and how quickly actions are taken when concerns are shared. An example given by Audrey is when a user of PTT (Taiwan's online forum similar to Reddit) posted about how there were cases of Covid-19 back in December 2019, the following day health inspections began in Taiwan to test for possible cases. The speed of the response and the collective intelligence of all those in the society helped Taiwan to react quickly and effectively to the Covid-19 crisis.
The second pillar, fair, this refers to making sure the citizens within the society have as equal access as possible various opportunities. Audrey's example of the second pillar is of how a map was developed online to show the stock of masks in pharmacies around the country, a tool that was very useful for all citizens as it allowed them to keep track of the available masks in their area. However, an observation made was that those living in rural areas typically require much more time to travel to pharmacies; meaning that there may have been masks in stock when they left home according to the map, but once they have arrived at the pharmacy, they may find that it no longer has masks in stock. The solution for this unfairness was to introduce a 24-hour pre-ordering system allowing anyone to pre-order masks and collect them within the following 24 hours. This solution was presented within a couple of days of the issue being brought up and has made the accessibility of masks as fair as it can be for Taiwan's citizens.
Finally, the third pillar, fun, is the idea of using fun and humour to make sure that a positive message reaches the citizens to battle the negativity surrounding the Covid-19 crisis. An example of how a 'fun' and 'humorous' message was used during the pandemic was how the government explained and promoted social distancing within public areas. Instead of having generic social distancing posters, the government decided to use dogs (specifically Shiba Inus) as a unit of measurement. These posters would say, "when indoors, please keep three Shiba Inus away and when outdoors, keep two Shiba Inus away". Audrey states that this fun way of delivering messages to the citizens kept them calmer and in a more positive mindset and environment during the crisis.
How did you install such a culture in a complex government structure and facilitate such human centred thinking across the government departments?
There are three conditions that Audrey had when negotiating her working terms with the cabinet. Firstly, she must be able to have 'location independence' or freedom of choice as to where she works from, stating that, "I am in the office as long as I have an internet connection". The second condition was 'voluntary association' meaning that each ministry can have secondments to her office but still have to report to their own ministry and not report to her. She describes her office as a place where people are able to work "out loud". Finally, her third condition is called 'radical transparency' meaning that all meetings that she attends will be published as a transcript or as a video online allowing for a clear record of her activities from the first day of becoming the Digital Minister.
The combination of these three conditions, to Audrey, is the core of the multi-stakeholder governance system and the foundation of internet governance. She considers herself an ambassador for the internet culture to the political culture and helps the culture within the government slowly develop into what it is now, which is much more human-centered thinking.
What's your opinion on Taiwan's government's measurements on Covid-19 including collecting personal data and restricting personal freedom during quarantine? How does a digital government draw a line between citizen's privacy and epidemic prevention?
Audrey states that the government is not collecting any data that is not already being collected prior to the pandemic, saying that, "we have innovated on data use, but we do not roll out new data collection". The reason for this is that the citizens would understandably worry about cyber security and privacy implications when introducing the collection of new data sets. Additionally, because Taiwan never declared a state of emergency at any point, everything that the government does must pass parliamentary interpolation and supervision.
In regard to the restriction of personal freedom during quarantine, citizens have a choice. The first choice is to stay in accommodations, such as a quarantine hotel, where they are physically not allowed to leave for the 14 day period, during which the government pays you US$ 34 a day as a reward for collaboration. The alternative is to do the quarantine at home where their phone will be digitally tracked. This option does not require downloading an app or having to collect any new data. Instead the government has partnered with telecommunications operators, who are already collecting data on cell phone signal strength, in order to locate where you and your phone are within a 50 metre radius.
How do you extend the reach of public information especially to those who are not digitally literate or have access to digital means?
Audrey's response is that the main idea of communication is to make sure that the message can be adapted in any way possible, for example, digital messages can be turned into physical ones, such as posters and the text on these messages can easily be translated into any language. Audrey works on one of the pillars of social innovation, fairness, by making sure that all messages and incentives reach all groups of the population as effectively as possible without forcing them to adapt to technology.
An example given by Audrey is that the elderly may not know how to use technology to pre-order masks from pharmacies through online means. Hence,the government decided to make the system as similar as possible to ordering a refillable prescription so that the system is something familiar to the elderly. Additionally, the government makes sure that they go through trusted channels, such as pharmacies to make sure that the population listens and acts on what is being told to them.
How does the government collect feedback and interact with the youth groups?
Audrey describes a number of ways that the government youth advisors use to interact with the general population. Firstly, there are tours that allow anyone to join. The government invites career public services through either the remote connection or the local municipality, thus allowing anyone to listen to the stakeholders. For example, if a ministry is doing a public hearing or having a conversation on potential new policies, the youth advisors are able to sign up and bring ideas to the table as well as learn from those who are at the table.
Secondly, there are activities run by the ministry that allow participation from anyone who wishes to join in. A good example of an activity would be the 'Let's Talk' activity run by the Minister of Education, which brings together people from around the country to start a conversation in a grassroots fashion.
Finally, Audrey is working on what is called a collaboration platform which invites experts, NGOs and youth advisors to collaborate on ideas. The way the platform works is similar to that of a petition where different people have different weights e.g. youth advisors count as 5,000 or more signatures. Every half a year the head of the cabinet along with other ministers will come together to discuss the various ideas proposed.
Is it possible for Taiwan to free up even more government resources and services in an easier and friendlier way? And how can people help to speed it up?
Audrey's office has an internship program that focuses exactly on improving government resources. Every year, the office hires around 30 interns, typically at the graduate level, into a programme called 'Rescue Action by Use'. This program allows interns to redesign government digital services into gifts for public services to work with.
One redesign that they worked on in the first year of the program was to change all national government websites so that it would work with non-internet explorer browsers, such as html5-compliant browsers. In the second year, the responsiveness of the website was improved as well as having a mobile version developed. Finally in the third year, the concept of redesigning websites was applied to a number of other sites such as the mountaineering portal. The improvement they made was to combine all registration processes for mountaineering activities into one government website. This concept became so popular that it was used as a model for the ocean activities portal.