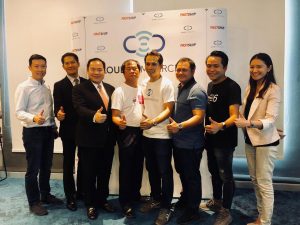 Together with fundraising from dtac Accelerate IOIC and 500 TukTuks, CloudCommerce, a startup company from dtac Accelerate Batch 4 project, announced its cooperation with Federation of Thai Industries (FTI) and Siam Commercial Bank (SCB) to tap groups of SME customers. It received investment funds from top three funds including dtac Accelerate, Intania Open Innovation Club (IOIC) and 500 TukTuks and is ready to set goals for over 20,000 users this year.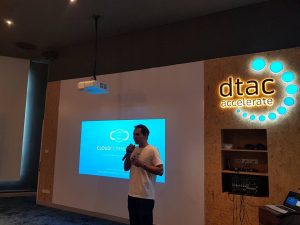 Wootinun Sungong, CloudCommerce founder, said he is certain that CloudCommerce will play a major role to push Thai SMEs forward and succeed on the international level. The main feature of CloudCommerce is the system that connects the SME product data with the online markets globally, which makes entering global market easy. Furthermore, it connects the logistic system in order to help reducing the production cost and shipping time. It also helps provide an opportunity in business growth for customers. FastShip, a logistic platform which was launched early last year, has received such a satisfying feedback. There are currently over 5,000 users.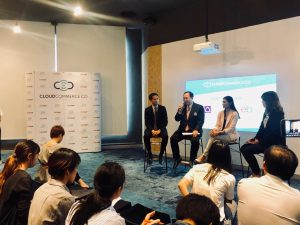 Apichit Prasoprat, Deputy Secretary of FTI, said that in this 4.0 digital age that technology plays a crucial part in our lives and business operation, FTI aims to place an important on becoming a partner with tech startups to improve the potential of FTI members who are executives in 17 industry groups, especially cosmetics, auto parts, and jewelry. The objective is to utilize the technology to generate income in international market.
Moreover, CloudCommerce also partnered with Siam Commercial Bank to continue for SME customers of commercial banks nationwide.
Manoon Thongkham, Sector Head : SME, Auto Parts & Logistic in SME Relationship Management & New Business 1 of SCB said the bank offers a policy to promote steady growth and improve the potential of Thai SME groups in the future. It is also ready to expand businesses to the international market. The bank is ready to provide financial support including domestic loans, foreign lending, and non-credit products to promote readiness in fund. The support also includes the provision of knowledge in business operation, which is a component that drives the business to grow smoothly. However, ecommerce is another popular business channel that gives an opportunity for SMEs to introduce products to customers worldwide. SCB, therefore, partnered with CloudCommerce to provide assistance for the bank's customers to expand their market and introduce their products to the international market more conveniently through the CloudCommerce platform. The platform is highly expected to meet customers' demand. Furthermore, the bank comes up with SCB Business Center to help provide advice in business operation and facilitate customers in credits for SMEs. Business gurus and meeting rooms are also provided.
Sompoat Chansomboon, Director of Business Innovation at dtac Accelerate said that according to Techsauce Thailand in 2017, Thai e-commerce market saw an income of over 2.9 billion dollars and expected 14.5% growth rate. This will result in 5.8 billion dollars sales in 2022. In 2025, 11.1 billion dollars growth is expected. The biggest e-commerce businesses in the market is electronics, which sees 1.2 billion dollars income.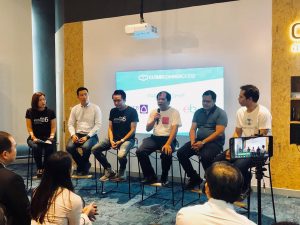 E-commerce market in Thailand has a high growth rate due to the participation of major international companies including Alibaba and Amazon. This is the main motivating factor. According to the statistic, it is apparent that the market will grow 3-4 times more within less than 10 years. Sompoat wants startup companies to think about the growth opportunity in the future. He also wants SME operators to think about what might be missing in the services including the fast and effective logistics, which is the essential part that drives the e-commerce to grow and can generate impressions of customers towards the products.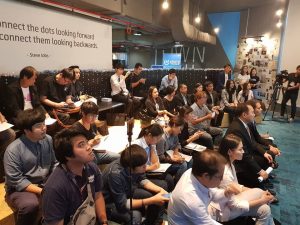 CloudCommerce and Fastship.co are startup businesses that see 150% growth rate that have traction through platform over 20 million baht. Both businesses play major a role in the e-commerce system as an important tool for e-commerce and logistics. Wootinun, the founder, has been in the e-commerce field for more than 15 years, together with experts who have a great deal of experience in e-commerce. This has generated Sompotch trust in Wootinun and CloudCommerce since the very beginning. As the supervisor who took care of startup competitors in dtac Accelerate, he feels proud that CloudCommerce sees high growth rate and generates faith and trust in investors like 500 TukTuks, run by Chulalongkorn University, and other partners worldwide.
Wootinun Sungong added that the company has a cooperative project with its major business partners that will help push Thai operator forwards to the international market. Also, the company has planned to come up with activities with other major partners in the future.
About CloudCommerce CloudCommerce is a company that provides complete services in e-commerce business solution for operators who want to introduce their products in the international market. The process includes importing products into online marketplace (such as ebay, Amazon, and Etsy), managing orders, stocking products, and providing international logistic services under the name FastShip. With 15-year experience of the founder, Wootinun Sungong, it makes CloudCommerce happen and it is believed that the company will become a major player who generates the exceptional ecosystem for Thai operators to compete firmly and steadily on the global stage.
Link : www.cloudcommerce.co
Photos: Krating Poonpol