Canadian entrepreneur, Joseph Lubin, co-founder of several companies including the Swiss-based Ethereum, a decentralized cryptocurrency platform and is a founder of ConsenSys. Joseph took on stage at exclusive press briefing session of WebSummit   last week.
Bitcoin and cryptocurrency were built on blockchain in 2009. Explaining Blockchain in a way is by 'imagining a group of actors with conflicting views who may have competing agendas. They then use the same infrastructure in a useful way in which everyone can be confident that no one is cheating the system.
With the development of Bitcoin and Ethereum, crypto-economics was formed, which is based on a token with the blockchain system bitcoin, it validates transactions into blocks and essentially locks the blockchain. In 2012, people started to realize that this was a trustful system that needed to be opened to the wider community.
As an Ethereum developer, Joseph states that
It is much less scalable. The Ethereum project for a year started a company called Consensus to continue the vision of the Ethereum project. As it stands we are active with around 420 people in over 27 countries.
We are moving into the world of business from a world of adversarial relationships with customers and offers them certain services. This sort of paradigm will give way to insider markets where different 'Actors' in those companies, in different roles on an open platform enable this sort of ecosystem which would offer those services. In this context, there is no 'single actor' that would be overly controlling or overly monetizing in the way it's conducted.
What was the essential goal of Ether - Ethereum?
Bitcoin was invented as an experiment and as a monetary theory which was designed to be a monetary application used to store transactions.
Ethereum was invented to be a decentralized application platform to be a candidate for a major component for the decentralized Web 3.0.
'Ether' is essentially a 'crypto fuel' to get better money than Bitcoin as its much more programmable. we conceived of it as 'fuel - oil if you will' that runs this online decentralized economy. Every program on Ethereum needs some of this to run.
Bitcoin and Ether token is very volatile. What's your take on that?
Yes, the tokens are volatile because the monetary basis is very small compared to other monetary bases or commodities. Ether is useful and necessary and has a core functionality in order to run this application just the way energy is required to run applications on the global commerce platform.
A huge problem of blockchain is the scaling of transactions. ConsenSys was working on this problem. Did you manage to solve it? Some tokens are depreciating as well, do you know what the future will hold?
I'm not aware of the future. Lots of people in the financial sector in the New York area are seeing Bitcoin as 2.0 gold. This is an early sign that this technology is here to stay. Lot's of different systems such as Ethereum which have so much more fundamental capability and value and it's definitely going to take time in order for Ethereum to mature and become broadly useful. We are certainly doing work with Santander. We have been a participant in the development of a cross-border human network which basically links core banking systems and blockchain systems and tokenizes money.
Scalability involves a variety of different technologies which will be much more secure and increase decentralization and increase transactions on your phone.
Plasma is being built which will enable trees of blockchain to be anchored in a smart contract of Ethereum which will enable one Ethereum to emerge globally and grow into a lot of Ethereum chains which will be kept consistent with one another via a couple of different mechanisms. That sort of system will push it forward to unlimited scalability in terms of transactions and be able to add to the system quickly which will be able to process more transactions.
You have a roadmap for Ethereum from ICO so how did that, impact on the development of Ethereum?
The roadmap was remarkable and relatively accurate in terms of structural systems. No system is totally accurate. In terms of the Buzz around the bitcoin space, it is large amongst money applicants investing in Bitcoin. People who care about programming, who care about decentralized applications for a next-generation economy are focused on Ethereum.
How important is it to have a clear distinction between the coins in terms of security and utility and what do you think about this interpretation from regulators and how can it effect ICO's in the industry?
If you are issuing a token we do an enormous amount of legal work for our own projects and assist other projects on that front. People are starting to argue for regulations. let's see how things unfold and its going to be extremely interesting to watch and be a part of.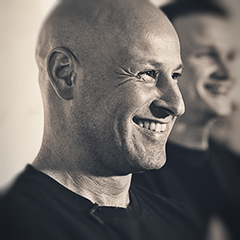 In early 2014, Lubin was Chief operating officer of Ethereum Switzerland, a company working to extend the capabilities of the type of blockchain database first popularised by Bitcoin and extend the capabilities of the blockchain to store programs in addition to data as well as facilitate, verify, or enforce the negotiation or performance of smart contracts. Lubin was also involved in the creation of the Ethereum Foundation, a Toronto - based non- profit organization to be a 'nonpartisan industry body, made up of (a cross- section of) industry players. He subsequently founded ConsenSys in 2015. Lubin has been personally involved in cross-industry groups attempting to advance solutions to governance issues in the blockchain industry.
https://consensys.net/