dtac accelerate, launches batch 6 and announces its collaboration with the leading technology company, LIINE Thailand. dtac will announce a collaboration with Line Thailand marking the first partnership of its kind for Line in Thailand that will offer Thai startups an opportunity to reach 42 million users on the Line platform.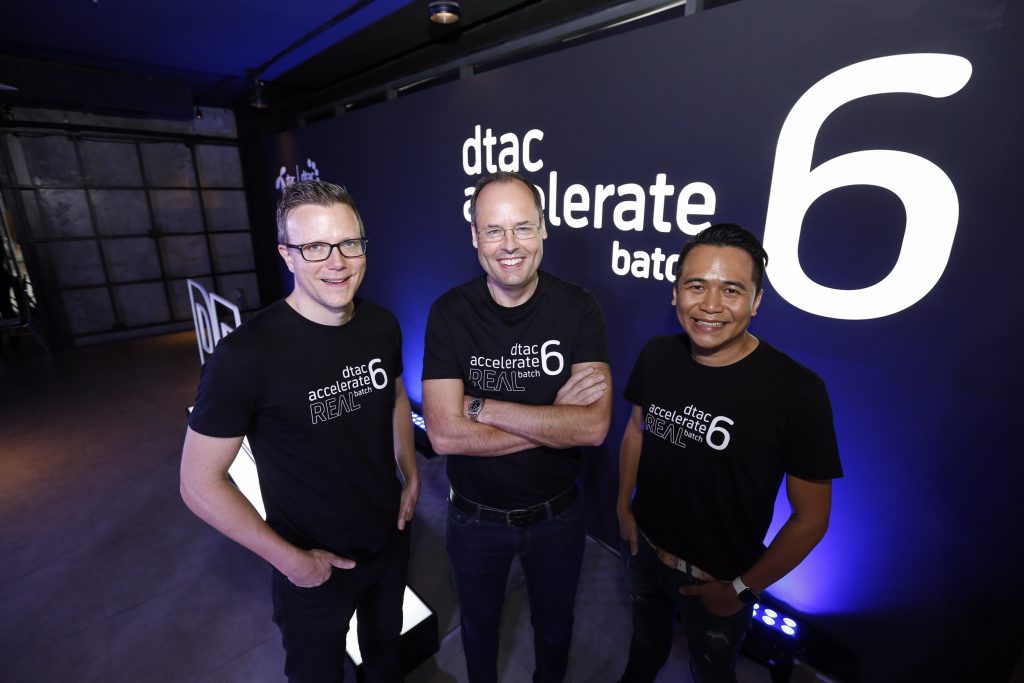 Mr. Lars Norling, Chief Executive Officer, Total Access Communication PLC or dtac, said, "dtac is one of the pioneers in the startup ecosystem and has helped 34 startups to grow and succeed. They have a combined value of over US$100 million and have collectively secured US$15 million in investment, with 70% follow-on funding, the highest in Southeast Asia. The region represents incredible potential, thanks to a population of 600 million and a US$2.6 trillion market.
Although Thailand's mobile penetration rate is over 100%, digital development has not reached the majority of the population. For example, e-payment is now standard in China, while Thailand still relies on cash.
Over the past 5 years, dtac accelerate has groomed 10-12 tech startups each year to where they can create digital innovations to help enhance customers' day-to-day lifestyle and contribute to the Thai society. Seekster and Skootar create jobs for maids and messengers through a digital platform. Giztix brings small logistic companies to world-class transportation. Ricult uses machine learning for precise weather forecasts and agricultural productivity improvement. These startups do not only grow digital business and the startup ecosystem, they also empower their users with digital tools.
dtac accelerate is committed to creating the first startup unicorn in Thailand and help startups expand to international markets. We help them reach Telenor Group customers around the world, from Norway to Bangladesh. We have strong collaborations with world-class partners, such as Facebook, and Line, with a goal to grow Thai startups and ultimately improve the quality of life for the Thai people."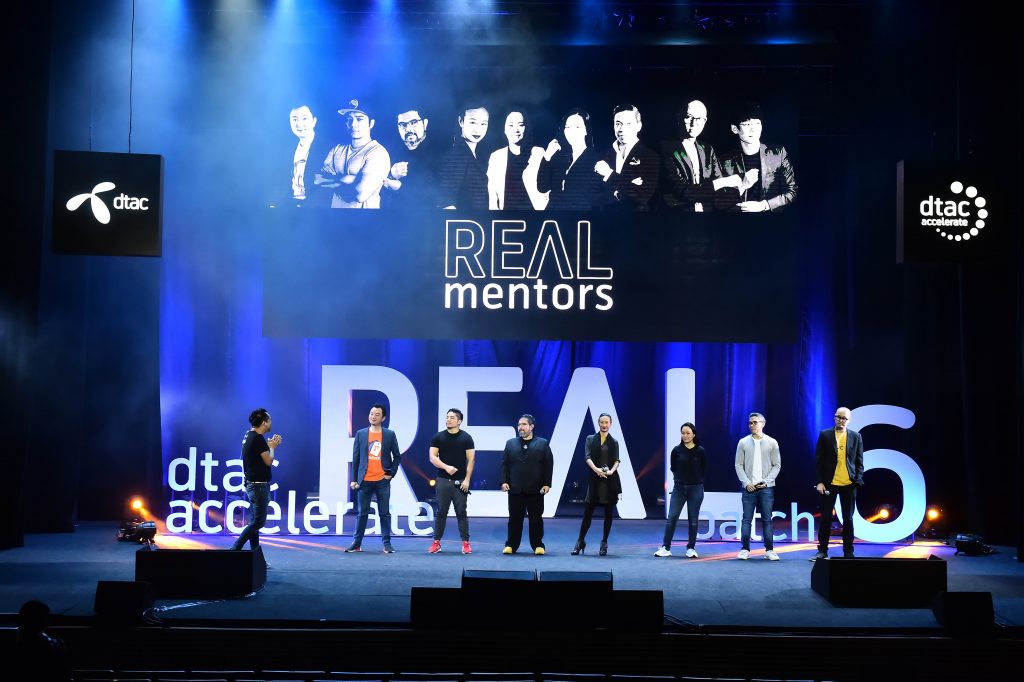 Mr. Andrew Kvalseth, Chief Marketing Officer, dtac, said, "2017 saw more investments and steady growth in the Thai startup industry, which is a reflection of the expanding startup ecosystem in Thailand. dtac accelerate has played a key role in building that ecosystem.
"In 2017 alone, there were fundraising deals from our alumni, including three series A investments and eight seed investments for a total of US$9.5 million. Our startups got 70% follow-on funding compared to a 20% regional average, meaning we're the only real accelerator in Thailand and among the very best in the region.
"We're also the first, and currently only, accelerator to work with LINE. LINE will support our startups with user acquisition thanks to their 42 million-strong customer base in Thailand. LINE not only has an API platform for startups to plug into but is also launching its own venture capital fund."
Mr. Sompoat Chansomboon, Managing Director, dtac accelerate, said, "dtac accelerate batch 6 is filled with thrills and highlights, including:
The program announces, for the first time in Thailand, Partnership with Line SCALEUP that offers startups a co-marketing opportunity with access to over 42 million Line users, an investment opportunity from Line, and a participation in Line Dev Day at Line Corporation headquarters in Tokyo in September.
Partnerships with Thailand's leading corporations such as Muang Thai Life Assurance PCL, Siri Ventures, and PTT's Express Solutions.
Growth & Scaling pack by the collaboration with partners to provide support in 3 areas:
Technical pack : Clouds partners AWS, Google Clouds, IBM, Tencent
Marketing pack : dtac, FB, [email protected], PTT, San Siri, MTL, Thairath, Fastwork
Talent pack: Getlink, Scoutout, Skooldio, Disrupt University, Globish, Senseino, Google Developer Group Thailand.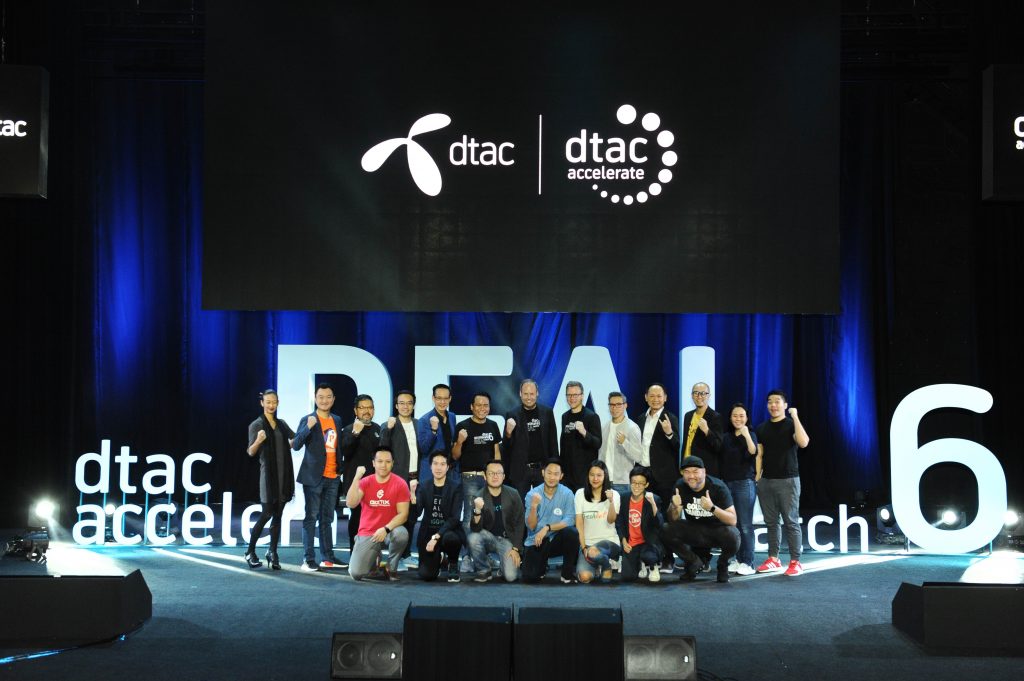 Speaking sessions by world-class startup gurus
Nir Eyal, author of "Hooked: How to Build Habit-Forming Products"
Jacob Greenspan, "UI/UX Expert"
Hai Habot, OKR guru and top executive from Silicon Valley tech firm
Scott Bales, author of "Mobile Ready" and Lean Startup and Customer Validation expert
Ruangroj "Krating" Poonpol, renowned Thai startup guru who brought tech startup model from Silicon Valley to Thailand
Mentors and Padawans
Maneerat Anulomsombat, CEO, Garena Online (Thailand) as mentor and Darin "Ing" Suthapong as padawan
Sharinee "Shannon" Kalayanamitr as mentor and Supichaya "Gak" Surapunthu, Co-Founder of Piggipo, as padawan
Ariya Banomyong, Managing Director, Line Thailand, as mentor and Patinan "Tom" Vachiramon, Co-Founder of ScoutOut as padawan
Natavudh Pungcharoenpong, CEO of Ookbee, as mentor and Pippo, Co-Founder of Fictionlog as padawan
Patai Padungtin, Founder of Builk, as mentor and Bell Ponglada, Freshket, as padawan
Kittinan Anuphan, CEO & Founder of Claim Di, as mentor and Sittisak "Nong" Wongsomnuk, Founder of Giztix, as padawan
Thanawat Malabuppha, CEO & Co-Founder of priceza.com, as mentor and Suwatt "Boy" Pathopakawan, Founder of Skootar, as padawan
Ezra Don Harinsut, Co-Founder of Omise, as mentor and Kanapon (Tum) Phumratprapin, Founder of Health at Home, as padawan
Prizes for batch 6 winners
Attend roadshow at Web Summit 2018 in Lisbon, Portugal
Attend roadshow at Techcrunch Disrupt San Francisco 2018 in San Francisco, California, USA
Attend Line Dev Day at Line Corporation headquarters in Japan
The timeline for dtac accelerate batch 6 includes application submission from March 7- April 11, 2018, announcement of participants on May 4, 2018, Pitch Day on May 11, 2018, Boot Camp from May to August, 2018, and Demo Day on the last week of August 2018.