5G will cover more than 20 percent of the global population six years from now, according to the latest Ericsson Mobility Report
LTE will be the dominant access technology by end of this year in Thailand and globally,driven by demand for improved user experience and faster networks
5G to enable 2.6 Billion revenue potential for operators in Thailand by 2026, says Ericsson Study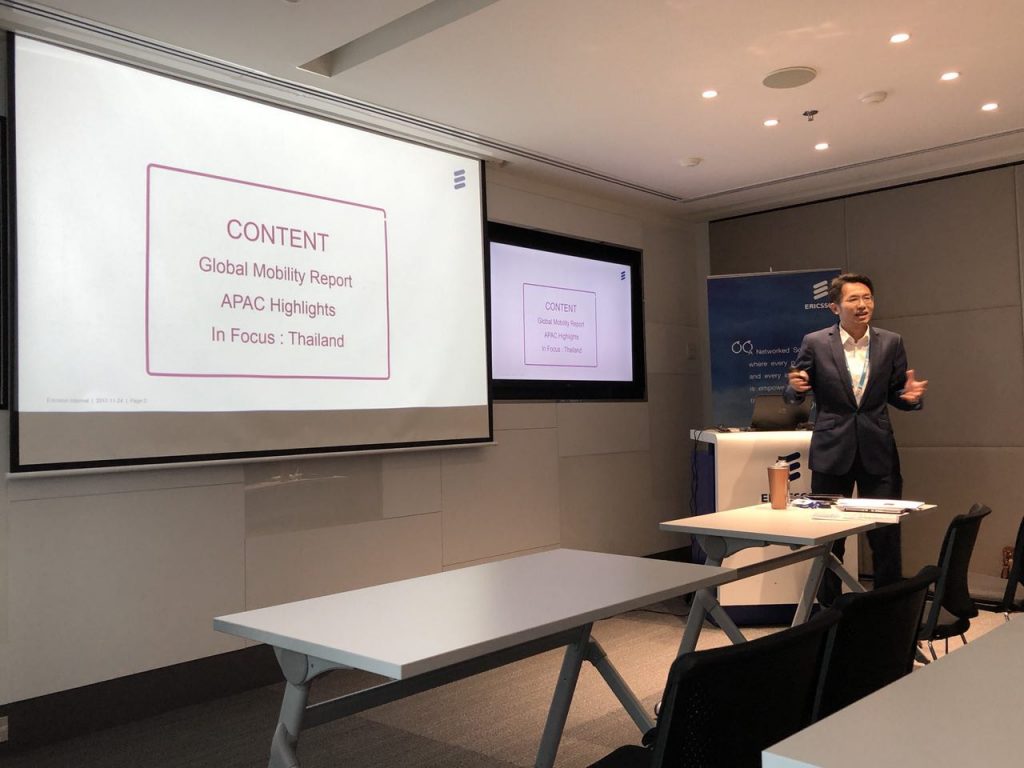 Ericsson (NASDAQ: ERIC) forecasts there will be 1 billion 5G subscriptions for enhanced mobile broadband by 2023. This prediction is among the key statistics presented in the November edition of the Ericsson Mobility Report released today.
Expected to be deployed first in dense urban areas, 5G will cover over 20 percent of the world's population by the end of 2023. The first commercial networks based on 5G New Radio (NR) are expected to go live in 2019, with major deployments from 2020. Early 5G deployments are foreseen in several markets, including the US, South Korea, Japan and China.
LTE deployments – momentum continues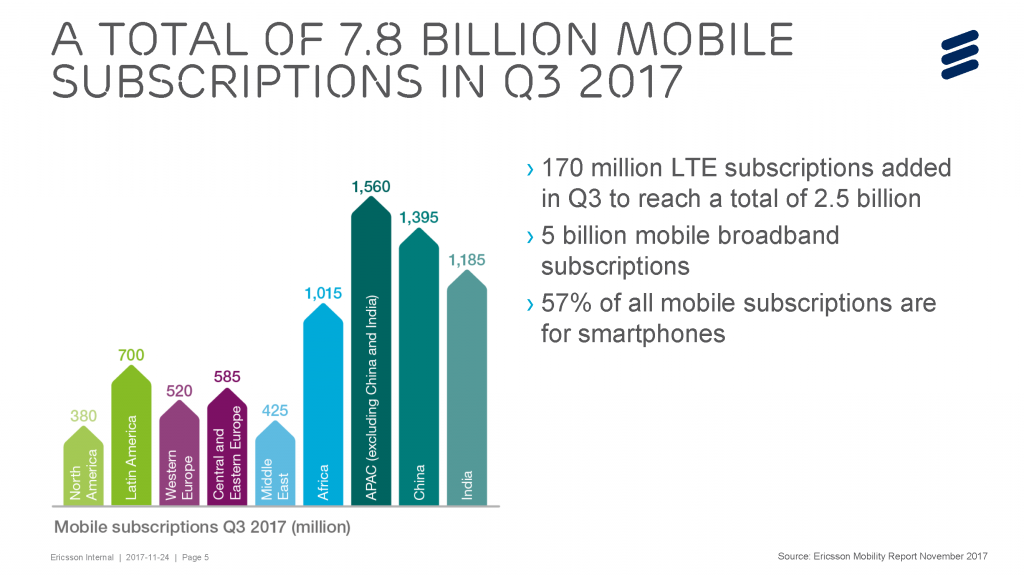 By the end of this year, LTE will be the dominant mobile access technology. It is estimated to reach 5.5 billion subscriptions and cover more than 85 percent of the world's population by the end of 2023.
Voice over LTE (VoLTE) has been launched in more than 125 networks in over 60 countries across all regions. VoLTE subscriptions are projected to reach 5.5 billion by the end of 2023, accounting for more than 80 percent of the combined LTE and 5G subscriptions
Global mobile data traffic to surpass 100 Exabytes per month in 2023
Mobile data traffic is expected to surge by eight times during the forecast period, reaching 110 Exabytes per month by 2023. This corresponds to 5.5 million years of HD video streaming.
All regions maintain mobile data traffic growth, with North America showing the highest average usage per smartphone, exceeding 7GB per month by the end of 2017.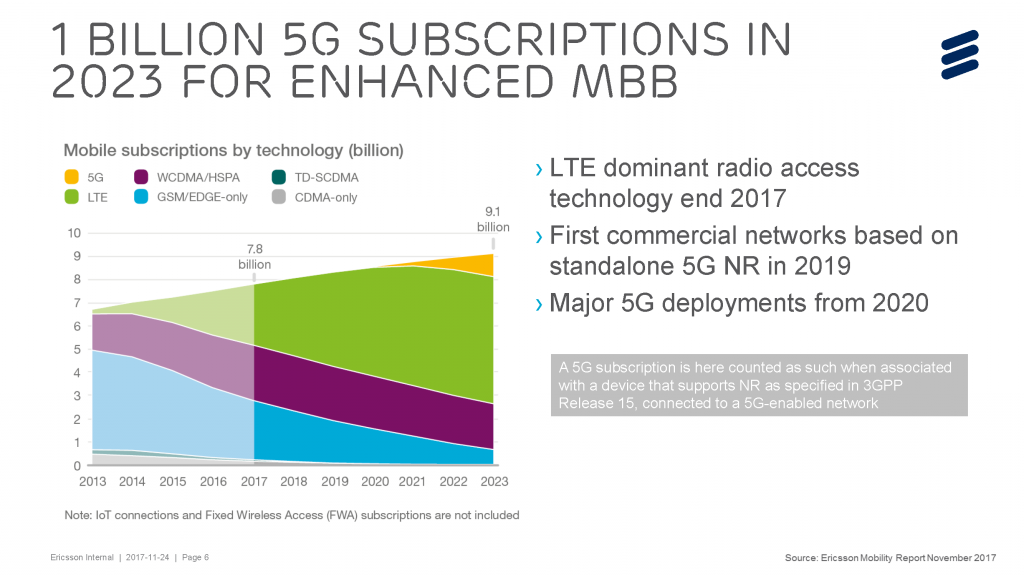 Video consumption continues to fuel mobile broadband traffic growth. The driving force behind video's uptrend are the young millennials – those in the 15 to 24 age brackets - who stream 2.5X more than those over 45 years of age.
Streaming video in higher resolutions and an emerging trend of increased streaming of immersive video formats, such as 360-degree video, will have an impact on data traffic consumption volumes. For example, a YouTube 360-degree video uses 4 to 5 times as much bandwidth as a normal YouTube video of the same perceived quality.
In Focus: Thailand
Smartphone subscriptions in Thailand are set to touch 100 million by the Year 2023, contributing around 87% of the total mobile subscriptions. As per the Ericsson Mobility Report the number of mobile subscriptions in Thailand are expected to reach around 115 Million by the Year 2023 from around 95 million subscriptions in 2017.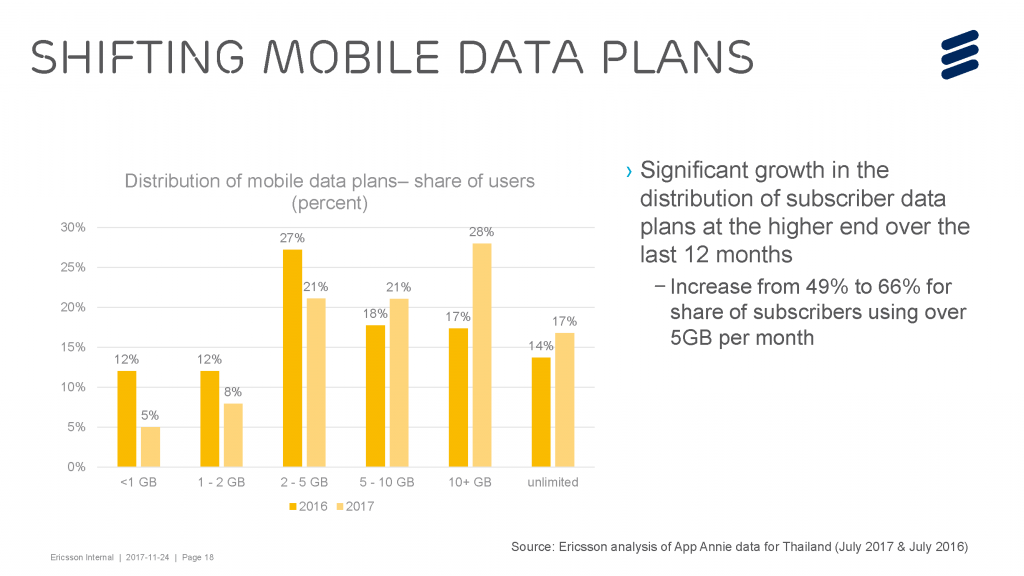 Nadine Allen, President of Ericsson Thailand says, "We expect to see a two-fold increase in LTE/5G mobile subscriptions from 2017 to 2023, with LTE/5G subscriptions contributing over 60% of the total mobile subscriptions in Thailand in 2023."
Nadine further adds, "5G has the potential to generate additional revenues of 22 per cent or US$2.6 Billion for operators in Thailand. Operators in Thailand and the government should now prepare to capture the potential of 5G for the benefit of both Thai consumers and enterprises. Ericsson with its portfolio of 5G ready Network products is in a position to help operators in Thailand seamlessly migrate from 4G to 5G."
Based on Ericsson analysis on App Annie data for Thailand, there is significant growth in the distribution of subscriber data plans at the higher end over the past 12 months in Thailand. Accordingly, the share of subscribers using over 5GB of data per month has increased from 49% to 66% in Thailand as per the Ericsson analysis.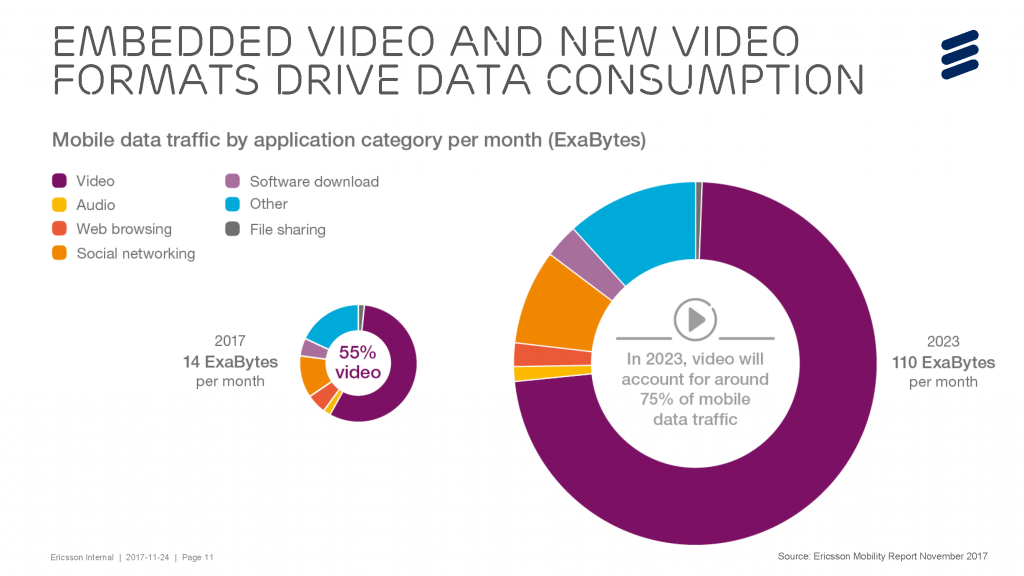 The report also features three articles on rising industry trends:
Shifting mobile data plans examines the move to ever larger plans as well as the actual data consumption within different plans. It highlights the importance of a good mix of data plans, including unlimited, to address a variety of consumer needs.
Enhancing the event experience focuses on how event organizers and operators can meet visitors' needs for more digitalized services and immersive experiences.
Millennials' expectations for 5G explores how this age group perceives their mobile experience, their hopes on 5G, and what their viewpoints imply for operators.