● ETRAN launched ETRAN MYRA, the 1st EV motorcycle explicitly designed for food delivery.
● MYRA's production line is the 1st to deliver Thailand's own EV brand that is designed, developed, and manufactured by a 100% Thai team.
● A clear launch window into the fast-growing food delivery segment, pending partnership announcement with a leading online food delivery app.
● Democratizing EV technology by giving easy access to everyone across customer segments.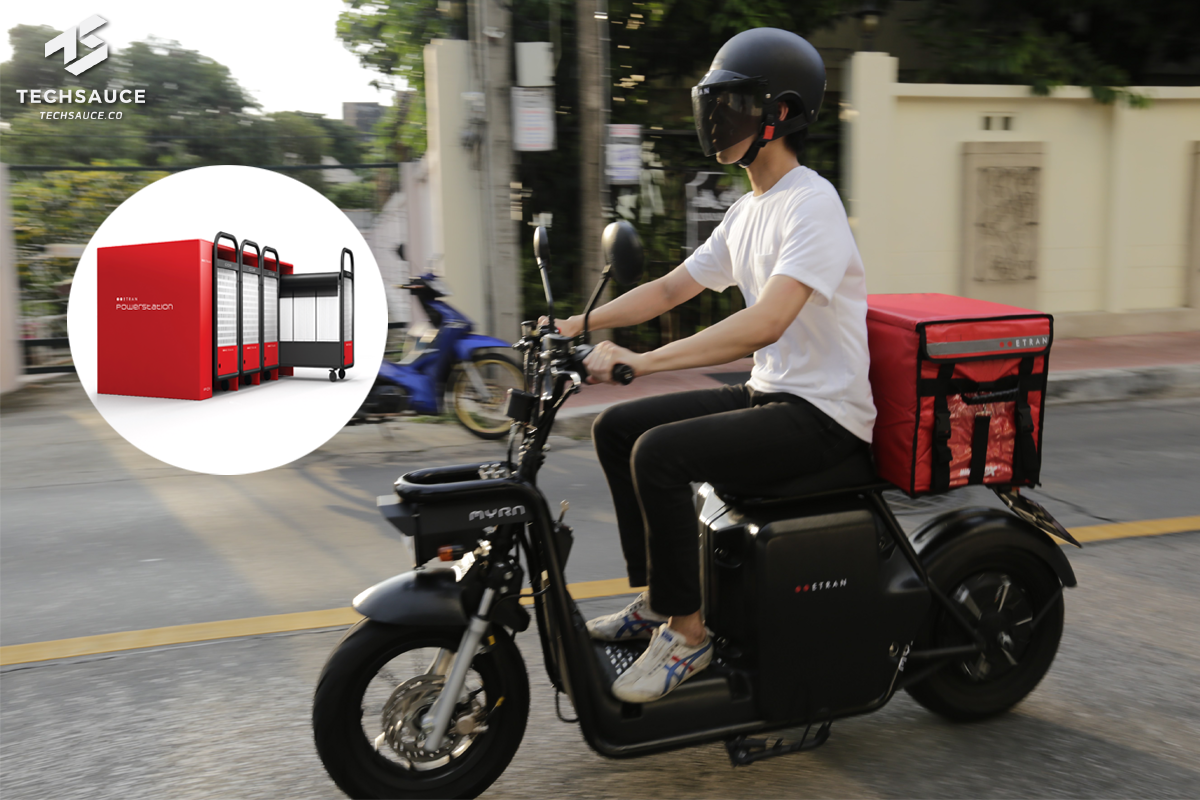 Leveraging the recent USD 3.5 million fundraising success, today ETRAN launched MYRA, the 1st EV motorcycle designed for food delivery. MYRA was designed, developed, and manufactured by a 100% Thai team with support from leading players in the Thai automotive industry, namely N.D. Rubber, Summit Auto Body, Pioneer Motor, and Nostra Logistic.
In keeping with the promise to deliver the cleanest, most efficient, and equitable future, ETRAN MYRA is available through three financing schemes: sales, rent, and subscription. With a daily rental rate as low as THB 150 per day, ETRAN wants to ensure that its clean technology is accessible to everyone. 1,000 ETRAN motorcycles will be delivered to customers by the end of 2021.
"With the launch of MYRA today, I am very proud to be a part of ETRAN and to play a small role to mark the first step of Thai's EV mass production journey. As disruptive as it is, COVID-19 created the so-called "Techcerellation" when technology adoption happens at an accelerated speed. MYRA is built for times like these, and we see the clear launch window into the fast-growing online food delivery sector. We believe that we can help fuel the growth of the sector without growing greenhouse gas emissions. We will soon announce a partnership with one of Thailand's leading food delivery app in 2021. In addition, we will be launching the 2nd model of ETRAN electric motorcycle towards Q4 of 2021 to capture yet another fast-growing sector. Stay tuned." - said Archawat Chareonsilp, Executive Chairman, ETRAN.
ETRAN MYRA is designed, developed, and manufactured with the support of the growing list of strategic partners: namely N.D. Rubber, Summit Auto Body, Pioneer Motor, and Nostra Logistic
"During the development of ETRAN MYRA, we conducted extensive research into the unique requirements of food delivery riders. The crucial insight was ONE BIKE DOES NOT FIT ALL. Food delivery riders need a high-performing EV bike that can perform as well as the oil-burning bikes. They come to rely on safety speed for fast delivery. To ensure an uninterrupted daily delivery run, riders demand electric motorcycles that deliver long-range and low maintenance capability.
ETRAN MYRA is engineered to deliver high performance suitable for heavy commercial duty with a top speed of 120 km./hour and a range of 180 km./ charge. ETRAN MYRA is among the best EV performers, designed to support unique functionalities for food delivery, such as the cold-chain refrigerator and an onboard fleet management system that constantly collects on-the-road data to help optimize business costs and opportunities.
We are planning to open seven ETRAN Power and Service Stations across Bangkok in 2021, and additional 100 locations between 2022 - 2023. Riders do not need to wait hours for a full charge; they can pop in our station, get the battery swapped, and pop out in a matter of minutes. We understand that cost could be among many concerns of the riders. That's why we built a rental model to democratize our clean technology making it easily accessible for everyone. With as low as THB 150 rental fee per day, ETRAN MYRA riders can enjoy the electric motorcycle experience and one battery swap per day, enough to fuel the average daily delivery run. Compared with the oil-burning bikes, ETRAN riders can save on fuel and maintenance as much as THB 2,000 - THB 3,000 per month.
We couldn't have chosen a better launch window for ETRAN and ETRAN MYRA. We are cautiously optimistic that MYRA will be the darling among commercial riders, and ETRAN will grow both her commercial success and impact. I would like to thank all of the ETRAN employees and our riders, whom we affectionately called "ETRAN Tribe" for their unwavering commitment to ETRAN and our mission to DRIVE the Better World." - said Soranun Choochut, CEO, ETRAN.
ETRAN MYRA is built in partnership with Summit Auto Body Industry Co. Ltd., an affiliate company of the Summit Auto Group.
"At Summit Auto Body Industry, we recognize the fast-moving trends and the accelerated adoption of EV. By collaborating with ETRAN, we are thrilled to share our manufacturing excellence while learning significantly about the technologies and future opportunities within the EV industry. Today we share so much pride with the ETRAN team and are honored to be part of the 1st step toward mass commercial production of EV designed and developed by a group of Thai entrepreneurs. We wish ETRAN much success in the future and look forward to the partnership for the growth of our organizations." – said Kornkrit Jurangkool, President Summit Auto Body Industry.