FindYourSpace.co, the Thai property portal focusing on quality property listings and searchability, today announced the availability of the FindYourSpace consumer app for the Android mobile platform.
The FindYourSpace app is a modern mobile app that provides an intuitive and professional user experience when searching for properties in Thailand. Find your new dream home for rent or sale quickly by navigating the properties on the map, as well as narrowing down the search efficiently through the powerful search engine and extensive set of filters.
FindYourSpace is adding new property listings weekly, and are currently providing property listings in Bangkok, Pattaya, and Phuket.
Visit the FindYourSpace website here: http://www.findyourspace.co and download the Android app from the Google Play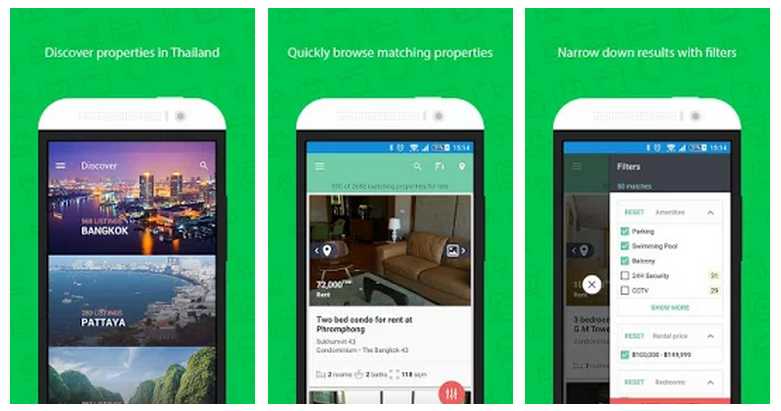 Key benefits of FindYourSpace include:
Efficient: ​Specify your initial search criteria and further narrow down the results through extensive use of filters.
Modern: ​Modern and high­end mobile application allows homeseekers a great mobile experience while looking for a new home.
Easy to use: ​Easy to use interface allows users to quickly find properties matching their requirements.
Share: ​Share properties you like to your friends and family through social media, chats and emails.
Near­by: ​Quickly see properties at the location where you are.
Multiple languages: ​App supports English, Thai, Russian, French and Norwegian.
About FindYourSpace
FindYourSpace Limited , is a residential real estate portal that is focusing on providing a better and more modern experience for home seekers in Thailand. Through technology and content focus FindYourSpace plan to improve the user experience and make it easier to both sell and rent properties in the country.
FindYourSpace Pro provides Software as a Service as well as other professional services for real­estate agents and brokers that empowers them to work more efficient and manage their complete property portfolio online.
For more information about FindYourSpace, visit our web site