GetLinks, the leading digital talents network in Southeast Asia and Greater Bay Area (China), launched GetLinks Job Search - a new platform which utilizes AI to ensure more potential matches in the digital jobs marketplace – jobs.getlinks.com. With Big Data, AI matching and improved ML algorithms, the platform aims to provide a complete experience for both job seekers and recruiters in targeting the best match in various ways.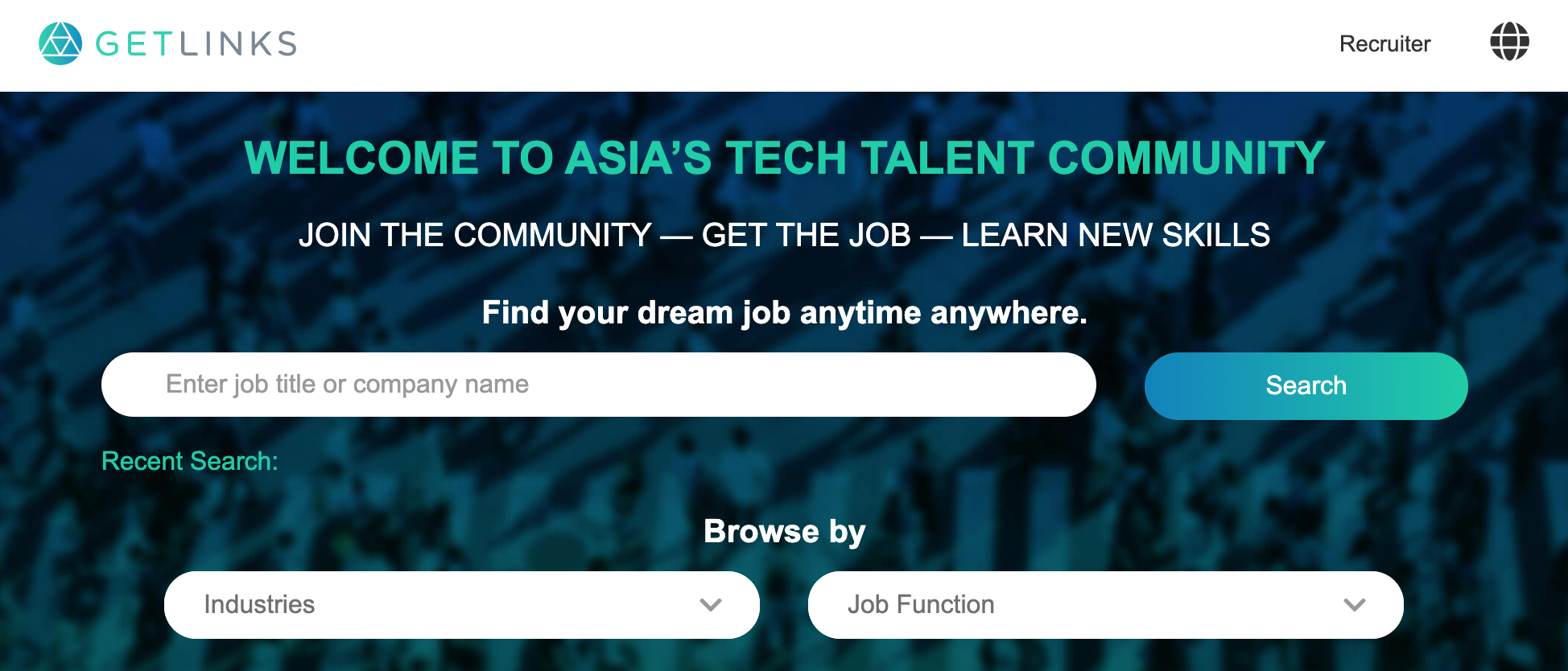 GetLinks Job Search allows the clients to minimise hiring cycles by up to 80% in comparison to traditional methods. The build-in job recommendation algorithms are based not only on data and user behaviour, but also on the matching between user profiles and the job requirement. This allows to provide users with an easier access to the right opportunities, while benefiting recruiters from the proactive push of job ads to the best matched candidates. The resulting increase of both quantity and quality of the application helps build stronger teams in a fast and cost-effective way.
As more and more companies are digitizing their workforce and processes both internally and externally, the total market for hiring tech talent is growing at a much faster pace than during pre-pandemic times. Shift to online work created unprecedented career opportunities for digital professional. However, many of these opportunities remain untapped due to the lack of market awareness about them. GetLinks Job Search closes this knowledge gap, at the same time offering a solution for specialists who want to find the best application for their skills and expertise.
By addressing the needs of the talents first and developing features that speak and work for them, GetLinks created one of the largest digital talents network in SEA and GBA, while expanding to processing payroll in over 180 markets for the growing global remote workers industry. The platform completed over 20 million job searches last year alone, and growing at record rate throughout the current pandemics. With its dual headquarters in Hong Kong for Greater Bay Area (China), and Thailand for Southeast Asia, GetLinks is uniquely positioned to serve the East to Southeast Asia. The new GetLinks Job Search platform leverages on this position as well as on the company's core competences, offering solutions that are welcomed by the highly sought after digital workforce with approximately 5 years or more of work experience.
"GetLinks have grown with these digital talents for nearly a decade. We realise that the digital talents market is evolving, not only in terms of the demanded skills, but also in the way people work. While permanent role is still the most preferred arrangement among job seekers, more people are now looking for project based, freelance or remote work," said Keenan Kwok, CEO of GetLinks Group. "We believe that by launching the Job Search platform we broaden the choices and opportunities for job seekers. But GetLinks Job Search is not just a job search platform —once our member agrees to reveal their profile to recruiters, the matching algorithm will also recommend suitable candidates to recruiters, so it works both ways".
Through GetLinks Job Search platform the company hopes to support companies at their fullest potential in finding the best tech talents, as well as encouraging jobseekers to earn and learn more. To find out more about the new platform, go to https://jobs.getlinks.com
About GetLinks
GetLinks is the leading technology recruiting platform in South East Asia, having helped thousands of tech talents to work at tech companies like Google, Grab, LINE as well as helping major corporates like Accenture, L'Oreal, SCG, CP Group, to achieve digital transformation through building digital teams. With offices in Thailand, Vietnam, Singapore, Hong Kong, and founded in 2015 and incorporated in Mountain View, California, GetLinks is backed by Alibaba, SEEK, 500 startups, SCG, Hong Kong's Cyberport, Thailand's InnoSpace and key regional family offices spearheading digital transformation for their industries.