Industrial printing of business cards, posters, flyers, etc. Raise your hand if you believe that this is a sexy and highly technology-intensive line of production. I'm guessing that not that many of you raised their hands, right?  Well, you would be quite right when it comes to traditional offline printing companies. However, a Thai online printing start-up called Gogoprint is breaking loose from this overarching trend, by relying extensively on technology and innovative software to optimize its customer acquisition, production and logistics processes. Its vision is to enable a printing experience that is cost-effective, convenient, and easy for all in South-East Asia.
The printing industry in Thailand and other South-East Asian countries (a $25-30 bn industry) tends to be highly concentrated on the production-side : a handful of large traditional printing houses control a large share of the market, and hold extensive negotiating power. This has historically resulted in underserved SMEs and individuals, who suffer from high prices biased against low print runs, and very low levels of transparency in pricing and ordering processes. It is Gogoprint's mission to cater to this mass of underserved customers. On the one hand, Gogoprint makes use of intelligent imposition (order-bundling) technology to market high-quality and affordable print products, even in the lowest order quantities. Low pricing is achieved through various technology-induced efficiency improvements that reduce paper waste and take advantage of economies of scale. Gogoprint's use, integration, and development of production technology (pre-press and post-press) represents the company's first differentiator from the traditional printing industry that allows it to successfully cater to the mass of SMEs.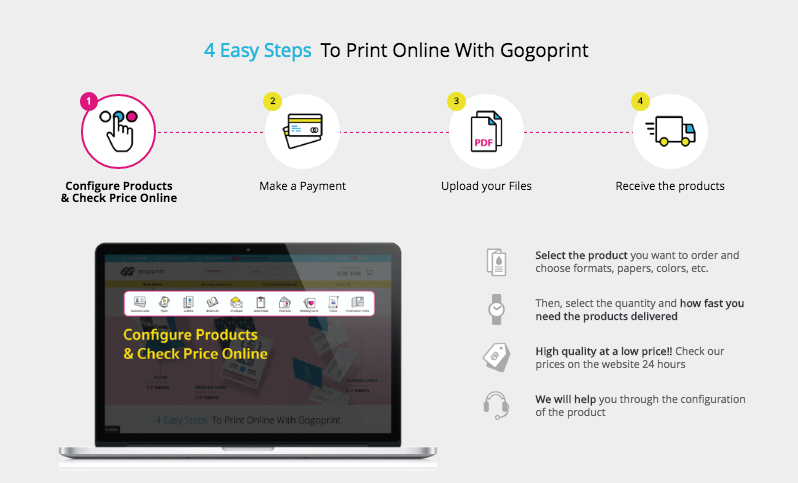 On the other hand, Gogoprint is an e-commerce that relies on its website to attract customers, convert them, and organize customer relationship processes. The entire customer journey, from A to Z, happens on the website. As such, the objectives of the website are two-fold: reach everybody in Thailand and in the SEA region; and make printing as easy, intuitive, and convenient as possible. The company therefore relies extensively on user interface and back-end optimization to ensure a user experience and production management that are as complete and seamless as possible. Gogoprint aims to become South-East Asia's knowledge base and go-to destination for printing. As far as printing companies in SEA go, Gogoprint is the only one to emphasize the importance and added value of a holistic customer experience, for instance through its blog.
Finally, Gogoprint relies on a handful of partners to realize its operations. This is normal, and many companies do so. However, what sets Gogoprint apart is that the company is deeply involved with its partners and closely collaborates with them to optimize production processes. This involves not only innovative software and custom-built APIs to improve communication and tracking, but also the co-development and optimization of shared processes.
All in all, the company is relying extensively on technology to create more efficiency in the printing industry value chain, in order to better serve SMEs and individuals. Gogoprint's website launched in November 2015, and if current growth is anything to go by, it will soon become the leading online printing company in SEA. Currently, the company is preparing its website's launch in Malaysia and Singapore as a first step towards regional expansion.