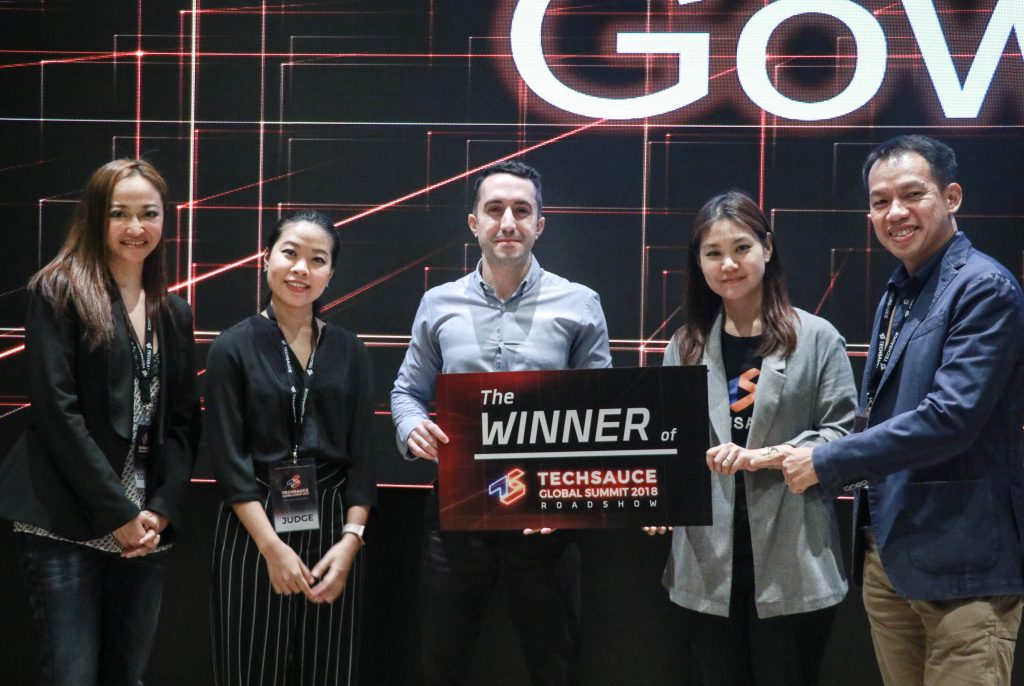 *Click here for the Thai version of this article.
GoWabi claims victory at Thailand Techsauce Roadshow 2018 and will pitch at the final round at Techsauce Global Summit 2018 on June 22-23, 2018 for grand prizes worth up to 10 million Baht.
Techsauce Media Co-founder and CEO Oranuch Lerdsuwankij, the Co-founder and CEO of Techsauce Media has announced GoWabi, as the winner of the Techsauce Roadshow 2018 pitching competition on May 30, 2018.  The competition at Glowfish, Bangkok, was hosted by Techsauce Media, the organizers of the biggest international tech event in Southeast Asia, Techsauce Global Summit 2018.  GoWabi, an online beauty and wellness services booking platform, was able to outshine 20 other startups.  Codekit, a website that teaches new methods of online programming was the first runner-up and ZWIZ.AI, a chatbot content management system & marketplace was the second runner-up. 
"With its unique concept in solving the pain point of both customers and service providers, its growth potential, and its clear answers to questions, GoWabi made quite an impression on the judges and won it massive points,"  says Oranuch.
For the past year the Techsauce Global Summit 2018 team has traveled to 20 cities in the Asia Pacific region to select the best startups.  The countries include Australia, Israel, Japan, South Korea, Hong Kong, Singapore, the Philippines, and Thailand as the last leg of the tour.  The winner of each city's pitching competition will pitch at the Tech showcase stage and final pitching competition on the main stage of Techsauce Global Summit 2018 on June 22-23, 2018 at Centara Grand Hotel at Central World. 
Oranuch says GoWabi will be featured with their own booth at Techsauce Global Summit 2018 for free on both days of the summit and will represent Thailand in the final pitching stages against other startups from the Asia Pacific region.  The ultimate prize is US$80,000 or 2.56 million Baht funding along with a spot in the global MOX accelerator or US$130,000 or 4.17 million Baht funding with a spot in the Chinaaccelerator program.  All prizes are worth together $10 million Baht.
Samir Cherro, the co-founder and CEO of GoWabi says is an application that is the go-between customers and spa and beauty service providers.  Initiated in 2016, the application offers special discounts for customers and helps clients book appointments without having the hassle to call up the businesses themselves.  GoWabi even allows clients to pay at the beauty centers themselves or online.  This helps service providers attract clients during off-peak hours.  At present over 1,000 spa and beauty providers can be booked via GoWabi. 
"After working hard for over the past 2 years our team ecstatic that we have been able to reach this point and win an award that is recognized in Thailand and Southeast Asia.  Our team will continue to work hard to develop to make our application that people in Southeast Asia think of when it comes to booking spa and beauty services," says Cherro.   
Techsauce Global Summit 2018 is the biggest international summit that is filled with knowledge in building businesses, connecting entrepreneurs, investors, and all sectors.  Within the summit will be 10 stages holding discussions on over 200 topics with over 200 speakers from around the world.  In addition there will be the final pitching competition of startups from all over the Asia Pacific region.  This is the event for corporates looking to advance with new technology, brands that are undergoing digital transformations, entrepreneurs in the tech industry, startups, and those who are interested in technology and new knowledge.  For those who are interested to join us, go to https://summit.techsauce.co