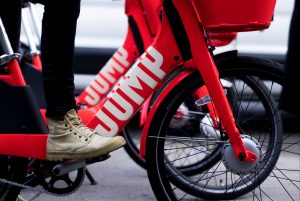 In 2013, SOSV made a bold and futuristic decision to invest in the future of mobility. They invested in the seed round of JUMP Bikes, a company specializing in electric pedal-assist bikes and dock less bicycle-sharing.
Today, the acquisition of JUMP Bikes by Uber will reinvent the term "mobility", making transportation more accessible and convenient than ever before.
According to Uber's CEO, Dara Khosrowshahi, "The JUMP integration will help tens of millions of people get a ride at the tap of a button".
Brad Higgins, the SOSV Partner who chose to invest in JUMP said: "Ryan has a deep understanding of how to work with cities, which helped enable dock less usage. This convenience, and riding without breaking a sweat, leads to more frequent and longer rides compared to conventional bike-sharing programs. Users skip the car for the last mile, or two, or three."
Envisioning a Mobile Future
Since the unexpected emergence of successful Bike-sharing firms. Entrepreneurs from all over the word have been hopping on the Bandwagon, rushing to implementing bike-sharing to their part of the continent. Up in North America, Bike-sharing companies like LimeBike, Zagster and Spin have sprouted up in their metropolitan district. Over in East Asia, China's giants Mobike and Ofo have thrived with major success, even expanding their services to other regions in Southeast Asia.
In the past, only fixed and rigid options were given to passengers when traveling to a destination. This could include taking a particular bus to a suburb or taking that train that only arrives every 15 minutes. With the implementation of various new forms of transportations such as bike-sharing, e-scooters and car-pooling, users can mix and match to a variety of different transportation combinations, to suit their travel preferences.
With the potential onset of multiple transportation options for consumers in the near future, SOSV has branched out its portfolio to cover other modes of transportations outside of bike-sharing. This includes ride-hailing motorbike cabs (SafeMotos), P2P car rentals (Getaround) and car occupancy technology (Carma).
"Many consumers will be able to combine modes, just as they do with public transit," said SOSV Managing Partner Sean O'Sullivan, "and that's not just a win for Uber, that's a win for society."
Despite the fact that private ride-sharing services existed more than a decade ago, these services were slow, unreliable and inefficient without the feasibility of an application. Hence, the onset of on-demand apps reshaped the transportation industry forever. Gone are the days where customers had to worry about their security, lose valuable goods due to untracked deliveries and wasted trips due to outdated information. On-demand technology has transformed the customer experience, making traveling as easy as clicking a button.
According to Barrett Nash, CEO of SafeMotos: "In the developing world, the private sector will be the first to offer core transportation solutions. On-demand systems will come before governments in building a logistics backbone for developing world cities."
With firms such as Uber and JUMP leveraging on the capabilities of on-demand apps to create new forms of mobility, It will be interesting to see how these businesses seamlessly integrate into the overall transportation industry in the future.
Source: Medium