Thailand's longest running and largest coworking and entrepreneur-building space, HUBBA, announced its partnership with Google for Entrepreneurs today, becoming the country's first tech hub partner in Thailand. HUBBA members can now take advantage of Google for Entrepreneurs' global network and resources, spanning dozens of coworking spaces and community programs across 135 countries.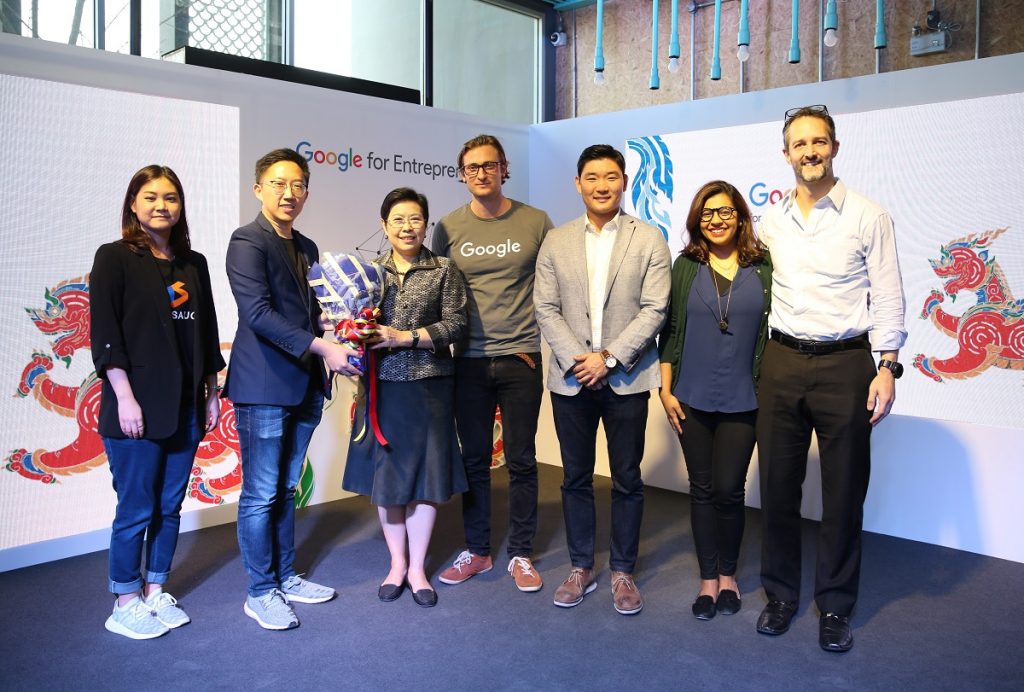 HUBBA is Thailand's first co-working space. In just five years, HUBBA has built Thailand's strongest startup network, a close-knit community, and an innovative ecosystem. Starting in a humble two-story house in Ekkamai, HUBBA has grown into a complete ecosystem with programs to help entrepreneurs and startups reach their goals. HUBBA now hosts three co-working hubs across Bangkok, providing Thailand's entrepreneurs with co-working space, resources, and tools to grow their early stage businesses. HUBBA's range of services for startups include an online digital platform (HUBBA connect) workshops, community activities, and networking opportunities. It wouldn't be rare to have a mentorship session with the CEO himself.
At the launch, which was attended by Ms. Ajarin Pattanapanchai, the Permanent Secretary of the Ministry of Digital Economy and Society, Amarit Charoenphan, founder and CEO of HUBBA, said, "We believe entrepreneurs can change the world, and will do it. Entrepreneurs can help entrepreneurs in a very focused way, and Thailand is teeming with opportunity. We need to jump-start the movement, and our community and passion will be the spark that does it. With all the resources we want to give our community, we're evolving into a one-stop shop entrepreneur success platform."
Ben King, Country Director of Google Thailand, said, "We're honored to expand our Google for Entrepreneurs Partner Network to HUBBA in Bangkok. Amarit and his team are working to transform the country's economy and are building its tech-forward workforce. We're proud to support HUBBA's mission and Thailand's digital-first future."
Following the address, Michael Kim, Google for Entrepreneurs APAC Partnership Lead, along with serial entrepreneur Oranuch (Mimee) Lerdsuwankij and Head of Google Thailand's Global Marketing Solutions Adrian Vanzyl, joined Amarit Charoenphan for a fireside chat moderated by Techstars' Regional Manager Lalitha Wemel. The five discussed Thailand's role in shaping an startup-strong economy.
Kim, who cultivates the Google for Entrepreneurs network across Asia Pacific, said, "We're so inspired by the incredible entrepreneurs and startups here in Thailand. Google for Entrepreneurs is focused on providing the best of Google's resources to our global partner network and we're thrilled to collaborate with HUBBA's members."
As members of the Google for Entrepreneurs network, HUBBA members and the greater Bangkok startup community will have access to new resources including training and mentorship opportunities and access to Google programs and products including:
Google for Entrepreneurs global programs: Members can now apply to the incredible programs Google runs for entrepreneurs, including Google for Entrepreneurs Exchange, a series of week-long, vertically-specific global immersion programs aimed at helping startups gain access into new markets and insights, and Google Demo Day an event that brings together a diverse group of startups from around the world to showcase their technology and meet top investors and mentors in Silicon Valley.

A global network: Hubbers will join 50 other organizations with a global footprint in more than 135 countries, including six Campuses, which are Google-owned and operated spaces for entrepreneurs. Impact Hub members are now connected to the Google for Entrepreneurs Passport program, which allows members to access more than 20 Google partner spaces the world over, from Seoul to San Francisco.

Google resources: Relevant startups will be eligible for Google product offers and have access to local and international mentorship from Google advisors.
About HUBBA
We are Thailand's first co-working space started in a humble two-story house in Ekkamai. In HUBBA's five years we have built a network, a community, and an ecosystem. HUBBA started out as a space where new entrepreneurs could work together to find success and has grown into a complete ecosystem with programs to help entrepreneurs and startups reach their goals. We have three co-working hubs across the heart of Bangkok. Our first location, HUBBA Ekkamai still stands as one of the main gathering points for startups and new entrepreneurs in Thailand. Our newest locations HUBBA-TO and Discovery HUBBA have continued to bring people of all different fields together to achieve together.
For more information, please visit http://www.hubbathailand.com/about.
About Google for Entrepreneurs
Google for Entrepreneurs provides financial support and the best of Google's resources to dozens of coworking spaces and community programs across 135 countries. Google for Entrepreneurs also creates Campuses: physical hubs where entrepreneurs can learn, connect, and build companies that will change the world. To learn more about Google for Entrepreneurs, visit google.com/entrepreneurs or follow on Google+, Facebook, and Twitter.