JLL has announced that its Property and Asset Management division has created a strategic alliance with Seekster, Thailand's fastest growing cleaning and maintenance service platform. Following the alliance, JLL will be introducing Seekster as a recommended provider of in unit services for individual co-owners and tenants in condominium buildings that the firm manages at present.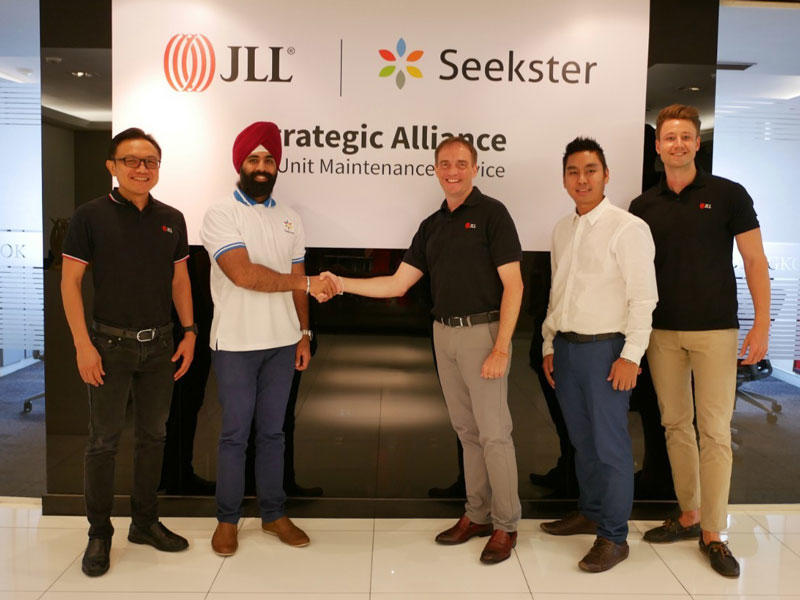 Photo: Dexter Norville (3rd from left), a co-head of Property and Asset Management at JLL, and Sahib Anandsongvit, CEO and co-founder of Seekster, shaking hands after entering into a strategic alliance agreement. Also seen in the picture are Chakrapan Pawangkarat (1st from left), the other co-head of Property and Asset Management at JLL, Kittinut Ganpleamgam (4th from left), Head of Enterprise Sales at Seekster, and Christian Radzio, Assistant Surveyor at JLL
"While property management covers mainly common area, facilities and building systems, general cleaning and maintenance of individual units are under the care of co-owners or tenants. Our alliance with Seekster will help fill the gap and support our commitment to ensuring the highest convenience and safety for users in every property that we manage. It also compliments our strategy to partner with entrepreneurs with proptech that can create value to our clients." - Dexter Norville, a co-head of Property and Asset Management at JLL
"It is a great opportunity for Seekster to partner with an internationally renowned company like JLL, particularly in Thailand where the firm is the leader in property management with a large portfolio of more than five million square metres managed. We are confident that the alliance with JLL will enable us to accelerate our business expansion." - Sahib Anandsongvit, CEO and co-founder of Seekster
Through an on-demand app, co-owners and tenants in JLL-managed condominium buildings can have instant access to Seekster's services delivered by their professionals, each with up-to-date personal information and verified background. Condominium owners and tenants will also benefit from special rates offered through the alliance arrangement.
"The fact that our firm receives no financial benefits from this alliance will ensure that there will be no conflict of interests by JLL as property managers. In addition, co-owners and tenants in JLL-managed buildings still can use any other in-unit service providers that they may prefer" - Mr. Norville.
The alliance between JLL and Seekster will initially cover JLL-managed condominium buildings in Bangkok and Pattaya. At a later phase the two parties may look to expand their alliance to cover some commercial properties managed by JLL.