Since middle of March this year, a series of measures were introduced to contain and control the speed of Covid-19 in Thailand. First, the Songkran holidays were cancelled, gym/bar/entertainment venue were forced to close, and then Shopping Mall and no more dine in at any restaurant. According to Kantar Worldpanel, the world's leading evidence-based insights and consulting company, since the ban of dine in restaurant from March 22, the weekly spending on Packaged Foods has increased significantly as much as 40% higher than average week. The level of increase was not observed for other grocery sectors such as Beverage, Homecare nor Personal Care.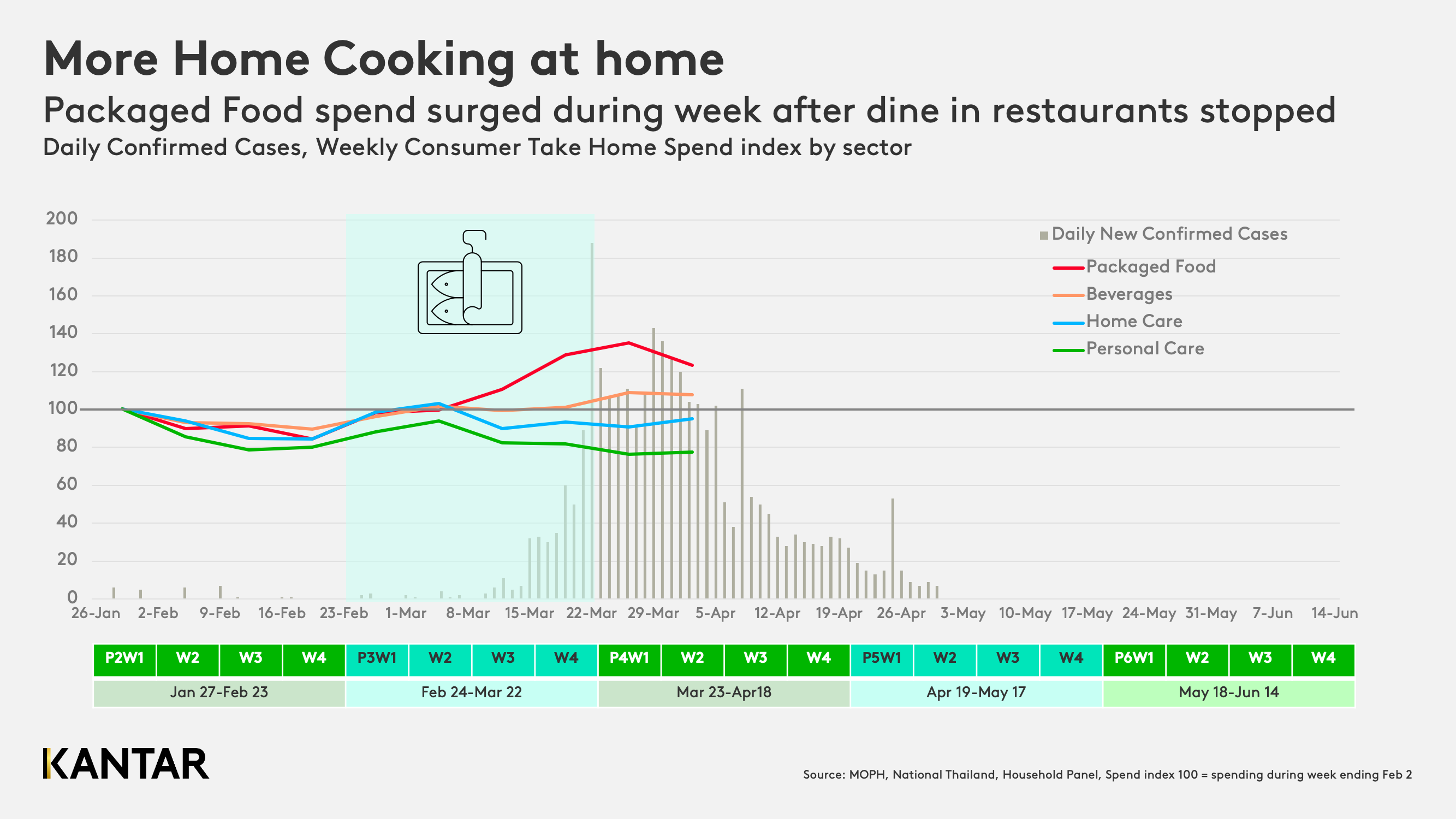 Thai consumers are now cooking more meals at home as eating at a restaurant is no longer an option. Also, large number of categories that shoppers increased their spending were cooking related categories or staple foods such as Canned Fish or Instant Noodle. At the same time, consumers also opted for more meal delivery. A separate survey of 1,638 individuals age 15-49 living in urban Thailand during Apr 10th-16th found that as many as 38% consumers ordered more meal delivery compared to before. At about the same time number of searches on "delivery" in Thailand surpassed that of "restaurant" since Mar 15th based on Google Trend. The hype of meal delivery maybe short lived as the same study also showed 79% of the respondent could not wait to go back to dine in restaurant and would reduce their meal delivery frequency.
The stock up or bulk buying behavior will not repeat as shoppers learned that all grocery shops and retailers remain open. In addition, Thai government introduced a more relaxed measures to open some businesses including restaurant from May 3rd, however, there's still certain restriction still in place such as social distancing and operating hours. We can expect the Thai consumers will continue prepared more meals at home and order more meal delivery until consumers feel safe and confident to behavior the way they used to – which would be subject to availability of the cure – a vaccine that experts forecast it'll take several months to come.
Brands in packaged food and beverages have and will continue to benefit from more usage occasion at home. Multi-serve or large pack size is likely to be back to fashion in the short term as we can expect there will be more sharing occasion among family members. In the long term, every brand must understand the implication from changes in household structure where 1 or 2 people household size now accounts for almost 45%. The Covid-19 outbreak may change how shoppers behave in the short term, but what it doesn't change is the need of convenience, value for money, and health/nutritional benefit.