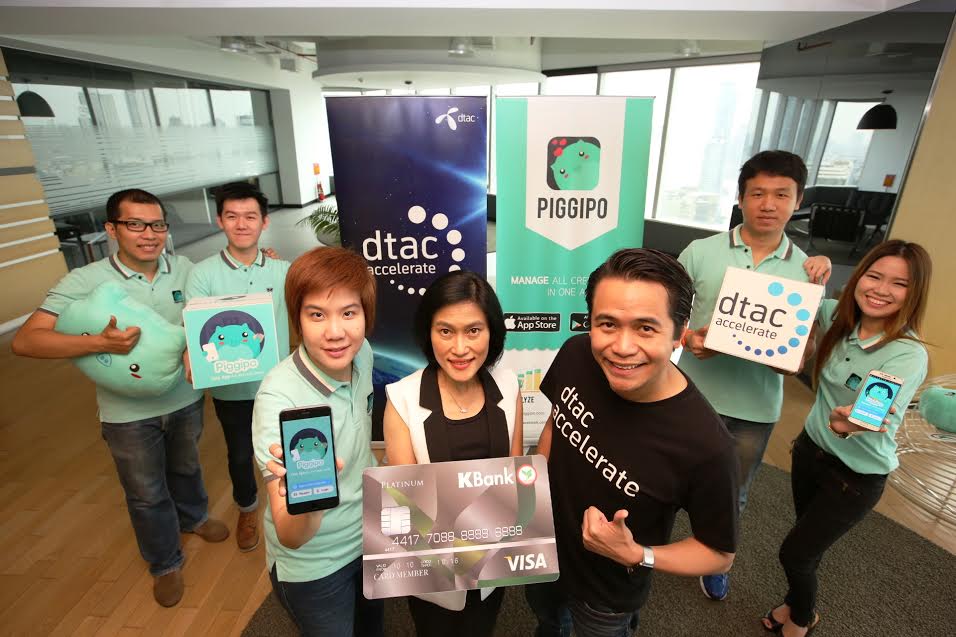 dtac Accelerate and Piggipo have entered a major partnership agreement with Kasikorn Bank or KBank in offering a new channel of communication, providing credit card promotions to target customers, and sending notifications via Piggipo application.
Mr. Sompoat Chansomboon, Director of dtac Accelerate, Total Access Communication PLC or dtac said, "In the past year, Thailand's startup ecosystem has significantly grown in terms of increased numbers of startups and customers, primarily due to the country's overall improved telecommunications infrastructure, including the full 3G nationwide coverage and 4G coverage in big cities as well as the availability of budget smartphones. Piggipo, the winner of dtac Accelerate 2014 and a participant in the Blackbox Connect program in Silicon Valley, receives continuous marketing support from dtac Accelerate, and hence their partnership with KBank is an important milestone that would drive the Thai startup industry as well as the fast-growing Financial Technology (FinTech) market. Also, Piggipo has partnered with a leading Malaysian bank and is preparing for commercial launch in Malaysia early next year, with an aim to become the number one financial management application in the Southeast Asia region."
Ms. Sudrutai Thongsong, First Vice President, Credit Card Product Management and Marketing Department, KBank, said, "KBank credit card was ranked first last year in terms of sales, with over 3.6 million cards, as a result of outstanding marketing efforts, which focus on providing card holders with both functional benefits and emotion benefits, such as discounts, redemption program, free gifts, and special privileges, on 4 key categories, including dining, travel, shopping, and health. Today, mobile applications have become an integral part of consumers' lives. Therefore, mobile application is an important channel to reach and communicate with consumers at anytime. Our partnership with Piggipo supports our objective of feeding KBank credit card promotions to target customers, who are credit card holders, via the Piggipo application."
Ms. Supichaya Surapunthu, CEO of Piggipo, said, "Piggipo is a credit card management application, and since its launch in 2014, it has received very good response and positive reviews from the market, with over 100,000 users and growing. Since most of the financial applications in the market do not have features for managing credit cards, Piggipo has grown to be Thailand's number one credit card management application. It is a great opportunity to partner with KBank, Thailand's leading credit card issuer, in providing credit card promotions to target customers via Piggipo. Piggipo users will receive notifications and search for credit card promotions in Privilege Box, and in the near future the application will include special privileges exclusively for KBank credit card holders."
The key feature of Piggipo is the summary of all credit card spending in the first page of the application, along with statement dates and payment due dates, helping users to choose which card to use. The application sends out notifications to remind users on payment due dates and has Billbox system that allows users to record credit card transactions, together with pictures of credit card slips, and verify them against the statement. Spending is analyzed and displayed in a clean and easy-to-read graph. Users can also use Piggipo to keep track of cash payments by adding a new card and using it for cash transactions. Security is assured with 256-bit encryption, the same level of protection used by banks, Passcode, and Touch ID. Piggipo is available for free download on both iOS and Android platforms.
For more information, feedback, and problem reporting, please contact Piggipo developer team at Website: www.piggipo.com LineOfficialAccountID: @piggipo Facebookfanpage: http://www.facebook.com/piggipo Email: [email protected]