Krungthai-AXA Life announced that it will sponsor 'HUBBA X LA FRENCH TECH: JOINING TWO ECOSYSTEMS', a joint initiative by two start-up ecosystems, HUBBA and La French Tech, to encourage the emergence of French start-ups and help them grow and expand internationally. The event will be held at HUBBA, Ekkamai, on Wednesday March 21st from 18.00 – 22.00 pm, and will celebrate HUBBA's recent partnership with Google for Entrepreneurs & La French Tech's 3rd anniversary.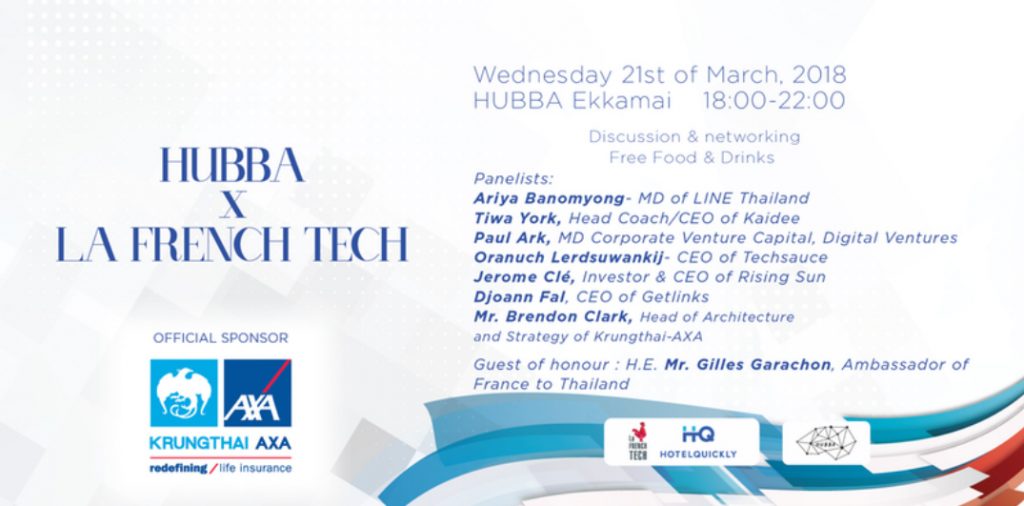 David Korunic, Country Chief Executive of AXA Thailand and CEO of Krungthai-AXA Life, said,
"We are very proud and privileged to be associated with such an innovative movement, which brings together a generation of creative, forward-looking entrepreneurs. The insurance industry is facing some of the biggest challenges in its 300-year history. Our customers' needs are rapidly evolving and new technology and emerging start-ups have the potential to transform our sector and provide numerous opportunities to serve our customers better.
Furthermore, the right technology applications can help insurers develop an unbeatable competitive advantage by staying ahead of market disruption and meet the demands and expectations of our new generation of customers. As a leading life insurer, we will continue to empower people to live a better life by focusing on customer centricity and integrating new technology initiatives to provide better solutions for our valued customers at any time, anywhere.
HUBBA CEO Amarit Charoenphan said that "Ensuring the mobility of resources, talent, and ideas is crucial for any developing startup ecosystem. The French and Thai ecosystems can explore different synergies and we are thrilled to provide a platform for french, thai, and all entrepreneurs to meet and discuss new ways to collaborate."
Amarit also thanked the kind sponsorship of all our sponsors, especially Krung-thai-AXA, for providing the resources to create a one-of-kind networking event between these local and international communities, and welcomed the A-list speakers who will run the info panel of the event.
About HUBBA
We are Thailand's first co-working space started in a humble two-story house in Ekkamai. In HUBBA's five years we have built a network, a community, and an ecosystem. HUBBA started out as a space where new entrepreneurs could work together to find success and has grown into a complete ecosystem with programs to help entrepreneurs and startups reach their goals. We have three co-working hubs across the heart of Bangkok.
Our first location, HUBBA Ekkamai still stands as one of the main gathering points for startups and new entrepreneurs in Thailand. Our newest locations HUBBA-TO and Discovery HUBBA have continued to bring people of all different fields together to achieve together.
La French Tech
La French Tech is the name of the community of French startups, French entrepreneurs, tech executives and stakeholders, in France and abroad. Launched in 2013 with the backing of the French government, the initiative is a war cry for over 9,500 startups, and has seen an all-time-high USD 3.18 Bl in fundraising in 2017. In Thailand, La French Tech gathers a growing number of startups created by French entrepreneurs, eager to learn and share with other tech communities. As the movement celebrates its 3rd anniversary, the French Ambassador to Thailand, H.E. Mr. Gilles Garachon, expressed his great satisfaction to see that "La French Tech Thailand is taking a significant step further by partnering with HUBBA and consolidating its ties with the Thai tech ecosystem".