This article summarizes a session at the #BoschCES 2021. In this press conference, Dr. Michael Bolle, Bosch CTO, CDO, and management board member, and Mike Mansuetti, president of Bosch North America share their vision along with cutting edge innovation under the tagline "Sustainable #LikeABosch: Smart, climate-friendly solutions for health, home, and mobility."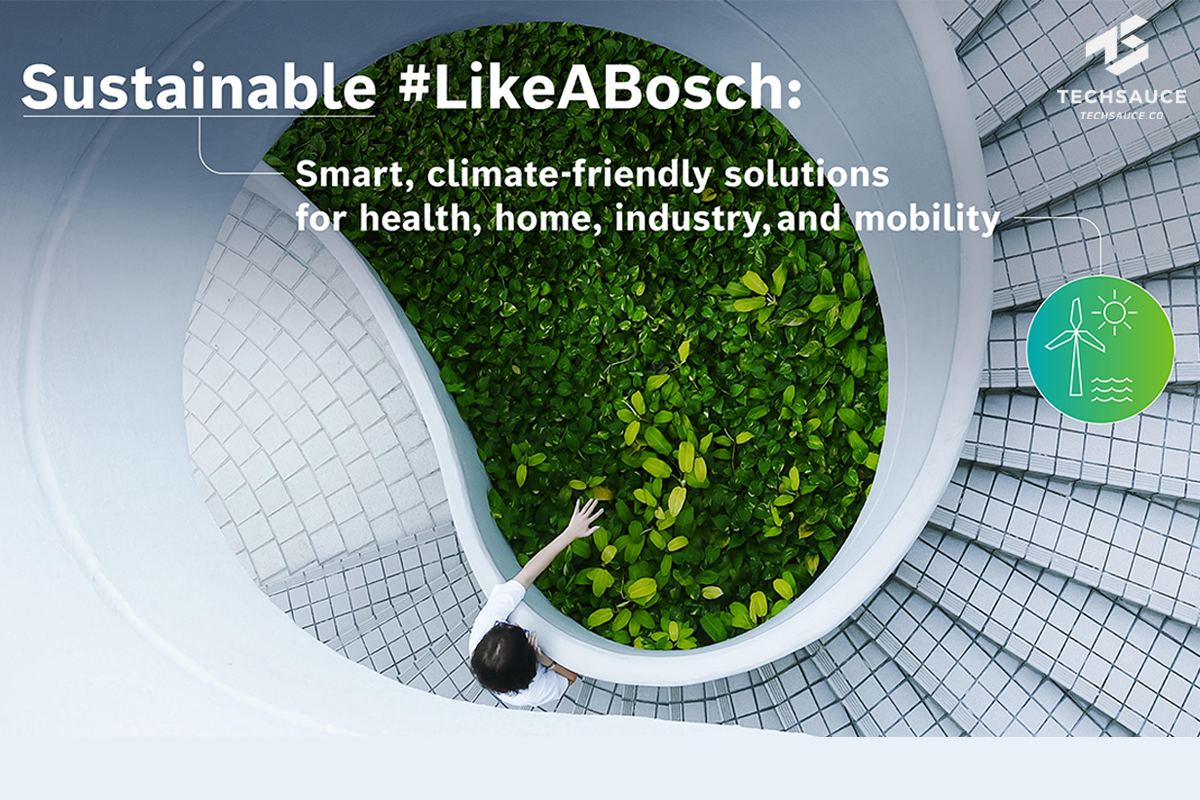 Live sustainable like a Bosch
Many years ago, Bosch announced that they will make their headquarters locations carbon neutral. Now they have succeeded and became the first Climate Neutral global industrial enterprise.
Bosch is currently looking for something even bigger. The entire value chain from their consumption to their production is their new challenge to beat. The emissions from these upstream and downstream sources are 100 times greater than the emissions of their locations. They announced their carbon neutrality target by 2030. Their goal is to reduce these emissions along their entire value chain by 15%.
AIoT - when AI meets the Internet of Things.
Bosch shows their belief in harnessing the power of cutting-edge technologies like AI and connectivity to help people overcome some of the biggest challenges of our times in particular those involving our own health and the health of our planet.
The link between technology and sustainability is practical. Thanks to a recent study in Germany, comprehensive digitalization in the mobility, manufacturing, and building technology segments could help Germany get nearly halfway to the emissions targets it has pledged as part of the Paris Agreement.
AIoT altogether with data is a technological key to creating purposeful impacts, especially for greater sustainability. Bosch's approach focuses on the world of objects and things and their interaction with their environment. They have also created an AI code of ethics that can convince people to trust in this technology.
Along with sustainability, in order to tackle the pandemic situation, Bosch has created medical equipment. For instance, Bosch's Vivalytic analysis device can detect the SARS-CoV-2 pathogen which can cut test wait time from 2.5 hours to only 30 minutes. The device can also take up to 5 samples simultaneously. Bosch aims to increase its testing capacity to three million devices per year.
The new open security camera solution, which is the CES Innovation Award honoree this year, allows cameras from different manufacturers to be equipped with customized applications. Among these is an AI-based app, which enables, for instance, customer numbers in retail spaces to be automatically detected and limited in accordance with local COVID regulations or the verification of facial coverings for private households.
The new mobile anemia screening solution which is also the 2021 CES Innovation Award honoree. The hemoglobin monitor equipped with a compact, non-invasive point of care solution powered by machine learning algorithms, delivering results within 30 seconds.
Wearable technology gadgets come in the form of fitness trackers. What makes this product stand out from the competition is that it is deeply integrated with artificial intelligence technology which enables them to learn about your fitness activities, leading to a better lifestyle for all.
Not only technology but also People
Leading is not only dependent on technology but also on people. Artificial Intelligence training initiative has been mentioned since CES 2020 and they are currently on their way to train 20,000 of their associates. They recently launched an AIoT training program in the United States.
Another program they launched as a member of the CTA apprenticeship coalition is an apprentice model focused on software engineering called IoT apprenticeship. Their extraordinary 12-month program aims to recruit talented non-engineers with transferable skills and then train them in architecture design and coding. These groups of people are expected to be employed once the program is complete.
Mike Mansuetti said that "Our IoT apprenticeship model is a manifestation of a build strategy for talent that helps us meet our software engineering needs in a very challenging recruiting environment. Our first cohort of IoT apprentices includes a former chef shop technician and a personal banking manager. It's fascinating to hear what motivated them to make such a career change. Some want to gain real-world technological experience. And some are looking for a chance to do work on interesting projects."
Most far-out applications of AI
After successfully utilizing Bosch SoundSee AI-based sensor system on the International Space Station, where it will perform deep audio analytics with NASA. Right now, in NASA's tipping point program in partnership with Astrobotic, Wibotic, and the University of Washington, they are now researching and developing technology for intelligent autonomous navigation and the wireless charging of small robots on the lunar surface. It is a shoebox-sized robot called Cube Rovers. It is claimed to be equipped and trained to navigate the moon's harsh unpredictable conditions and get itself to a docking station in an environment where GPS is not an option.
Conclusion
Sustainability along with Bosch's core business is even more promising and impactful. Their role to create a sustainable world for the next generation as well as commit to the future of their business has been reflected in their action and innovation shown in this press conference.
Dr. Michael Bolle said that "Sustainability and profitability are two sides of the same coin." They see there is no conflict between these two and it can fulfill each other.
5 Things emerging from Bosch and sustainability:
1) driving cost efficiency
2) independence from energy prices
3) opening up a new market
4) unlocking innovative potential
5) Business opportunities from these new green technologies such as carbon neutral consulting and services.
This is probably a quantum leap for innovation, sustainability, and the world.