As part of its ongoing efforts to advance financial technology and accelerate the development and adoption of blockchain technology, Omise and OmiseGO today announced the signing of a Memorandum of Understanding (MoU) with ShinhanCard, an affiliate of the Shinhan Financial Group, a major player in South Korea's banking and payments arena.
The agreement confirms mutual interest, and closer collaboration between the parties to further advance ShinhanCard's digital offerings across its portfolio of payment services and mobile application in today's growing mobile payments market. This agreement expands Omise's presence beyond its home countries in Southeast Asia and Japan, while also working towards building a strong partnership for OmiseGO.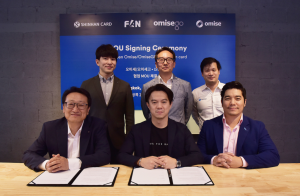 Present at the signing ceremony in Bangkok, Thailand were Jun Hasegawa CEO & Founder of Omise and OmiseGO, Ezra Don Harinsut, COO & Co-Founder of Omise and OmiseGO, Sutthiporn Mekha Aphirak, Business Development Manager at OmiseGO, Kim Jung Soo, Head of Digital Business Division at ShinhanCard, Cho Yong Seok, Team Leader from ShinhanCard, and Lee Jung Hoon, Manager from ShinhanCard.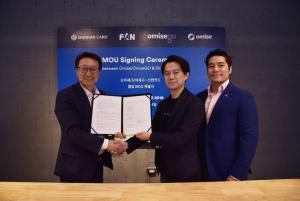 The MoU establishes a framework for closer collaboration between each party; leveraging Omise's broad portfolio of payment technology and solutions, and OmiseGO's server and mobile SDKs that have been made publicly available for the purpose of on-boarding e-wallet providers.
The agreement outlines potential areas for cooperation including;
• Exchange of learnings, know-how, and information relating to fintech trends and payment solutions to support overseas processing of the Shinhan FAN Card, and expand its overseas merchant base;
• Explore possibilities of establishing a payment infrastructure to enable mobile payments for foreigners visiting South Korea by developing a Global FAN Card; and
• Explore potential joint projects, new business models, identify cross-border use cases and key application opportunities based on the OmiseGO technology.
"Omise and OmiseGO are working to revolutionize the way digital value moves globally, with an end goal of creating a platform that facilitates a decentralized economy. The OMG platform, using the Plasma architecture, is being built as a public network that is powered by Ethereum." said Jun Hasegawa. "The first phase of the wallet SDK was recently released and is available for anyone to use. We want to make it easy for those who need online asset exchange as part of their business to connect seamlessly to the OMG Network." he adds.
About Omise
Omise, established in 2013, provides the industry's most intelligent and advanced payment management platform for Asia and global markets. SMART, SIMPLE, and SCALABLE - our solutions are suited for the new venture just getting started and scale to support the most demanding needs of regional and global brands.
Omise, began with a singular vision; to deliver the most robust, highest available and cost efficient payment services with SIMPLICITY and EASE. Through the power of machine learning, robust, redundant architecture a full suite of local and regional payment methods, and in depth knowledge of our markets, Omise's solutions enable small businesses, global organizations, governments or financial institutions to rapidly realize the full potential of their online commerce objectives.
About OmiseGO
OmiseGO is building the OmiseGO network- a public Ethereum-based financial technology for use in mainstream digital wallets, that enables real-time, peer-to-peer value exchange and payment services agnostically across jurisdictions and organizational silos, and across both fiat money and decentralized currencies. About ShinhanCard Shinhan Card is an affiliate of the Shinhan Financial Group, a leader in South Korea's banking and payments arena. Shinhan Card was founded in 1990, and is currently among the country's biggest credit card companies; providing services in the card's segment including consumer cards, corporate cards, and government subsidy cards.