Omise, the payment gateway of choice for thousands of businesses in Southeast Asia and Japan, today announced its official launch in Malaysia. This launch supports the growing internet economy and strong uptake of e-commerce in Malaysia and is part of the company's ongoing expansion roadmap across Southeast Asia.
As a registered merchant acquirer regulated by the central bank of Malaysia, Bank Negara Malaysia (BNM), Omise is set to roll out its payment gateway services to all businesses operating in Malaysia starting today.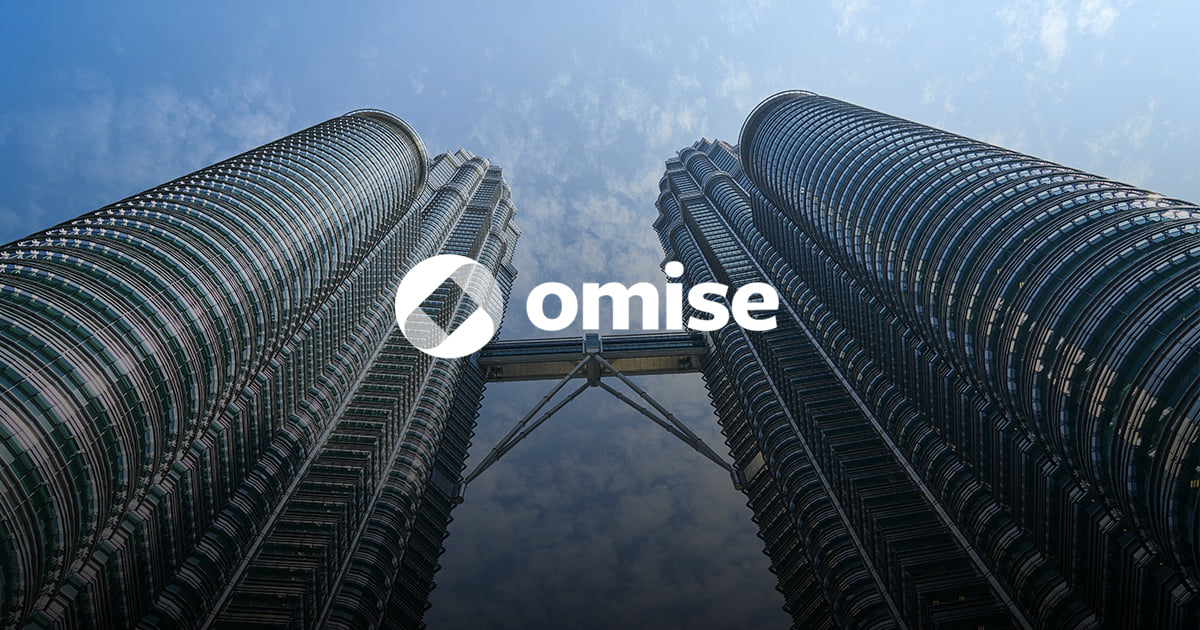 With this launch, businesses operating online in Malaysia now have access to the full strength of Omise's modern payment gateway to accept payments securely, manage transactions, send payouts, and expand operations regionally to capture more sales and grow revenue. Today's announcement also means that businesses already using Omise in Thailand, Japan, and Singapore can now seamlessly expand their business and operations into Malaysia.
Malaysia is among the fastest growing e-commerce markets in the region and is maturing into a key Asian e-commerce market after years of outstanding sales growth. The country's strong e-commerce uptake is driven by high internet and smartphone penetration, consumer preference for online shopping, and backed by government support. Despite the pressures created by the pandemic, the B2C e-commerce market in Malaysia is expected to continue to grow at 17 percent (CAGR) through 2023 according to a report by J.P. Morgan. That said, Malaysia's e-commerce infrastructure, such as payments, delivery, and regulatory requirements, have yet to catch up with more established online shopping markets.
"There is tremendous room where modern payment technology can bring in efficiency and help accelerate growth for e-commerce businesses in Malaysia. Opening an office here enables our local team to work more closely with businesses — understanding their pain-points and building the payment solutions that would best support them," said Ivy Lee, the Country Manager at Omise Malaysia. "Omise has collaborated with the Maybank cash management team to support the digitalization initiative. With this collaboration, merchants can quickly start accepting online FPX payments through the 19 supported banks. I look forward to helping companies in Malaysia leverage digital payment technology to better enhance customer experience and increase revenue." Ivy adds.
Md Farid Kairi, Managing Director, Global Markets & Transaction Banking, Maybank said, "We are pleased to collaborate with Omise to support e-commerce businesses in the Southeast Asia region by curating an end-to-end digital payment ecosystem. Omise will be able to utilise our cash management solutions for better customer experience and revenue generation given Maybank's focus in delivering sustainable value to our clients and enabling financial access and inclusion for the wider community. Backed by the strength of our regional network and capabilities, we will continue to play our role in supporting digitalization as a growth enabler within ASEAN".
"Omise has been an amazing partner thus far. The technical support team is a joy to work with, and our merchants are really happy with the optimized checkout feature as it certainly increases the conversion rates. Looking forward to many more successful projects together." said Chandler Kwek, Project Director at Sweetmag.
With Omise available in Malaysia, businesses can now benefit from its modern payment technology stack, including;
Online account application and quick set up. Merchants can apply for an account and be ready to start accepting payments with Omise in 14 days. The process is 100% online with no setup cost involved.

Merchants and developers can implement the Omise APIs and mobile SDKs relevant to their business today and easily access additional APIs as needed in the future. Each API has the same style and standard – and they interoperate. This makes it easier for merchants to get up and running, and make enhancements as needed as their business evolves.

Modern end-to-end payment technology. Through one connection to Omise, businesses can safely accept payments across popular channels, including online credit and debit cards, FPX payment, and instalments service. Omise's integrated payment, fraud and security management services can help businesses speed time-to-market, streamline operation flows, and provide internal teams with a centralized view of transaction activity.

Fraud and risk management expertise. Every transaction through Omise automatically goes through a multi-layered fraud screening system. In-house fraud analysts also monitor and configure each account to achieve the right balance between maximizing sales and reducing fraud losses.

A local team of payment experts. Business owners and executives can work closely with the Omise team based in Kuala Lumpur. The team can be easily reached via email and can provide assistance with anything from scheduling for a product demo, a solutions consultation session, and technical support.
Businesses interested in working with Omise, please visit www.omise.co/malaysia or contact [email protected] for more information.
About Omise
Established in 2013, Omise is a payments platform which provides businesses with a modern end-to-end infrastructure to accept, process and send payments online. Working with Omise, merchants have access to powerful payment tools, comprehensive risk management solutions, as well as connection to card networks and consumers' preferred payment methods. Omise enables revenue growth and seamless payment experiences across online, in-store and in-app.
Omise is present in Thailand, Japan, Singapore, and Malaysia. The company is the payments platform of choice for thousands of brands today. For more information, please visit www.omise.co