PrimeCapture, the company behind a visual discovery platform for fashion products, ShoppingIS, announced their agreement to grab seed funding from Priceza, a price comparison website, with an undisclosed amount of investment.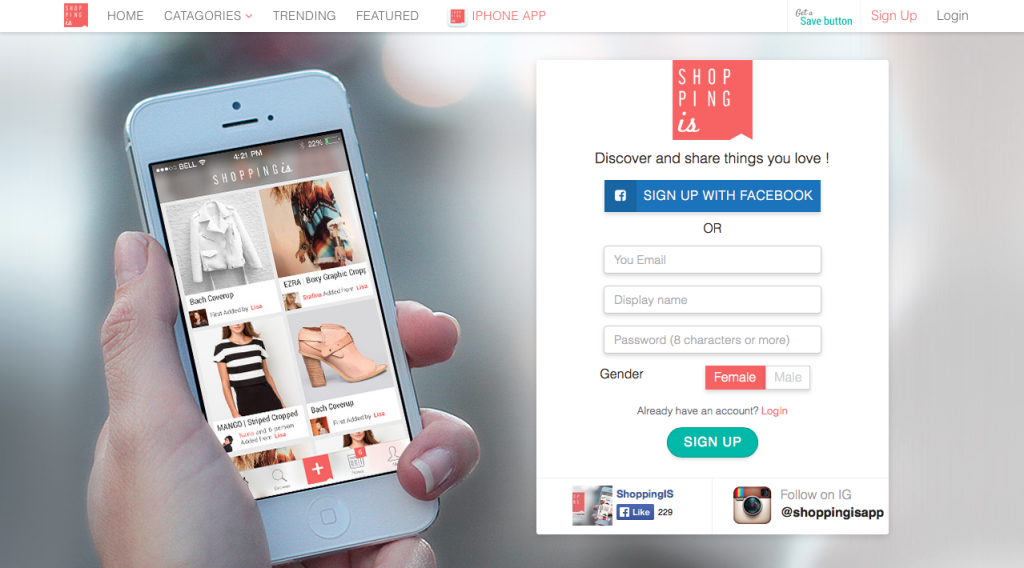 "We need a partner that can help us grow our platform. Priceza is an ambitious and productive team. We think the partnership with Priceza will benefit both parties." - Parnsind Hantrakool (CEO of PrimeCapture)
Founded by two close friends, Parnsind Hantrakool (CEO), and Wattana Viriyasitavat (CTO), ShoppingIS is aiming at being the go-to destination for shoppers for the mobile era. It is a visual discovery tool for fashion products on smartphones. In ShoppingIS, users can follow and purchase from a wide variety of fashion brands and famous e-commerce stores in Thailand. What makes the app unique is that it focuses on user experience, in which the system automatically updates, filters, and tailors contents to user's feed, as well as allowing users to share items with other users in the ShoppingIS network, and publicly through social media. ShoppingIS is confident that Priceza's partnership will lead to growth and strengthen the company.
The three founders of Priceza foresee tremendous growth in Priceza with ShoppingIS. Priceza, which is a keyword based search platform combining with ShoppingIS, a visual based search platform, will enhance browsing experience to users.
"ShoppingIS is a strong visual fashion product discovery platform on mobile phones. It is a good synergy with Priceza, which is a strong product search and price comparison shopping platform. Together with Priceza, ShoppingIS can grow even faster by accessing sellers from the Priceza platform, and effectively utilizing shared resources. Moreover, sellers can enjoy wider access to larger groups of consumers in both platforms." - Thanawat Malabuppa (CEO and co-founder of Priceza)
These two e-commerce platforms have joined forces, and are switching gears on enhancing the online shopping experience in Thailand and in the South-East Asia region, one click at a time.
About Priceza
Priceza is a Thailand-based price-comparison website company founded in 2010 by computer science engineers, Thanawat Malabuppa, Vachara Nicatatphand, and Wirod Supadul. Since then, the company expanded and launched in four countries in the South-East Asia including Indonesia, Singapore, Malaysia, and the Philippines. The website, also mobile compatible, has more than 5.2 million active users each month to hunt for competitive prices. It is currently the number one website in Thailand for price-comparison. To learn more about Priceza, visit www.priceza.com, www.priceza.co.id, www.priceza.com.sg, www.priceza.com.my, and www.priceza.com.ph. The mobile app is available for download on iTunes for IOS devices, and Google Play for Android powered devices.
About ShoppingIS
Owned by a tech startup company, PrimeCapture, ShoppingIS is a fashion discovery mobile application. The company is founded by two close friends Parnsind Hantrakool, an ex-pilot and founder of VitaminFast, and online retailer of supplementary and nutrition, and Wattana Viriyasitavat, who received a Master Degree of Computer Science from Carnegie Mellon University, USA, and a Ph.D in Computer Science from University of Oxford, UK. Currently, the mobile application is available for users in Thailand. The app, launched in mid-2014 and has an iPhone version only, but will be launching Android compatible version in the near future. ShoppingIS app is available now on iPhone and on website (ShoppingIS.me).