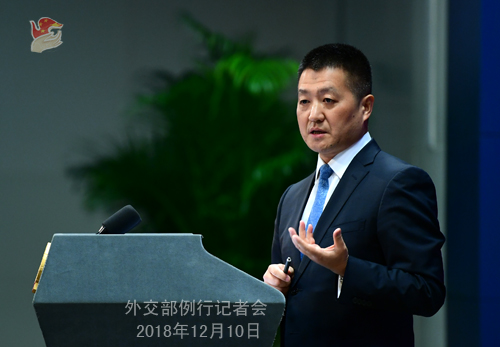 According to reports, Vice President of the European Commission Andrus Ansip said that the EU has to be worried about Huawei and other Chinese companies. The Chinese government may require Chinese technology companies to cooperate with Chinese intelligence services, such as on "mandatory back doors" to allow access to encrypted data. What's your reaction?
We have noted that recently, some people in certain countries have been saying that Huawei "may" pose threats to their national security, but none of them have yet to produce any convincing evidence on how their national security has been affected by Huawei. It is very ridiculous to obstruct normal operations of businesses just because of some "speculations". In addition, I don't think this is conducive to mutually beneficial cooperation between countries in a globalized world. In fact, I would like to know how they would feel if their countries' products or investment and cooperation are put under restriction simple because of groundless accusations like these. How would they think about that?
Huawei is an independent Chinese private enterprise which has forged good cooperative ties with many countries around the globe, and we haven't heard of any of them having security problems because of their cooperation with Huawei. As far as I know, Huawei has signed 5G commercial contracts with companies in over twenty countries, which proves that it has won full recognition.
I would like to stress again that Chinese laws and regulations never give any institution the mandate to force companies to build "mandatory back doors". The Chinese government always encourages Chinese enterprises to follow international rules and abide by local laws when conducting economic cooperation with other countries. We also hope that relevant countries can provide a fair, transparent and unbiased environment for Chinese enterprises seeking investment, operation and cooperation there and refrain from setting up unnecessary obstacles for the normal operation of Chinese businesses out of other motives.
You just said that companies of many countries have signed cooperation documents with Huawei. Who are they specifically?
I just said that over 20 countries have signed 5G commercial contracts with Huawei. As for who they are specifically, I can look them up for you. In fact, many more countries consider Huawei as a reliable partner for cooperation. You may have noticed that last week, Portuguese enterprises signed cooperation agreements with Huawei. At the sixth China-France High-Level Economic and Financial Dialogue last week, French Finance Minister Bruno Le Maire told journalists in Paris that Huawei is an important company for France and France welcomes Huawei's investment. Not long ago, German government officials also said that the German government is not planning to ban foreign suppliers from supplying 5G equipment. German telecom companies are cooperating with many others including Huawei on the development of 5G networks. These examples are enough to prove that Huawei, along its way of growing up, has earned trust from its partners around the world.