Samitivej Hospitals, in cooperation with LINE Thailand, launched "Samitivej LINE Official Account" with "LINE Beacon", allowing its customers to have easy access to accurate information and personalized medical service, ask Samitivej's doctors questions about healthcare, make appointment with doctors and pay bills in only a few clicks.
The service, exclusively designed for Samitivej customers, is part of Samitivej's commitment to upgrading its services to best address customers' changing lifestyle and more customized requirement in the digital age. Customers can simply add Samitivej LINE official account and activate Bluetooth and LINE Beacon in their smartphone when arriving at Samitivej hospital to have access to the service. The service is free of charge.
Dr. Chairat Panthuraamphorn, Managing Director and CEO of Samitivej Public Company Limited, said, "Samitivej has been servicing our patience with "totally truly care" commitment. In addition to medical excellence, we do take into account the rapid development in IT and digital technology that affects people's lifestyle. Samitivej therefore integrates digital technology into our services and that's how Samitivej LINE Official Account was created.  We are the first medical service provider to adopt LINE  Beacon for improved services.
"With the new digital technology development, customers will find better and more customized services.  When they arrive at Samitivej, they will receive a greeting message, information about name of the doctor and the appointment time and which counter they should pay their bills. Customers can also pay for the bill through LINE. Information will be transferred through Bluetooth, which has no extra cost or data usage. This also enables Samitivej to take better care for our customers, provides faster services. Samitivej Sukhumvit and Srinakarin will be the first two hospitals to offer this service," said Dr. Chairat.
Dr. Nithiwat Gijsriurai, Director of Samitivej Sukhumvit Hospital, said that Samitivej aimed to be the leader in the private hospital sector offering world-class standard services with advanced digital technology. In response to the government "Thailand 4.0" model, Samitivej has digitalized it services.
"Digital technology is a key driver to service upgrade. We are living in the digital world and our life has changed. For many, the first thing they do once they wake up is to pick up their phones or tablets to check news and information and other conversations. This change has arrived because information, including healthcare information, is updated realtime. In this respect, Samitivej LINE Official Account and LINE Beacon are introduced as a new channel for customers to have easy access to our exclusive services," said Dr. Nithiwat.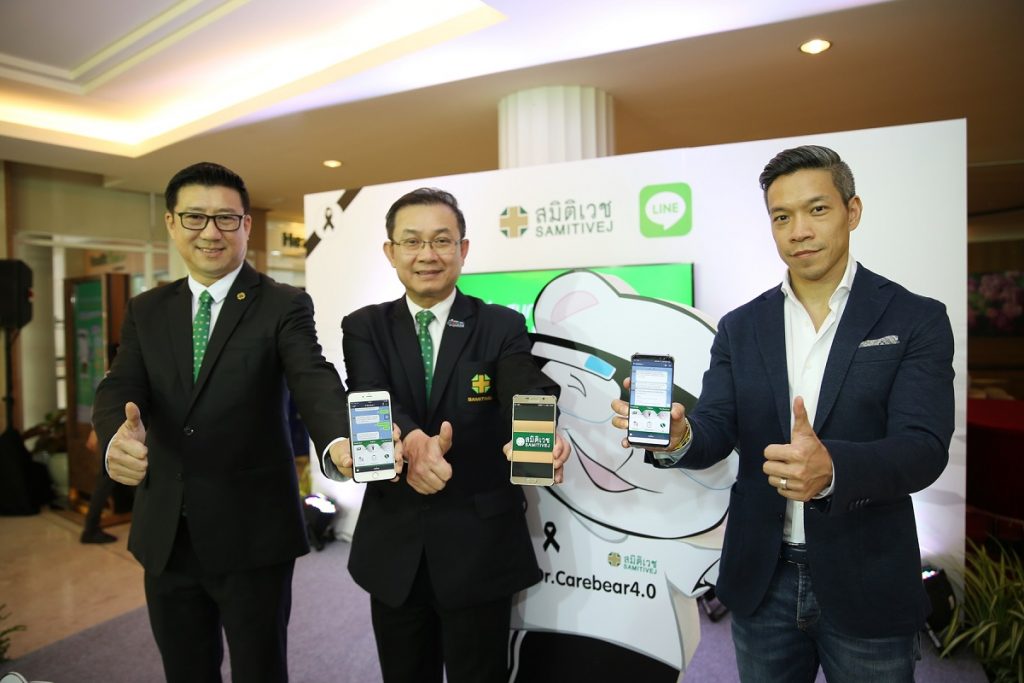 The exclusive services offered are:
Health Chat: 24-hour health information, question and answer service
Fast Check out : medical bill payment through Line Payment
Pharmacy : information about medicines
Appointment: Self appointment with doctors through Line
Call : Call center service
Beacon: a new channel providing greater convenience in visiting doctors and receiving health care information or special package for individual customer
Dr. Adinun Kittiratanapaibool, Director of Samitivej Srinakarin Hospital, said, "There are  more than  200 million LINE users worldwide. Out of this  more than 41 million* live in Thailand. With Samitivej LINE Official Account and LINE Beacon, we can better reach our customers and provide faster and more convenient services and care."
The services can be reached in two easy steps:
Add Samitivej LINE Official Account: ID is Samitivej
Activate LINE Beacon and Bluetooth at every visit to Samitivej hospital
All information will be fed to customers' smartphone and VIP services will be enjoyed.
*source of information : Neilson