The six brands are Standard International, One Night, Hostmaker, JustCo, Farmshelf and Monocle.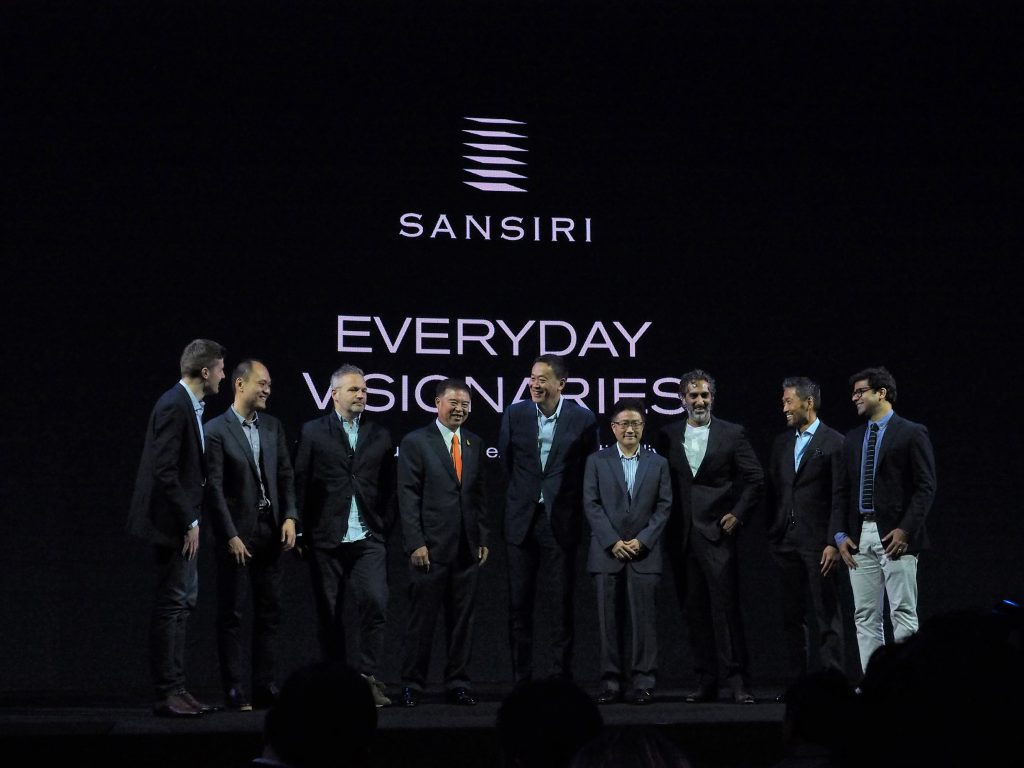 Sansiri Public Company Limited aims beyond real estate development by investing US$80 million in six leading global technology and lifestyle businesses in a bold move to expand its holdings and create a collaborative, multi-disciplinary portfolio. All six investments are in high-growth sectors in global markets which offer new sources of revenue beyond Thailand. They represent new, asset-light business models from the synergy opportunities and rapid-growth opportunities in this digital disruptive era. The potential increase in each company's valuation, as a result of Sansiri's share in ownership, positively benefits the core Sansiri business. The investments are in line with Sansiri's vision to focus on next-generation living and how we live, work, play and discover through technology and media.
Sansiri's investments include shares in Standard International, the most powerful brand in the boutique hotel business that turns high-end hospitality upside down; One Night, a spontaneous booking app that is transforming the way people book same-day stays in handpicked hotels worldwide; Hostmaker, London's premier Airbnb management company; JustCo, Southeast Asia's largest provider of creative co-working spaces; Farmshelf, the smart indoor farms that help you to grow food easily; and Monocle, an influential media brand spanning print, online, radio, film, retail, and hospitality.
Since 1984, Sansiri has established its position as a business leader across Thailand and is the only full-service real estate developer in the country with more than US$1.2 billion sales volume annually. The company also has a dominant presence in China, Hong Kong, Singapore, Taiwan and Japan, with a target of US$360 million sales volume in 2017.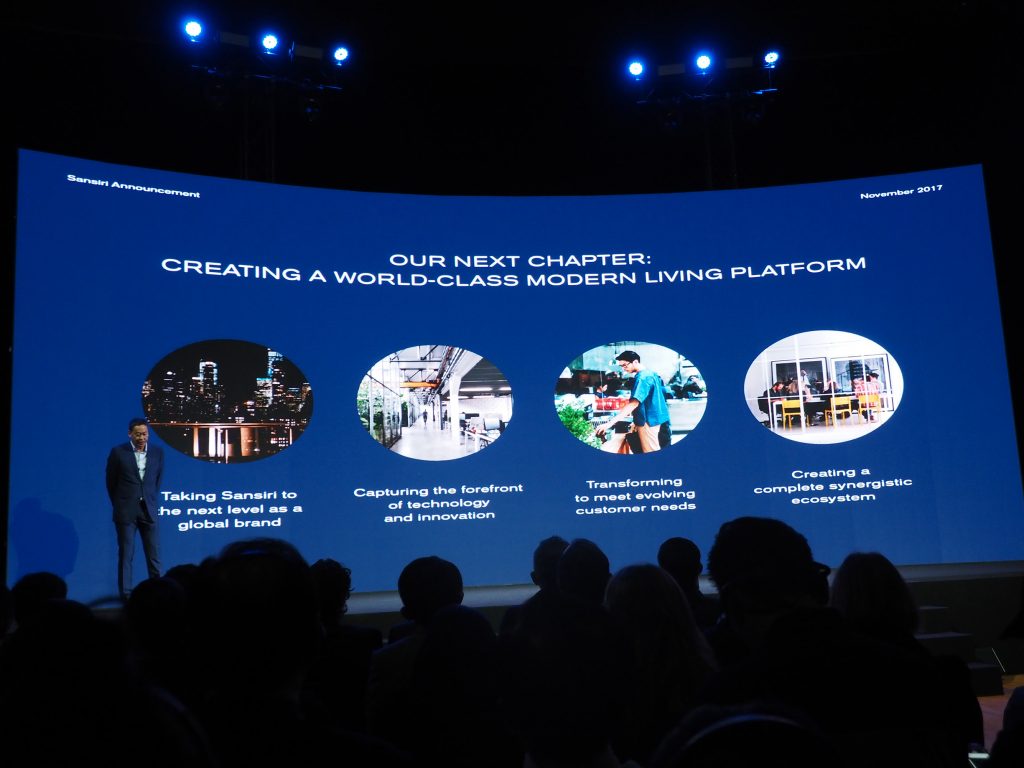 Mr. Srettha Thavisin, President of Sansiri Public Company Limited, today announced,
"In Thailand, growth of the real estate sector is linked to the growth of GDP, in which we expect to see only moderate growth. But Sansiri has high business growth ambitions and these strategic investments will develop Sansiri beyond its core business for the first time. We are expanding our global reach and capitalising on key opportunities in order to generate new revenue from the property-related industries and we will utilize the partnerships to strengthen our core real-estate business."
Mr. Thavisin added, "Our next chapter centres on anticipating and meeting evolving consumer needs by creating a world-class modern living platform. This involves taking Sansiri to the next level as a global brand, ensuring we are at the forefront of tech and innovation, transforming ourselves for the future, and creating a synergistic environment for our business to grow. We will focus on three key activities: strategic investment in global lifestyle brands; developing property technologies in partnership with industry disruptors; and enhancing influence and audience through premium lifestyle media."

Standard International
The Standard is considered the most powerful brand in the boutique hotel business and includes five properties in New York, Los Angeles and Miami Beach, with a new property in London opening in 2018. The Standard is a pioneer in the lifestyle hotel business and has created the blueprint for a new kind of hospitality experience: a design-led, creative destination that is deeply rooted in culture and community. Each hotel has exceptional restaurants, nightlife and retail venues, with an online presence that extends their reach to creative communities in their host cities and beyond. Sansiri's US$58 million investment secures 35% stake in Standard International which is comprised of three business unites: 1) The Standard hotel brand and operations; 2) Bunkhouse Group; 3) One Night mobile booking application.
 Investment plan:       
The investment will fuel the investment of new hotels, food and beverage outlets, and the innovative One Night app for enhanced capacity utilization through last-minute hotel bookings in a carefully curated list of lifestyle hotels around the world.
Mr. Amar Lalvani, CEO and Managing Partner of Standard International, said,
"The Standard is renowned as a pioneer of hospitality, travel, dining, nightlife and beyond thanks to our irreverent and playful sensibility, which is refined by a careful consideration to design, detail and service. The partnership with Sansiri will give us access to more opportunities to develop additional technology-driven innovation and hotel properties in Asia and throughout the world."
One Night
One Night is an app developed by Standard International, the parent company of The Standard hotels, and is the first third-party distribution platform for hotels designed by a hotel company. One Night is a mobile-only platform that capitalizes on the rapid growth of mobile bookings, guests' desire for experience-driven offerings and the dynamic lifestyles of the next generation of customers. One Night represents a new way of thinking within the hospitality industry – treating competitors as partners and collaborators to mutually enhance both guest experience and each party's economics.
 Investment plan:
Sansiri will help One Night to develop to its full potential and to grow internationally, especially in Asia.
Mr. Jimmy Suh, President and Co-founder of One Night, said,
"Sansiri's investment brings us the capital that we need to realise our full potential and to grow internationally. It allows us to tap into the resources from their other investments, which will help us to continuously involve."
Hostmaker
Hostmaker is an award-winning home rental management service and a No.1 Airbnb listed company. Sansiri has identified that home-sharing is growing rapidly in popularity and scale, and property management services are emerging to keep pace. With operations in London, Rome, Paris and Barcelona, Hostmaker has hosted more than 150,000 guests to date.
 Investment plan:
Hostmaker will expand its business to Asia with the support of Sansiri. This will help Sansiri to secure revenue beyond Thailand.
Mr. Nakul Sharma, Founder and CEO of Hostmaker, said
"Hostmaker is a PropTech company that aims a hospitality solution at the sharing economy to meet the higher service expectations of the fast-paced new generation. The funding from Sansiri will open a new window of opportunity for us to expand with more services and into new markets, as well as lend our international expertise to help enhance Sansiri customer experience and to support the transformation of the Thai property market into a technology and innovation driven one."
JustCo
JustCo is Southeast Asia's largest provider of co-working spaces, currently with 11 locations, and with 20 new offices planned for 2018 in Southeast Asia. Sansiri's future vision is that big corporations will adapt the co-working model as they seek to energise their staff, to encourage the cross-pollination of ideas and development of new connections. Sansiri aims for rapid growth expansion in JustCo.
 Investment plan:
Sansiri and JustCo have secured a plan to launch 4 new JustCo offices in Bangkok in 2018, and will continue to expand the business across Asia.
Mr. KONG Wan Sing, Founder and CEO of JustCo, said,
"JustCo has cultivated strategic partners in various cities, and the partnership with Sansiri will help JustCo make direct inroads into Bangkok. The funding comes at a key time, as we are poised to expand into other key cities in Southeast Asia, such as Jakarta, Kuala Lumpur, Ho Chi Minh City and Manila. With the strong foundation laid and immense support from Sansiri, we expect to have 30 co-working spaces across Asia-Pacific by 2018. This will also provide Sansiri access to our ever-growing 12,000 high-quality members."
Farmshelf
Farmshelf is a creator of innovative automated growing systems that enable anyone to grow food with ease in their home or workplace. Sansiri invested in Farmshelf as they have observed the rapid growth of the health and wellbeing sector and people are driven by a desire for high quality fresh food and collaborative living.
 Investment plan:
Farmshelf presents huge opportunities to integrate its products into Sansiri's selective residential projects, creating enormous added-value for their consumers. This groundbreaking partnership promises a remarkable opportunity to rapidly scale up the business across Asia.
 Mr. Andrew Shearer, CEO of Farmshelf, said,
"We believe in food accountability, even for the busiest, space-constrained urbanist. Farmshelf helps people grow food wherever they live, work and eat using our progressive application and AI-based technology. Thanks to the funding from Sansiri, we are able to further develop our product and bring this new culture to Thailand, one of the fastest growing markets with a modern lifestyle and strong belief in sustainable and healthy living."
Monocle
During the decade since the launch of Monocle, the media industry has seen numerous upheavals but the magazine has found success by delivering a luxury experience through print, married with a pioneering use of audio, retail and hospitality. Monocle's understanding of the value of quality journalism – and brand – has become a benchmark in the magazine industry.
 Investment plan:
Monocle is uniquely positioned to support Sansiri and its partners shape and interpret consumer behaviours; to engage with its informed international following and leverage its global reach. Sansiri also sees significant potential in developing co-branded businesses in entirely new sectors. Sansiri plans to launch a mixed-use residential concept with Monocle, in Bangkok, in 2018.
 Mr. Tyler Brûlé, Editor-in-Chief and Chairman of Monocle, said,
"We have had a long-standing relationship with Sansiri at Monocle and given our growth beyond media, it made sense to partner with a company that fit with our increasing focus on urbanism, retail and new service concepts. "
Mr. Thavisin concluded, "Our core business continues to be development and place making, but our broader focus now encompasses a radical commitment to elevating quality of life, from the homes we live in, to the way we travel, to the access we have to the freshest of produce. Sansiri, along with our partners, will be right there at the edge of the emerging future, shaping the ways that we'll live, work, learn and play – for the better."