In an effort to boost its SCB Global Payment strategy, Siam Commercial Bank is embarking upon yet another key business catering to the retail sector.  Taking advantage of its modern technology, SCB is fully set to accommodate foreign currency payments through its Global Payment Platform. The platform will enable the bank to extensively enhance the potential and scope of its services and allow every customer group to enjoy better access to a seamless global payment experience through partnership banking.
Focusing initially on customers with regular foreign currency spending, SCB will collaborate with the world's top payment service provider, VISA, to launch "PLANET SCB" under a "Borderless Foreign Currency Exchange" concept.  With only one card, customers will be able to make payments worldwide and to exchange and keep foreign currencies when the rates are best.  Offering equally competitive exchange rates compared to those offered by money changers, the card allows currency exchange for up to 13 currencies, while also supporting baht and foreign currency payments worldwide without a 2.5% conversion fee.  This will let customers convert foreign currencies conveniently and quickly anywhere 24 hours a day through the SCB EASY Application.  The PLANET SCB card also allows cash withdrawal, payments, and shopping online to a maximum of 500,000 baht/day.  With these outstanding features, SCB is expecting to acquire  200,000 members spending more than 5 billion baht in total.
Speaking about the new product, Siam Commercial Bank First Executive Vice President, Chief Retail and Business Banking Officer Ms.  Auraratana Jutimitta said, "Following its "Bank as a Platform" transformation strategy, the Bank is committed to developing new capabilities, particularly the adoption of digital technology as a key driver for effective service model take up.  To enable it to achieve the planned target, it is also important for the Bank to embrace strong Partnership Banking and take into account a Customer-Centric stance to better understand customers in order to deliver financial services that truly suit customer lifestyles.   Fully realizing the strong potential of business growth in foreign currency payments and cross-border remittances for retail customers, the Bank is taking a bold step in expanding this service through its "SCB Global Payment Platform" by partnering with world-class service providers with strong expertise to bring service synergy.    The partnership will take advantage of modern technology to enhance the potential and scope of services, while continually providing Thai customers in every segment access to a seamless global payment experience."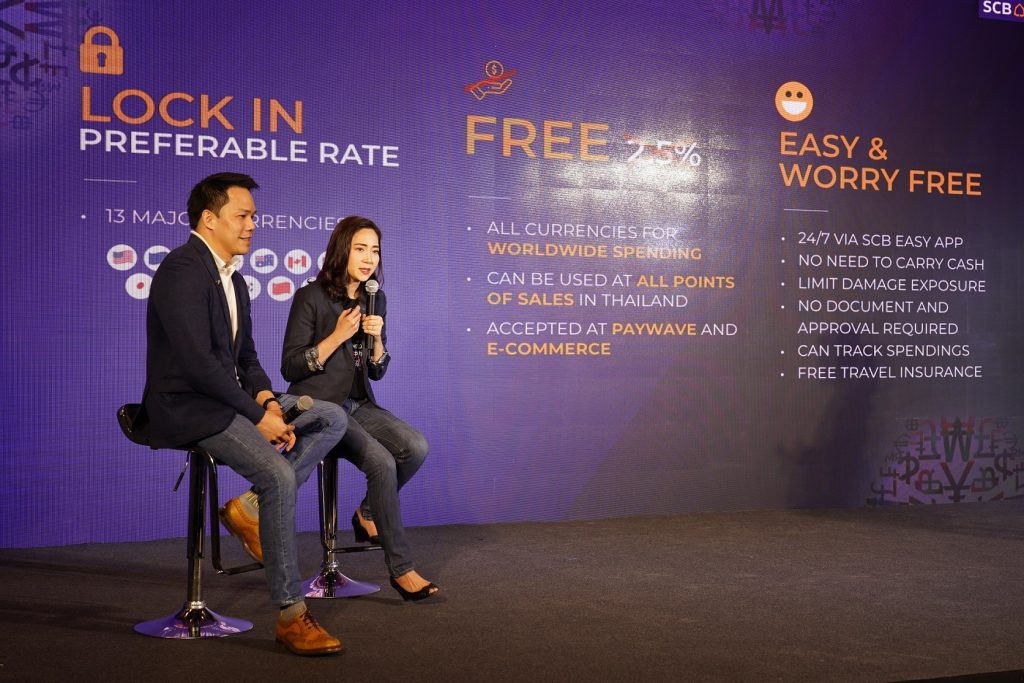 "According to an analysis by the SCB Economic Intelligence Center (SCB EIC) and information from the Ministry of Tourism and Sports, the number of Thai people traveling overseas has gone up by 12% on average over the past five years, and now stands at  10 million people in 2018.  Total overseas spending has risen to 320 billion baht.  Data from Euromoney also suggests that the growth rate of foreign internet retailing conducted in Thailand is as high as 19 percent, or some  28 billion baht in the previous year.  Bearing these trends in mind, the Bank has decided to commence its first "SCB Global Payment" series focusing on customers using foreign currencies for payments by partnering with world-class payment service provider VISA,  to launch a "PLANET SCB" card under the "Borderless Foreign Currency Exchange" concept.  The card will cater to customer requirements in three major groups: those traveling overseas, on-line shoppers, and those studying abroad.  Highlighted privileges include exchange rates as competitive as those offered by money changers, which are available in 13 currencies within one card.  The card can be used for payments in any currency worldwide without a 2.5% conversion fee and can be used for currency exchange 24 hours a day through the SCB EASY Application.  SCB plans to acquire more than 200,00 PLANET SCB cards in the first year with more than 5 billion baht spending", added Ms. Auraratana Jutimitta.
The PLANET SCB card comes with many outstanding features to offer the best experience for foreign currency payments, as follows:
Key CVPs
Ability to store foreign currencies value within the card with competitive exchange rates equivalent to private money changers in up to 13 currencies, comprising USD, EUR, GBP, JPY, AUD, CHF, SGD, HKD, NZD, CAD, CNY, KRW, and TWD
Ability to make payments in any currency worldwide without a 2.5% conversion fee.
Ability to exchange foreign currencies 24 hours a day conveniently and quickly through the SCB EASY Application.
Other details:
The card is valid for 3 years with no expiry date of the remaining card balance.
Free annual fee throughout the validity period.
Able to withdraw cash, make payments, and shop on-line up to 500,000 baht/day.
Can be used in Thai baht currency and allows conversion of remaining card balance in foreign currencies to baht.
Can be used for cash withdrawal at any ATM worldwide with the VISA sign (except in Thailand)
Safer than cash
In case of loss or theft, the card can be instantly blocked through the SCB EASY Application.
Easy application through SCB EASY App or at any SCB branch nationwide.
Suripong Tantiyanon, Country Manager for Visa Thailand, said: "Visa is pleased to partner with Siam Commercial Bank to innovate a product that will help accelerate Thailand towards a less-cash society while catering to the need of Thai travellers. Travel is a popular activity amongst Thais. Based on the Global Travel Intentions study commissioned by Visa, Thais travellers are expected to take approximately 3.9 international trips this year, well above Asia-Pacific average at 2.8 trips per year and Global average at 2.7 trips per year.  Our data also shows that the most popular international destinations for Thais are Japan, Hong Kong, Singapore and South Korea.  Even though Thais are increasingly familiar with digital payments, two in three Thai travellers (69 percent) will still visit a money changer to exchange for foreign cash before they travel.  With a travel product like Planet SCB prepaid card offered to consumers today, we believe more Thai travelers will embrace the benefits of using electronic payments, especially when they travel and make cross-border online payments.  Our hope is that this will incentivize Thai travellers and online shoppers to move towards the security, convenience, control and speed of cashless payments."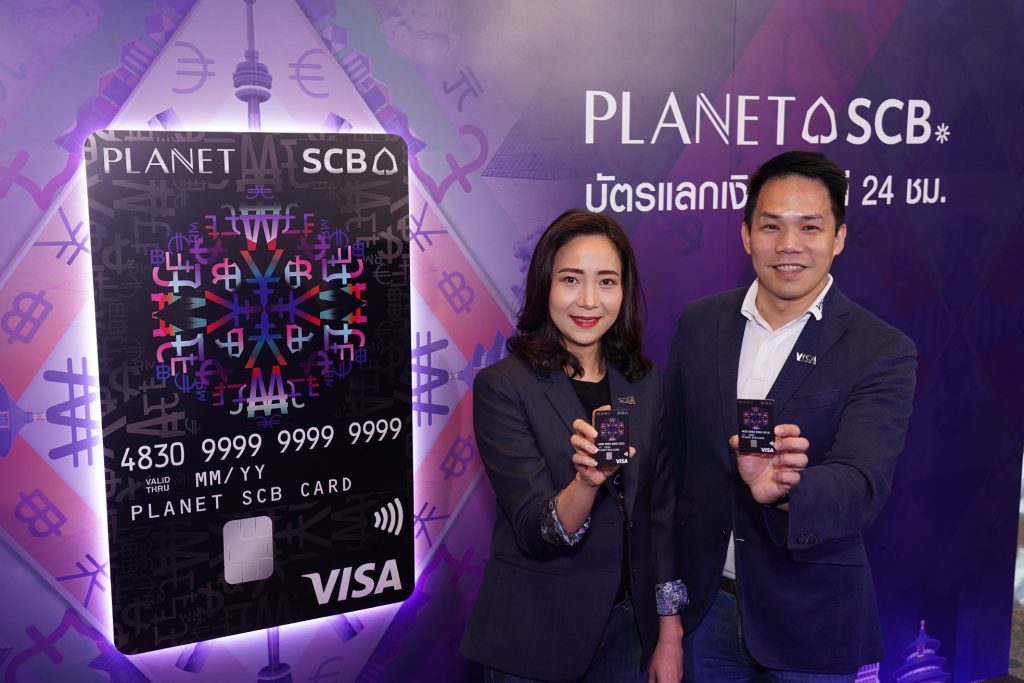 In order to promote and introduce the card to the target group to test the PLANET SCB card, SCB will hold a special promotion for those applying between 23 August – 31 December 2019 by offering a waiver of the 200 baht card issuance fee, waiver of overseas ATM withdrawal fees (only 100 baht bank fee), up to 8% discount when booking accommodation through Agoda, and travel insurance for up to 10 days, all exclusive privileges offered only for VISA cardholders.  Apply via the SCB EASY Application or at any SCB branch nationwide.  For more information, please contact the SCB Call Center by calling 02-777-7777.