SCG International announces its business plan, a move to increase competitive edges, and joined forces with international partners to expand its portfolio of products, services and integrated solutions to ASEAN, China and India Market. The new focus involves in making a profound shift toward Consumer Centric, Data Driven and Service and Solutions, combining expertise of its staff and networks with over 40 years of experiences in each strategic market and advanced technologies from all over the world. SCG International sets to reach its net sales target of 46,000 MB in 2019, a 13% growth, and gears up to become the leader in international trade business and investment.
Mr. Bunn Kasemsup, Managing Director of SCG International Corporation Co., Ltd., disclosed, "The competitive market conditions with emergence of newcomers and the advent of new technologies have rapidly and dramatically reshaped consumer behaviors. SCG Trading Co., Ltd. has decided to transform its business operation and change the name to SCG International Corporation Co., Ltd. with an aim of increasing operational capability, not only being an intermediary for international distribution but also focusing on meeting the real customers' needs. SCG International will provide integrated business solutions throughout the supply chain by leveraging advanced technologies and digital platforms to foster market expansion in strategic markets, namely ASEAN, China, India, and other regions worldwide.  The three core concepts: Customer Centric, Data Driven, and Services & Solutions, will be applied. The Company aims to reach the sales target of 46,000 MB in 2019 or a 13% increase from last year and is set to become the leader in international trade and investment."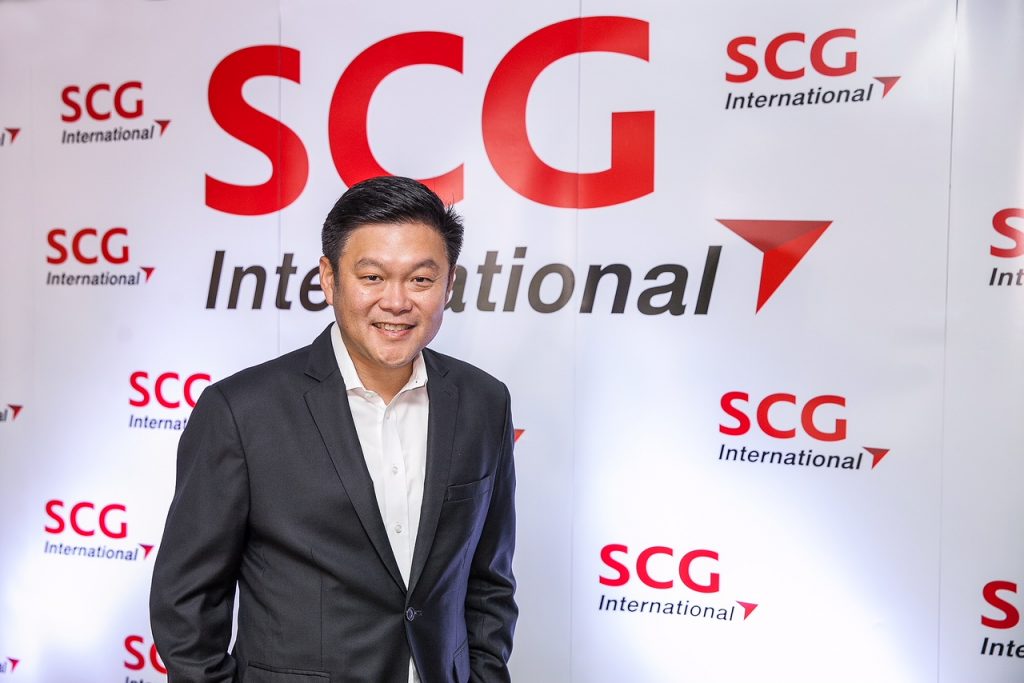 SCG International's business transformation embodies three core concepts:
Customer Centric:

As an "End-to-End Supply Chain Solution Provider," the Company will be the

One-Stop Interface

with the advantages of being regional experts of the global network that truly understand customer insights and market dynamics to help shape business strategies, offer a wide range of one-stop solutions includes new market development, product distribution and sourcing by highly skilled staff with over 40 years of experiences, and integrated domestic and international logistics services, international business compliance consultation, and risk management assessment of each country.

Data Driven:

Utilize world class technologies to collect and analyze related data, in order to better and faster respond to customers' needs at a lower and efficient operational cost. The cutting-edge technologies such as Data Analytics, IOT, Artificial Intelligence (AI) and Robotic Process Automation (RPA) are applied to the business operations. For example, Data Analytics are used to analyze and be a key drive to develop digital platforms for small and medium-sized enterprises (SMEs) across ASEAN countries. The Company has recently joined hands with Ralali.com, the largest Indonesia's B2B Online Marketplace to develop

Online Sales Channels

and warehouse management in which will officially kick off by mid-year. In addition, "

B2B Smart Energy"

is developed by using AI technology and sensors to help analyze meaningful data to enhance energy efficiency in customers' production processes.

Services and Solutions: Apart from sourcing high-quality products from trustworthy manufacturers around the world, the Company also offers integrated solutions by setting up a Sourcing Solution to seek high-quality products from China and India. SCG International has well-connected networks in many countries that can help select the right suppliers and assist in the production processes to ensure that the manufacturing products meet high-quality standards as well as product handling solutions to secure scheduled delivery to customers.
In addition, SCG International has developed fully-integrated construction solutions in South Asia region under the concept of "Smart Build" which will give customers a more convenient experience with a wide-range of high quality products that meet the customer needs, offer a one-stop service including engineering service, designing, sourcing and contractor upskilling as well as construction consultation services on the website www.scgsmartbuild.com.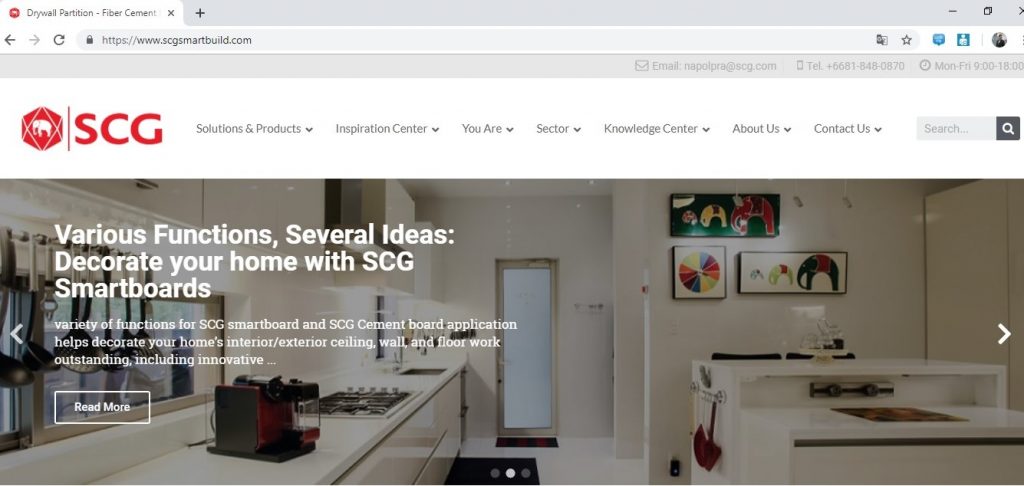 SCG International has partnered with leading international companies establishing a joint venture company "Siam Saison Co., Ltd." to provide "Smart Financial Solution", a financial service for construction material contractors which will increase business competitiveness. The operational trial has been carried out in Thailand early this year, and it plans to extend full operation by the end of this year.    
Know more about SCG International
SCG International Corporation Co., Ltd., or its founding name The Siam Cement Trading Co., Ltd. (SCT), was established in 1978 in response to the Thai government's policies aimed at setting up a Thai company to operate international trade business and speed up the growth in the industrial and export sector of Thailand.
In 2010, The Siam Cement Trading Co., Ltd. changed its name to SCG Trading Co., Ltd. to be in line with SCG's policy in offering premium quality products and services under "SCG" brand. The Company has provided a comprehensive range of integrated international trade services from import/export, customs clearance to logistics for products of many industries, i.e., cement and building material products, energy products, industrial products, agricultural and automotive products, chemicals products, paper & packaging products, and recycled raw materials.
In 2019, to keep pace with business changes and company's directions, the Company has changed its name to SCG International Corporation Co., Ltd., effectively on 1 February 2019.  With a vision to develop new businesses and solutions, the Company aims to utilize advanced technologies to achieve the highest customer satisfaction. Currently, SCG International has a total of 21 international trading and representative offices covering strategic markets around the world and has delivered products and services to over 2,000 companies in 50 countries in which generates approximately 40,000 MB of net sales per year.  
SCG International's Products, Services and Solutions
Cement and building material products

Energy products and energy solutions

Industrial products, recycled raw materials and industrial plant solutions

Pulp and paper products, kraft paper, sack kraft and recycled paper

Agricultural and automotive products, services, and solutions

Product sourcing solutions and import/export services

Financial services for contractors

Petrol station construction solutions

Online trading services

Consumer products
Target Customers
Corporate, industrial plants and small and medium-sized entrepreneurs of all industries in Thailand and the company's strategic countries namely, ASEAN countries, China, India and other regions worldwide.

Importers and distributors of cement and building materials overseas.

Consumers in Thailand and the company's strategic countries for consumer products.