The fifth edition of ORIGIN Conference is set to go virtual on Nov. 18, 2020. It is organized by TechNode Global, a pan-Asia tech platform offering premium tech news, cross-border businesses, events, and tailor-made marketing solutions for tech industry players. The ORIGIN Conference is an international event covering the latest developments in the Asia tech and startup scene where international industry leaders and technology innovators from across the region gather to share trends, experiences, and leadership lessons.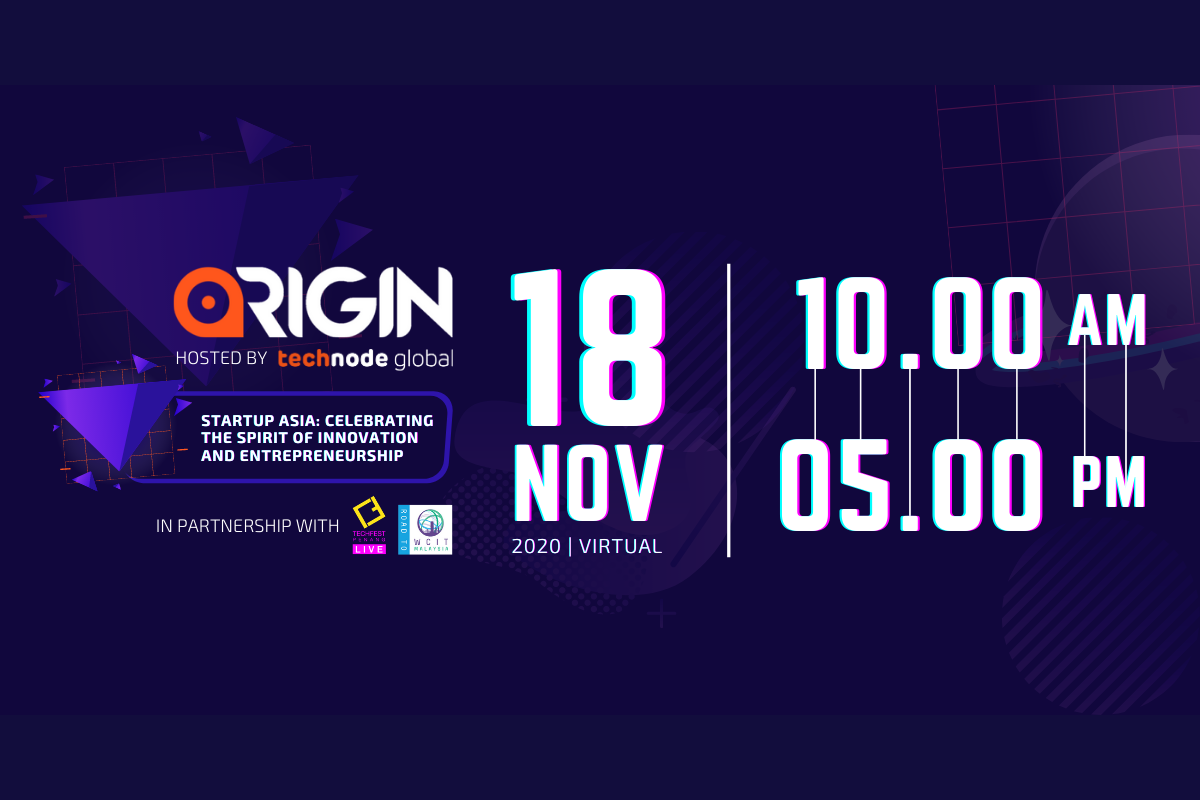 With the theme "Startup Asia: Celebrating the spirit of innovation and entrepreneurship," this year's ORIGIN will be held in conjunction with TECHFEST Live x ROAD-TO-WCIT Malaysia 2020, a three-day digital hybrid festival featuring curated live events and live-broadcast conversations about technology's promise to do good.
The inaugural ORIGIN Innovation Awards winners will be announced during the conference, recognizing outstanding startups, corporates, ecosystem enablers and movers and shakers in Asia.
In the conference section, the ORIGIN Conference will see regional luminaries and forerunners from more than ten countries take to the stage, including:
Anil Argilla, Head of Emerging Asia Region, Pfizer Biopharmaceuticals Group at Pfizer Inc.
Harsh Pokharna, Co-founder & CEO at OkCredit
Cleosent Randing, Founder and CEO at PasarPolis
Jeff Chi, Founding Member & Vice Chairman at Vickers Venture Partners
Sega Cheng, Co-founder & CEO at iKala
Andrew Lim, CFO at Gushcloud
and more on https://technode.global/origin/
The virtual conference consists of a series of panel sessions, intimate fireside chats and more which further explore topics ranging from livestream commerce to digital health, from venture investment to female entrepreneurship, focusing on the recent developments and predictions on the growth trajectories.
Dr. Gang Lu, founder and CEO of TechNode Global, said, "Now is not the time to slow down, and we are thankful to be able to host our flagship conference despite the challenging macro environment. It is important for the greater Asian community to adopt an attitude of collaboration rather than competition when dealing with the wider international community, which is why this conference is timely and essential in the current climate. We are bringing this online for the first time and we believe the partnership with TechFest Live allows both organizations to reach a wider group of audiences. We look forward to gathering like-minded outstanding startups, venture capitalists and industry experts to share their valuable insights and predictions."
Ngai Yuen Low, CEO of WCIT Malaysia and TECHFEST Live, said "TECHFEST is very honored to forge forward with TechNode Global, tapping on their expertise in identifying the conversations we must have. The above and beyond, however, is in making these conversations inclusive and accessible to as many as possible. Our call is to reframe the promises of the digital age. We need to hold every innovation accountable for societal good and this can only happen when informed decisions can be easily made because everyone is involved and is able to participate."
Use code "ORIGINATTECHFEST" for US$150 off all-access tickets. For more information, visit https://technode.global/origin/.
TOPICS AND SPEAKERS LINEUP:
Trend explained: Everything you need to know about livestreaming eCommerce
Andrew Lim, CFO, Gushcloud
Sega Cheng, Co-founder & CEO, iKala
Colin Phua, CEO & Founder, Captive Interactive
Eric (Ye) Fang, President & Founding Partner, Favour Capital
Fostering global AI adoption with iFLYTEK
Rachel Li, SEA Regional Manager, iFLYTEK
Digital health gaining momentum
Dr. Liu Chang, Regional Director, China, Singapore, Hong Kong, ACCESS Health
Anil Argilla, Head, Emerging Asia Region, Pfizer Biopharmaceuticals Group, Pfizer Inc.
Carlos Jo Lo, Investment Associate, MassMutual Ventures
Hui Hong Seow, Program Director, BlueChilli
Harvest the future: Big opportunities for plant-based food
Nick Cooney, Founder and Managing Partner, Lever VC
Kelvin Ng, BD Director (ASEAN), Green Monday
John Friedman, Director, AgFunder Asia & GROW Accelerator
Digitizing small merchants in India
Harsh Pokharna, Co-founder & CEO, OkCredit
Tarana Lalwani, Director, InnoVen Capital
Reimagine insurance in the digital age
Cleosent Randing, Founder and CEO, PasarPolis
Max Tiong, Lead, Transformation Office, NTUC Income
Kayvon Deldar, Program Director, Insurtech and Fintech (Singapore), Plug & Play Tech Centre
What's the new formula for education in the Philippines?
Grace David, Chief Marketing & Partnerships Officer, Edukasyon
Joseph de Leon, Founding Member, Manila Angel Investors Network (MAIN)
Building resilience in supply chain & logistics
Kevin Lim, Co-founder & CEO, Tramés
Junxian Lee, Co-founder & CEO, Moovaz
Garry Lim, Partnerships Director, LogiSYM
Where's the new cash for startup founders?
Kenneth Li, Managing Partner, MDI Ventures
Jeff Chi, Founding Member & Vice Chairman, Vickers Venture Partners
Pinn Lawjindakul, Vice President, Lightspeed Venture Partners
Ambar Machfoedy, BD Director, Sistema Asia
How Japanese startups are building a smart and sustainable city
Kobayashi Hiroyuki, Corporate Vice President, Akippa
Mariko McTier, Co-founder, MyMizu
Keita Mitsuhashi, Co-founder and CCO, Queue, Inc.
Thriving in the #SheEra: It's time to shine for women entrepreneurs
Shuyin Tang, Partner, Patamar Capital
William Klippgen, Managing Partner, Cocoon Capital
Susian Yeap, Co-founder, Supahands
Jenni Risku, Founder, Women in Tech Asia