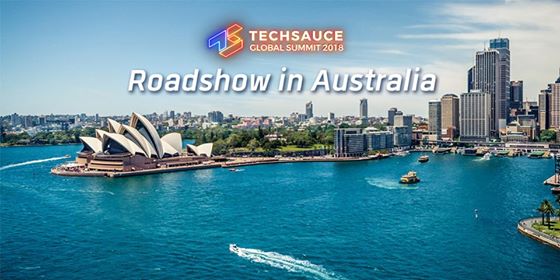 Techsauce is about to head down under to find the ultimate startup to represent Australia at the final pitching stage at Techsauce Global Summit 2018! Find out how you can take part.
G'day Australia!  Techsauce Global Techsauce Roadshow is heading your way for the ultimate pitching battle on May 11, 2018 in Sydney to find the perfect startup to represent Aussies at the final pitching stage at Techsauce Global Summit 2018 in Bangkok on June 22-23, 2018!
This marks a milestone for Techsauce as this year we have expanded tour roadshow to 20 cities including the Oceania region.  We are excited to partner up with Investible and HaymarketHQ.
The final winner has the chance of winning 80,000 USD investment with a spot worth 45,000 USD in MOX accelerator program or 130,000 USD investment with a spot worth 40,000 USD in Chinaccelerator Program (Terms & Conditions Apply).
The winner of the Australian leg will win:
Round-trip flight from SYD-BKK for 1 person

Accommodation in BKK (minimum 2 nights) for 1 person

Free booth in main summit in June 2018 (includes 2 tickets)

2 extra complimentary tickets for the main summit

Chance to pitch in the pitching contest in Bangkok, win bigger prizes, meet top investors, media and more from around the world 

Chance to pitch and win $8,888USD

Complimentary tickets to Launch Festival 2018

 What does it take to be the winner?
Judges will be looking for the best startup to scale up and reach to its full potential. The pitch and judging criteria are:
How suitable and disruptive are your solutions?

 

Startups need to show their solutions are really disruptive to the current markets.

 

New and applicable products or services will make you stand out from others.
How valuable is your market size?

 

It is a business at the end of the day.

 

Startups are not dreamers, but doers. 
How resilient are you in executing your strategy? You can talk the talk, but can you walk the walk?

 

Every successful startup agrees that the most important thing to doing business is your team and how you execute you plan.
Think you got what it takes?  To compete in Australia go to: http://www.investible.com/techsauce2018
Why Techsauce Global Summit 2018?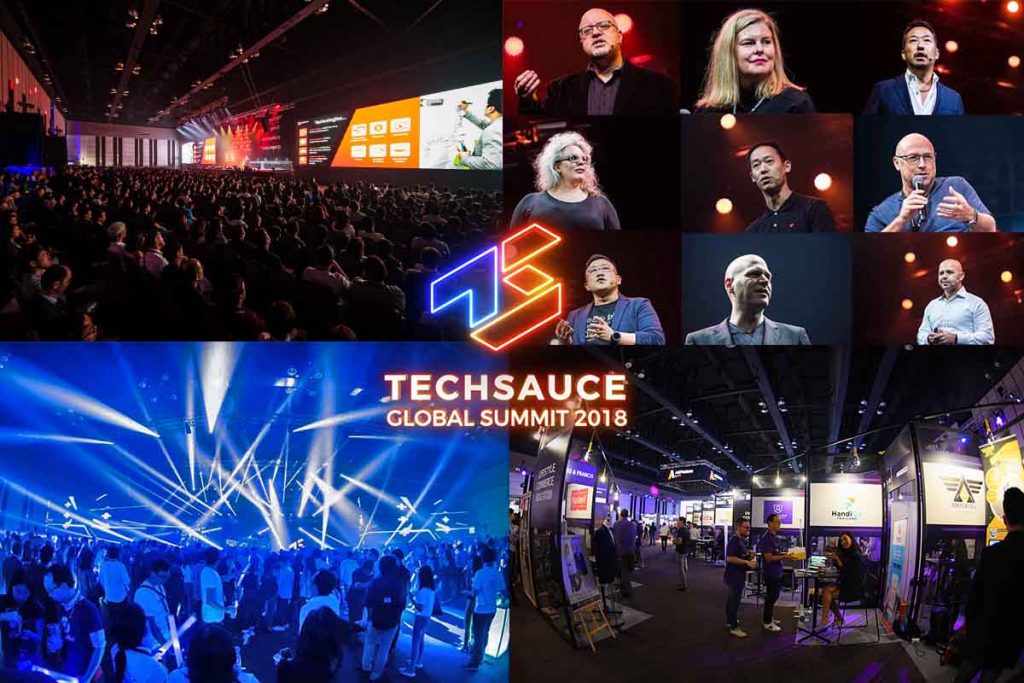 Southeast Asia is teaming with large populations powered by the younger generations hungry for change.  With market sizes that promise growth its is all about who gets there first and who you know. 
Techsauce Global Summit 2018 has become the leading Tech summit in Southeast Asia.  This year there will be over 10,000 participants from 30 countries.  Speakers from around the world will address the latest trends of AI, blockchain, and much more.  Venture capitalists, corporates, and members of the media have already put the event on their schedule because they know the summit will showcase a constant flow of startups, both up-and-coming and big startups. 
This year for the first time, Techsauce is partnering with Techstars to host the Thailand Startup week where VIP meet ups will be set up between startups, investors, and corporates to make real deals and learn from on another.
So be a part of the future, before it leaves you behind.
Where is the Techsauce Roadshow 2018 heading next?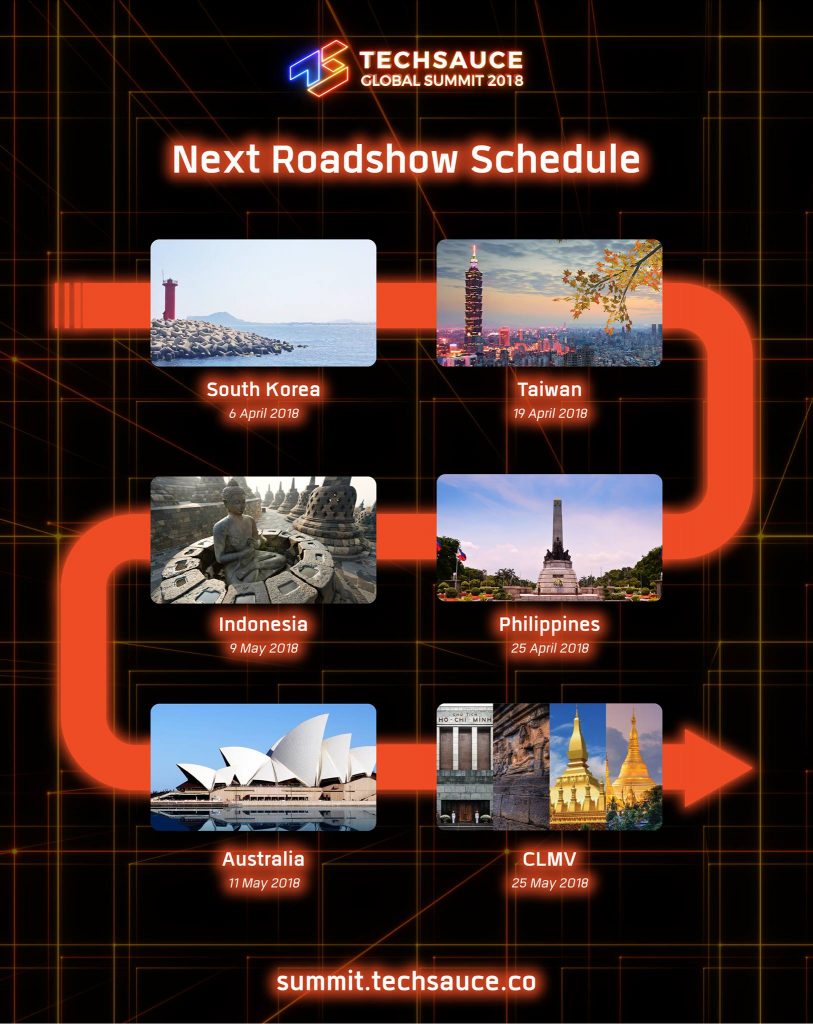 The rush is on to find the best startups from 20 countries to battle it out for the final  pitching contest at Techsauce Global Summit 2018!  Do you think you have what it takes?  Check out the details at: https://summit.techsauce.co/roadshow/
Techsauce Global Summit 2018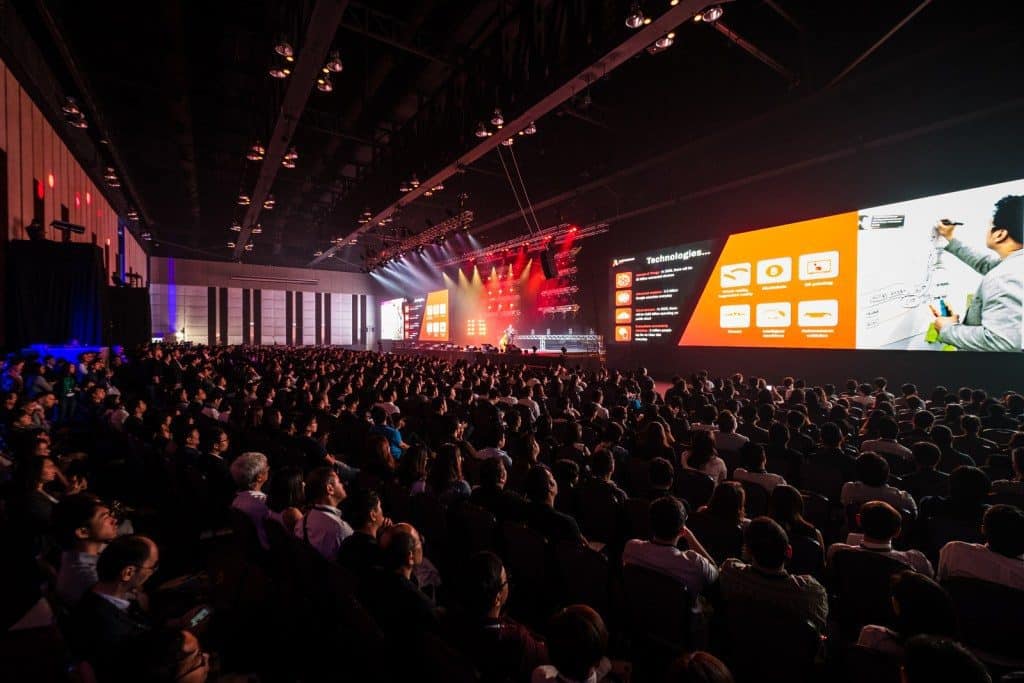 If you miss out on the pitching contests, you still have the opportunity to get the best ticket prices for the Techsauce Global Summit 2018 taking place at Centara Grand, Bangkok on June 22-23, 2018!  Check out our early bird deals at:
Startups: http://summit.techsauce.co/startup/
Corporates: http://summit.techsauce.co/corporate/index-th.php