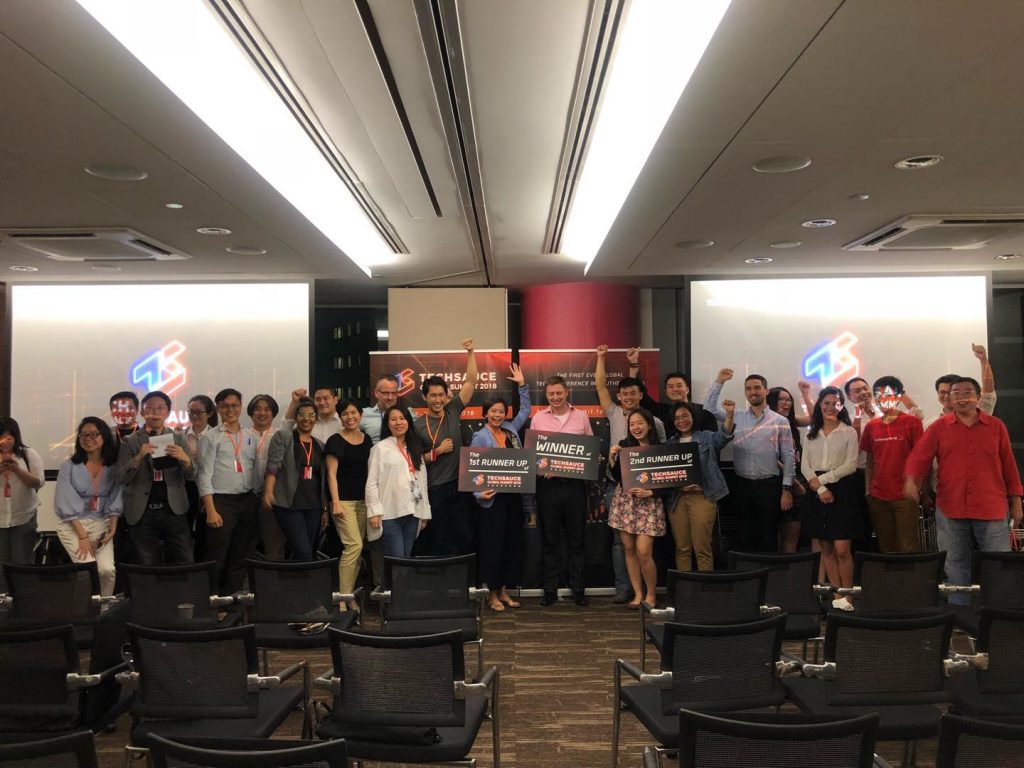 Techsauce Gobal Roadshow Singapore winner CognaLearn is set to change the way we learn in class with team-based learning based on cognitive science.
Techsauce is excited to announce CognaLearn as the winner of the Techsauce Global Roadshow in Singapore!  Teaming up with our Singaporean partners AWS and ACE, Techsauce on March 12, 2018 is confident it has discovered the right startup to represent the Merlion city at Techsauce Global Summit 2018 taking place this June 22-23, 2018 in Bangkok.  CognaLearn was not the only startup to catch the eyes of the judges of though as our first runner-up NuPlat and second runner-up FoodBuster showcased real-life solutions.  Here's a wrap the three top startups!
Winner CognaLearn takes classroom learning to the next level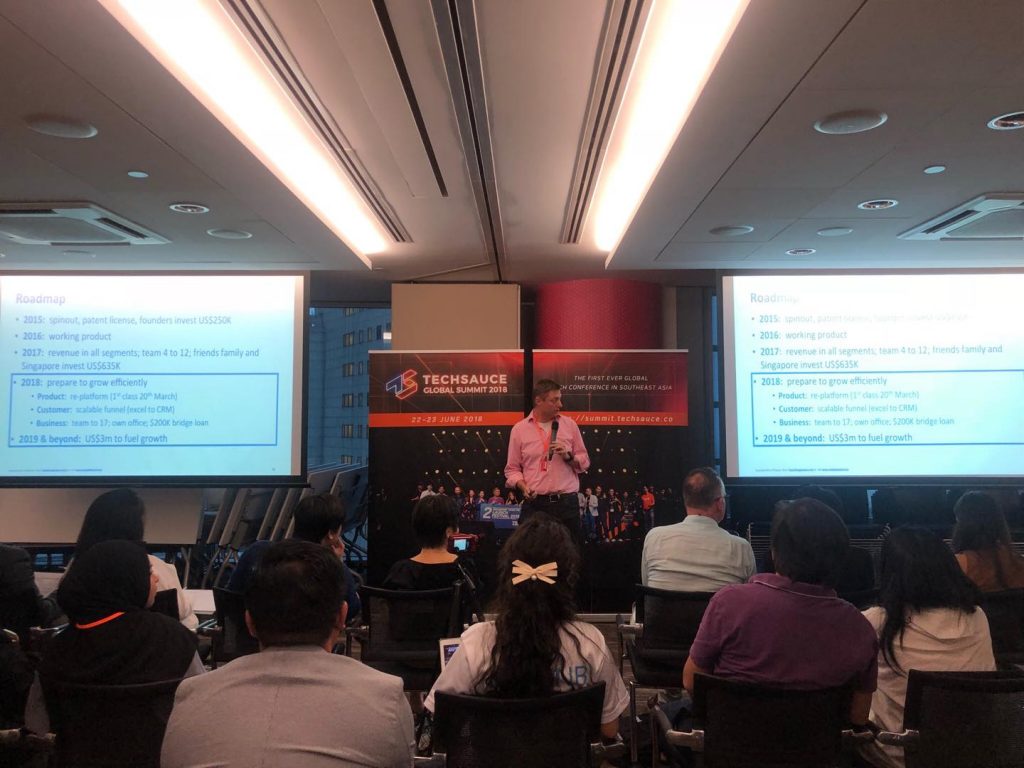 CognaLearn commercial founder Brian O'Dwyer says his startup aims to revolutionize the old traditional way of learning in the classroom by utilizing cognitive science backed team-based learning (TBL).  O'Dwyer says the passive content transmission of lectures are 80% forgotten by students and the development of digital content transmission learning has does not take in team skills which are crucial in corporate environments.  So O'Dwyer and CognaLearn co-founders applied their knowledge of cognitive science and technology to create a platform that is utilizes patent pending methods to support learning institutions. 
Their solution is based on three main stages.  First is the pre-class study students do in reading up and familiarizing with the new material.  The second stage is the class room activity that is based on testing both the individual and teams of students with immediate feedback and clarification.  The Third and final stage is in class open book application.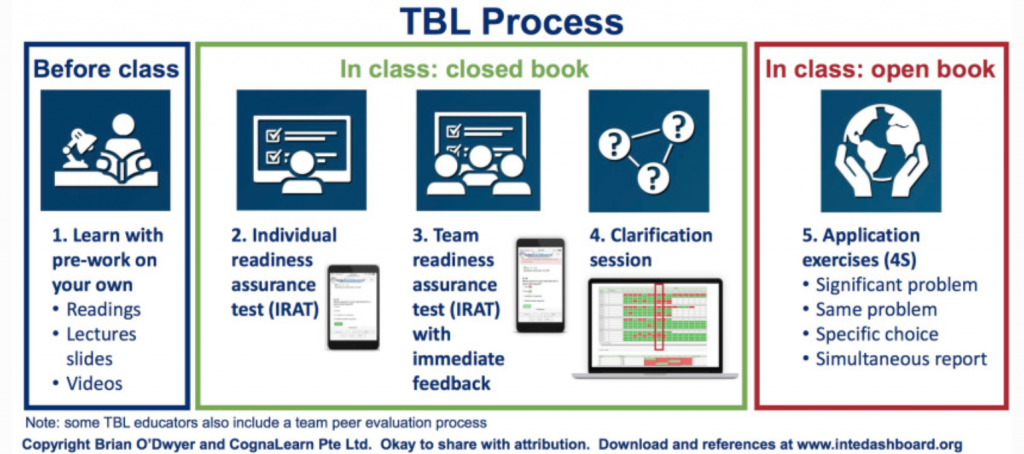 Since spinning out of Duke-NUS in October 2015, CognaLearn has generated over $1 million in revenue from its education solutions for GSK, Pfizer and Takeda and its InteDashboardTM teaching software that is being used by over 30 universities in Asia, Australia and the United States including: Duke-NUS, Yale-NUS and Columbia University.
Their final goal is to have one million learners by 2025.
First runner-up Nuplat cuts costs for construction sector
Despite Technology being quite pervasive in business, some sectors still have not fully benefited and adapted to the digital age.  Once such sector is construction.  The cost of defects at construction projects could amount to 5-10% of the total project value.  This stems from defects in labor, replace cost, long remediation time, and delays to project.  If this problem could be solved, margins should be increased 2-3 times. 
Nuplat is providing that solution for corporations with its platform and applications that organizes digital interactions to track causes and perpetrators of defects early in the game.      The startup claims it can shorten the capture time of reporting defects, share them among stakeholders, alert the system to start remediation, centralize activities, and ensure accountability.   
Second runner-up FoodBuster reduces food wastage
Do you remember that time in your childhood when your parent could put you on a guilt trip on how millions of people are going hungry and if you didn't finish your plate of food, you would be wasting food?  Well, now you don't have to feel so guilty and in your own way "heal the world" with FoodBuster.  The third runner-up at the Techsauce Singapore roadshow says it has found a way to lower the 1.3 billion tons of food wasted each year.

It's app connects restaurants, cafes, and hawker centers with hungry consumers who want a good meal at a good price.  Using blockchain, the startup lets restaurants post up their overstocked food for people to buy at certain times.  The startup has even done this for processed food products as well that are soon-to-be expired.  So you don't really have to wait for that next clearance sale at your local supermarket! 
2017 Champion Jumper.ai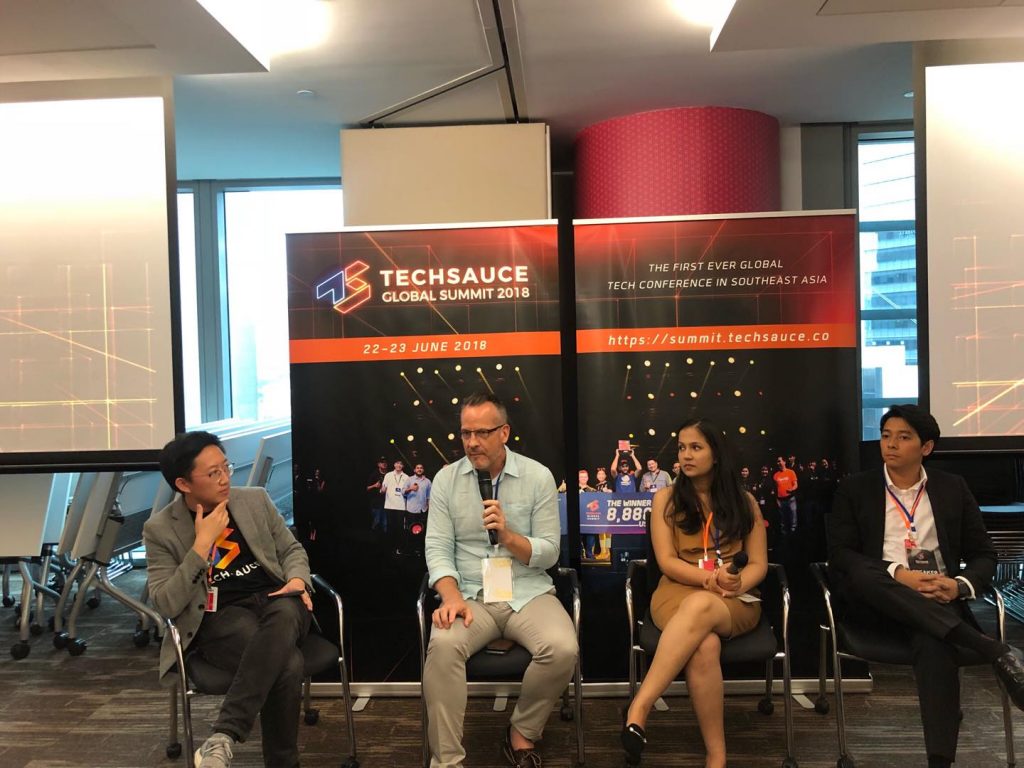 This year's roadshow in Singapore was extra special with Nyha Shree, the co-founder of Jumper.ai, the startup champion of the Techsauce Global Summit 2017 pitching competition in Bangkok.  Shree was one of Techsauce's panelist speakers who said attending last year's summit was an eye-opener for her startup in expanding in the region and beyond.  Jumper.ai is a startup that automates social media sales and creates interactive experience to help consumers in their buying decisions online.  Basically it utilizes Machine Learning (ML) to power a social commerce automation platform connecting social media platforms such as Facebook, Instagram, and YouTube. 
Shree says being the winner of last year's pitching competition has really elevated her startup as the team made corporate partnerships at last year's summit.  This was not possible without Techsauce of course :)
Meet CognaLearn at Techsauce Global Summit 2018!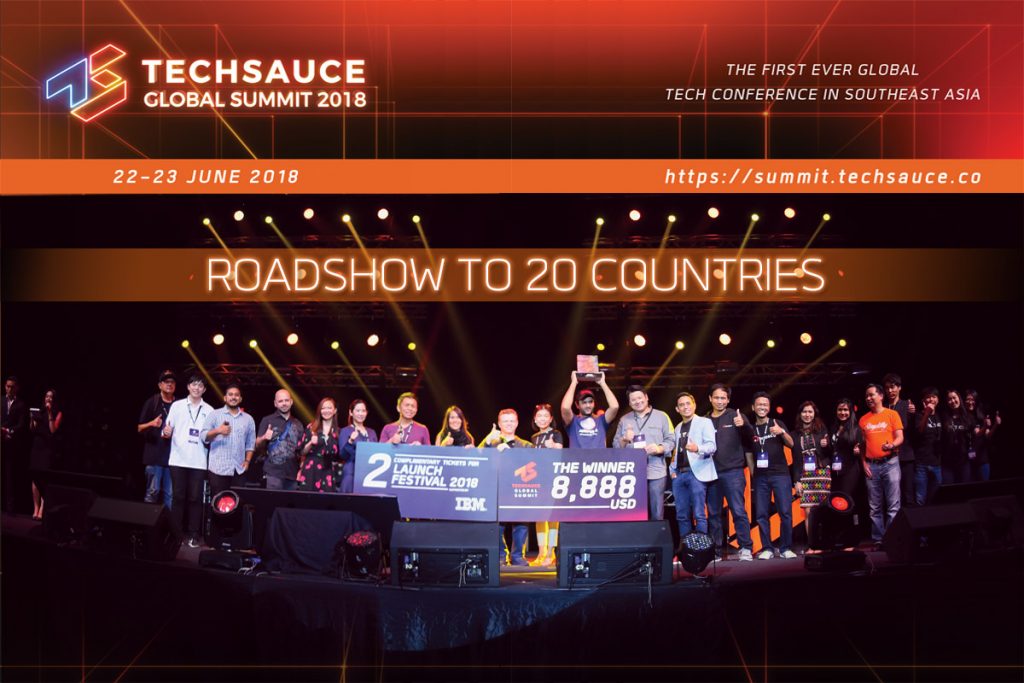 Want to meet CognaLearn and other pitching champions at Techsauce Global Summit 2018?  Get your tickets now at https://summit.techsauce.co/!  With over 10,000 people from over 30 countries attending, you will get the latest updates on trends in ecosystems and meet up with VCs, startups, corporate representatives, and members of the media. Se you there!
Want to join the Techsauce Global Roadshow?
Techsauce still has more designations to go.  Our next stops include Japan, South Korea, and Taiwan!  With over 30 countries, we are set to find the best of the best to battle it out at the final pitching stage at Techsauce Global Summit 2018!  For more details to to: https://summit.techsauce.co/roadshow/