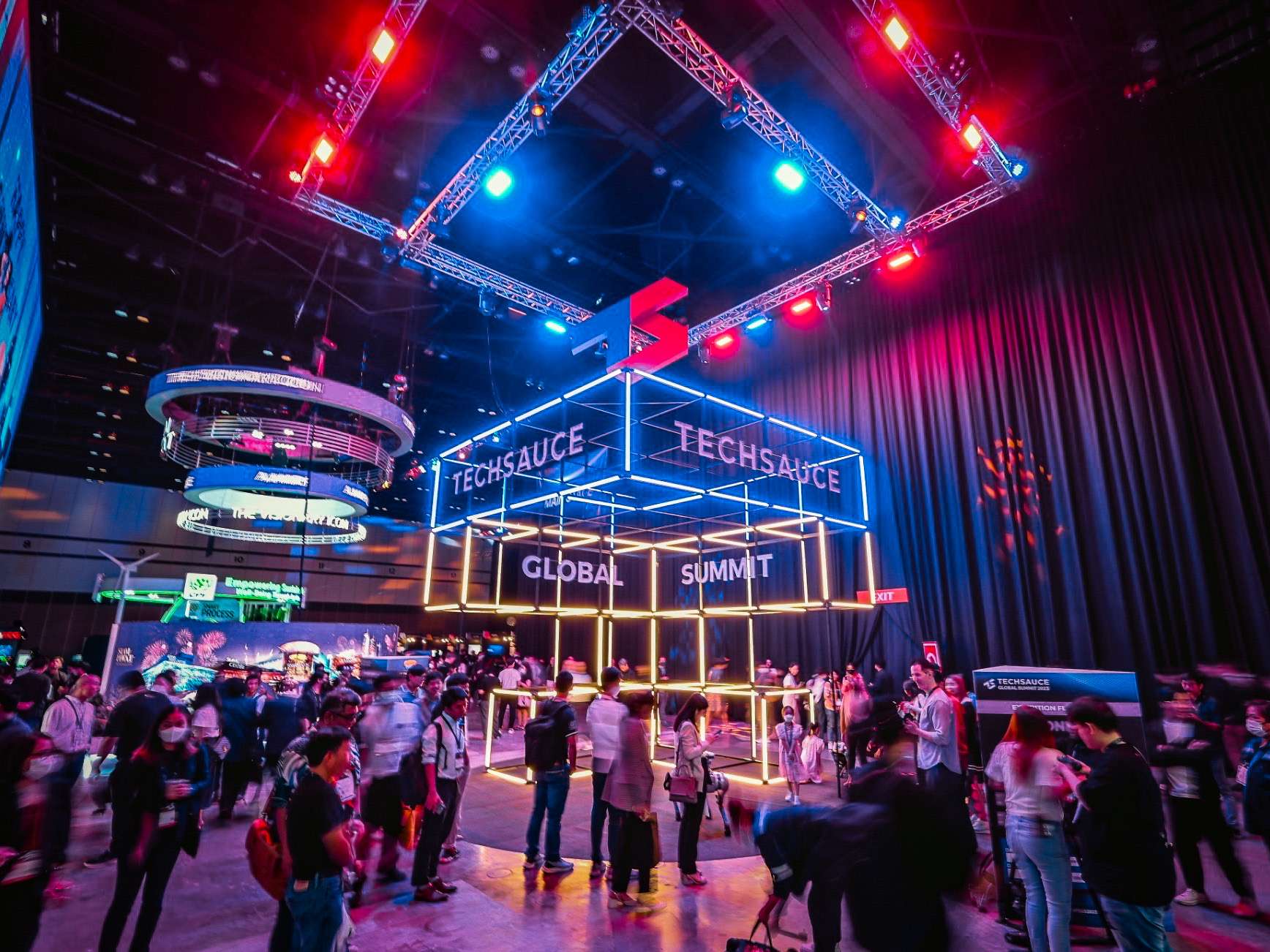 Techsauce Global Summit 2023
The Techsauce Global Summit 2023, the largest technology conference in Southeast Asia, took place on August 16-17. The event concluded with great success amidst extensive collaboration from both local and international networks, transforming the Queen Sirikit National Convention Center (QSNCC) into a pivotal Tech Conference for global business and technology enthusiasts. The summit shattered the attendance record, welcoming over 16,000 visitors from 50 countries worldwide, with an international participation rate of over 40%. Notably, the event covered an expansive event area of more than 10,000 square meters, elevating participants' experience and allowing them to immerse themselves with the highlight of the event. This included insights from over 300 leading speakers, engaging discussions, and a Business Matching zone facilitating exchanges among top-tier corporate representatives, startups, SMEs, tech professionals, and the general public. Over the course of two days, numerous business deals, amounting to 1,000 deals, were successfully sealed, reaffirming the triumph of the Techsauce Global Summit. The event serves as the initial gateway to ASEAN investments and Techsauce's position as a driving force propelling Thailand towards its true identity as a Digital Gateway.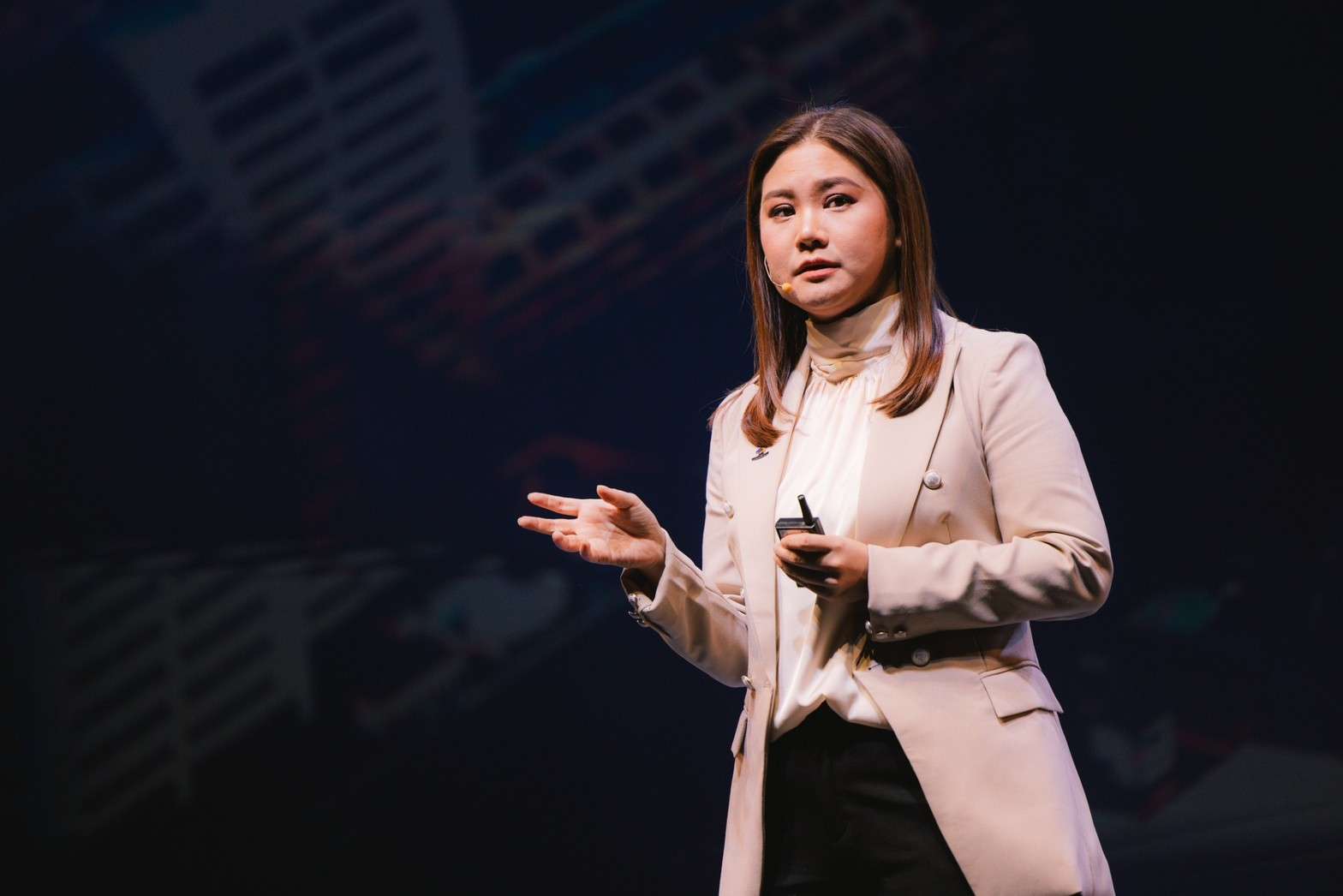 Oranuch Lerdsuwankij, CEO and Co-founder of Techsauce Media Co., Ltd.
Oranuch Lerdsuwankij, CEO and Co-founder of Techsauce Media Co., Ltd., stated, "The increased number of participants compared to the previous year signifies the heightened awareness of the technology industry that is set to drive and bring about transformative changes to our world. The Techsauce Global Summit plays a role as the key platform for leading companies in Thailand and abroad to showcase their products and services, and to create business deals. It is also considered a new gateway for industry-accepted innovative and digital technology investments and is ready to be a crucial catalyst in promoting the growth of Thailand's and ASEAN's innovation exports to the global market. This year, our participants have also witnessed the signing of a Memorandum of Understanding (MOU) between Techsauce and leading partner organizations in Thailand, along with the launch of the VentureBridge fund. These initiatives stand as two pioneering projects aimed at propelling Thailand's Technology Ecosystem growth according to Techsauce's initial plan."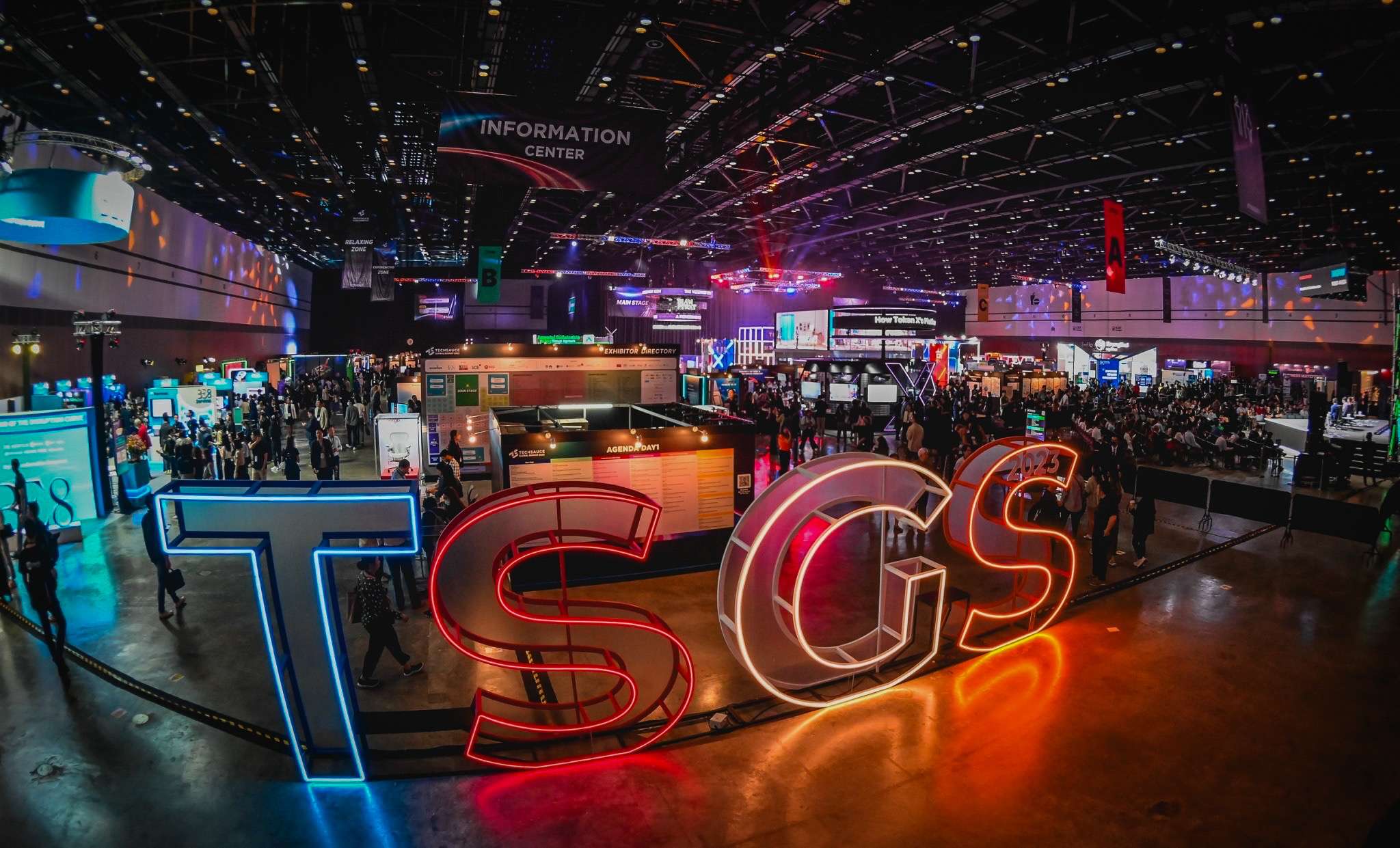 Techsauce Global Summit 2023
And, to embrace the vision of propelling Thailand towards becoming a hub for business and innovation, Techsauce launched the event with a special panel discussion titled "Path to Digital Gateway: Pioneering, Transforming, and Creating Opportunities." The discussion was led by Oranuch Lerdsuwankij, CEO and Co-founder of Techsauce Media Co., Ltd. and Thailand Accelerator; Jareeporn Jarukornsakul, Chairman of the Executive Committee & Group CEO, WHA Corporation; Narit Therdsteerasukdi, Secretary-General of the Board of Investment (BOI); and Apirut Vanchaam, Chief Digital Officer, The Siam Cement Public Company Limited.
Moreover, the Techsauce Global Summit is capable of bringing together world-class speakers and professionals from the industry to discuss emerging Mega Trends in business, technology, and innovation. This year, the summit has assembled over 130 topics on both the Main Stage and Vertical Stages in 10 stages. Notably, the captivating discussions on the Main Stage this year feature distinguished individuals who possess significant influence and roles within the global digital technology arena, such as:
Alex Bornyakov, Deputy Minister & Head of the Diia City project, Ministry of Digital Transformation of Ukraine, who discussed Ukraine's ambition to become a leading European tech hub, with a focus on security solutions such as emphasizing cybersecurity solutions, IT sector development, and the strengths of local startups.


Sarah Bird, Responsible AI Lead, Azure AI Microsoft, who shared Responsible AI practices within organizations for an impactful elevation of people's lives. She addressed adapting to industrial changes, tackling intricate challenges, and delves into the creation and application of various Generative AI applications like GitHub, Copilot, and Bing Chat.


Ana Barjasic, CEO of Connectology & Board Member European Innovation Council, and Natalie Black, His Majesty's Trade Commissioner for Asia Pacific. These two well-qualified experts analyzed the success factors of entrepreneurs in the ASEAN region, disclosing opportunities for business expansion of innovative products and services beyond borders, using an "international customer" perspective to assess products and services. They also engaged in discussions with other experts, including Norbert Bak, Head of Foreign Trade Office in Bangkok and the Polish Investment and Trade Agency (PAIH), and James Kwan, Chairman of Jumpstart, an online platform for startup entrepreneurs and investors.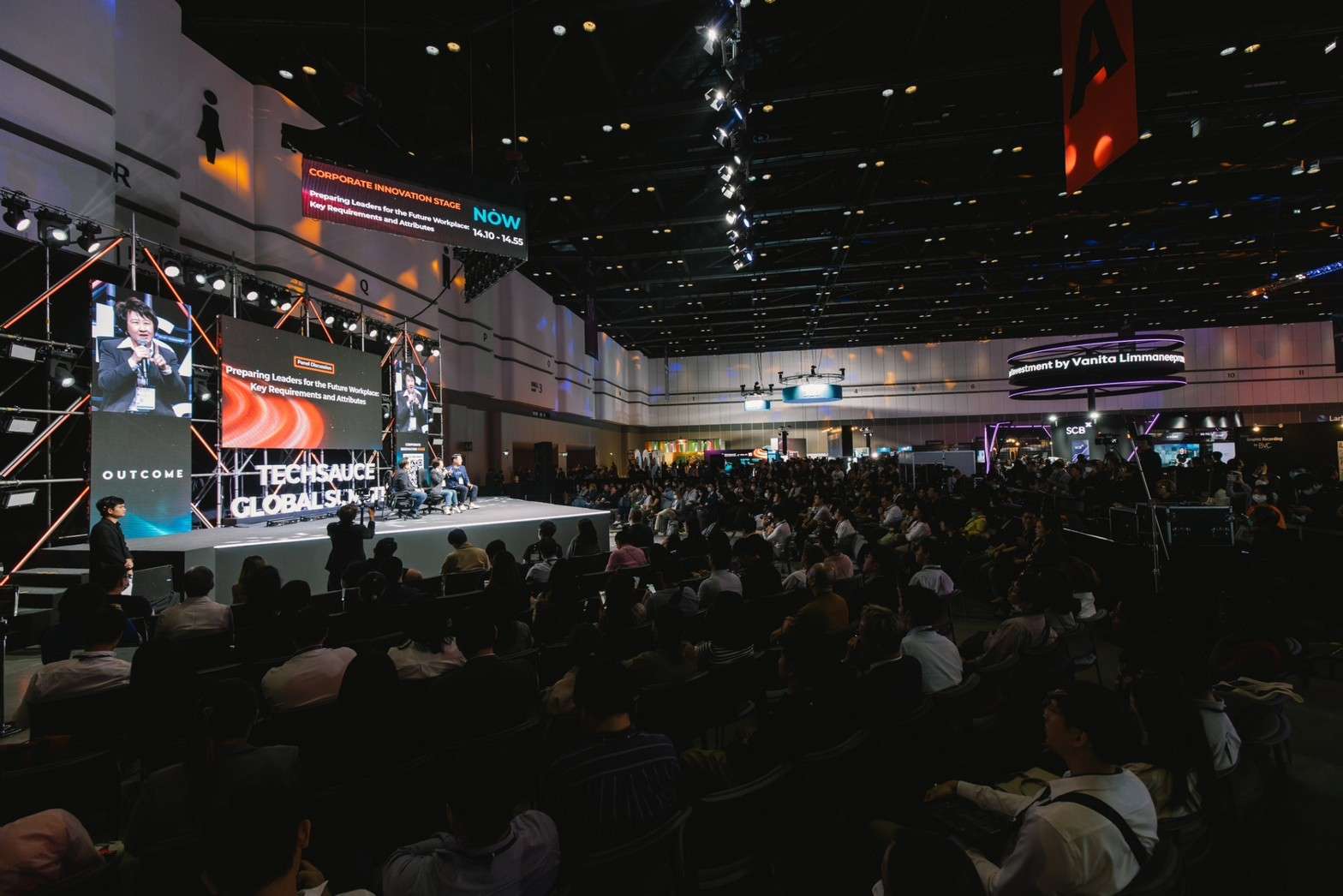 Techsauce Global Summit 2023
The Thai speakers featured on the Main Stage are comprised of high-level executives from leading national organizations, such as: Apirut Vanchaam, Chief Digital Officer, The Siam Cement Public Company Limited, who presented on the "Don't Mind The Technology, Mind The Opportunities - Driving Thailand's Digital Economy with Smart Home Technology" issue; Dr. Arak Sutivong, CEO of InnovestX Securities, a leading figure in disruptive digital innovation, who discussed the topic "AI as the Core of SCBX's Transformation and Thailand's Tech Leap." Also participating were Apisek Tewinpagti, Group CEO of Beryl 8 Plus Public Company Limited, who led a team of experts including Ian Douglas, Director of Industries Solution Engineering ASEAN for Salesforce, to analyze personalized marketing, hyper-targeting, and the power of Generative AI in Customer Relationship Management (CRM). Moreover, Krating Poonpol, Group Chairman of the Kasikorn Business-Technology Group, joined in providing insights on "The Age of AI Domination," and Patama Chantaruck, Country Managing Director of Accenture Solutions Limited, discussed the topic "Tech Vision 2023: Bridging the World Across Global Crisis."