In December, upDrive will hold a free, multi-day educational and networking event in Jakarta, Indonesia, for people who work to create and support local startup ecosystems.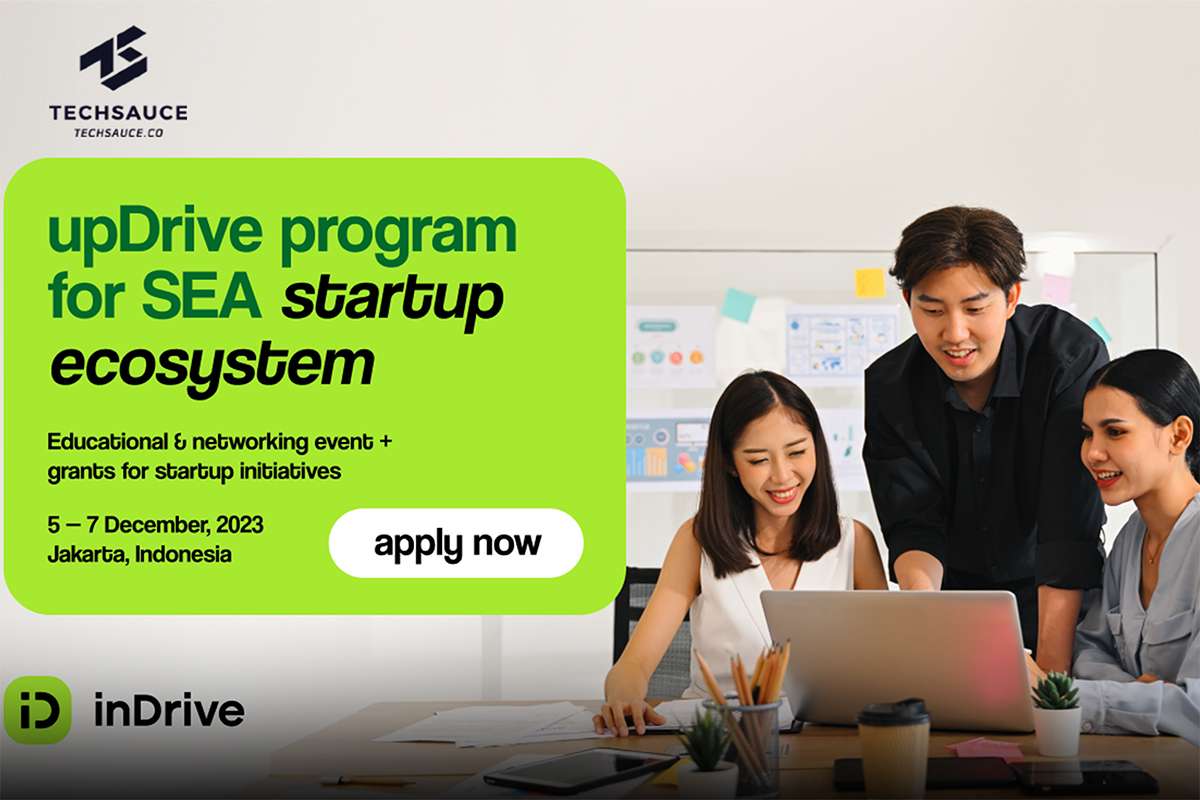 Following this, upDrive will award three selected initiatives with a $15,000 grant. Daria Shubina, Head of Startup Programs for inVision, discusses the event, what it aims to achieve – and why.
UpDrive is a project run by global mobility and urban services platform, inDrive. Our aim is to give startups in emerging markets more opportunities to build a meaningful business, primarily by investing in the development of local startup ecosystems. To do this, we're hosting a program, consisting of two parts – event and grants:
First part - Educational and networking event
This is a free, offline event taking place in Jakarta from 5 - 7 December 2023, for professionals who work with startups (not the startups or founders themselves). As such, we invite people from startup accelerators, incubators, local VC companies, and representatives from state programs or universities that support entrepreneurship. Entrepreneurs who run social activities with the local startup community can also attend.
The event consists mainly of group training, panel discussions, and brainstorming sessions, where people can exchange ideas and share their experiences – their successes, mistakes, and reflections. We will deal with case studies where people discuss specific initiatives; for example, organizing big events – how does one deal with problems or fundraise, or why (and when) are such events valuable?
The topics to be covered include:
How to create an efficient funnel for attracting new startups.
Hacks for scaling startup full accelerator programs: what works, what doesn't.
Growing the startup community and how to develop this within your city or country.
Events: Do they work or not? Which goals do they help achieve?
Trends in investments – what are high priority startups right now?
Governmental support programs and how to form them efficiently.
Formats for supporting startups at different stages,
Motivating people who work in the ecosystem organization like we are
Possible business models of ecosystem organization. What can we sell and how can we earn money?
Corporates with innovation departments that work with startups: What is happening there? How can corporates and ecosystem players who deal with the corporate world attract startups?
We will, of course, also be talking about fundraising, because most organizations are funded by the government or big companies, and sometimes earn money by themselves.
Ultimately, we aim to create a space where participants can learn from, inspire and support others in a similar endeavor. I've seen many times how important it is to find someone who truly understands what you're going through, because startups have different challenges, opportunities and pain points, as do the people who work with them.
Awarding grants
Participants then have a month to consider their ideas before they can apply for our grant, which is awarded to help realize a new initiative or support an existing one – any program, event or other initiative to support local entrepreneurs; for example, coworking spaces, incubation or acceleration programs. These can be local or collaborations with colleagues from another country (but they should be within this region).
Our main criteria is that initiatives should assist local entrepreneurs in the way they believe will be most effective. We, ourselves, do not know the local cultural nuances, or the exact state of maturity of a startup community (because different tools work better at different levels of maturity) – so we're delegating that decision to our colleagues, who know their environment.
We will choose the three most interesting initiatives and fund them with a $15,000 grant, giving them half of the year to realize their plans.
In my experience, the initial period of launching a support program is the hardest: you don't have facts, photos, or success stories, and it is extremely difficult to find a sponsor and partners. This is why we've decided to award these grants at this stage of the process. Our hope is that the following year these initiatives won't need our support, because they will then have experience, and with this, will be able to approach local government and companies that are looking to sponsor such projects.
Why is the event in Jakarta ?
inDrive, and especially the inVision department, generally works within emerging markets. In planning this event, we therefore considered Africa, the LATAM region and different parts of Asia. We analyzed many reports about the maturity of the local startup ecosystem and communities, and decided to start with Southeast Asia, as we see it rising: It's now at the stage where there is already a foundation. For example, there's been great governmental support for startups over the last three or four years in Cambodia, while Malaysia is doing a lot to invite not only local entrepreneurs, but also people from other countries, to start their businesses there.
And so we believe that this initiative will be very useful now, because, while the startup ecosystem exists, it's not as mature as, say, California and Silicon Valley. Nevertheless, there are many opportunities arising in Southeast Asia, and we can help accelerate this process.
It's especially important to deal with a macro-region where the ecosystem is pretty much at the same level of maturity, which is why we are not inviting anybody from Silicon Valley, which is at a much more mature stage. I truly believe people from the SEA region have something to say to each other and to share with each other.
Applying for the upDrive event (and a travel grant, if needed)
For anyone interested in applying, you need to have at least two or three years experience working with startups. The event is free, and we can provide a travel grant covering the hotel and airfare if you are not from Jakarta, but from another country in Southeast Asia. To get the travel grant, you must apply before the 8st of November.
Why inDrive is investing in startups and their ecosystems:
inDrive is itself a startup, and so values the contribution of startups and their potential impact. We started in a small Siberian city, where there was no startup community and infrastructure at all, and that was difficult. That's why we are eager to help others build their local startup communities, outside the major hubs. We believe that doing so can really help people to build at least early stage businesses within their home cities and countries, rather than moving to Silicon Valley - thereby creating more employment and value for local citizens. Of course, these days, if you're building a unicorn, you need to be in a big hub. But at least the seed stage can be done locally if there is at least a small startup community to support you. You shouldn't be alone. You need to have some people, some competences and opportunities in your city
If we successfully help locals to build ecosystems to support startup communities, that will have an effect for many years, maximizing the beneficial impact of our investment. It takes time and patience before the results show up – but I have seen this happen many times.
So watch this space!