VGI Global Media Plc (VGI), the top provider of O2O solutions across advertising, payment and logistics platforms, invests THB 4.6bn in Plan B Media Plc, Thailand's leading Out-of-Home (OOH) advertising media provider, to hold a 18.6% stake in the company, taking over more than 70% of the country's OOH market. Once again, VGI's ecosystem demonstrates its platforms' flexibility to leverage the strength of relevant partners to create new strategic opportunities and incentives.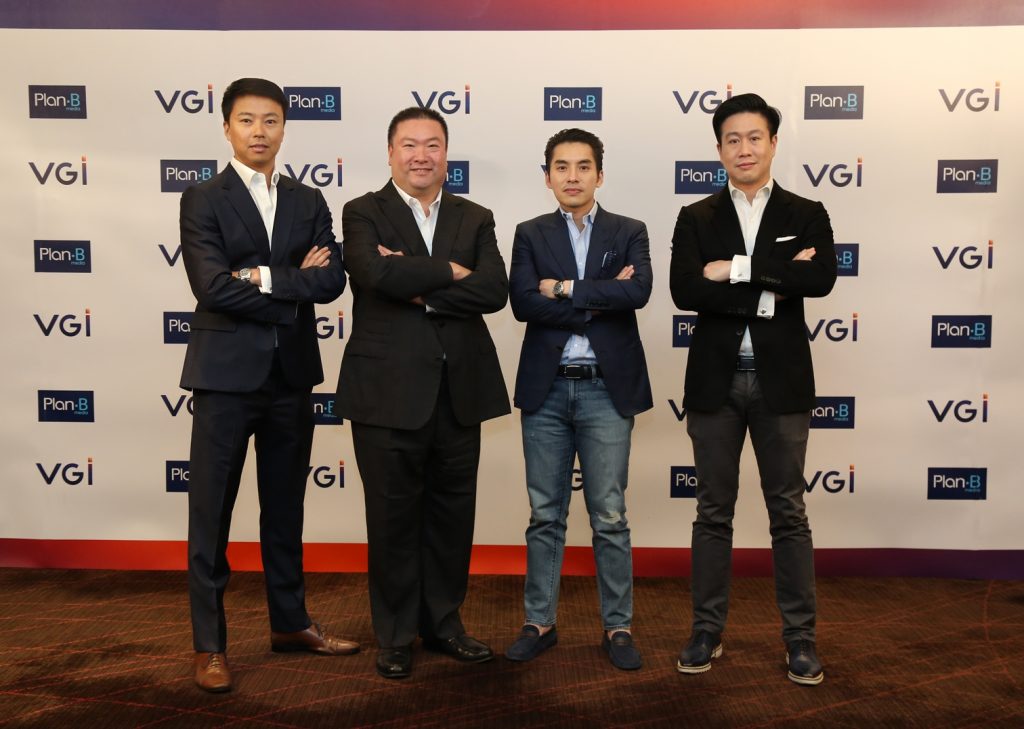 This merger, which combines the potentials of VGI and Plan B, will place both companies at the top of Thailand OOH market with around THB 12,000mn worth in media inventories spanning 77 provinces nationwide as well as strengthen their positions in the ASEAN region. Moreover, leveraging the two companies' core capabilities, new product development, product bundling, performance-driven services and total marketing solutions, the acquisition will provide a major opportunity for both businesses to improve utilization and fortify overall revenue and profits going forward.
"Effective and measurable are among the most important factors in the success of future advertising.  We are very excited that our strategic alliance with Plan B will enable us to combine Plan B's digital reach and contents with VGI's prominent quality data pool.  It is a further milestone on our path towards targeting that takes place across combined marketing channels throughout the customer journey within our ecosystem", said Nelson Leung, CEO of VGI.
"With this partnership, we will fully leverage VGI's ecosystem to offer unique products and services in the market. With our nationwide network of digital screens, Plan B's portfolio optimally complements and strengthens VGI's advertising platforms. Together, we will be able to provide advertisers in the market with a product that combines the power of data and quality contents with the largest OOH advertising spaces, which will be an indispensable part of the market in the future.  Though our combined share is still small in comparison to the country's THB 120,000bn advertising market, this collaboration will strengthen both our companies' positions in the industry and propel us to be amongst the leading media players within ASEAN", said, Palin Lojanagosin, CEO of Plan B.
About VGI
Founded in 1998, VGI Global Media Plc is Thailand's leading out-of-home media service provider with extensive media platforms nationwide, covering the BTS SkyTrain network, outdoor, airports and commercial outlets, worth over THB 7bn.  By leveraging its exclusive access to Rabbit Data, VGI is able to offer a 360-degree view and fully integrated offline-to-online (O2O) solutions for its clients, with the Rabbit Data serving as a bridging point that allows advertisers to reach their target audience throughout the entire customer journey, cutting across the company's advertising, payment and logistics platforms.  To date, it is the number one listed media company on the Stock Exchange of Thailand (SET), with a market capitalisation of over THB 68bn (USD 2mn).  As of March 2018, the company has a total revenue of THB 3,936mn, with a profit margin of 21.5%.  VGI is part of the BTS Group Holdings Plc, the operator of the capital's top mass transit network, the BTS SkyTrain.
About Plan B
Plan B Media Plc is an out-of-home (OOH) media service provider with a network coverage in Thailand, Malaysia, Indonesia, Laos and the Philippines.  The company offers a variety of media in terms of formats and techniques that can be divided into 6 key categories, namely transit media; static media; digital media; in-store media; airport media and online media.  Since 2016, the company has ventured into engagement marketing through sports, music and e-sport market media, further leveraging on its long experience in managing various media and its customer bases to match brands and products to broader consumer groups.
Plan B is the fastest growing OOH provider in the industry, with a growth rate of 24% over the past 5 years.  As of 2018, it has a total revenue of THB 4,039mn.