WHA Group, Thailand's leader in fully-integrated logistics and industrial facilities solutions, today signed a Memorandum of Understanding (MoU) with GROUND Inc., the leading LogiTech® business in Japan.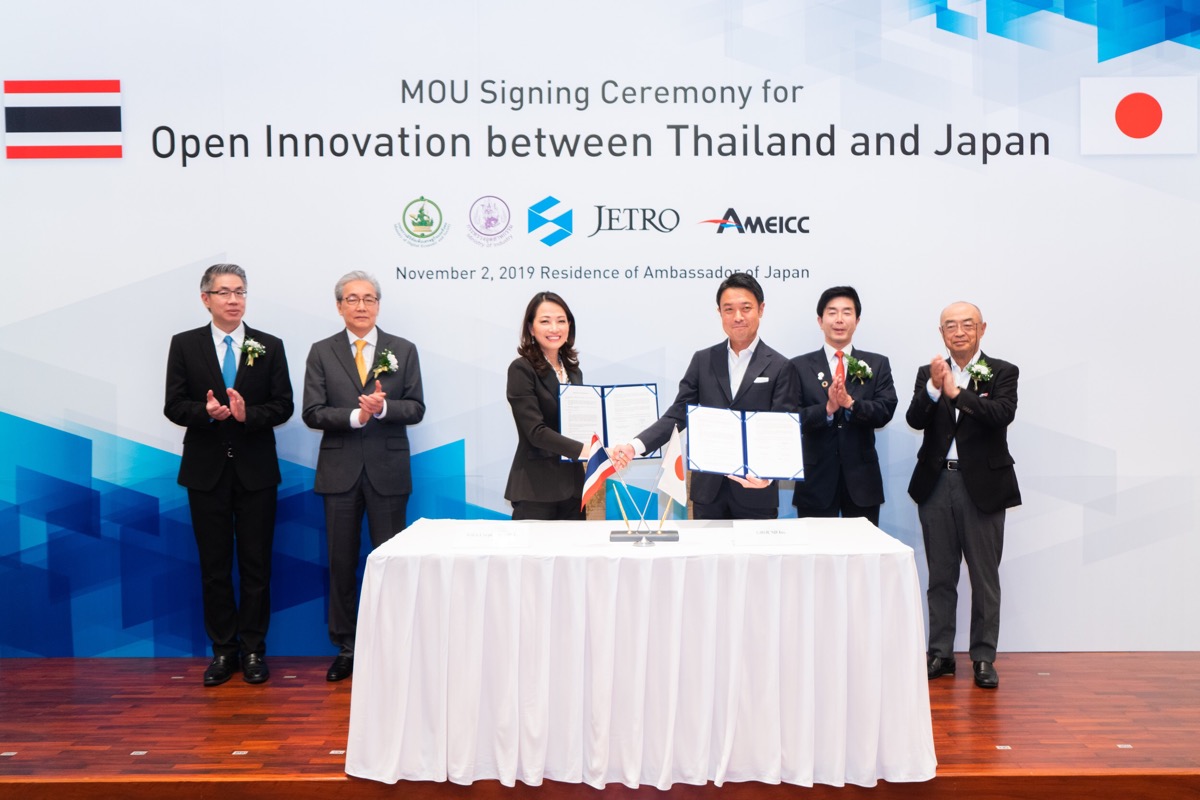 This joint effort to develop next-generation logistics solutions aims to enhance the competitiveness of logistics operations in Thailand, in response to the rapid growth of the logistics market and industry. GROUND Inc. will provide warehouse-operation-optimization software and applications, warehouse-operation-automation systems with robots, and knowledge and expertise in logistics operations. WHA Group will make available its logistics facilities in Thailand for testing GROUND Inc.'s logistics solutions to be used as a showcase and developedfor WHA customers. WHA Digital Platform, one of WHA Group's business units, will also provide data center storage space.
"We are truly delighted to sign this MoU with Ground Inc.," said Ms. Jareeporn Jarukornsakul, WHA Group Chairman and Group CEO. "We are looking forward to introducing high-tech logistics solutions to our customers in Thailand, in order to constantly increase the efficiency and productivity of their complex operations," she explained.
"This MoU with WHA Group is based on synergies between our two companies," commented Mr. Hiratomo Miyata, Co-Founder and CEO of Ground Inc.
"We are confident that our vision for intelligent Logistics® using advanced technologies such as AI and robotics, combined with WHA Group's expertise in the field, will be mutually beneficial," he declared.
This MoU is part of a Thai and Japanese partnership called "Open Innovation Columbus"initiated in May 2018 to bring innovation and new technologies to companies of both countries.
About WHA Group
WHA Corporation Pcl. (WHA Group) is Thailand's leader in fully-integrated logistics and industrial facilities solutions. WHA's operations consist of 4 business areas in Logistics, Industrial Development, Utilities & Power and Digital Platform with an integrated service offering that enables it to provide customers with turn-key solutions:
• Logistics – Customers can avail of built-to-suit factories, logistics facilities and distribution centers at all times. This innovative concept was pioneered in the market since 2003 by WHA Corporation Pcl., with more than 2.3 million sq.m. in leasable area under owned and managed assets at 20 strategic locations nationwide to date.
• Industrial Development – As a world-class industrial estate developer, WHA offers strong and efficient infrastructure, utilities, industrial clusters including automotive and petrochemical clusters, and comprehensive industrial services. Today, WHA Industrial Development Plc. has 11 operating industrial estates, covering over 48,627 rai (7,780 hectares), mostly located in Rayong, Chonburi (in the EEC) and in Saraburi. The EEC Management Committee has designated 9 WHA IEs as special industrial zones for targeted industries, in line with WHA Group's commitment to support the development of 10 target industries in the country. WHA is also developing an industrial estate overseas- WHA Industrial Zone - Nghe An, Vietnam.
• Utilities and Power – As the sole supplier of water and other utilities infrastructures, WHA Utilities and Power Plc. offers total security to industrial estate customers while enjoying strong partnerships with leading power operators. It supplies approximately 105 mm m3 of water per year and 521 operational equity MW.
• Digital Hub – In order to support its customers in their business intelligence operations, WHA Infonite Co., Ltd. actively provides comprehensive data solutions and platforms through its 4 data centers and FTTx. The company has also acquired some shares in Supernap Thailand and continuously invests in digital infrastructure to serve leading multi-national and Thai companies.