Southeast Asia (SEA) is the world's fastest-growing internet region. According to an updated report by Google & Temasek, it is predicted that the internet economy is on a steep growth trajectory, expected to reach US$240 billion by 2025.
E-commerce is a crucial component of this growth as it is the fastest-growing sector within the internet economy, projected to reach US$102 billion in gross merchandise value (GMV) by 2025.
E-commerce is also becoming more saturated due to the addition of new companies & the rapid development of existing players. This was evident as the e-commerce sector experienced a surge of investments over the last four years, garnering as much as US$2.7 billion in funds in H1 2018. This figure is expected to rise in 2019 as companies continue to attract the attention of venture capitals, private equities, & corporate investors.
This is also illustrated by a decrease in compound annual growth rate (CAGR) from 32 percent (2015-2018) to 22 percent (2015-2025) in less than six years, indicating saturation in the sector.
The Rationale of this Report
As such, this report serves to keep track of the progress & development of the e-commerce sector in SEA's biggest digital markets, namely in Indonesia, Malaysia, Philippines, Singapore, Thailand & Vietnam.
To increase the reliability of our market research & to gain a more holistic perspective of consumer behaviour, we partnered with App Annie Intelligence to incorporate vital metrics from mobile e-commerce shopping applications into the Map of E-commerce.
Complementing the mobile application data, are other vital statistics, such as total visits on desktop & mobile web by SimilarWeb, social media followings & the sizes of labour forces.
Working with leading data providers & major e-commerce platforms across the region has further illustrated that, although the industry & broader technology sector has experienced strong growth & received significant investments, user & application tracking is still nascent in SEA.
We acknowledge that available data may not portray an exact representation of actual user behaviour, but rather provide a strong indication of users' affinity towards e-commerce today.
Also, we do not believe that the e-commerce landscape is dominated by one absolute company today, as our findings show a clear trend that there is still much room for growth.
Rather, the question is which players are executing the right strategies, business models & mindset to capture the vast potential of the region in the next decade. We also believe that more investments need to be made in this industry to establish standards & to gain deeper insights into the nature of its users.
The top e-commerce companies in Southeast Asia, Q2 2019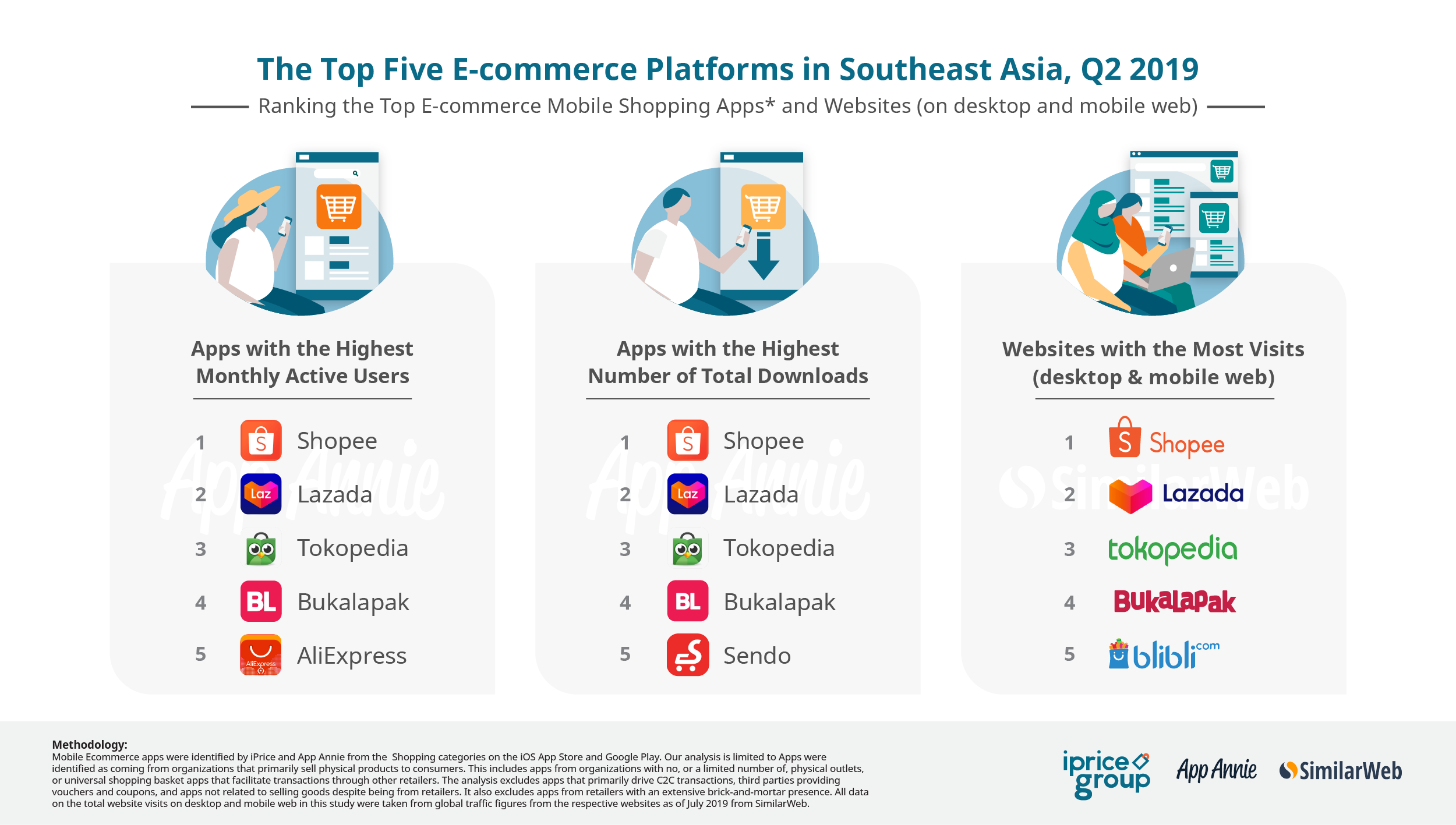 Lazada maintains its leading position with the most monthly actively users (MAU) on its mobile app in four country-specific markets, Q2 2019. The company's mobile app ranked first in active users in the Philippines, Thailand, Malaysia, and Singapore. On its website platform, Lazada garnered more than 174 million visitors (combined regional, desktop & mobile web).
Lazada's website continues to be a consistent & strong player across the region, acquiring almost 180 million visitors (desktop & mobile web) each quarter across SEA. In addition to this, Lazada has been putting high emphasis on the development of its mobile shopping application as shown in App Annie's data.
In Malaysia, Lazada remains as the e-commerce mobile shopping app with the highest monthly active users. On its website platform, Lazada garnered more than 20 million average visitors in Malaysia alone.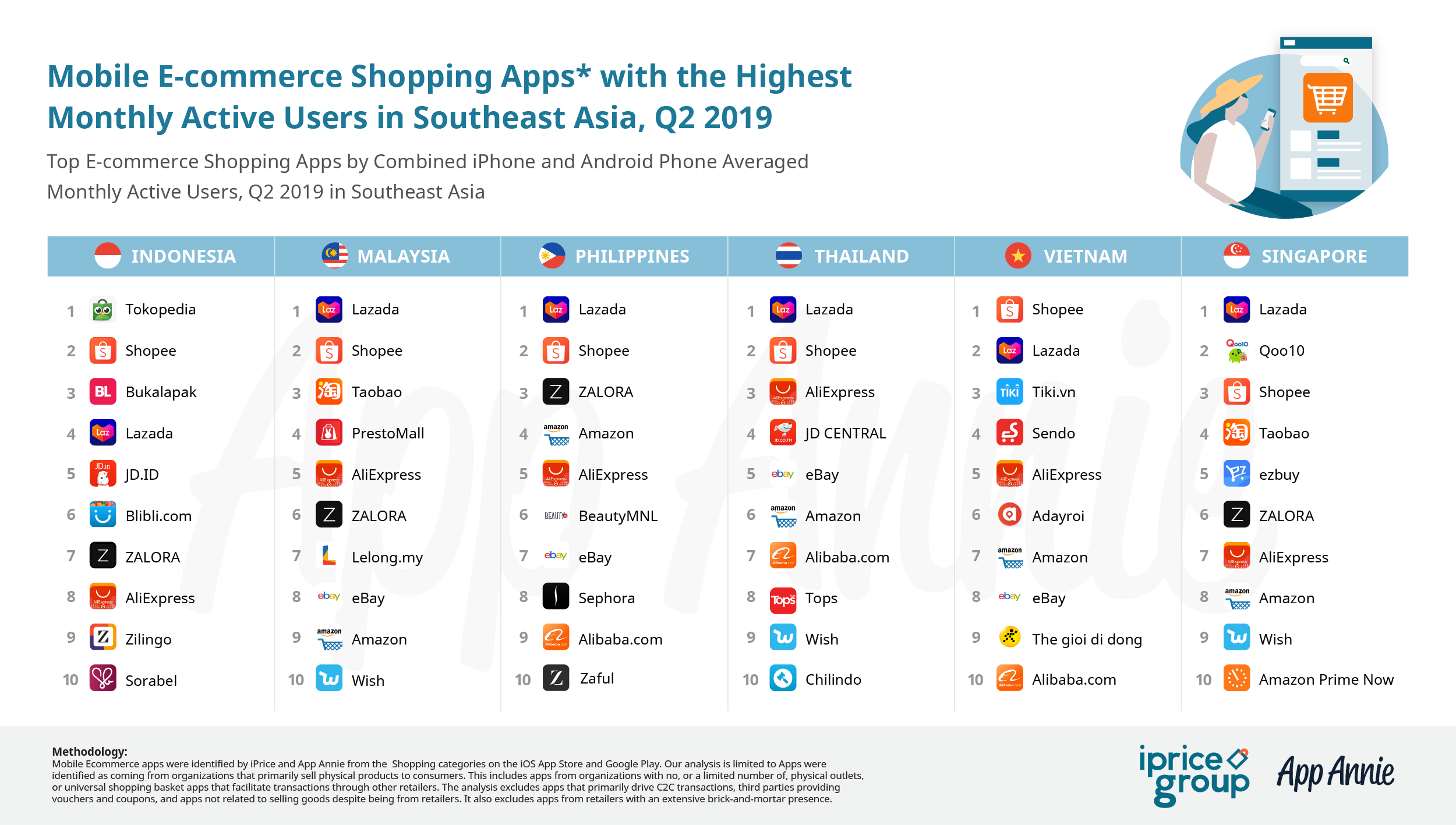 Shopee obtained the most monthly active users (MAU) and is the most downloaded mobile e-commerce shopping app in Southeast Asia, Q2 2019. Shopee's website is also the most visited (combined regional, desktop & mobile web) platform, garnering more than 200 million visitors in the same period.
Shopee started making strong improvements in web traffic across SEA in Q3 2018. Within one year, the SEA-backed e-commerce doubled its total visits. This growth also coincides with them successfully raising US$575 million back in June 2018. In Q2 2019, Shopee garnered more than 200 million visitors across six countries in the region.
From a local perspective, Shopee is the most downloaded mobile shopping application in Malaysia. Shopee also garnered the highest average total visits in Malaysia, recording more than 21 million visitors in Malaysia alone.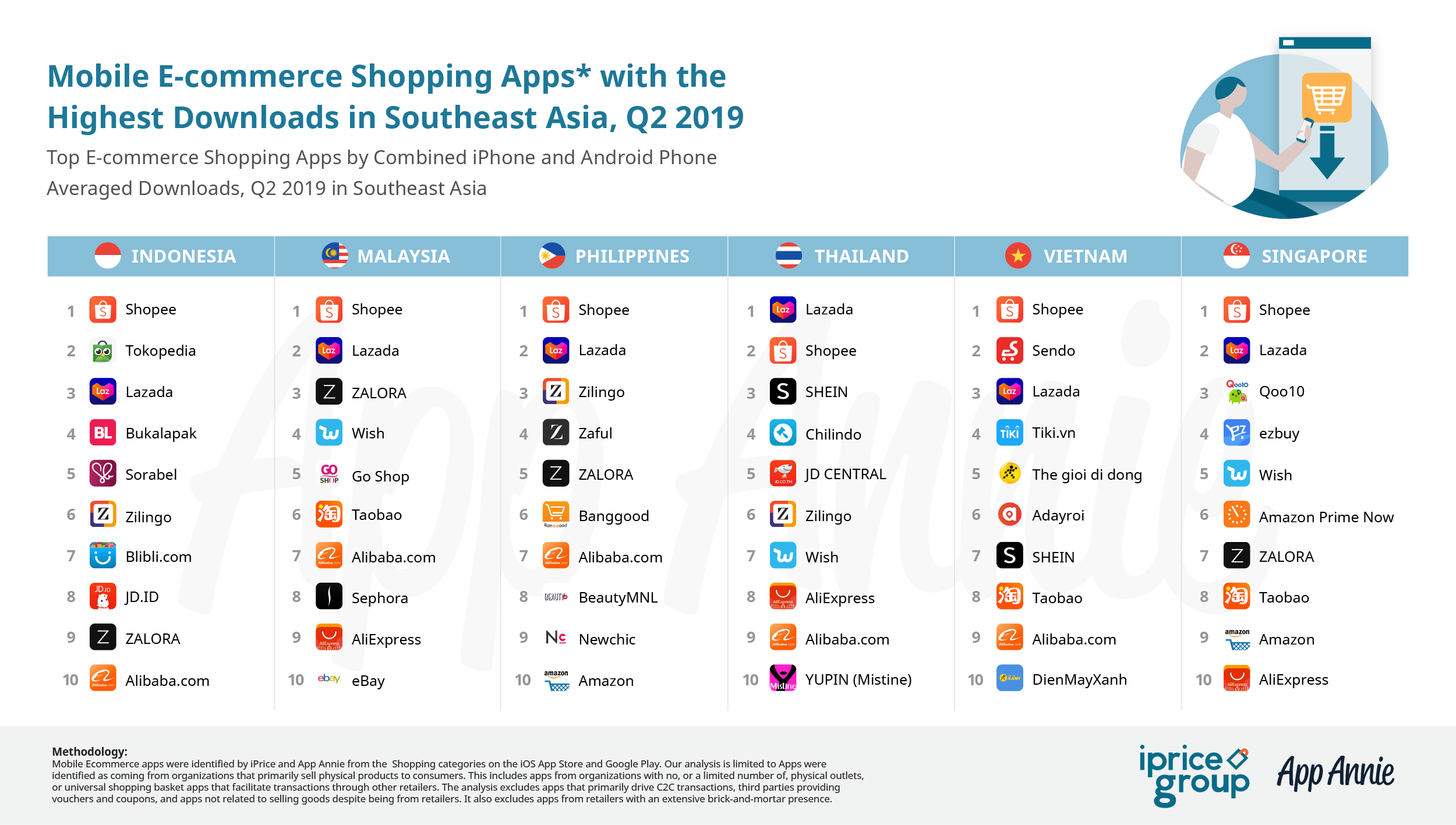 Indonesian e-commerce companies Tokopedia & Bukalapak performed well in Southeast Asia although only available in a single market (Indonesia). Both e-commerce companies' mobile app ranked 3rd & 4th respectively with the highest monthly active users (MAU) and highest number of total downloads in SEA, Q2 2019. The two Indonesian companies also ranked 3rd & 4th most visited platforms (desktop & mobile web) in the region in the same period.
China A Prominent Collaborator in Southeast Asia's E-commerce Sector
Chinese investment into SEA's e-commerce platforms has been instrumental in the success of prominent companies in the region. Among the key investors are Alibaba, JD.com, & LightInTheBox which aided the establishment of one of the most actively used e-commerce platforms in the region such as Lazada, Tokopedia, & ezbuy.
Most e-commerce apps backed by Alibaba are ranked at top 5 list highest monthly active users. E-commerce apps with JD.com investment like Tiki in Vietnam, JD Central in Thailand, and JD.ID in Indonesia also gained high monthly active users during Q2 period.
Insights by iPrice Group
Wrote by Jeremy Chew