aCommerce, Southeast Asia's leading ecommerce enabler in Southeast Asia has secured a partnership with Google in becoming a Google Analytics Certified Partner adding to its existing certification as a Google AdWords Premier Partner.
Google Analytics Certified Partners are vetted by Google and meet rigorous qualification standards. These standards are only met by companies who offer deep web analytics implementations, analysis services, and optimization services. The partnership is a company level accreditation for aCommerce who strategize, implement, and deliver analytics, website testing, and conversion optimization services to boost conversion rates and profitability for online businesses.
Full suite of Google Analytics services offered
aCommerce's unique blend of analytical and technical capabilities ensures we can take full advantage of the feature set offered by Google Analytics. Our Google Analytics services include:
Data layer definition and implementation – We can identify relevant data points and surface these in a Google Analytics data layer on your site.
Google Tag Manager – We can implement Google's tag management solution and configure both Google and third party marketing tags.
Enhanced Ecommerce Tracking & Reporting – We can show you how to take advantage of the ecommerce reporting features available in Google Analytics, including product list performance, site journey funnels and checkout performance.
Custom Dashboards and Reports – We can develop custom dashboards and reports to support your marketing and trading teams, including Google Data Studio dashboards.
Training and Support – Our experienced team can help train your teams to get the most out of Google Analytics.
Mobile App Analytics – We help implement and configure mobile app analytics solutions based on Google Analytics and Firebase to help clients optimize beyond app installs and look at user acquisition and retention.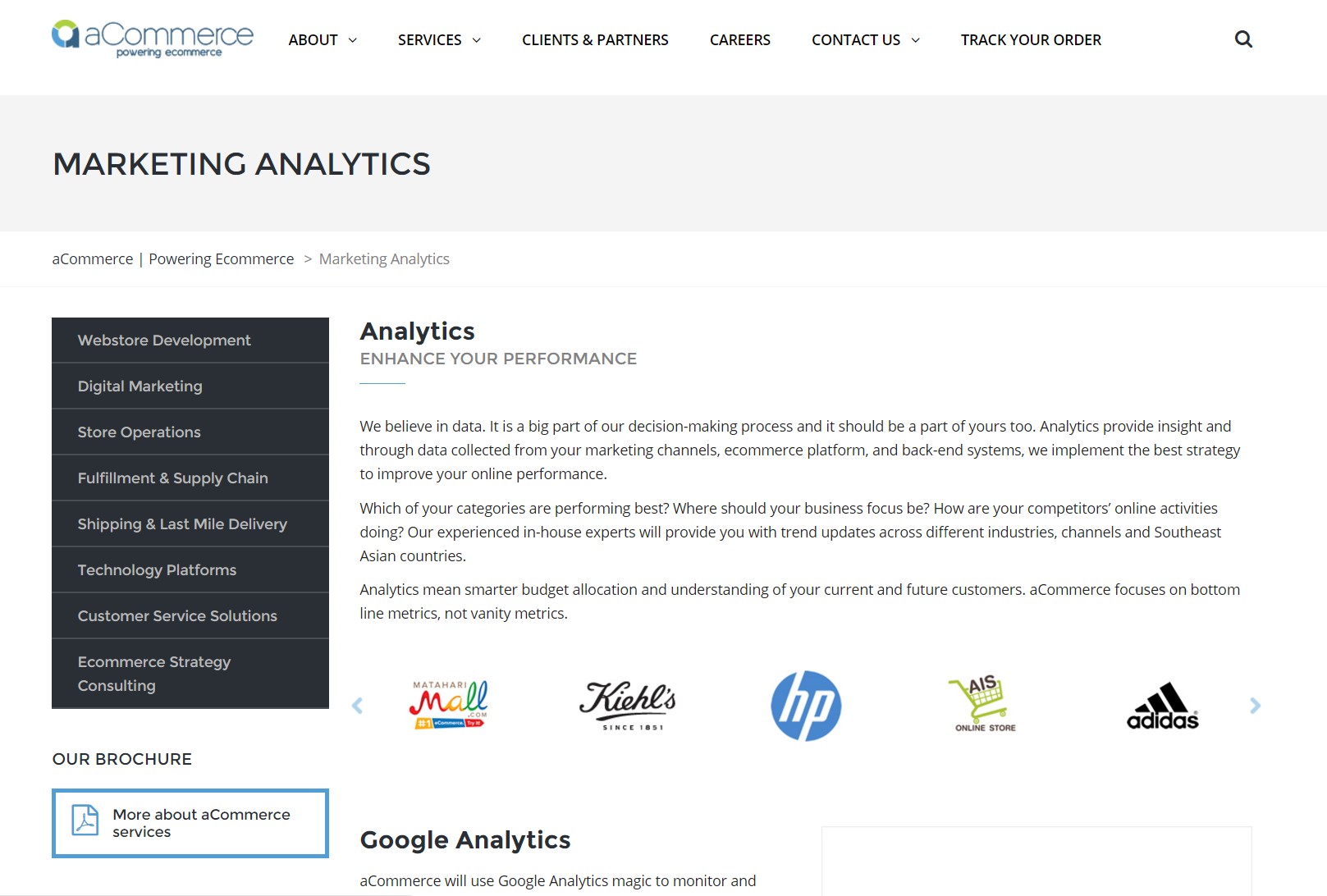 Unlike traditional digital agencies, data is in our DNA
Compared to traditional digital agencies that typically focus on top-of-the-funnel – and often vanity – data and metrics such as impressions, clicks and visits, aCommerce works with major brands and retailers to leverage end-to-end data including orders, revenue, returns and customer lifetime value. Bluechip clients such as Adidas, HP, L'Oreal and MatahariMall have all benefited from aCommerce's unique technical and analytical know-how of Google Analytics and Google Tag Manager, as well as executing and driving business impacts for them in great measure.
"Data is the lifeblood of ecommerce businesses. At aCommerce, we use it on a daily basis to optimize our customer acquisition, activation and retention campaigns across the entire ecommerce user journey. With our Google Analytics Certified Partnership, we'll be able to take our initiatives to a new level with the support and recognition of Google," said Sheji Ho, Group CMO aCommerce.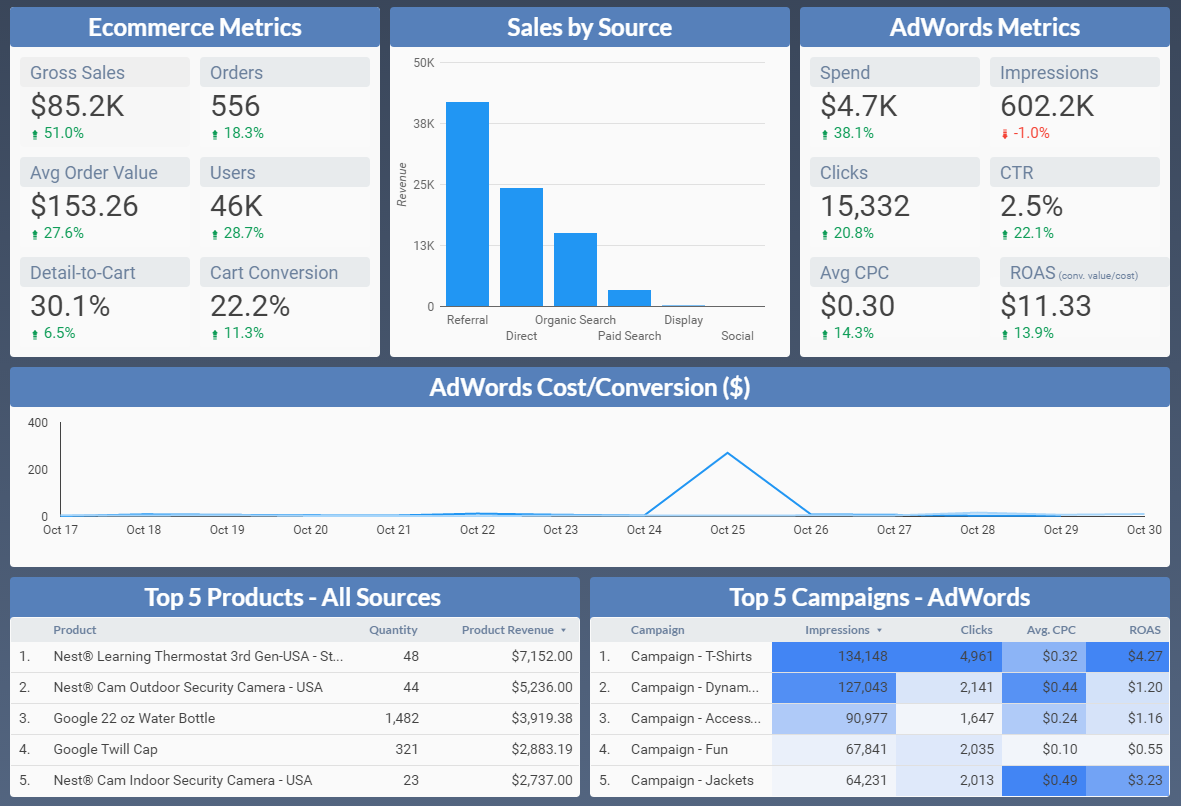 Solutions and consulting for mobile app analytics
With mobile being a driving force for digital and ecommerce in Southeast Asia, aCommerce has also built a dedicated team to offer mobile analytics consulting and implementations to clients such as Goxip and MatahariMall. Leveraging Google Analytics and Firebase, a Google-owned mobile app analytics platform, aCommerce has been able to help clients optimize beyond just app installs to acquire and retain high quality mobile users.
The right people to draw insights from data in ecommerce businesses
While having a platform like Google Analytics is a pre-requisite for leveraging big data in ecommerce environments, it by itself is not enough. There are countless cases where companies invest millions of dollars into big data tech but still fail because they don't have the right people in place to interpret the data and follow up with actions. "Big data is usually dumb data. Computers can find patterns that allude humans, but they don't know how to compare patterns from different sources or how to interpret complex behaviors. Actionable insights can only come from a human analyst," says Peter Thiel, the billionaire venture capitalist who founded Paypal and Palantir.
Of all the 4Ps of Big Data, the people factor is probably the biggest bottleneck. According to McKinsey, "there will be a shortage of talent necessary for organizations to take advantage of big data. By 2018, the United States alone could face a shortage of 140,000 to 190,000 people with deep analytical skills as well as 1.5 million managers and analysts with the know-how to use the analysis of big data to make effective decisions." This problem is even more of an issue in emerging markets such as Southeast Asia where we operate. Even in a developed market like Singapore we have found it very hard – and sometimes even harder – to find people with a data mindset. This is because most of the businesses in Singapore are multinationals operating their regional headquarters. A lot of the work done is coordinating countries on conference calls and via emails isolated in an ivory tower. Data is inherently local and operational and to get comfortable working with data one needs to get down and dirty into the trenches.
Data scientists are not the solution
Then what about those newly minted data scientists who are supposed to help us deal with all this big data? They're not suited. According to Josh Attenberg and Foster Provost who teach the practical data science course at NYU Stern, "one of the complaints about the data scientists trained in computer science departments is that they're "just technical", understanding algorithms well, but lacking important skills in problem formulation, evaluation, and analysis generally. On the other hand, those trained in business schools tend to have underdeveloped technical skills." Getting organizations up to speed on working with big data requires more than just hiring traditional data scientists or MBAs; instead, everyone needs to be able to work with data.
We are seeing positive changes though, especially in marketing. "The new job title of "Growth Hacker" is integrating itself into Silicon Valley's culture, emphasizing that coding and technical chops are now an essential part of being a great marketer. The role of the VP of Marketing, long thought to be a non-technical role, is rapidly fading and in its place, a new breed of marketer/coder hybrids have emerged," says Andrew Chen who popularized the term growth hacker. Auren Hoffman, CEO of LiveRamp, shares on Quora: "The role of the Chief Marketing Officer (CMO) is changing dramatically and is becoming "moneyballed" and very data oriented. Today's Moneyballer CMO plans her marketing initiatives the way Billy Beane built the Oakland A's. She leverages granular data on customer actions to expand beyond the traditional CMO role, influencing product strategy, customer service, and optimized sales pitches."
Buzzwords aside, a quick look at job postings for marketing positions at Facebook and Uber for example illustrates the transformation we're going through. Uber's Growth Marketers are expected to use tools like Tableau and languages like Python and SQL in addition to being able to process and analyze complex data sets, and interpret them to make business decisions. Remind yourself that these are marketing roles, not software engineering ones. Oh, and they're looking for people with majors in Engineering, Computer Science, Math, Economics, or Statistics. Meanwhile, traditional digital agencies are still stuck in 2005 and hiring communications majors for "performance marketing" roles.
At aCommerce we too put emphasis on developing technical marketing skills on an individual level. For example, all of our marketing analysts know how to pull data from databases via SQL themselves and perform in-depth analysis. Some go beyond this and are capable of writing code to pull data via different APIs as well.
About aCommerce
aCommerce is an ecommerce solutions provider present in Thailand, Indonesia, Philippines, Malaysia and Singapore, bringing global brands online. Having raised one of the largest Series A funding rounds of Southeast Asia, aCommerce is now rapidly expanding as the region's leading ecommerce service provider. With over 1,300 staff and operations in Southeast Asia, aCommerce provides robust localized ecommerce solutions for global brands such as L'Oreal, Adidas, HP, Philips as well as retailers and marketplaces such as Lazada and MatahariMall.
The company offers end-to-end retail services, which includes multi-shipping and multi-channel management, ecommerce platform design and development, order fulfillment and warehousing, payment gateways, cross border management, localization strategy, delivery and logistics, customer service call centers, creative production, and performance marketing. aCommerce was founded in May 2013 and is based in Bangkok.