"NIA and Maejo University Co-Host AgBioTech Incubation 2023 Demo Day: Catalyzing Innovation for Sustainable Agricultural Growth with 10 Biotech-Driven Startups"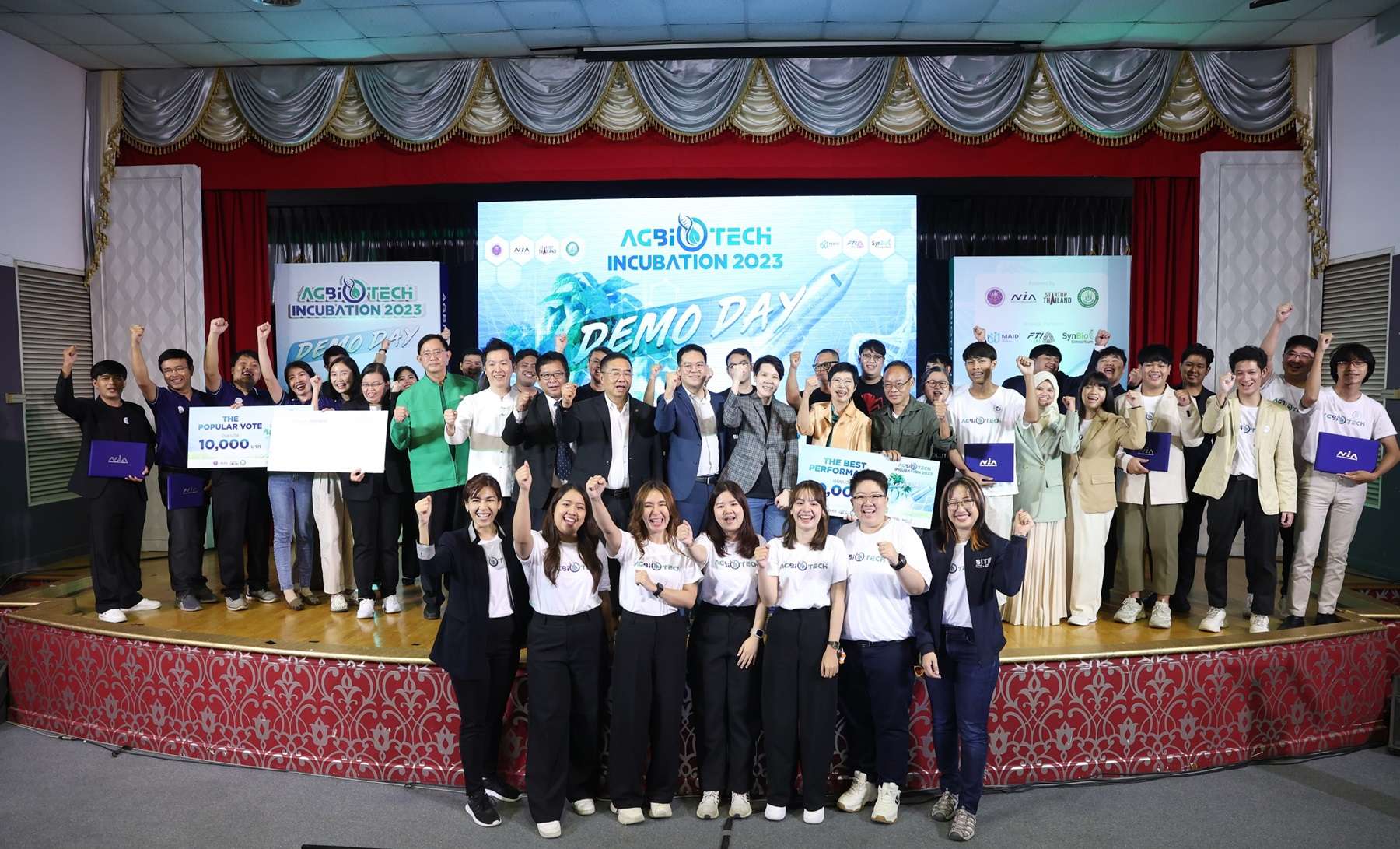 The AgBioTech Incubation 2023 was convened by the National Innovation Agency (Public Organization) or NIA in collaboration with a network of partner organizations, which included Maejo Agriculture and Food Innovation District, Institute of Agricultural Innovation for Industry, Federation of Thai Industries, and SynBio Consortium. This event marked the commencement of a critical phase within the AgBioTech Incubation 2023 at the International Education and Training Center of Maejo University in Chiang Mai, whereby 10 AgTech startups embarked on a comprehensive incubation program designed to cultivate their expertise in various agricultural technology domains over a rigorous four-month training and demonstration period. This initiative was executed in partnership with a consortium of esteemed collaborators, boasting expert advisors, and featured practical testing on prototype products. The primary objective of the AgTech startups' participation in this program was to validate conceptual ideas and product offerings, thereby addressing gaps in consumption guidelines. As a result of their participation in this initiative, new AgTech startups will be created to drive the advancement of technology in the ecosystem and increase productivity effectiveness while offering farmers more income.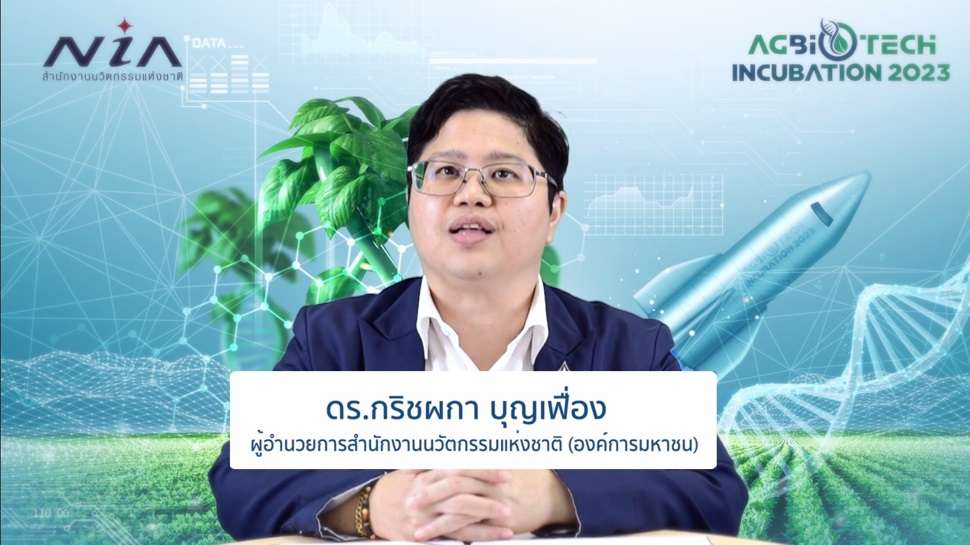 Dr.Krithpaka Boonfueng, the Executive Director of the National Innovation Agency (Public Organization), has emphasized the paramount importance of the agricultural sector within the strategic purview of NIA. This emphasis is rooted in the sector's pivotal role in the overall economy and societal fabric of Thailand. Over the past four years, NIA has undertaken a concerted effort to catalyze the inception and growth of AgTech startups. These startups hold the potential to become instrumental drivers of technological innovation and efficiency enhancement for farmers. This vision is concretized through the establishment of collaborative networks under the aegis of the Accelerator Program and the Incubator Program. These programs are meticulously designed to expedite the expansion and maturation of agricultural enterprises. They not only foster sustainable growth but also enable these businesses to tap into opportunities for market expansion and collaborative investments. In the international context, there is a discernible trend wherein deep technology, characterized by the integration of cutting-edge technologies such as artificial intelligence, biotechnology, robotics, and blockchain, is increasingly deployed in the agricultural domain. This deployment augments operational efficiency and elevates the quality control standards in agricultural production. Regrettably, in Thailand, such advancements are still relatively nascent, with fewer than 15 instances of their implementation. Consequently, the NIA's endeavors assume a pivotal role in ushering in a new era of agricultural innovation and technological progress within the nation.
In light of the foregoing, the "AgBioTech Incubation 2023" project has been inaugurated with a dedicated emphasis on the incubation and cultivation of novel AgTech startups. These startups are strategically oriented towards harnessing the transformative potential of deep technology and biotechnology within the ecosystem. The project seeks to leverage these advanced technologies to pioneer innovative solutions for the myriad challenges prevailing in the agricultural sector. This initiative is underpinned by Thailand's distinctive position as a nation rich in biological diversity, ranking as the 8th highest globally and the 3rd within the ASEAN region. Furthermore, the nation boasts a formidable assembly of over 900 accomplished researchers and experts specializing in agricultural biotechnology. The impact of their dedicated research and development endeavors is exemplified by the generation of over 2,500 notable works within the past five years.
Furthermore, it is noteworthy that an AgBioTech startup has recently secured a substantial infusion of funding. As per data sourced from AgFunder in 2022, the global landscape witnessed an impressive total fundraising value of 79 billion baht. However, when we examine the local scenario in Thailand, investment in AgBioTech startups reveals a rather modest valuation, amounting to 90 million baht. This figure represents a mere 0.10 percent of global investment. As its promising potential, NIA is fervently driving forward the mission to expedite the inception and advancement of new AgTech startups specializing in biotechnology through the AgBioTech Incubation 2023 project.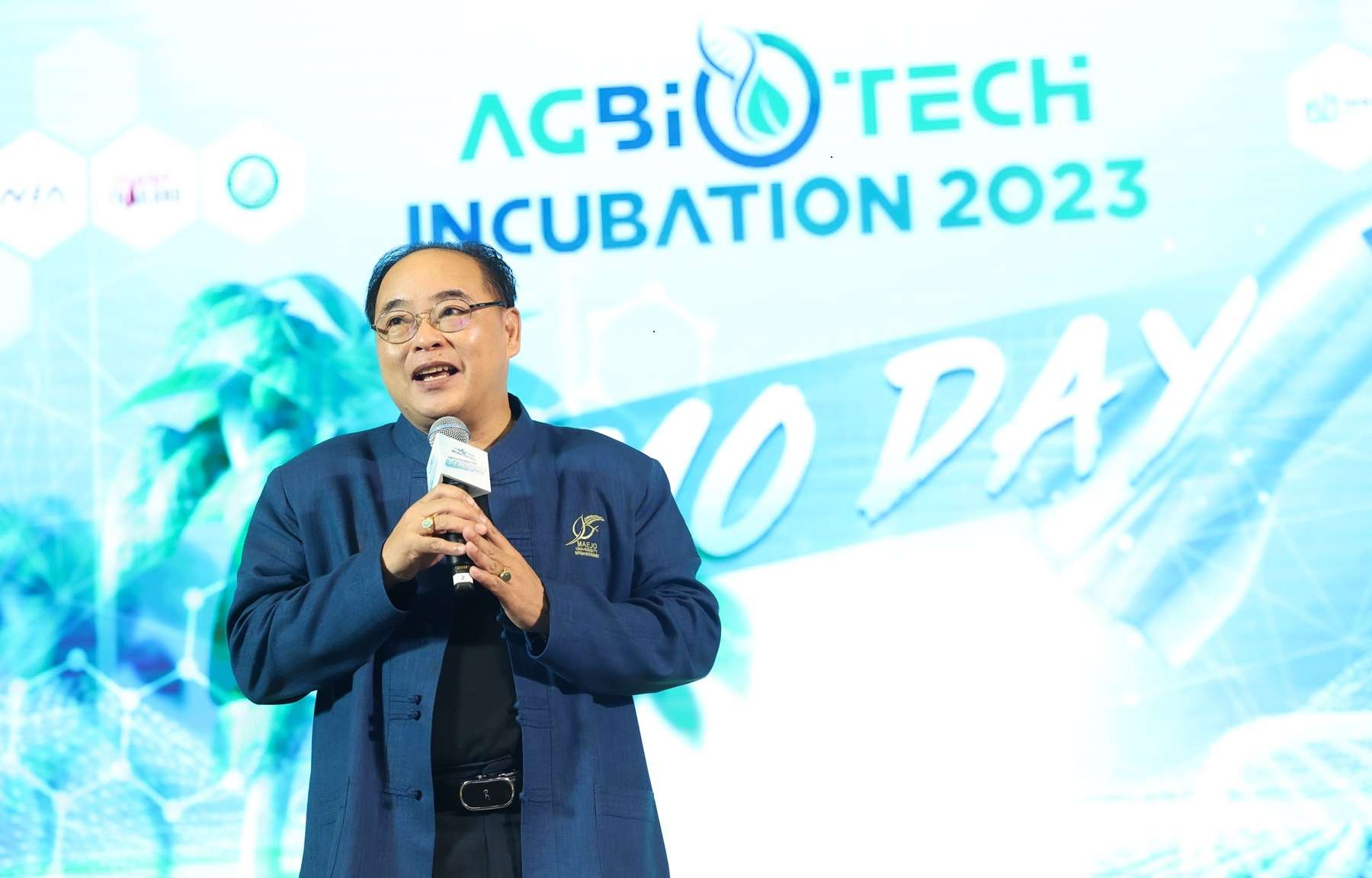 Associate Professor Dr. Weerapon Thongma, President of Maejo University, has underscored the pivotal role that Maejo University plays in the realm of agricultural innovation. This institution, bolstered by support from NIA and a dynamic network of collaborators from public sector, private sector, and local municipalities, has taken monumental strides in advancing the "Maejo Agricultural and Food Innovation District." This visionary initiative has rapidly transformed into a veritable epicenter for agricultural innovation, earning the distinction of being acclaimed as "Thailand's Silicon Valley for agricultural innovation." In the year 2023, Maejo University, in partnership with NIA, has embarked upon the "Project to develop agricultural startups that apply biotechnology in the business startup stage," more commonly referred to as "AgBioTech Incubation". This comprehensive project encompasses three core activities:
1. Capacity Building: The first facet of the initiative focuses on the development of AgBioTech startup advisors. It seeks to equip lecturers, researchers, and agricultural biotechnology experts with the requisite knowledge, acumen, and entrepreneurial skills to foster the inception and incubation of agricultural biotechnology enterprises. This endeavor has engaged 42 distinguished professors hailing from 15 universities nationwide.
2. Startup Incubation: The second facet of AgBioTech Incubation is dedicated to the incubation of AgTech startups applying biotechnology. This multifaceted program includes a blend of theoretical instruction and hands-on practical training, augmented by personalized mentorship and guidance. To extend the support to students, government researchers, and alumni representing diverse universities across the country, The program culminates with the selection of 10 startup teams, poised to present their pioneering business models for innovative products and services.
3. Ecosystem Building: The third dimension of the project centers around fostering a collaborative network for agricultural biotechnology, serving as an 'Ecosystem Builder'. It aspires to harmonize and interconnect all stakeholders, encompassing government entities, private sector enterprises, educational institutions, and investors, in a concerted effort to engage and collaborate with startups.
The 10 startup teams participating in the AgBioTech Incubation 2023 program constitute a diverse and dynamic cohort poised to catalyze innovation within the agricultural sector. Their endeavors hold the promise of propelling Thailand to new heights in the realm of agricultural biotechnology, underpinning the nation's strategic vision for a future of cutting-edge agricultural innovation and economic growth.
10 startups participating in the project:
SoMush: A cutting-edge solution to produce pure mushroom culture in liquid form for PureMycelium.
MYCO GARDEN HOME: An innovative growth enhancer designed for high-value economic crops and ornamental plants, leveraging the power of arbuscular mycorrhizae.
MaxBoost: A specialized substance hailing from the stable antisense group, engineered to proactively prevent Vibrio and yellowhead virus, safeguarding the health of aquatic organisms.
PurePlus: A highly effective microbial inoculum, bolstered by low-energy ion beam technology, adept at thwarting wilt and rot pathogens in economic crops.
Sentech Plus: A sophisticated biological substance harnessing the potency of Bacteriophages for holistic infection prevention in the realm of aquaculture.
Bio Solution: A natural and sustainable pest control system utilizing beneficial natural enemies to safeguard crops.
Gen-A-Tech: An advanced system for plant gender and agricultural characteristic determination, underpinned by cutting-edge DNA marker technology.
PLANTBIO: Pioneering the production of functional substances for cosmetic applications through the innovative use of plant cell culture technology.
EverFresh: A biomolecular peptide product engineered to extend the shelf life of agricultural products, ensuring freshness and quality.
Happy Plant: Offering highly purified mycorrhiza obtained through tissue culture systems, enhancing survival rates when transplanted into the soil and bolstering plant health.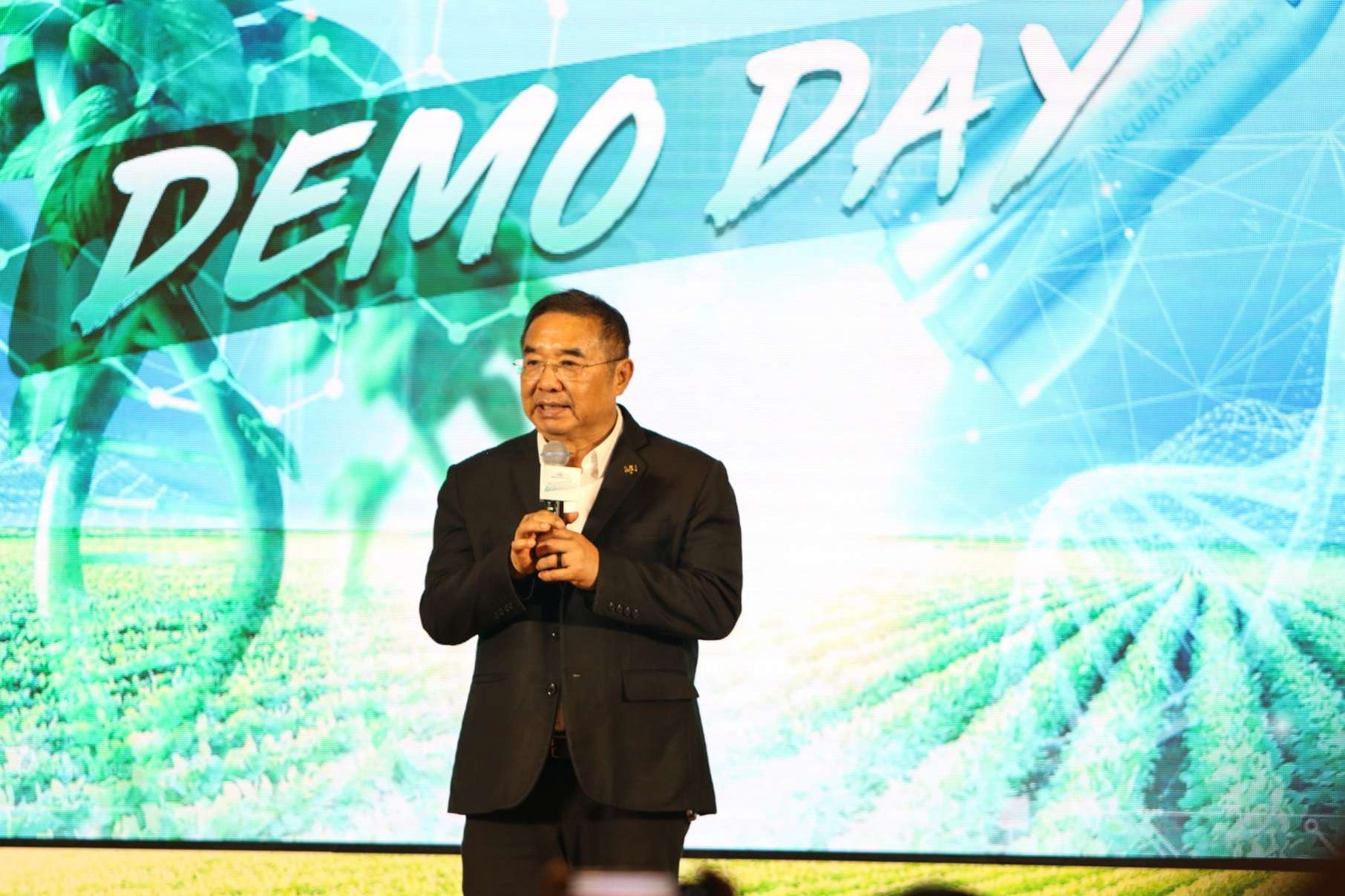 Mr.Thanarak Phongphatar, Vice President of the Federation of Thai Industries and President of the Institute of Agricultural Industry, points out the significant potential inherent in Thailand's agricultural and food production sector. Thailand holds the distinction of being the 13th largest global exporter, with a substantial export value of 1.3 trillion baht. This positioning presents an opportunity for augmenting competitiveness by harnessing technology and innovation to adapt, curtail losses, and enhance production efficiency. The advent of AgTech startups is celebrated as a new vanguard in the national economy. Specifically, startups leveraging deep technology to address intricate challenges within the agricultural domain, both domestically and abroad, are of paramount importance. Their role is pivotal in bolstering food security and elevating the nation's agricultural landscape. In furtherance of this vision, the project facilitates critical linkages with organizations boasting expansive networks across the Thai agricultural industry, encompassing key sectors such as sugarcane, mango, and shrimp farming. These affiliations provide startups with invaluable insights into the strategic application of technology and innovation to resolve agricultural challenges and drive effective, industry-tailored development. Such support ultimately empowers startups to expand their market presence and achieve accelerated growth.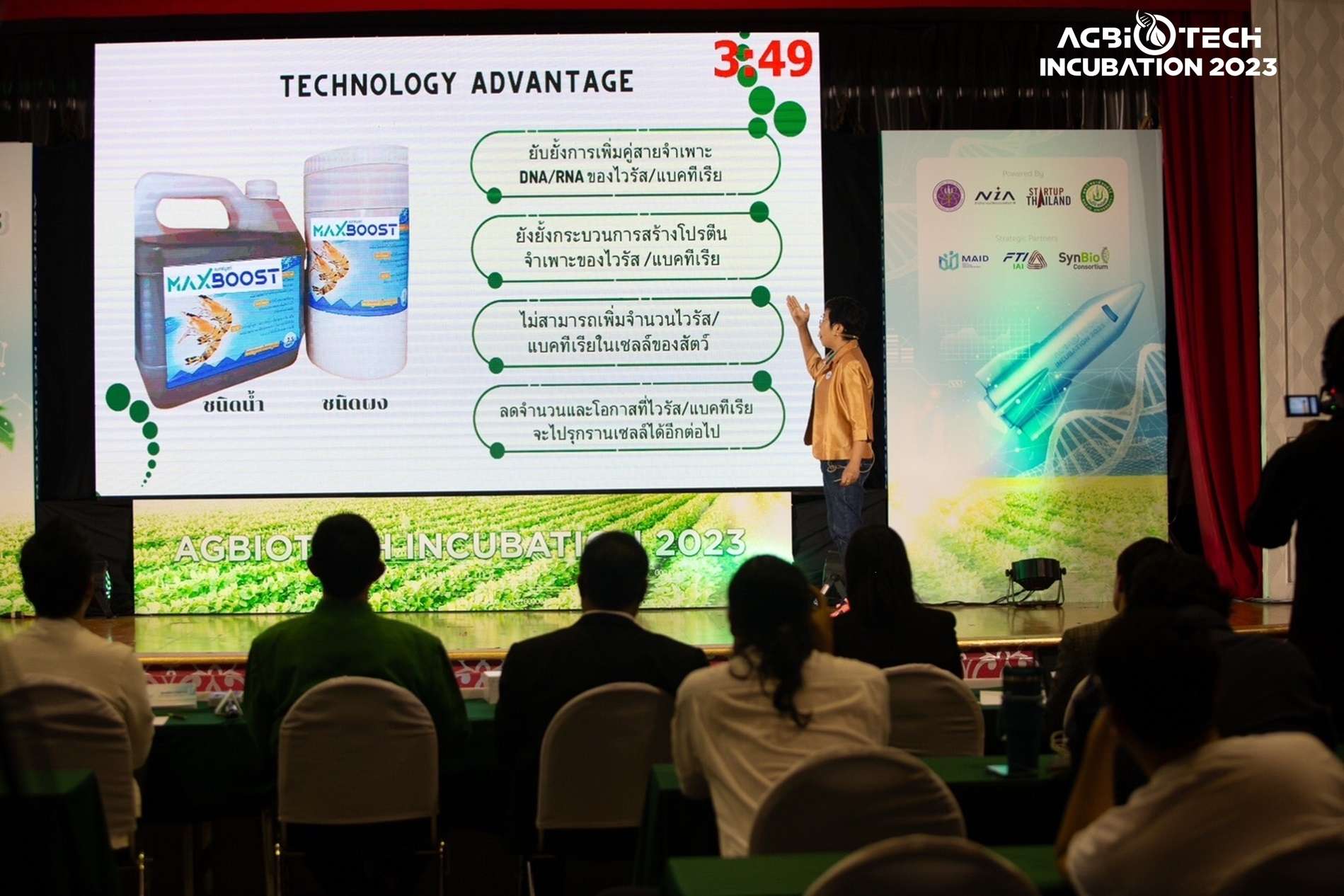 AgBioTech Incubation 2023 represents a concerted effort towards the nurturing and cultivation of novel AgTech startups. This initiative is characterized by an immersive incubation process that seamlessly melds theoretical and practical learning activities. Each of the ten participating teams has exhibited exemplary technological acumen, innovative prowess, and a remarkable capacity to proffer solutions that meaningfully address the challenges plaguing the agricultural sector. These startups hold the promise of not only uplifting the Thai agricultural landscape but also serving as a catalyst for the relentless growth of cutting-edge technology and the perpetuation of agricultural innovation within our nation, the DEMO DAY as a venue for AgTech startups to share their solution and business model strategies with investors and others who are interested in agricultural innovation. The best performance award based on judges' scores go to "MaxBoost", the popular award voted by the audiences and the best engagement go to "So Mush", concluded Dr.Krithpaka.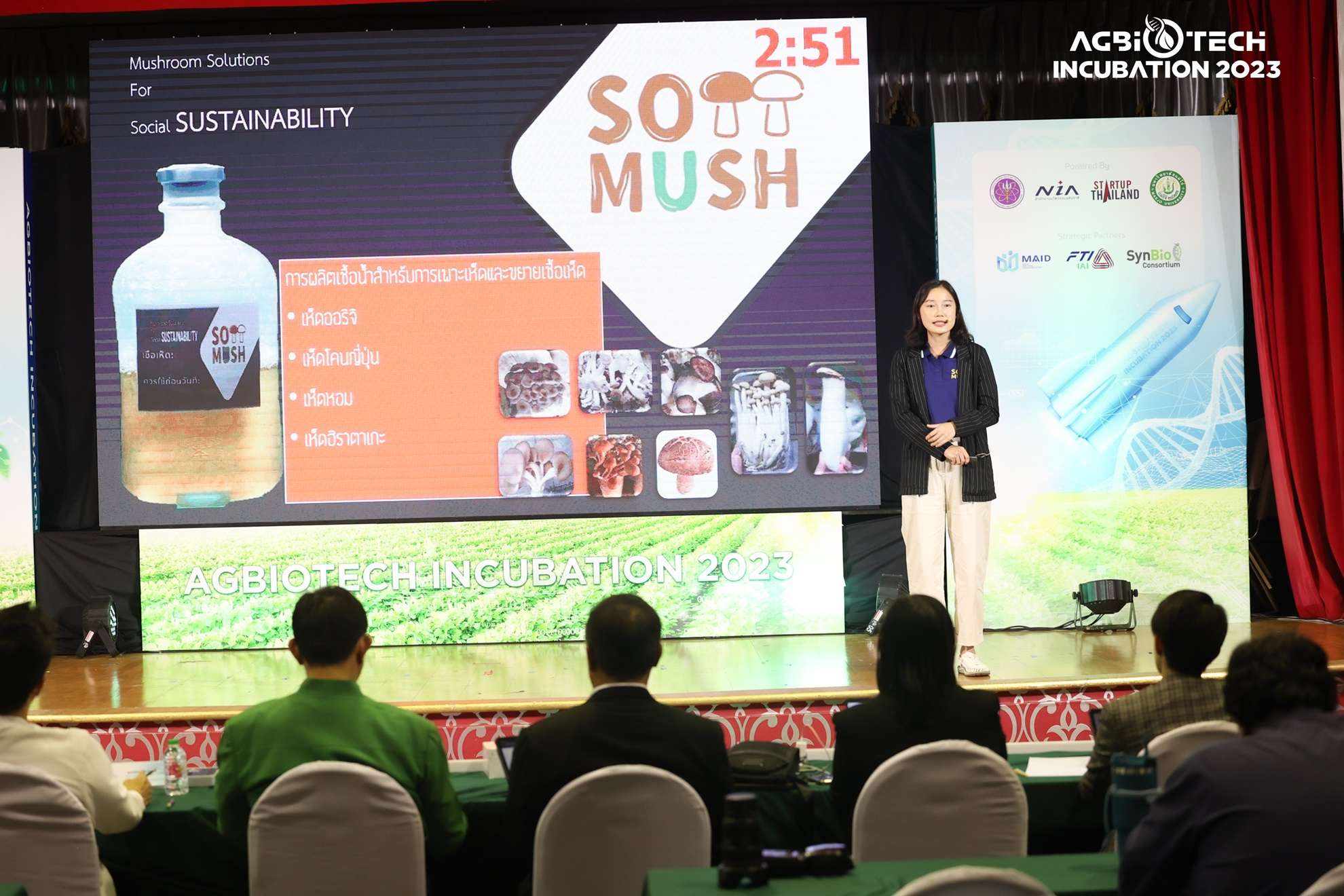 Contact for additional information: Ms. Montha Kaihirun Tel. 081-372 9163 Email [email protected] and Asst. Prof. Dr. Napat Ruangnapakul Tel. 096-356 2974 Email [email protected]
#AgBioTechStartups #AgBioTechIncubation2023 #DemoDay #NIA #MJU #StartupThailand #MAID #IAI #SynBioConsortium #Sectoral Development #Agricultural Transformation #Precision Farming