The Office of Trade Competition Commission (OTCC) is evaluating whether the CP Group's acquisition of Tesco's Asia business is a monopoly. Meanwhile, there are fundamental consumer behaviour indicators that suggest a less than straightforward conclusion to this situation.
Latest data from Kantar, the world's leading evidence-based insights and consulting company, reveals that the combined CP Group of Tesco Lotus, 7-Eleven, and Makro would represent 20% share of Annual Take Home Grocery sales in National Thailand. The last 12 weeks confirmed this, demonstrating a 19% share. "Tesco's UK business has a 27% share of the UK Grocery market," says Howard Chang, Kantar (Worldpanel Division) Managing Director for Thailand and Malaysia. "Therefore, from a simple market size perspective, this acquisition does not appear monopolistic."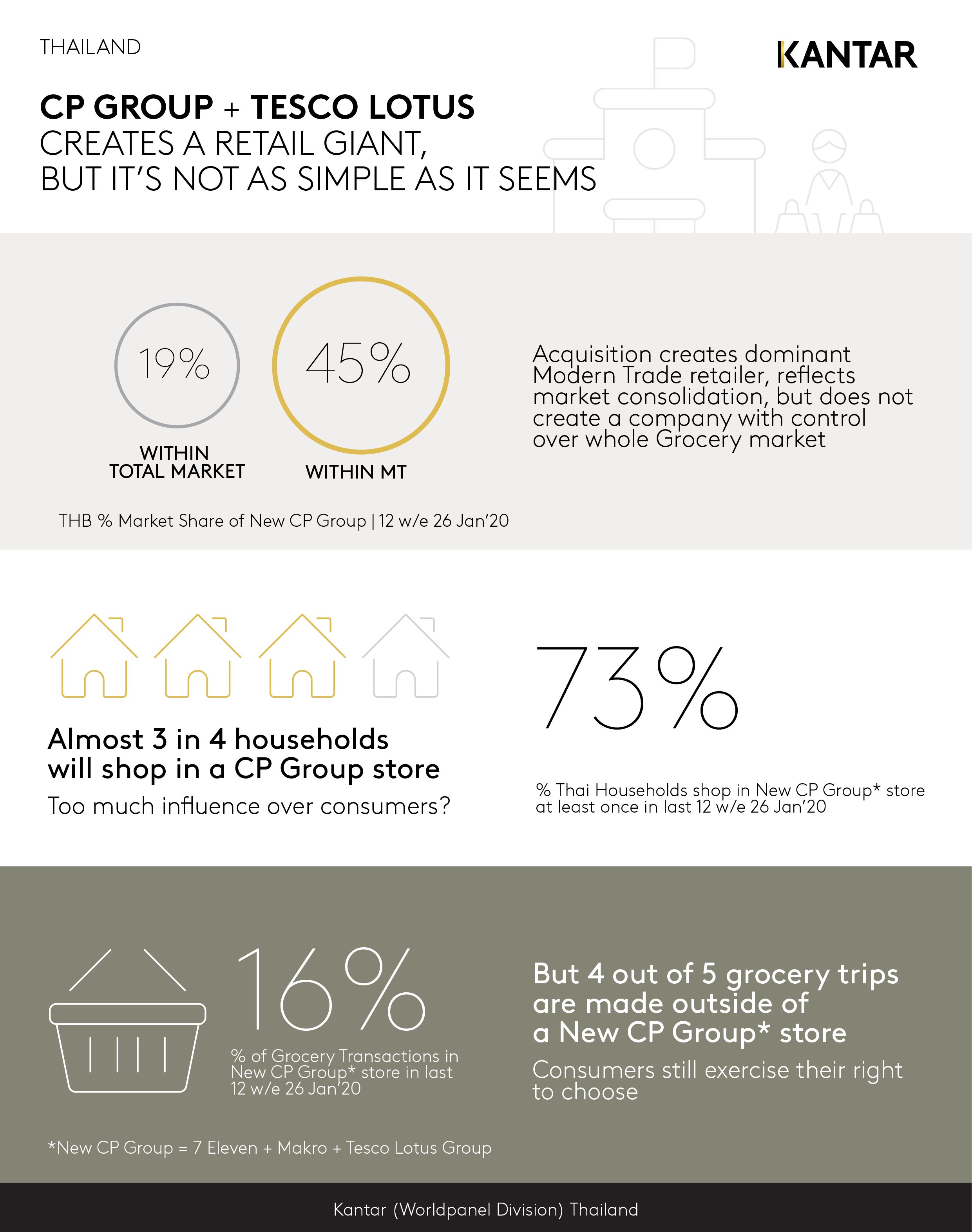 However, Traditional Trade has a strong presence in Thailand, representing one third of all grocery sales. Therefore, is it fair to evaluate share within the total market? Considering CP Group's share within just Modern Trade, their market share would be 45% of Modern Trade sales, with nearly one out of every two baht spent going to the combined group. While certainly high, this is does not yet result a complete control of retail market to one company.
Furthermore, when considering the alternative possibilities, there lacks a large degree of difference. A combined TCC Group share of BigC plus Tesco Lotus would be 40% of Modern Trade. "Essentially, this reflects a market consolidation in Modern Trade, anyways," Chang claims.
Acquisition affects consumer choice
Consumer choice is a significant indicator to help measure the impact of this acquisition. Chang explains, "Everyone has a choice of where to shop and what to buy, but does this acquisition eliminate that choice and, therefore, allow one company to control supply and price?"
One method to evaluate consumer choice is via observation of where they shop. By analysing the number of shopping trips made, we can get an idea as to how much influence the new CP Group will have over consumer product choice.
According to our data, there are approximately 25.8 million households in Thailand, 73% of which have shopped at least once in Tesco, 7-Eleven, and/or Makro in the last 12 weeks. The potential dominance of consumer choice is high for the combined group, seeing as over two out of every three households will shop in CP Group stores.
"In comparison to other benchmarks, this penetration percentage seems to demonstrate significant influence over consumers," says Chang. "A combined BigC plus Tesco group penetration would be 60%, a combined Central Retail plus Tesco group penetration would be 53%."
On the other hand, the last 12 weeks revealed 1.06 billion grocery shopping trips made by consumers, 16% of which were made to Tesco, 7-Eleven, and/or Makro. Prior to the acquisition, 7-Eleven and Makro held an 11% share of all shopping trips. Adding Tesco to their group increased transaction share by nearly 50%. "Nevertheless, it's still far from being a position of complete control of consumers," states Chang. "Because we can see that shoppers are still shopping elsewhere four out of five times."
Suppliers and brands take majority of the impact
According to our analysis, the most significant impact of this acquisition will be to brand owners and suppliers to CP Group stores. With its ownership of Tesco, the combined group will now own the #1 hypermarket, the #1 convenience store, and the equally largest supermarket. "This places CP Group in a very strong position of negotiation, regarding route to market, and can put significant pressure on suppliers when seeking store listings," says Chang. As previously mentioned, this combined group will penetrate nearly three out of every four Thai households and earn one out of every five baht spent on groceries.
Considering the wider CP company and strength in agri-business, it does place CP Group in an enviable position of supply chain integration from "farm to store." It's unlikely that this makes it a monopoly or detrimental to consumers for that matter, seeing as there is sufficient competition in the retail market. It would be unlikely that they force consumers to pay at an increased price.
Online shopping has been a major retail development over the five years and still has significant growth potential. Currently, one in five households purchase groceries online at least once a year, with products in the Beauty sector largely dominating this space. As brands look to better establish direct-to-consumer routes, this could be a trigger that drives us toward a digital economy.
Opportunity for business innovation
While future negotiations between manufacturers and suppliers with the CP Group will be more challenging, this acquisition may also encourage more innovation among businesses. Companies will be called upon to discover new, unique ways to reach consumers via innovative products and services.
According to Chang, when we consider the way people shop alongside broader consumer trends regarding diversification and sophistication of needs, "the new group has potential for synergy and innovation." Tesco, 7-Eleven, and Makro operate different types of store formats, all differing in size, product range, location, and available services. This diversity gives each retail brand the ability to address different consumer needs and shopping motives.
This variety in expertise provides the CP Group with an opportunity to create a centre of excellence for retail strategy. The combined group can drive innovation to deliver new services and approaches to meet the ever-changing consumer needs. That can be quite positive for consumers and for the economy as a whole.