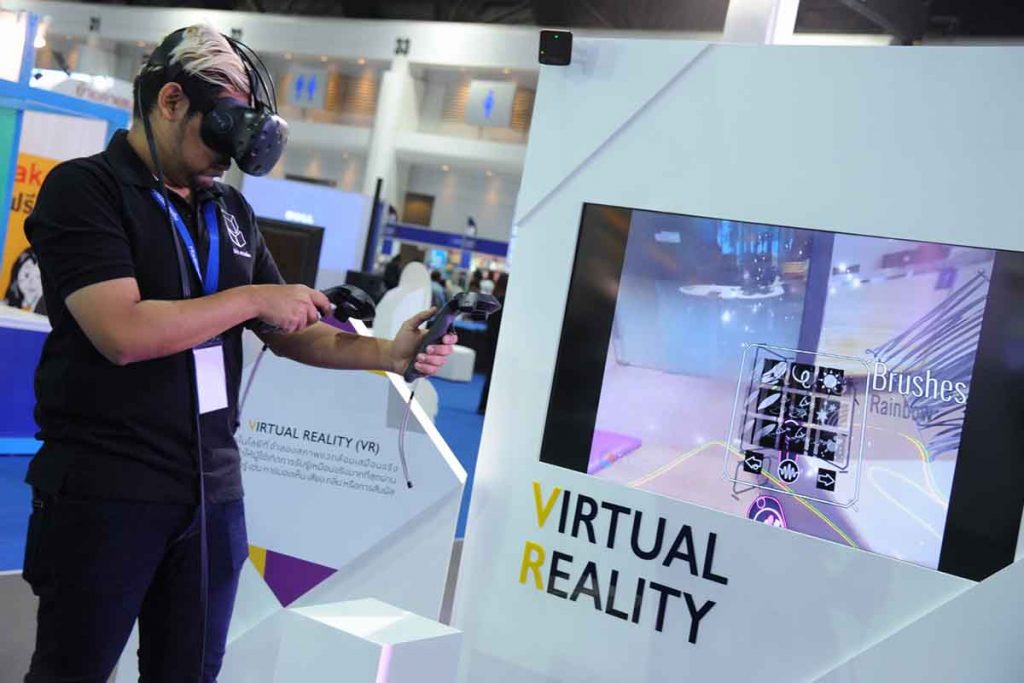 Digital Ventures, a financial technology subsidiary of Siam Commercial Bank (SCB), is taking part in the 17th Money Expo Bangkok, transforming 200 square meters of space into a Fintech zone under the concept of 'The Future (Fin)Tech is NOW!', reflecting the company's commitment to establishing and strengthening Thailand's financial technology ecosystem. At the booth, visitors can immerse themselves and engage in a myriad of entertaining and easy-to-grasp digital and interactive displays showcasing financial technology of the future that blends in with every aspect of the modern lifestyle. The booth features three main zones:
Tech Zone
An engaging and interactive zone featuring knowledge about four types of financial technology:
Internet of Things (IoT) – the connectivity of various types of electronic devices through internet networks, Bluetooth or iBeacon applied to financial innovation. Digital Ventures uses a digital piggy bank to showcase how this technology can be used and applied in the world of finance. Users can see in real time on their mobile phone as a coin is deposited in the digital piggy bank. The technology can be used as a digital cashier for e-commerce operators or banks in the future to aid their coin counting process to be more convenient, faster and more accurate.
Machine Learning – a technology that allows computers to learn, understand, and respond to data without waiting for a command from humans. The technology is explained through a "4.0 face reading" exercise, which uses facial recognition data compiled from 7,000 faces and gives the most accurate readings. Machine Learning can be applied in the future to enhance customer satisfaction for banks, for example, predicting their moods through facial or voice scans. The technology can also be developed into a Robo-Advisory technology that accumulates and learns from customers' financial behaviors in order to provide personal finance or investment advice tailored to each unique customer.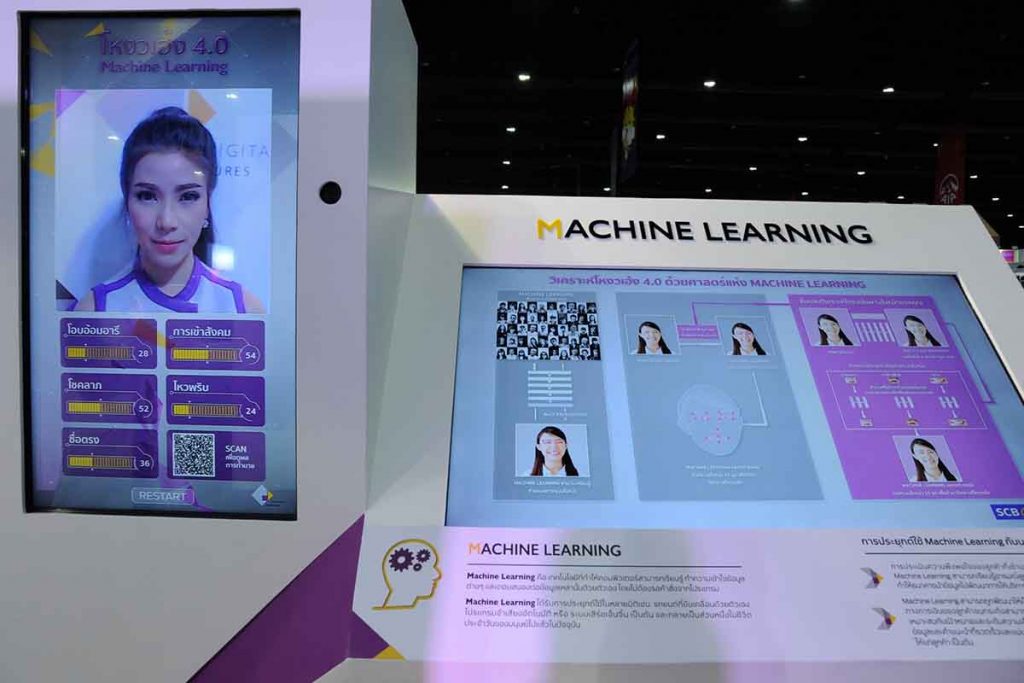 Blockchain – a new cutting edge technology that's used to enhance security, credibility and cost efficiency for online transactions without having to rely on an independent inspector. The technology is explained through how it works for specific businesses in different industries such as the Department of Land Transport, car manufacturers, and car dealerships as part of the "car industry" as a whole. Insurance companies and loan companies use the same blockchain system to access the same database of records, enhancing accuracy and transparency. All parties are able to instantaneously access the database, allowing them to serve customers better, faster, and bring down service fees.
Augmented Reality (AR) and Virtual Reality (VR) - Augmented reality is a technology that fuses the real world with a virtual reality in 3D. It is a popular technology that is widely used in games such as Pokémon GO. It is also used in mobile applications including Life.SCB, which allows users to collect coins to redeem prizes and sample what cashless living feels like. Virtual reality, on the other hand, replicates a real world environment and mimics real sensations as closely as possible. It can be applied to create a virtual bank where customers are able to visit and use services as they would in the real world.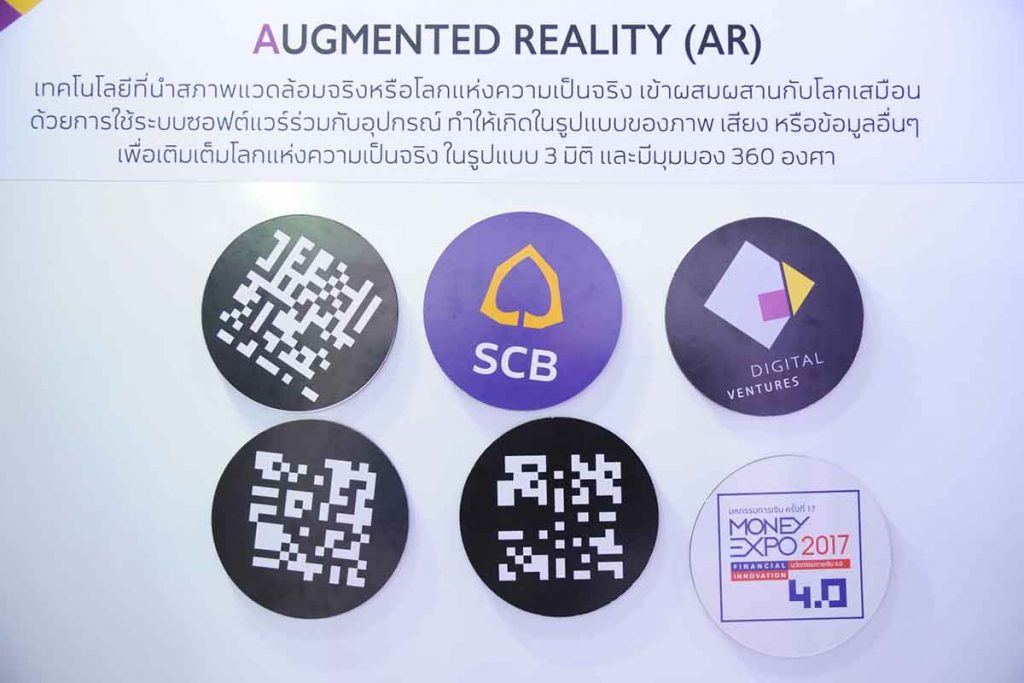 Corporate Venture Capital Zone
A showcase of Digital Ventures' mission over the past year to drive changes in the banking industry through investments, researches, innovations, and building international networks. To date, Digital Ventures and Siam Commercial Bank have a network of more than 80 startups around the world.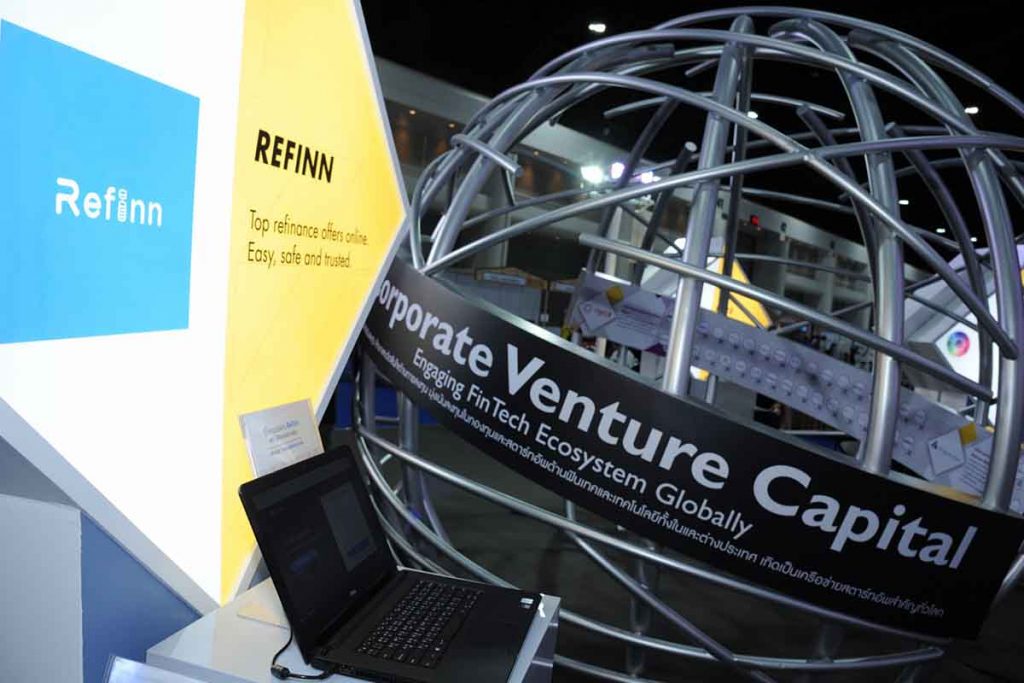 Tech Startups
Displays by startups in the Digital Ventures Accelerator Batch 0 (DVAb0) program, a startup incubator and accelerator program focusing on real growths and opportunities to scale nationally and regionally through establishing the best startup ecosystem in Thailand. Meet Thai startups including One Stock Home -  the contractors' digital stock, the ultimate way to save time and money; ETRAN - the electro-innovative transportation solution for a better world; and FlowAccount – Easy to use cloud accounting for small businesses. The startups offer exciting promotions and discounts for Money Expo visitors, and have an opportunity for business discussions and talking to their real target customers.
The Digital Ventures booth awaits at the Money Expo 2017, held during May 11-14, 2017 at the Challenger Halls 2-3, IMPACT Muang Thong Thani.