Most Southeast Asian countries feel largely positive about the metaverse, but those in Singapore remain cautious about it.
Virtual reality has often been used as a fictitious plot in popular culture, reflecting the paranoia towards a dysphoric future where technological advancements come at a cost of humanity. The concept of the metaverse came long before Facebook rebranded itself to 'Meta', but this move by the social media giant brought waves of chatter about the possibility of virtual reality in the near future.
Milieu Insight released the results of their 'Metaverse' study of N=6000 people across Southeast Asia (N=1000 each from Singapore, Malaysia, Thailand, Indonesia, Philippines and Vietnam), covering opinions and concerns about the metaverse.
According to the study, most Southeast Asian countries feel largely positive about the metaverse, with 'Interested' and 'Excited' among the top positive emotions voted. Those in Singapore are the exception, with only 56% of respondents (compared to the overall average of 72%) selecting at least one of the positive emotions from the list. Compared to the other countries, they tend to feel more uncertain and sceptical about the metaverse.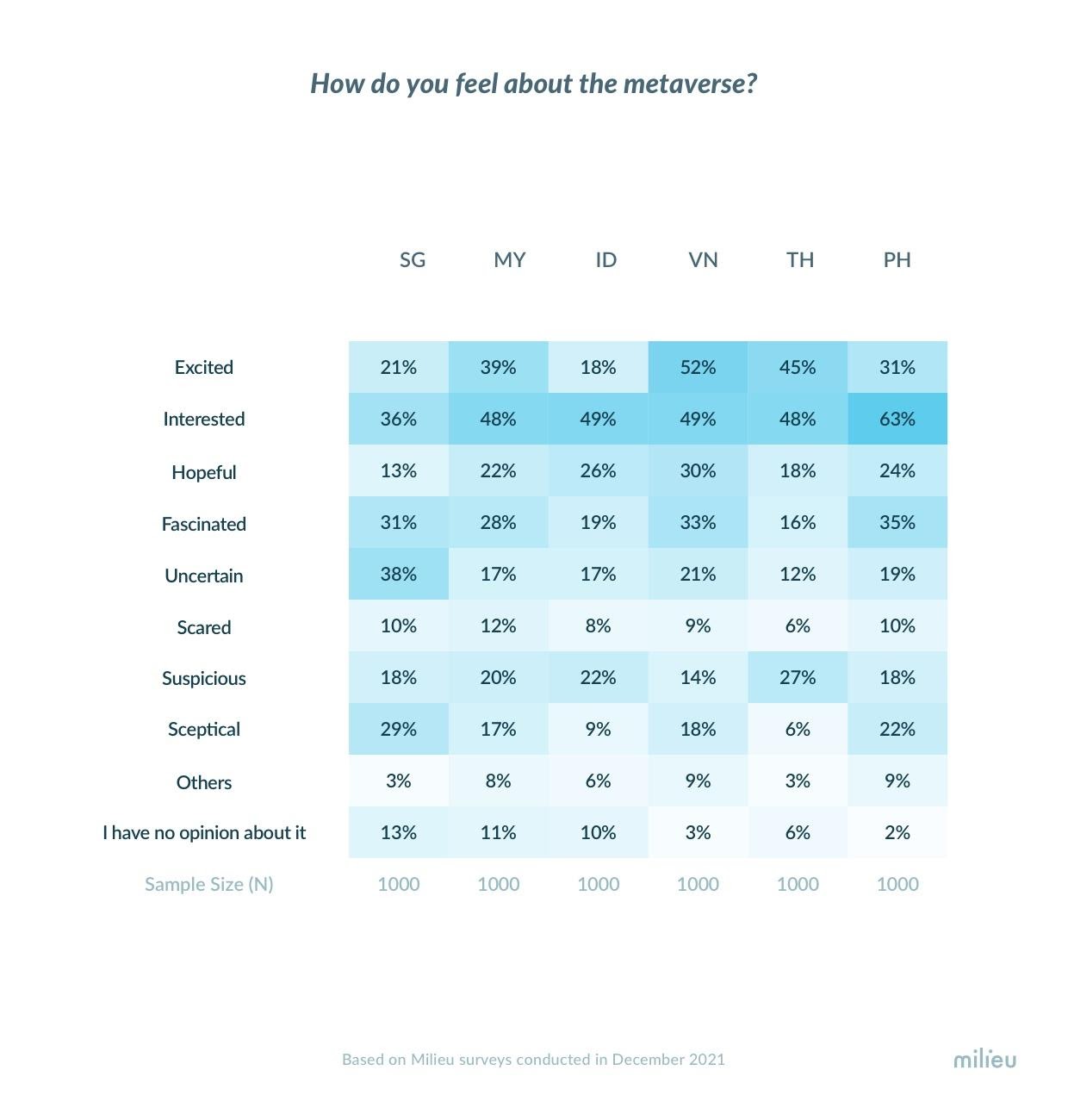 The study found that most agree that physical interactions are very or somewhat important to them (94%) and for maintaining healthy relationships (94%). However, the pandemic has amplified the limitation of physical distance in social interactions, and many digital solutions have emerged to address this problem. Some of the top voted reasons among respondents who selected at least one positive emotion towards the metaverse were: 'It's an advancement in human social interaction' (64%) and 'It facilitates more efficient social opportunities' (63%). Receptivity towards the metaverse may be in part due to its ability to overcome physical barriers.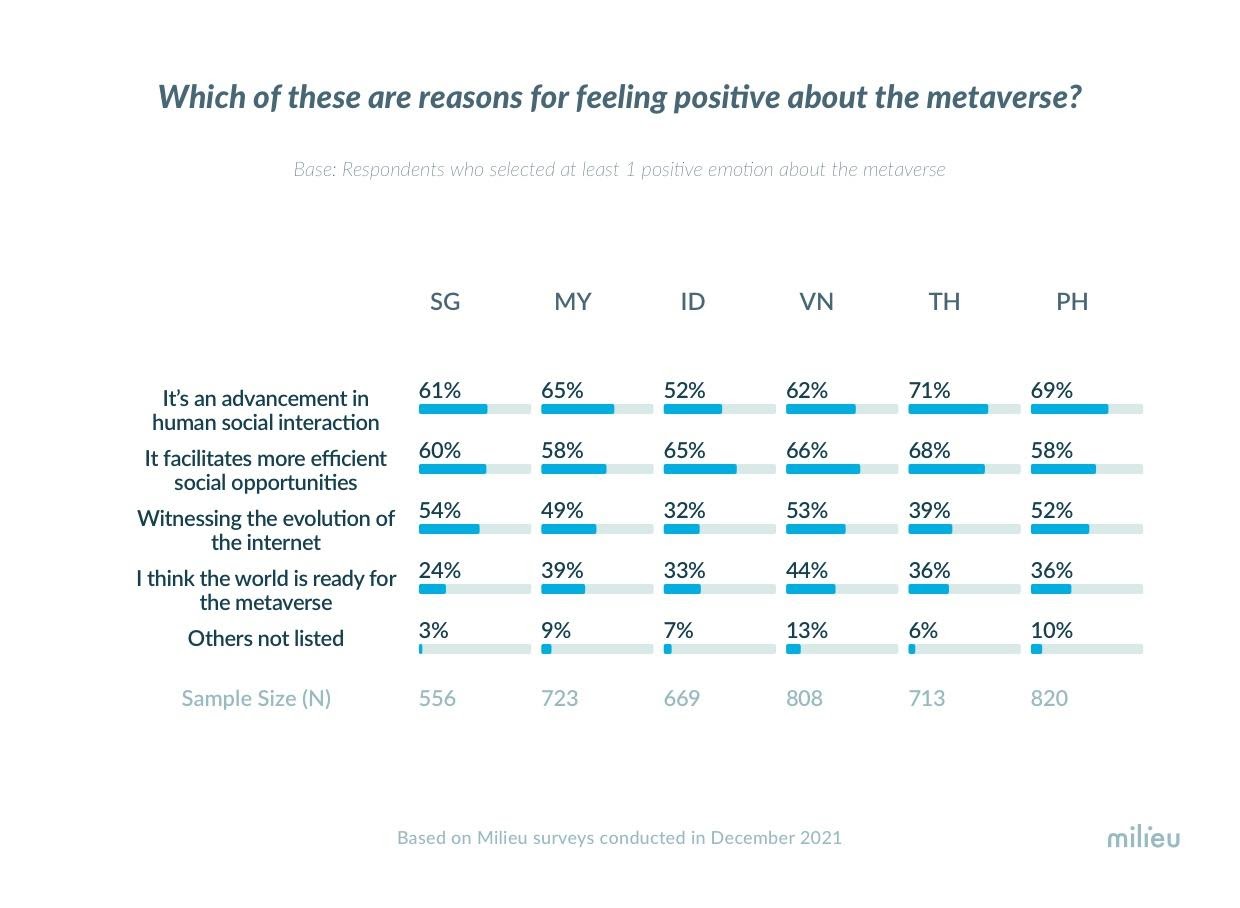 On the flip side, there are some who are concerned about the reverse - among respondents who selected at least one negative emotion towards the metaverse, 51% indicated that the metaverse may jeopardise real-world relationships and interactions. Other concerns also include 'Concerns over data security and privacy' (60%), 'Concerns over losing one's sense of real identity' (53%), and 'Concerns over inability to differentiate between real-world and virtual reality' (53%).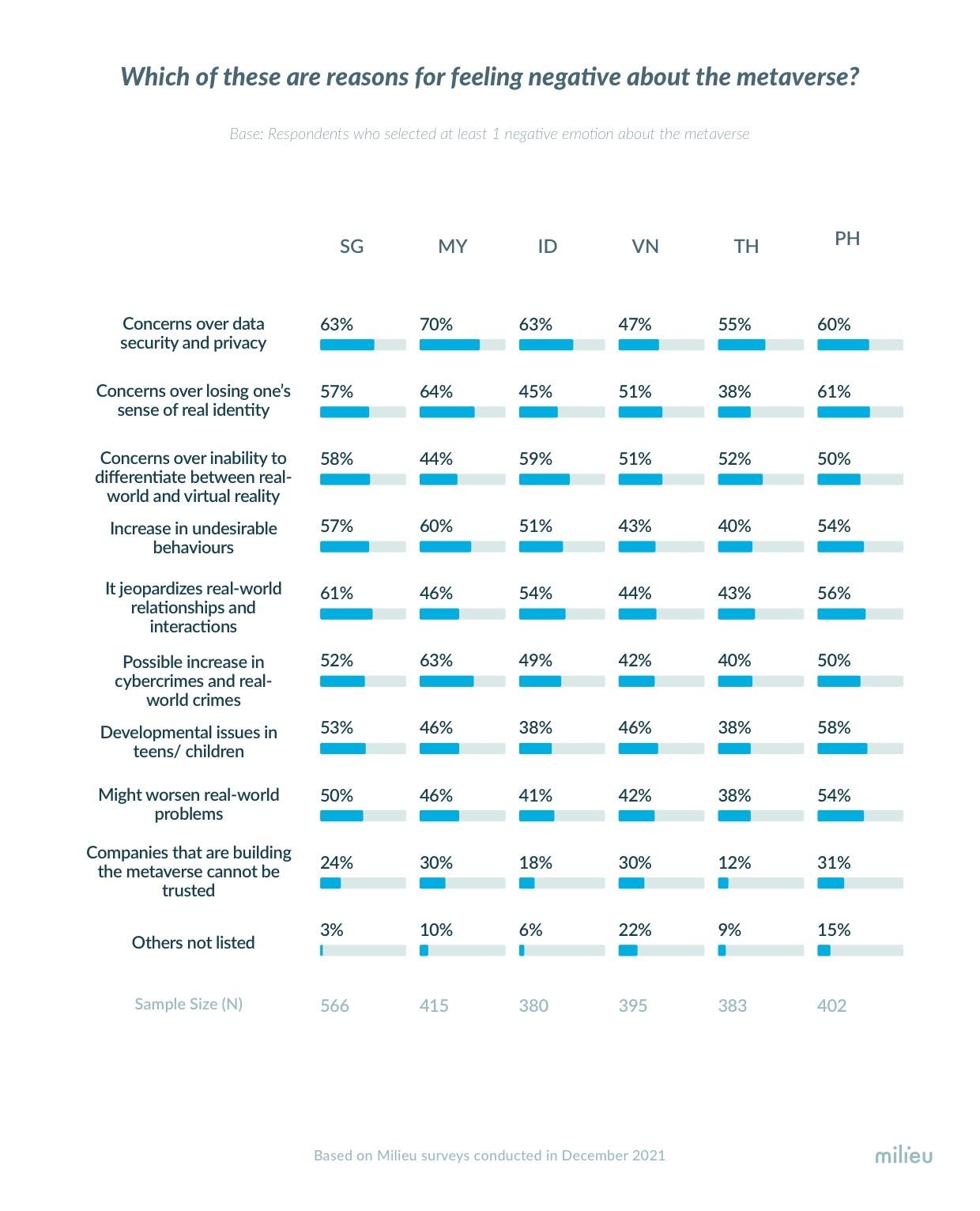 These concerns are not unwarranted, and protective measures should be taken, especially for youths. Most respondents think that the minimum age for youths to participate in the metaverse without parental supervision is 18 years old. In Thailand and Vietnam, however, a higher percentage of respondents compared to other countries, indicated that the lower age of 15 years old should be the minimum.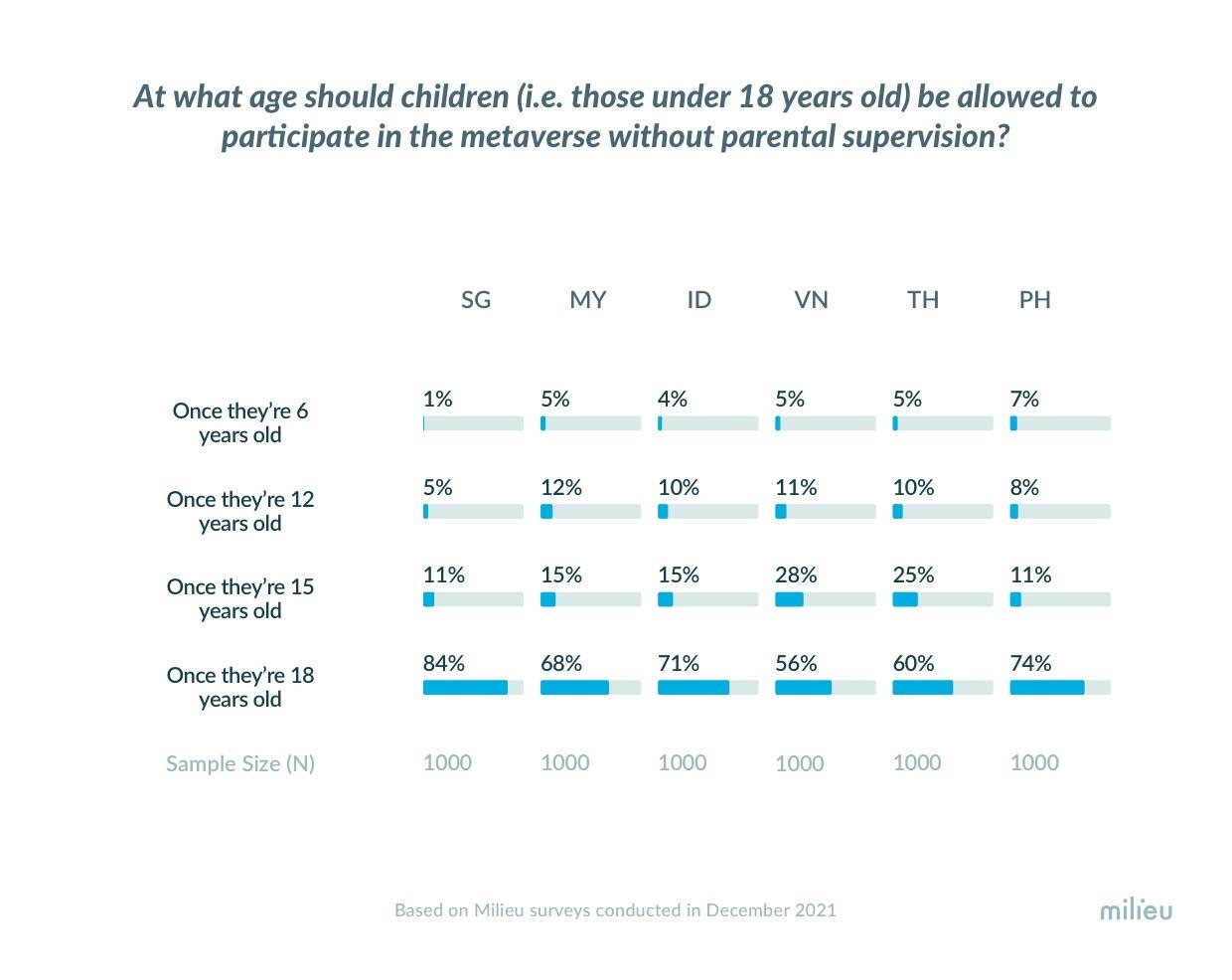 ###
Methodology of the study
The "Metaverse" survey was conducted via Milieu's proprietary survey community in Singapore (N=1000), Thailand (N=1000), Indonesia (N=1000), Malaysia (N=1000), Vietnam (N=1000), and The Philippines (N=1000), in December 2021.
About Milieu Insight
Milieu Insight is a consumer research and analytics company that connects businesses directly with their target audience. Milieu's platform offers businesses a wide range of tools for accessing, analysing, and visualising high-value and timely consumer opinion data to help power better decision-making and strategy.
For more information about Milieu Insight, visit: www.mili.eu.