Good Doctor Technology Thailand (GDTT) served the largest number of COVID-19 patients in the Pathumwan District, demonstrating the efficiencies of telemedicine services during a pandemic.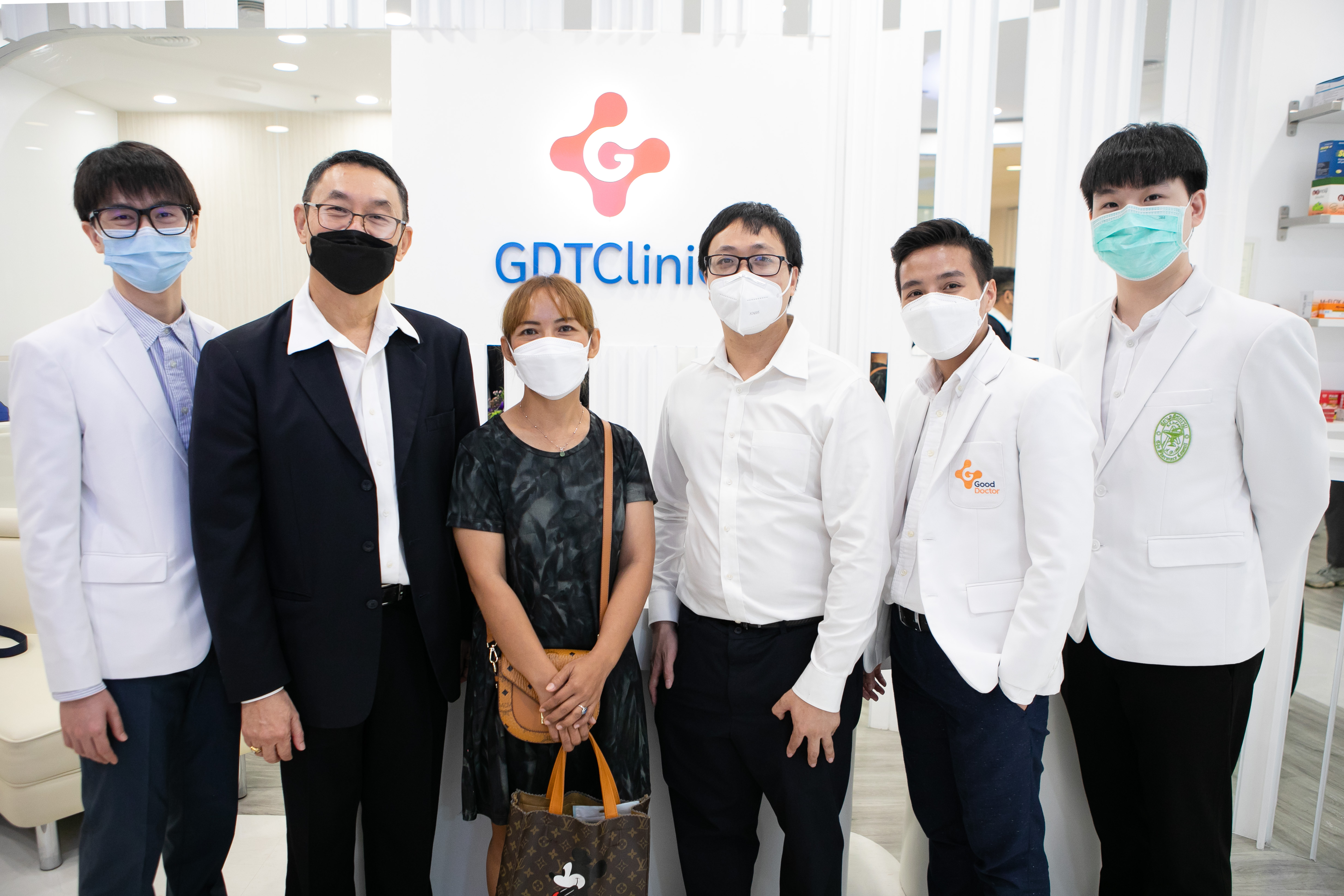 Good Doctor Technology Thailand (GDTT), a subsidiary of a regional health-tech company, Good Doctor Technology (GDT), with the vision of providing 'One Doctor for One Family in SEA', organized a panel discussion and an exclusive media tour at the GDT Clinic to demonstrate how a combination of physical and virtual healthcare services can help manage COVID-19 patients in home isolation. Through this education session, GDTT aims to increase general awareness of how their use of digital healthcare services can complement traditional healthcare services and increase the accessibility of doctors to patients in need. The clinic tour also included live demonstrations of the Good Doctor mobile application with detailed explanations of the end-to-end process undertaken by GDTT's full time in-house medical team to monitor patients' condition daily, organize medication or medical devices deliveries to their homes. and facilitate referral cases to hospitals when required. To successfully deliver the right care at the right time virtually to COVID-19 patients outside the hospital setting, GDTT connects with network pharmacies across Bangkok city.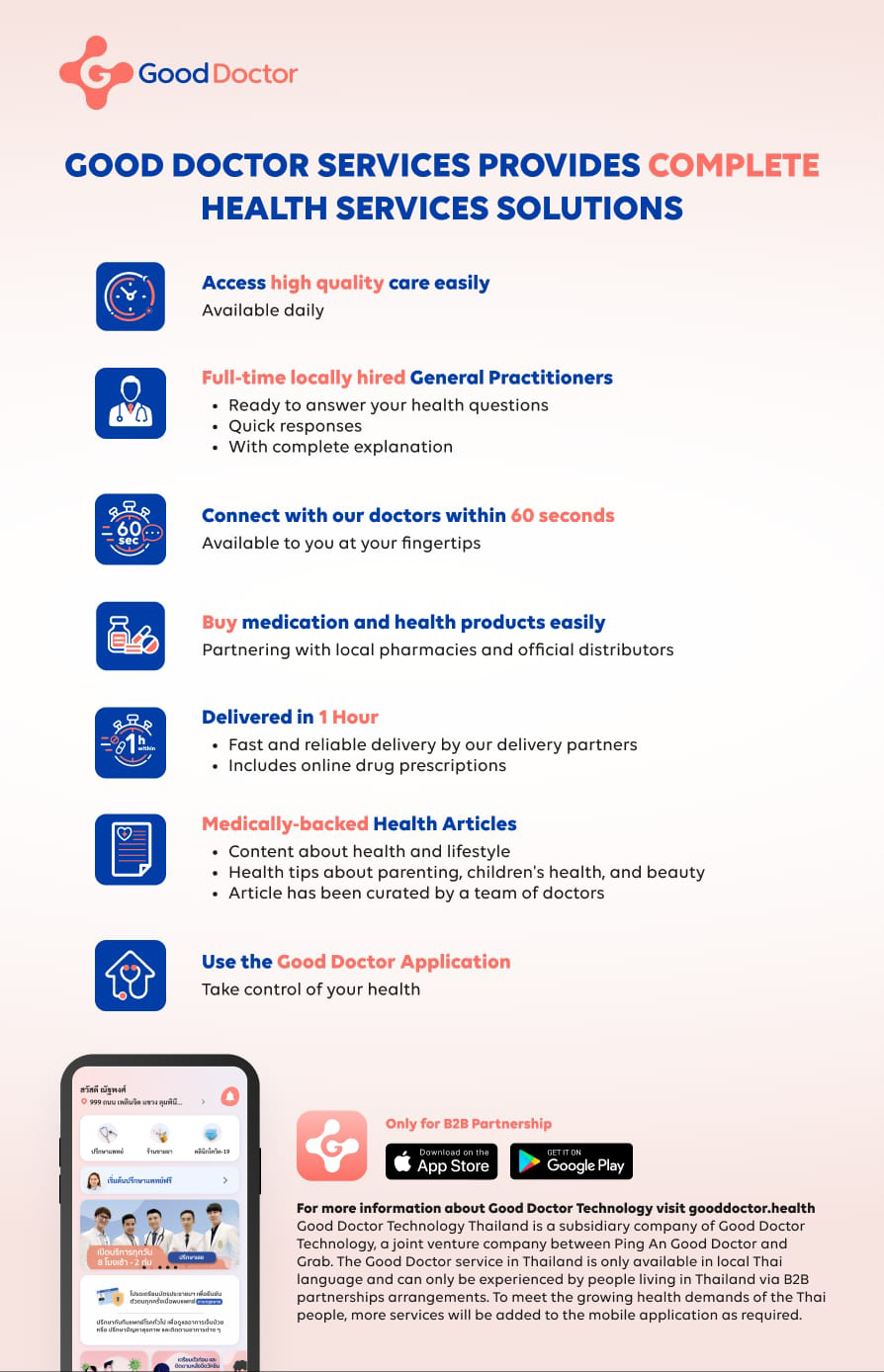 As a digital-first healthcare provider, GDTT recognizes the urgency to support national COVID-19 management efforts by leveraging the capabilities of their existing digitally-backed healthcare technology platform. By increasing the accessibility of doctors to patients and delivering timely medical services at speed, GDTT aims to continue ensuring that every family in Thailand has access to a doctor while supporting the adoption of virtual health services, especially during the pandemic at the same time. Built to empower users with credible and trusted health information which are fully customized for Thai users, the Good Doctor app provides telemedicine services, offers exclusive discounts on health and wellness products and includes a library of health articles written and curated by their in-house medical. team. The Good Doctor app is powered by cutting-edge technologies that have been proven to address accessibility gaps of healthcare services in other Asian countries such as Indonesia and China. With its clinical automation systems in place, patients will get connected to a live chat conversation with their in-house doctors within 60 seconds without prior appointment booking, and receive a diagnosis with recommended treatment plans within 15 minutes.
GDTT established their licensed physical clinic with their full-time doctors available for patient consultation when required, and received their telemedicine license issued by the Thailand Ministry of Public Health. Since launching its services in Thailand, the tech-enabled company has been focused on strengthening its local capabilities to harness the benefits of new technologies and the latest innovations that have proven to successfully close accessibility and affordability gaps in other Asian countries.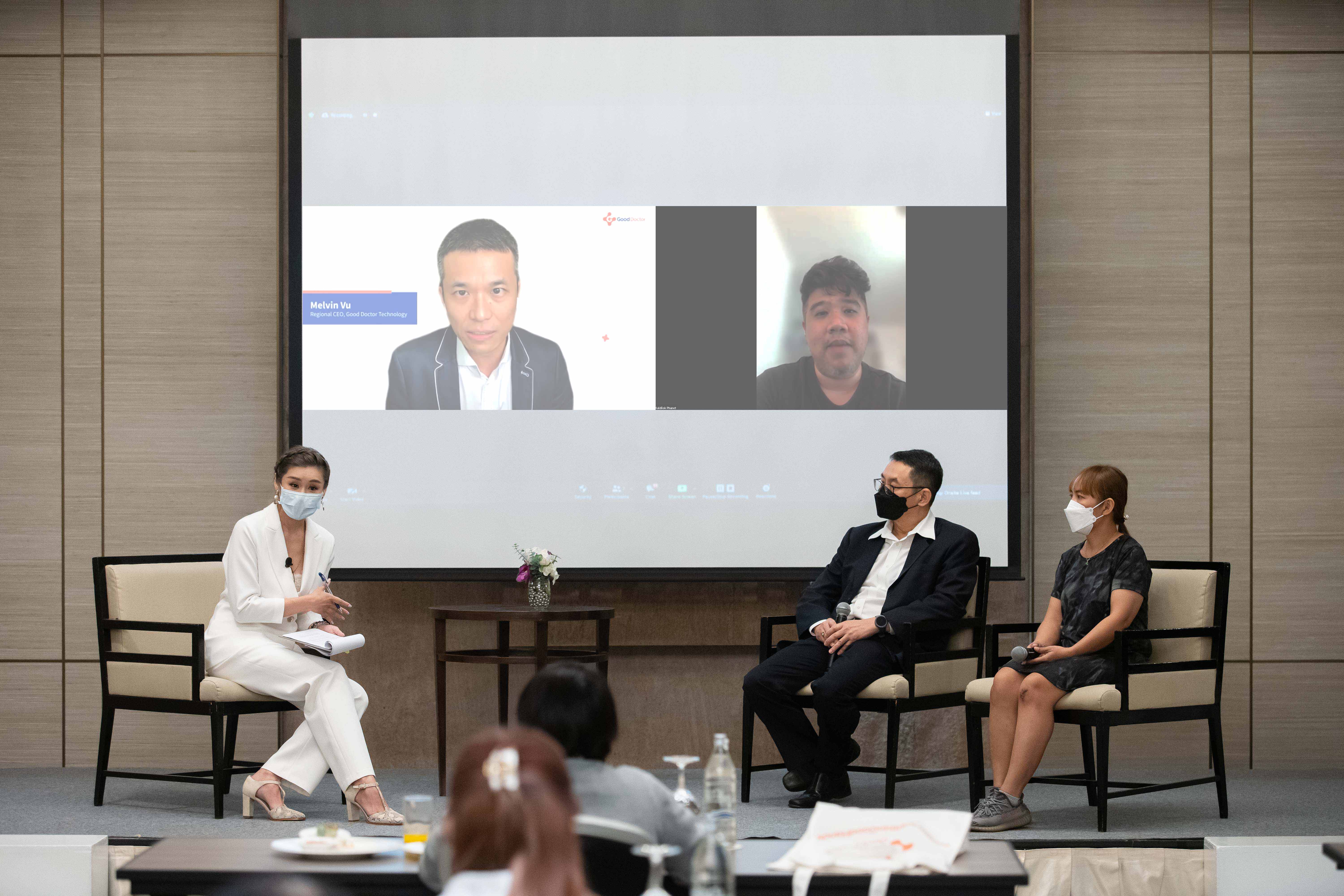 Providing a region-wide perspective on the opportunities for telemedicine presented by COVID-19 during the panel discussion, Melvin Vu, Regional CEO of Good Doctor Technology, said "the pandemic has accelerated the use of telemedicine services as patients and doctors increasingly rely on virtual care platforms to provide medical services outside traditional healthcare facilities. With better attitudes and perceptions of telehealth services, we will continue increasing the access of our service to more people so that they can harness the full benefits of telemedicine services, especially for long term health management purposes. With digital healthcare well placed to outlast the pandemic, we are committed to growing our services and introducing new in-app features that will benefit more people in Thailand."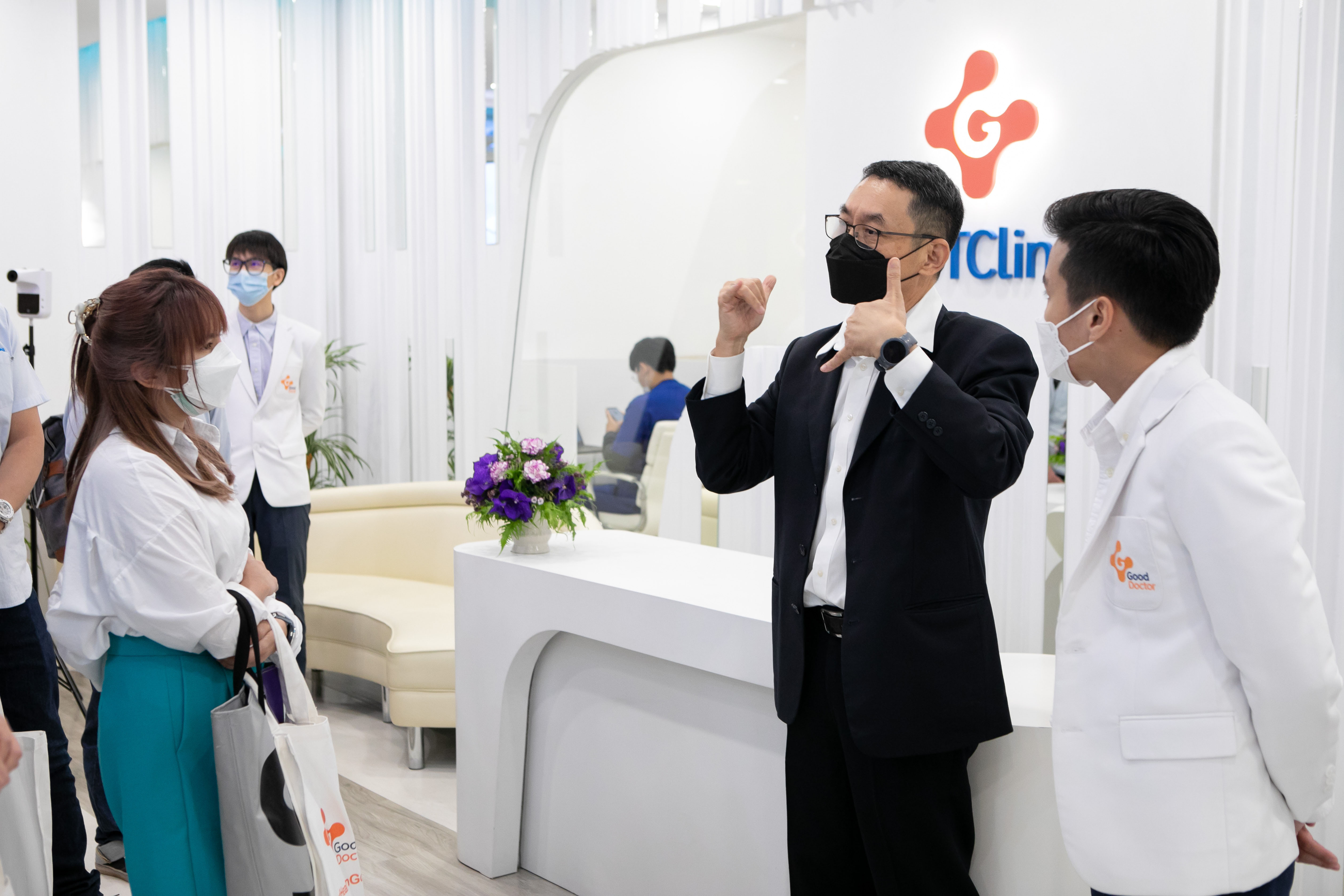 Echoing the benefits of telemedicine beyond a pandemic outbreak situation, Dr. Sudhichai Chokekijchai, Head of Medical at Good Doctor Technology (Thailand) Ltd., shared his views of how telemedicine can help improve primary care management and complement the existing healthcare ecosystem in Thailand. "Telemedicine can help transform how people in Thailand access medical services. We understand many people delay seeking medical care due to long transportation times, long waiting times and crowds at traditional healthcare facilities. These barriers to accessing healthcare services often result in patients self-diagnosing based on the symptoms they are expressing, which can be dangerous especially during COVID-19. With the availability of our user-friendly digital health services in Thailand, people no longer have to self-navigate and wait till they fall sick before consulting with a doctor."
On the 25th of August 2021, GDTT was accepted by the National Health Security Office (NHSO) to join the Home Isolation (HI) program as a virtual healthcare service provider for asymptomatic COVID-19 patients and those experiencing mild symptoms.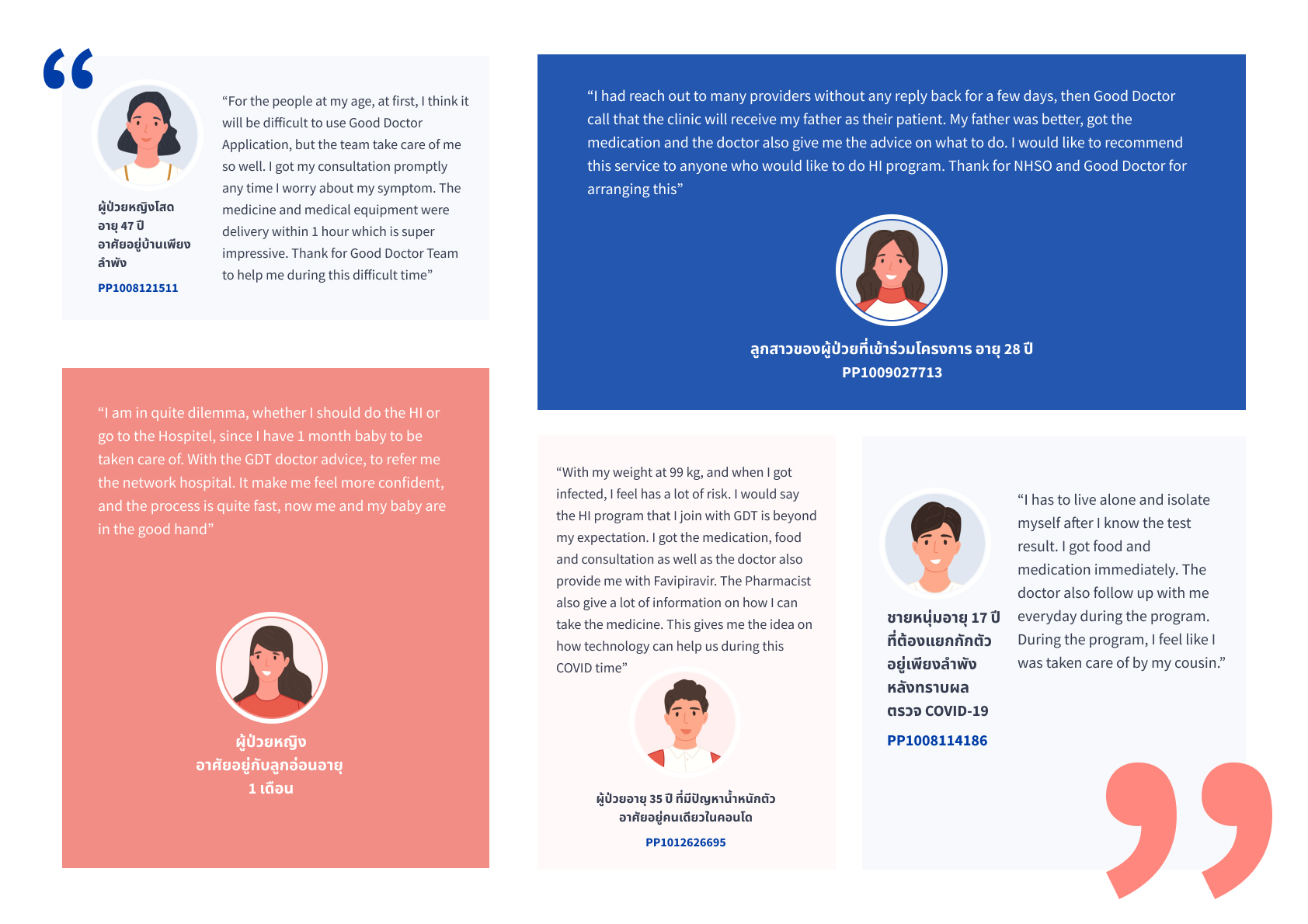 One of the first few users of the Good Doctor service under the NHSO HI Program shared her experiences of receiving virtual healthcare services for the first time and commented on how seamless the process of teleconsultation and medication delivery was. "At first, I assumed it will be difficult to use the Good Doctor mobile application, but the Good Doctor team took very good care of me. I received my virtual consultation promptly every time I felt worried about my symptoms. The medicine and medical equipment were also delivered within 1 hour which is super impressive." shared Ms Suchada.
Under the telemedicine license from the Ministry of Public Health, GDTT plans to continue bringing affordable, accessible and highly integrated medical capabilities, including the implementation of standardized clinical pathways and medical triage automation to conduct effective text-based teleconsultations. With the unique online-to-offline (O2O) patient care model, users can now follow up with a physical consultation at the clinic, should they require additional medical support after their teleconsultation. The O2O model will also give patients the option to physically visit the same doctor they consulted with virtually, for added consistency and comfort. By taking a holistic approach in caring for patients throughout their sick and wellness journey, GDT aims to bridge existing healthcare accessibility gaps in Thailand.