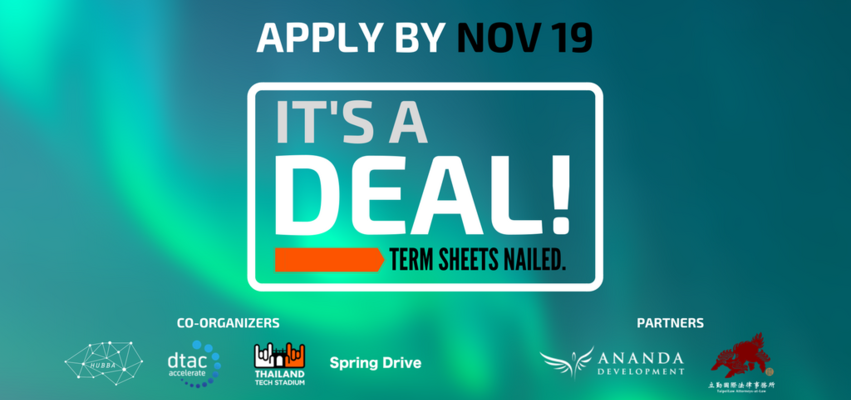 For those who are interested to raise funds for your startup but don't know how to choose an investor or not sure if your term sheet is a good deal, you can learn all things fundraising by joining 3-day term sheet bootcamp IT's A DEAL! Term Sheets Nailed, co-organized by an international collaboration of dtac Accelerate, HUBBA, Spring Drive, and Thailand Tech Stadium. The bootcamp will cover the entire investment process so you get the big picture, and dig into the nitty-gritty details so you'll understand what's important in your term sheet. With over 30+ hours of training, you'll hear all the secrets from International VCs, Legal and Accounting Experts, and Rockstar Entrepreneurs.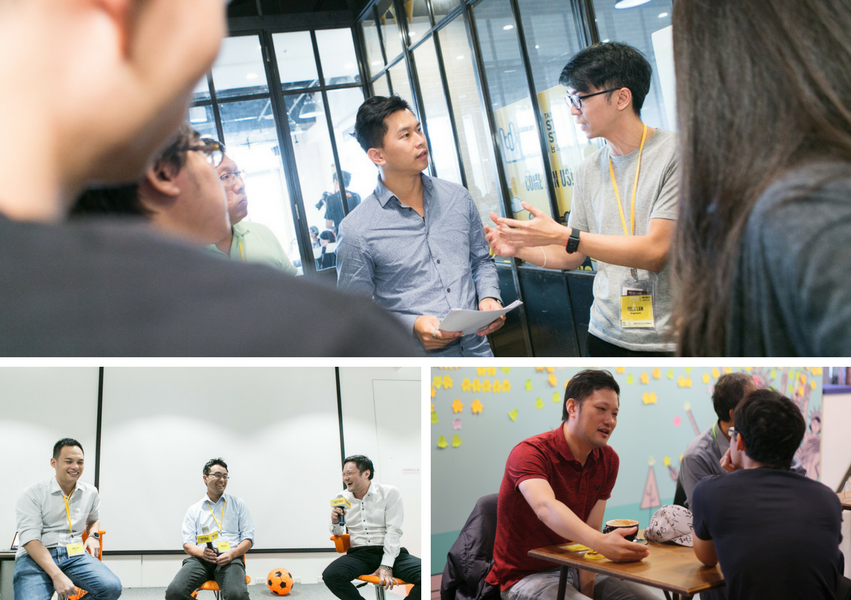 With interactive workshops, panel discussions, limited-size class discussions, 1-on-1 office hours with investors, and a Shark Tank Challenge, you'll get the individual attention your startup needs and a chance to see how you measure up in the international startup world!
TOPICS COVERED
Key Terms and Investment Process
Financial Planning
Investor/Financial/Legal Due Diligence
Differences between CVCs and VCs
Differences between SEA & US fundraising
Exit Strategies
Post-fundraising
BOOTCAMP FORMAT
30+ Hours of Lectures
Panel Discussions: Investors, Legal/Accounting Experts, and Serial Entrepreneurs
Interactive Workshops: Case Study-based Role-play (VCs vs. Startups)
Limited-size Class Discussions
Shark Tank Challenge
1-on-1 Office Hours with Investors (Slots limited! First come first serve!)
WHO SHOULD JOIN?
If you're a startup hoping to raise Seed, Pre-A, or Series A funding, this is for you!
Enrollment will be capped at 15-20 teams, with each team allowed to send 2 participants (CEO is encouraged to attend).
Teams that have already received a term sheet will be given priority.
Please note that this bootcamp will be conducted in English.
HOW TO JOIN
Apply by completing application form on EventPop. (A maximum of 2 people per team)
Wait to receive application status via EventPop
Upon getting approval notification, complete purchase of ticket within 3 days.
Once all spots are filled, qualified candidates will be waitlisted and notified via email.
Early Bird applicants will enjoy a 25% OFF discounted ticket price at THB 5,990. (Until  OCT 31)
Normal Admission (NOV 1 - NOV 19)
Ticket price at THB 7,990
ORGANIZERS dtac Accelerate HUBBA Spring Drive Thailand Tech Stadium (https://www.everiii.com/)
RSVP Here | https://www.eventpop.me/e/2408-its-a-deal-term-sheets-nailed
Detailed Agenda Here | http://pics.ee/13jhi